Alberta Blue Cross shares essential summer safety tips
Alberta Blue Cross shares essential summer safety tips
Plan ahead to be prepared for any situation this summer.
COVID-19 has impacted summer vacation plans for many Albertans, but the pandemic has not stopped the arrival of summer. While large social gatherings and events like festivals and outdoor concerts aren't permitted this summer, the opportunity to spend time outdoors and travel within Alberta, responsibly, are still possible.
As a partner in Alberta's preventable injury campaign and an organization committed to health promotion, Alberta Blue Cross® encourages Albertans to have a safe and active summer.
Practice sun safety.
Avoid sunburns by using a broad-spectrum sunscreen with a Sun Protection Factor (SPF) of at least SPF 30. Generously apply it 20 minutes before going outside and reapply frequently. Don't forget about your face and eyes—protect them by wearing a hat and sunglasses with an ultraviolet (UV) A/B certified seal. With kids being more sensitive to sunlight, it's even more important they're protected when outside for even short periods.
Stay cool and hydrated.
Sunshine and high temperatures increase your risk of sunstroke and heat exhaustion—both can be life-threatening for infants, young children and seniors. To avoid this, stay hydrated by drinking lots of water and other non-alcoholic, non-caffeinated drinks. Increase your vitamin C intake—it provides a natural defense against heat stroke, exhaustion and heat rash. Make sure to stay cool by wearing light-coloured clothing and seeking shade often. Never leave children or pets inside a parked vehicle.
Be safe in and on the water.
No one plans to drown, but dozens of individuals die in water-related accidents each year in Alberta. According to the 2019 Alberta Drowning Report, 220 people drowned in Alberta from 2012 to 2016, with males aged 20 to 34 years as the most common victims of drowning-related deaths. Most drownings occur in lakes, ponds and rivers—even as a good swimmer, you're at risk of drowning if you fall out of a boat or are in an accident. When visiting bodies of water, make sure you and your family are equipped with life jackets that are properly fitted to each individual and approved by Transport Canada. Children can drown in as little as one inch of water, so never leave them unsupervised in or near water.
Avoid pesky bug bites.
While the risk of getting a serious disease from a bug bite in Alberta is low, it's important to be aware of the risks and how you can prevent them. Cover up with light-coloured clothing, which is less attractive to mosquitoes and allows you to see ticks easily. Wear insect repellent but apply sunscreen first. After being outside, check yourself, your children and pets for any ticks or bug bites. If you find a bug bite, follow proper instructions on how to treat it quickly to reduce the chance of infection or disease. You can find treatment instructions on MyHealth.Alberta.ca or by calling Health Link at 811.
Play safe.
Make sure that backyard and playground equipment is properly secured to the ground and teach children how to play safely. Be especially careful around recreational trampolines, which are an increasing cause of injuries among children—and ensure all trampolines contain a safety net enclosure and that any use is closely supervised. Always supervise children playing outdoors if they're under the age of 12—be attentive and close enough to act if needed.
Wear a helmet.
To protect yourself from injury, it's important to wear a helmet when on a bicycle, skateboard, scooter, rollerblades or when operating a motorized off-road vehicle. Alberta laws require helmets be worn by anyone operating a motorcycle or an off-highway vehicle—for example, an all-terrain vehicle (ATV). Albertans under the age of 18 are also required to wear a helmet when cycling. Make sure your helmet fits properly—it should be snug, level front-to-back, sit an inch above your eyebrows and allow for two fingers to fit between your chin and the strap.
Camp safely.
Plan to be prepared for any situation when camping. Bring a map of the area and make sure someone is aware of where you're headed—especially if there's no cellphone service. Bring clothing for all types of weather and always pack an emergency kit with a flashlight, a radio, extra batteries and medical supplies. Avoid attracting bears to your campsite by keeping food, garbage and recyclables inside a vehicle, hard-sided trailer or bear-proof container. In the event of severe weather, seek shelter in a building or metal-roofed vehicle—never stay in your tent. Prior to your trip, be sure to check the Alberta Parks website for the most up-to-date information on camping regulations.
Keep food fresh.
Prepare and handle foods safely to reduce the risk of food-borne illness—especially when barbequing or going outdoors. Wash your hands thoroughly before and after handling food. Use hand sanitizer if you're camping or on a picnic. Keep food between 4 and 6°C to prevent growth of harmful bacteria. Discard any cooked food that has been at room temperature for more than two hours. When in doubt, throw it out!
Protect your home.
Follow some of these simple tips to decrease the possibility of someone breaking into your home while you're away on vacation—even short ones. If you're going to mention your trip on social media, make sure your profile and status updates are set to private. While away, avoid geotagging pictures or adding the location to public status and story updates. Have friends or neighbours check in on your home to bring in mail and packages or identify any leaks or hazards that could become bigger problems. As a bonus, their visits will make potential criminals think your house is occupied.
Keep an eye on the sky.
As you know, summer weather conditions in Alberta can change fast. Severe weather like heavy winds, hailstorms or tornadoes can be life-threatening. Before you head out, be sure to check the weather forecast. While outside, keep an eye on the sky, keep a radio or your mobile phone nearby to be aware of any weather advisories, and have a plan to find shelter should a storm arise.
Alberta Sheriffs receiving additional officers and more powers with new funding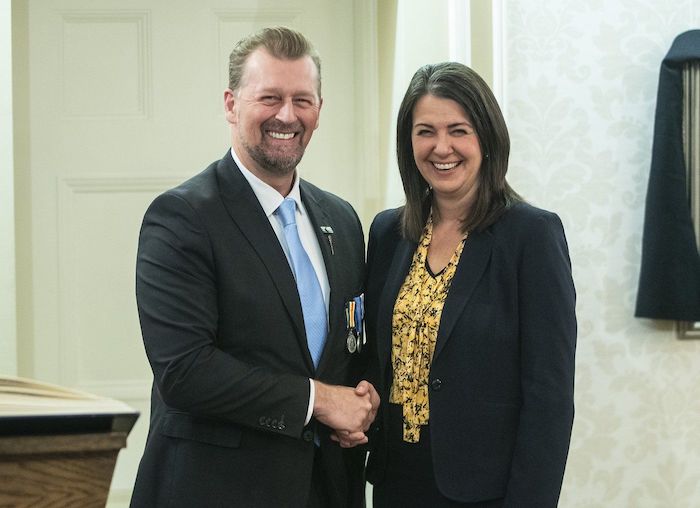 Mike Ellis shakes hands with Alberta Premier Danielle Smith after being sworn into cabinet as minister of public safety in Edmonton, Monday, Oct. 24, 2022. Alberta sheriffs will have expanded powers and play a bigger role in combating rural crime with new funding, the provincial government said Friday. THE CANADIAN PRESS/Jason Franson
St. Paul, Alberta
The Alberta Sheriffs Branch will have expanded powers and play a bigger role in combating rural crime with new funding, the provincial government said Friday.
Public Safety Minister Mike Ellis said $27.3 million will go to new positions and for rural crime initiatives, including two plain clothes teams that will help RCMP with criminal surveillance.
The announcement comes as Alberta continues to mull over whether to create a provincial police service to replace the RCMP.
"There has been some misleading commentary about this investment in the Alberta sheriffs, namely that it's the way of laying the groundwork for establishing a provincial police service by some other means," Ellis said Friday in St. Paul, Alta., 200 kilometres northeast of Edmonton.
"I'd like to remind people that the provincial government hasn't made any decision about an Alberta police service."
Ellis said although the RCMP has its own surveillance teams, most of the efforts are focused on major investigations. He said the new sheriff teams will fill a gap by helping the RCMP detachments with local investigations.
"I've heard countless stories about home invasions being committed by prolific offenders or thefts from farms. Every property owner has the right to feel safe in their home and the right not to wake up and find their equipment gone or fuel siphoned from vehicles," he said.
"These really are the type of cases that keep Albertans up at night."
The sheriffs will also get funding to add 20 investigators to the Safer Communities and Neighbourhood unit, which uses civil enforcement to target problem properties where illegal activities take place.
There is also money for the Sheriff Highway Patrol to train and equip its members to help RCMP with emergencies and high-priority calls.
"We will provide all members of the Alberta sheriffs with full powers to arrest under the Criminal Code," Ellis said.
"Some members of the sheriffs already have Criminal Code authorities, but we believe the public will be better served with consistency throughout this province."
The head of the Alberta RCMP said he welcomes the additional help from the sheriffs.
"These additional resources for the Alberta Sheriffs will improve our combined ability to suppress criminal activity in rural Alberta," said Deputy Commissioner Curtis Zablocki in a statement.
Farooq Sheikh, the chief of Alberta Sheriffs, called it a proud day.
"While our members have a visible presence in many functions they perform such as highway patrol, fish and wildlife enforcement, security in our provincial courts … the sheriffs perform a lot of important work to keep communities safe that's outside of the public eye."
This report by The Canadian Press was first published March 24, 2023.
Finance Minister Travis Toews, Environment Minister Sonya Savage say won't run again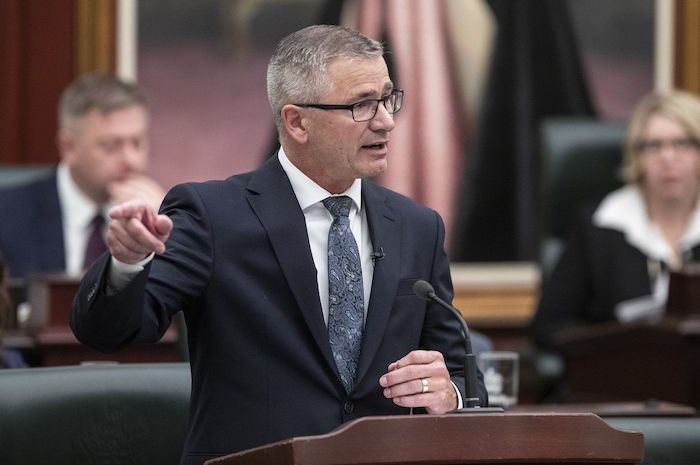 Alberta Finance Minister Travis Toews delivers the budget, in Edmonton, Tuesday, Feb. 28, 2023. Toews says he will not run in the upcoming provincial election. THE CANADIAN PRESS/Jason Franson
By Dean Bennett in Edmonton
Two Alberta government cabinet ministers announced Friday that they will not be seeking re-election.
Travis Toews, the province's finance minister and the runner-up to Premier Danielle Smith in last fall's United Conservative Party leadership race, is exiting politics. Environment Minister Sonya Savage also said she will not run in the expected May 29 provincial vote.
Toews, the legislature member for Grande Prairie-Wapiti in northwestern Alberta, ended months of speculation with his announcement. He said it was a recent decision and a difficult one for him and his wife, Kim.
"(There were) personal considerations, certainly family considerations and some business considerations," Toews said in an interview. "When we added all of them up this seemed like the right decision for us. That was the impetus for it."
He dismissed suggestions the decision was tied to his loss to Smith or to the party's further shift to the right under her leadership.
"We have a big tent party. This United Conservative Party has a lot of diversity. All groups are very important," he said.
"I'm fully committed to the party, to the movement, committed to the premier and committed to an election win this May."
Toews was elected in 2019 for the UCP and was finance minister for all but a few months when he ran to replace former premier Jason Kenney as party leader, coming in second to Smith.
Savage, the member for Calgary North-West, announced her decision to quit provincial politics with a statement on Twitter, saying she wants to spend more time with her family. She said she looks forward to remaining a party member and wished the premier and her UCP colleagues success in the upcoming election.
In a statement, Smith said Toews has been "one of the strongest finance ministers in Alberta's history and leaves a legacy of strong fiscal management that I will continue to uphold as premier."
"I greatly respect his decision to spend more time on the ranch and with his family," Smith said. "There will be big boots to fill in Grande Prairie-Wapiti, and I wish him, Kim and the family nothing but the very best."
Smith said Savage will be greatly missed.
"Minister Sonya Savage's dedication and commitment to furthering Alberta's energy interests and developing a Made-in-Alberta approach to responsible environmental stewardship of our natural resources will benefit Albertans for decades," she said in a statement.
Toews had refused to discuss his future in recent weeks, saying he was focused on passing the budget, which featured a projected $2.4-billion surplus along with increased spending across the board.
The decision comes a little over a month from when the writ is expected to drop.
Smith said that given the short window, she will work with the party and the local constituency association to appoint a candidate "so that the new candidate can hit the ground running and ensure a UCP victory in this constituency."
Toews was the early favourite to replace Kenney as leader last year – with half of the caucus members supporting him — but fell short in the end as Smith galvanized party anger with the federal government and COVID-19 health restrictions.
He locked horns with Smith during the campaign. He criticized her for past advocacy of a provincial sales tax and said her proposed — and since passed — sovereignty act would scare off investment with its promise to ignore federal laws in areas of perceived provincial jurisdiction.
As finance minister, the rancher and accountant oversaw the best and worst of Alberta's turbulent oil-and-gas-powered economy, with massive deficits, negative oil prices and eye-popping surpluses.
He looked born to the parts of outdoorsman and number cruncher: close-cropped hair, eyeglasses and well-worn cowboy boots with a trademark monotone speaking style occasionally punctuated by high-decibel, finger-pointing attacks on the NDP Opposition during question period.
He stickhandled many controversial files, including de-indexing personal income tax, arguing for wage cuts to nurses during the COVID-19 pandemic and lifting the rate cap on auto insurance.
He was also the point person on long-running deliberations to pull Alberta out of the Canada Pension Plan in favour of a provincial one. The government has yet to release research on the merits and drawbacks of such a plan, despite promising two years ago that the release of a report was imminent.
Toews was also among those who were surreptitiously photographed in 2021 at a drinks-and-dinner get-together with Kenney on a rooftop patio on the legislature grounds in contravention of COVID-19 gathering rules.
In a statement, Opposition NDP finance critic Shannon Phillips said she admires Toew's record.
"He conducts himself with decency and is mostly grounded in reality, unlike the new crop of Smith candidates."
Toews said his proudest achievement is leaving the province in a better place financially than when he found it, noting the new budget also includes commitments to keeping spending under control while repaying debt and investing in long-term savings.
"We're leading the nation in job creation," Toews said.
"All of that tied together certainly brings some satisfaction to these last four years, which have certainly been a bit of a roller-coaster."
He said the difficult part was long nights of no-win decisions during the COVID-19 crisis, balancing public health with personal freedoms with no clear cut black-and-white answers.
"Those were some of the hardest hours of my life serving on that COVID cabinet committee," he said.
"(They were) impossible decisions, and knowing those decisions were going to impact Albertans directly. We certainly didn't get it all right."
This report by The Canadian Press was first published March 24, 2023.