ADAM BALDWIN'S No Rest for the Wicked – Raw, Real and Full of Heart!
"I SPEAK IN RAINBOWS,
IT'S MY NATIVE TONGUE…"
"Let me go insane…" from 'Half a Mind' hits my ears over and over and I can't help but think that it's exactly what I need to hear right now. In fact this could be one of the most profound heartfelt 23 minutes and 15 seconds of music I've heard in a hell of a long time. Yes, I understand that this EP came out last year but wow. Sometimes something pops up and just screams at you to stop and pay attention. Musically that doesn't always happen for me. As an artist it's something I strive for. To connect. Adam Baldwin hits the nail right on the head with this rock n roll collection of songs that simply put are incredible and beautiful. It's rare when honesty meets authenticity and is completely vulnerable.
"BABY MIND YOUR FOOTING,
MY TERRAIN IS DEADLY…"
'Dark Beside the Dawn' is absolutely one of the coolest songs ever written. Yes, I said that. The raw integrity that Adam is able to deliver vocally is amazing and reminiscent to the likes of Tom Petty and Bruce Springsteen. Of course Adam is no stranger to the Rock N' Roll life playing guitar alongside Matt Mays as well as his own legacy that he's certainly creating. There's just something so emotionally captivating about this EP that resonates.
I had the pleasure of meeting Adam a couple years back while he was in Red Deer, AB performing with Matt Mays at Bo's Bar & Stage back when concerts were a thing. Adam gave me nothing but time and sincerity. Which is not always a given amongst peers within the industry so it was a really nice surprise. I could tell immediately that Adam was one of the ones. You know, the "it" quality.
Sometimes tho, you get the "it" combined with organic vulnerability and that transcends. That my friends becomes what we've all come to look for in searching for those epic moments of self discovery and realization in life. I call it "Heart." You ever get that feeling where all of a sudden whether it makes sense or not, it just feels like it doesn't matter because for that moment, there's a certain euphoria that just takes over? Me too. Then it's gone. Fleeting. That's what this EP does for me but it's not fleeting. These songs make me feel like I can hold onto it for a little while longer. I like that.
So… If you didn't know who Adam Baldwin was before reading this now you do, you're welcome. Take a you day, pull up Adam Baldwin's No Rest for the Wicked on any major music platform, hit play and then hit repeat! Give yourself a soundtrack and stay well.
For all the Adam Baldwin bio and show info you'll likely wanna check out adambaldwin.ca
List of 2023 Oscar winners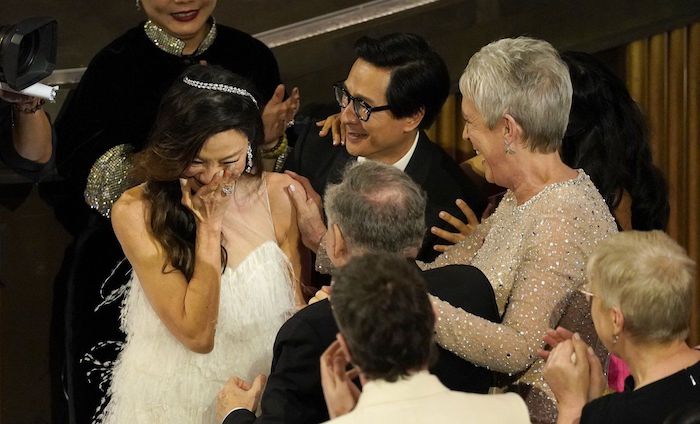 Michelle Yeoh, left, reacts in the audience with excitement as she accepts the award for best performance by an actress in a leading role for "Everything Everywhere All at Once" at the Oscars on Sunday, March 12, 2023, at the Dolby Theatre in Los Angeles. Jamie Lee Curtis, from right, and Ke Huy Quan are seen in the audience. (AP Photo/Chris Pizzello)
By Jake Coyle in Los Angeles
LOS ANGELES (AP) — Oscar winners announced Sunday:
Best picture: "Everything Everywhere All at Once"
Best actress: Michelle Yeoh, "Everything Everywhere All at Once"
Best actor: Brendan Fraser, "The Whale"
Best supporting actor: Ke Huy Quan, "Everything Everywhere All at Once"
Best supporting actress: Jamie Lee Curtis, "Everything Everywhere All at Once"
Original song: "Naatu Naatu" from "RRR"
Film editing: "Everything Everywhere All at Once"
Best director: Daniel Kwan and Daniel Scheinert, "Everything Everywhere All at Once"
Best animated feature: "Guillermo del Toro's Pinocchio"
International feature film: "All Quiet on the Western Front" (Germany)
Documentary feature: "Navalny"
Live action short: "An Irish Goodbye"
Cinematography: James Friend, "All Quiet on the Western Front"
Makeup and hairstyling: "The Whale"
Costume design: "Black Panther: Wakanda Forever"
Documentary short: "The Elephant Whisperers"
Animated short: "The Boy, the Mole, the Fox and the Horse"
Production design: "All Quiet on the Western Front"
Music (original score): Volker Bertelmann, "All Quiet on the Western Front"
Visual Effects: "Avatar: The Way of Water"
Original screenplay: "Everything Everywhere All at Once"
Adapted screenplay: "Women Talking"
Sound: "Top Gun: Maverick"
___
For more on this year's Oscars, visit: https://apnews.com/hub/academy-awards
Bruce Willis has frontotemporal dementia. What is FTD?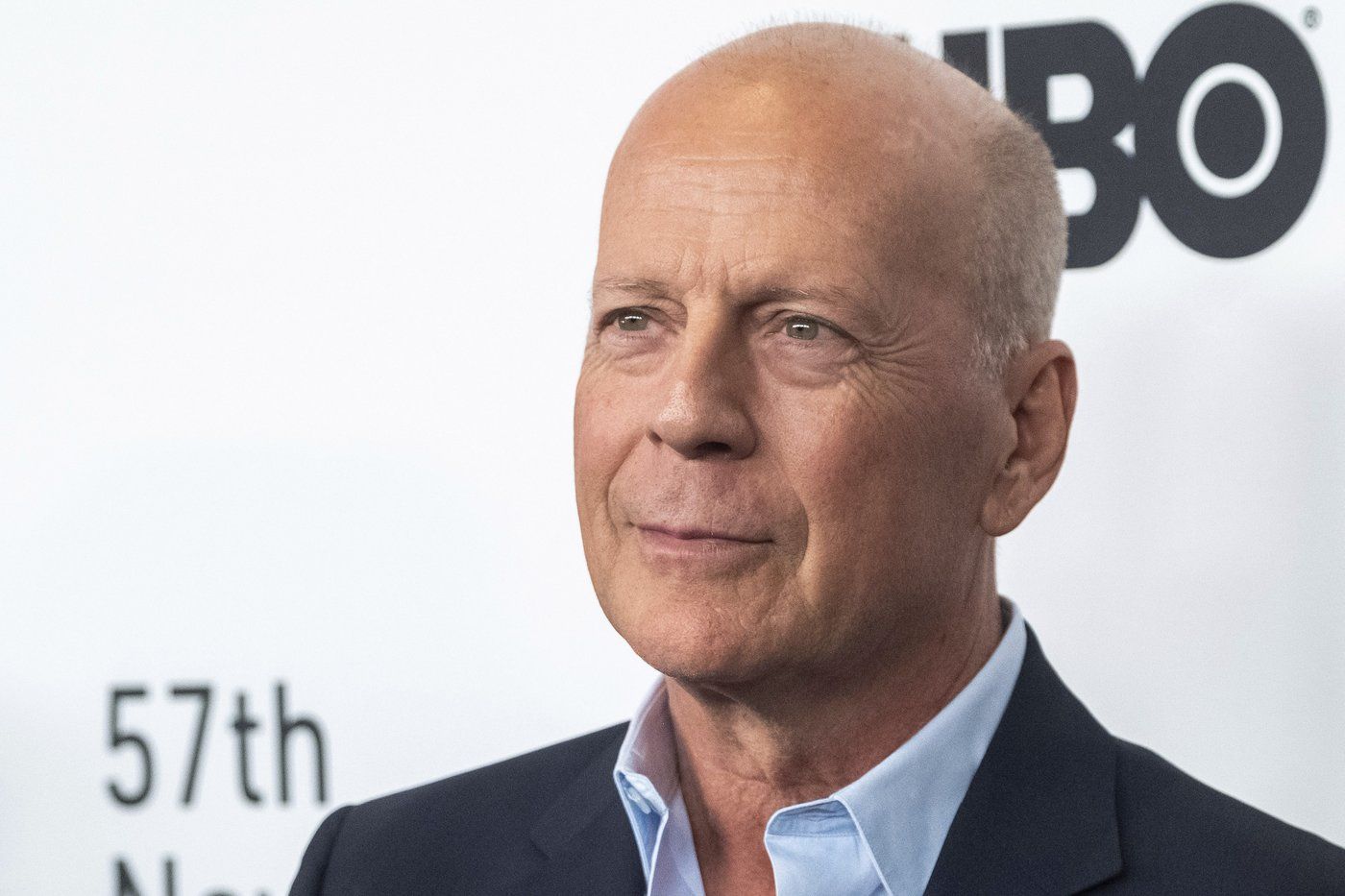 Bruce Willis' family has announced that he has been diagnosed with frontotemporal dementia.
The announcement Thursday came about a year after his family said that Willis would step away from acting after being diagnosed with aphasia, a brain disorder that leads to speaking, reading and writing problems.
Here's some details on the condition:
WHAT IS FRONTOTEMPORAL DEMENTIA?
There are different types of dementia, and the frontotemporal form affects regions in the front and sides of the brain. Because it causes problems with behavior and language, aphasia can be a symptom.
It's caused by damage to neurons, the brain's information carriers, but the underlying reasons for a particular case are often unclear. People with a family history of the condition are more likely to develop it. It's rare and tends to happen at a younger age than other forms of dementia, between ages 45 and 65.
The terms frontotemporal disorders and frontotemporal dementia are sometimes shortened to FTD.
WHAT ARE OTHER SYMPTOMS OF FTD?
Symptoms can include emotional problems and physical difficulties, such as trouble walking. Symptoms tend to worsen over time, though progression varies by person.
The statement from the actor's family said communication problems "are just one symptom of the disease Bruce faces."
CAN FTD BE TREATED?
There are no treatments to slow or stop the disease, but some interventions can help manage symptoms.
Some patients receive antidepressants or drugs for Parkinson's, which has some overlapping symptoms with frontotemporal dementia. Many also work with speech therapists to manage communication difficulties and physical therapists to try to improve movement.
People with the condition are more likely to have complications from things like falls, injuries or infections. The average life expectancy after symptoms emerge is seven to 13 years, according to researchers.
___
The Associated Press Health and Science Department receives support from the Howard Hughes Medical Institute's Science and Educational Media Group. The AP is solely responsible for all content.