Heavenly Valhalla by Gerry Feehan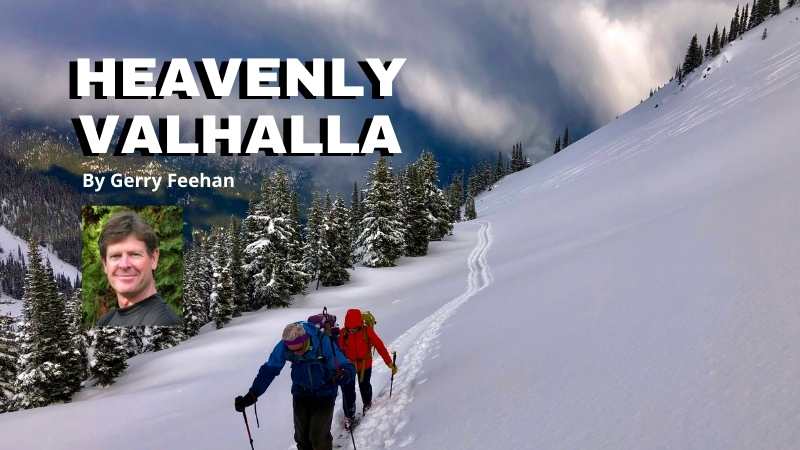 In Norse mythology, Valhalla is the place where slain warriors dwell under the leadership of god Odin. The einherjar blissfully hang out in the netherworld, patiently awaiting the arrival of Doomsday. Not my idea of a fun place to winter. Luckily, the Valhalla we visited last March, a quaint mountain lodge tucked away in BC's Selkirk Mountains, is rather less bleak—and a lot more heavenly. This was our first destination-vacation in over a year and we were giddy with excitement—with a touch of trepidation thrown in. A physically demanding three day ski touring adventure was on tap. From our home base in Kimberley we enjoyed the leisurely drive—and a peaceful ferry ride across Kootenay Lake—to New Denver on Slocan Lake where we checked into the hospitable and very unique Adventure Domes cottages.
In the morning, at our designated pick-up spot on the north end of Slocan, the March snow had deteriorated into that ugly freeze-thaw meringue typical of a strengthening spring sun. Hmmm, how would the skiing be? While we helped load gear into the snowcat, I wondered out loud if it were wise that we'd chosen a slot so late in the season. 'Ha', laughed the driver, 'you'll find it a little different 1000 meters up the mountain.' And indeed, one very steep hour later, we emerged into deep soft snowy white winter. Heavenly Valhalla.
That Valhalla Mountain Touring (vmt.ca) was even operating is a testament to the perseverance of owner Jasmin Caton — and the dedication of the whole Valhalla staff, given the stringent conditions wrought by this rotten pandemic.
Every guided backcountry ski tour begins with terrain orientation, where the guests gather outside in the snow to practice avalanche training, mountain rescue techniques and the use of a transceiver beacon to rescue a dummy. We had packed all the necessary gear, but some were borrowed—and apparently outdated. Dan, our lead guide, politely asked me to hand over the ancient probe which I was ineptly attempting to assemble. 'This is a good example of something not to use when attempting to locate a submerged body; probably more suitable for British mountaineering in low snow-pack.' I nodded but failed to mention that I had indeed obtained the feeble tool from a British acquaintance who had proudly lauded its efficacy.
In her 10 years of backcountry ski guiding, Jasmin has never had a serious accident to contend with. (On the Kimberley ski hill the day before we left, we watched the ski patrol haul down three stretchers.) Jasmin jokingly complained that she'd never had to use the assortment of fancy gear she hauled up the mountain every day. That would change during our stay.
After orientation we tucked back into the cozy lodge and, as eyeglasses de-fogged, a feast of appetizers appeared, courtesy of chef Annie. These treats did not remain in view long. All 9 guests quickly gobbled up the delectables, storing up calories in anticipation of the weight-loss program which would commence in the morning: climbing 1500 meters up a snowy mountain for three straight days.
My wife Florence and I are relative newbies to ski touring and, although we had put in a respectable amount of pre-arrival training, we were pooped by the end of day one. So after another remarkable meal—Annie's signature lamb-chops—it was early to bed, where we slept the sleep of the dead.
I assume you're familiar with the adage, 'Don't judge a book by its cover.' Well, the maxim certainly applies to ski-touring. I pride myself (erroneously as is now apparent) on being in pretty good shape for my vintage. As we gathered gear, donned equipment and shot the breeze in the breezeway on day one, I noted the advanced age of some of my fellow guests and, inwardly smirking, thought, 'I hope that old gal doesn't hold us all up.' And… no she did not. As it turns out, neither did I. Utterly exhausted, I had begged off the last climb of the day and trudged morosely back to the lodge, watching my geriatric friend tirelessly scurry uphill for another run down the pow.
Day two dawned with a mess of fresh snow. We devoured breakfast, packed our pre-made lunches, strapped on skins and strode out across frozen Shannon Lake. As we exited the lake and began a steep ascent to the mountain summit a kilometer above us, Dan stopped, shushed us all and steered off the intended track. A huge yellow-white mountain goat was demanding the right-of-way. The big billy regarded us for a moment, then diverted directly uphill, striding tirelessly through the deep untouched powder. We watched mouths agape as the mighty creature slowly became a speck far up mountain.
It was toward the end of day three—our last—when Dan's radio crackled an urgent message. Someone in the group below had been hurt. We were only a few hundred meters from the notch where we were to perform our final transition: strip off skins, buckle boots, set heels, point skis downhill, hoot with pleasure.
Dan instructed us to stop immediately, huddle up and prepare to descend. 'Stick together and ski carefully,' he said, 'the last thing we need now is another problem.' 20 minutes later we came upon the other crew. Jasmin's mother Lynda had had a nasty spill. Her leg was badly broken. Jasmin had assembled her mom's skis into a makeshift toboggan, used poles as a splint, wrapped her in the insulating warmth of some spare coats and hauled the bundle up to an access spot where a VMT snowmobile and sled met us.
Jasmin jumped aboard and disappeared down the bumpy logging road to rendezvous with an ambulance on the highway far below. The lodge is isolated from the world. There is no margin for error when an emergency arises. The professionalism and expert training demonstrated by the whole VMT team in this serious situation was remarkable.
Later that evening, as we finished dinner and reposed by the roaring fire, Jasmin stepped into the lodge to reassure us that her mom was doing fine. She provided an update on the weather and outlined the plan for the following day. She smiled, non-plussed and said, 'Well, at least I finally got to use all that stuff I pack.' Then she ducked out the door. Her two-year-old twins, Spruce and Indigo, were waiting in the staff quarters, ready to spend some quality time with their mom. Just another amazing day in Valhalla.
Gerry Feehan is an award-winning travel writer and photographer. He lives in Kimberley, BC.
Thanks to Kennedy Wealth Management for sponsoring this series. Click on the ads and learn more about this long-term local business.
Big Bend Bob: Gerry Feehan takes us on a stunning tour of the Rio Grande River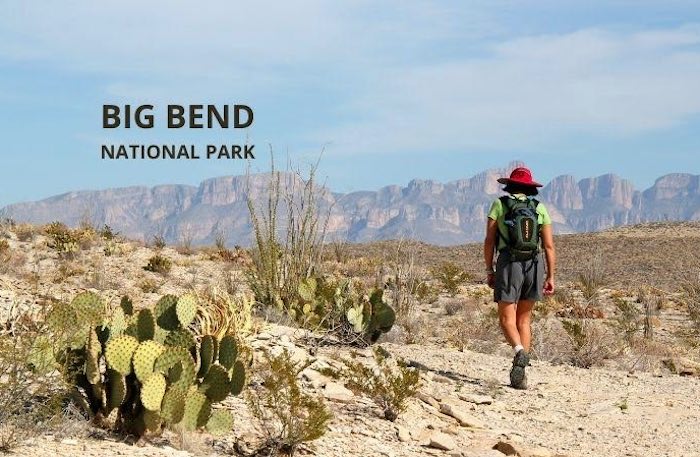 When I first spied Bob he was hunched over a computer in the dark outside a bathhouse on the Rio Grande River. We were camped in Big Bend National Park, Texas. I nodded hello as I passed. Bob looked up, grunting inaudibly. What an ornery old geezer, I thought.
Later that evening I watched as he folded up his laptop, grabbed his canes and teetered tentatively across the parking lot toward his van. I felt bad. He was entitled to his grumpiness. He could barely walk from the john to his beat-up old RV.
As I fell into slumber thoughts of Bob evaporated. We had a big day ahead: a long hike through parched desert on a rim trail overlooking the Rio Grande. Our destination was an idyllic hot spring seven kilometers upstream; a place where soothing thermal waters spill into this river famous for separating America from Mexico. After a dip and picnic lunch we'd retrace our steps through the dry wilderness. It'd be dark by the time we got back to camp.
G
We started good and early – which for me means somewhere around 10:15 a.m. I thought it wise to carve a few kilometers off the long, sunny march so my wife Florence and I rode our bicycles from the campground to the trailhead. As we pedaled, I was surprised to see Bob wandering down the road, wobbling on his two walking sticks. I waved. He didn't look up.
We secured the bikes at the trailhead, donned our packs… and promptly headed in the wrong direction. When we finally gained our bearings and started up the proper trail, there was Bob gamely climbing the first steep ascent. As we overtook him I thought it polite to slow and make a final offer of greeting; after all we were headed into the same scorched Chihuahuan desert and there wasn't another soul around.
"Are you going to the hot springs?" I asked as we passed, masking a patronizing tone; no way was this old guy tackling the hot desert terrain alone all the way to the springs.
"Yup," he said, opening up.
We marched on but when we stopped briefly to admire a viewpoint where the Rio Grande cuts a scenic narrow gorge between Texas and Mexico up walked Bob, peered over the ledge and said, "Pretty, isn't it?"
After that the conversational floodgates opened. We introduced ourselves and spent the next four hours bantering back and forth in clever repartee, philosophizing about life and just shooting the breeze.
Bob is a retired professor of law from Oregon. When his wife passed away a few years ago he bought an old RV and hit the road, solo. Bob proclaims a healthy disdain for authority and a hearty dislike for close-mindedness and fundamentalism of any stripe.
Bob didn't move very quickly over the rough landscape. Now and then we'd lose sight of him on the rocky trail but eventually he'd mosey up to where we'd stopped to admire a new vantage of the Rio Grande.
"Look, those are spiny soft-shells," he remarked at one particularly beautiful spot, pointing to a group of turtles spinning slowly in a foaming eddy far below. Above, in a scraggly tree, a vermillion flycatcher regarded us with disinterest.
"Have you two spent much time in those fancy RV resorts?" asked Bob, in a swift change of subject.
"Some," I reluctantly admitted, thinking wistfully of hot showers and free wifi. "Why do you ask?"
"I prefer the State and National Park campgrounds. Life is simpler and the company decidedly more enjoyable. In the posh private places there's always a big mouth in the hot tub. Have you ever noticed that those who talk the most have the least to say?"
For the next few kilometers I spoke only when spoken to.
My concern over Bob's solitary walk-about into the thirsty desert was ill-founded. Although advanced in years he continues to exercise a life-long passion for long distance running. He ran marathons for many moons before deciding a 42-kilometer run was too short: he moved on to extreme long-distance events.
"But those days are behind me now," he said. "Mostly I stick to short jaunts like this."
I smiled knowingly. My feet were killing me.
He continued. "I know it's not much but once a year on my birthday I still have a decent jog: my age plus the miles run add up to 100.
"How far did you go this year?" I asked, thinking he must be well into his seventies.
"It's getting shorter all the time," he laughed. "My birthday was last week. I'm down to 15 miles. A few more years and I won't even have to get out of bed."
He hopped off a small outcrop, balanced on his canes and grimaced slightly, "Damn, my knee hurts!"
Eventually we arrived at the hot springs, pulled off our shoes and soaked our toes in the same healing waters enjoyed by pioneers and cattle rustlers alike for over two hundred years. Ancient petroglyphs on the nearby cliffs evidence the appealing – and supposedly healing – powers of these waters.
(At the risk of imprisonment in or banishment from the United States) I decided to flout Homeland Security and waded across the shallow waters of the Rio Grande to set foot in old Mexico. The mud on the south side of the river felt just like American mud.
We watched as a horseman a hundred meters downstream did what caballeros have done for centuries: gracefully (but now illegally) ride his mount across the brown waters and up the steep bank into Mexico.
Our long day with Bob was sprinkled with solitude and quiet chuckles. The old adage "don't judge a book by its cover" comes to mind. So does the lesson of the tortoise and the hare. On the return trip he insisted we march on ahead. "Don't wait for me. I'll be fine."
I thought, "Bob's a big boy… were it not for our chance meeting, he'd be out here in the desert alone." Off we trundled, arriving back at our bicycles just as the sun set. Although I wasn't his keeper, I couldn't help but keep an eye on Bob's camper as the light waned. After darkness had fully descended and he hadn't returned, I hopped on my bike and rode back toward the trailhead. I found Bob wandering happily down the road – canes bumping in the darkness – still
a couple of kilometers from the campground.
"You weren't waiting on me, I hope?" he asked. "I should have been back before now but I got to talking with a couple of interesting folks back up the trail."
"No, no, I just felt like going for a spin." I felt stupid, like a worried parent waiting up for a teenager, embarrassed when the youngster inevitably arrives home safely.
We left Big Bend very early the next morning – around ten. As we pulled out of the campground Bob was outside the canteen pecking away at his keyboard, walking canes crisscrossed against his legs. I waved but he didn't look up.
Gerry Feehan is an award-winning travel writer and photographer. He lives in Kimberley, BC.
Thanks to Kennedy Wealth Management for sponsoring this series. Click on the ads and learn more about this long-term local business.
A Rainy Day in Montenegro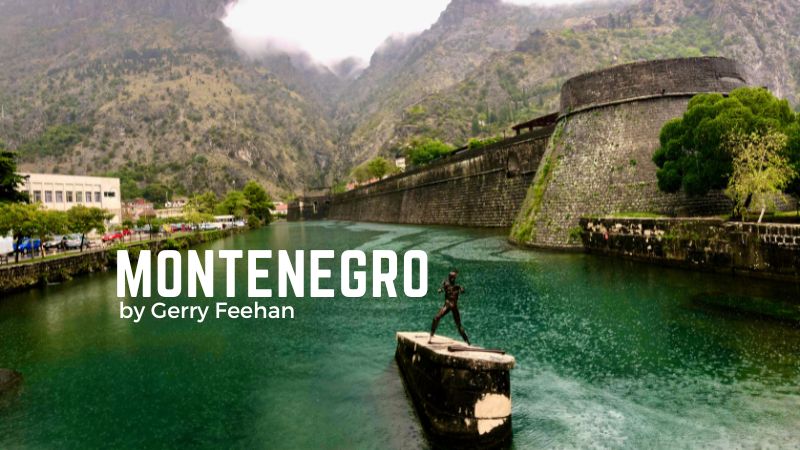 Dubrovnik City wall
Room 703, Valamar Hotel, Dubrovnik, Croatia.
I had a strange dream last night.
Well past midnight there came a quiet rap on the door. An apologetic bellboy pointed to a small man standing quietly in the hallway. The man sported a fine suit and monogrammed luggage. 'I'm sorry,' said the bellhop, 'the Valamar is sold out
this evening. This gentleman needs a room. Only for tonight. Perhaps you can accommodate.' Naturally I declined. However my wife, speaking from her comatose oblivion, insisted we invite the stranger in. 'Sshh, it's fine,' she said simultaneously
snoring, 'for today, we go to Montenegro.'
What my dream-world wife didn't anticipate—but I did—was that our uninvited, nocturnal guest would soon become an unpleasant somnambulant nuisance and ultimately transform into a weapon-wielding demon. By the time I finally, politely
asked him to depart our quarters, the intruder had morphed into a loud, apocalyptic earthquake. I awoke in a heap of sweat to a thunderous lightning storm, crawled from bed, pulled closed the trembling illuminated curtains—and swore off rakija for the balance of our Balkan holiday. I tossed and turned the rest of that uncomfortable night, occasionally glancing irritably at my happily reposed spouse. The alarm tolled at 6:15am.
In a post-hallucinogenic stupor I stumbled into the hotel lobby and ran smack dab into the selfsame night-watchman who, in my torpor, had invited Armageddon-man into our room at witching hour. 'And you call yourselves a 5-star hotel,' I remarked testily. He regarded me uncertainly, shrugged and opened the lobby doors. Outside, standing curbside beside a dark blue Mercedes van, stood a veritable giant of a man; our driver for the day. He grinned grimly, swung the passenger door open and commanded us to climb in. I was fearful the nightmare was continuing. But as we pulled away from the dewy curb our mountainous chauffeur politely introduced himself as Zoran and began a casual, intriguing introduction to the history of Montenegro.
Incessant rain made for a dreary day
The downpour began in earnest as we neared the border. The Croatian exit authority inspected our papers with palpable disinterest—then stood up, exited his cramped cubicle and promptly disappeared into the mist. 'Between shifts,' explained
Zoran with a resigned shrug. After a 10-minute, stiflingly humid delay, an equally apathetic replacement arrived to re-scrutinize our passports. Documents eventually back in hand, we were permitted to depart Croatia and make the short descent into neighbouring Montenegro where another listless guard repeated the same agonizing process.
Everyone loves passport stamps. I entreated Zoran to ask the guard for some evidence that we were actually entering mysterious Montenegro, bragging rights for the folks back home. 'This not good idea,' said Zoran apologetically—but
unequivocally—and we pulled away from the tiny damp station and into a strengthening deluge. It was a half-hearted, bureaucratic, blustery beginning to a soppy day. (For no discernable reason, other than inane custom and mutual distrust,
countries of the former Yugoslavia demand perusal of papers upon both ingress and egress. But I digress.)
Montenegro. The name evokes visions of a small, opulent seaside protectorate where luxury yachts bob in an idyllic harbor surrounded by spectacular mountains. But while the country is indeed small, and is on the ocean, and does have a stunning mountain backdrop, Montenegro is certainly not well off. In fact Montenegro is one of Croatia's poorest Balkan cousins. Together with Bosnia, Serbia and a few other newly-formed states, they were all part of Yugoslavia. In 1984 Yugoslavia hosted the Winter Olympics, welcoming the world's best athletes to a snowy paradise. Nine years later the entire federation would descend into anarchy and civil war, the lid of a centuries-old pot, boiling with religious and ethnic hatred, finally blown off. Our destination was the walled city of Kotor, a Renaissance-era gem of narrow, picture-postcard lanes. As the European crow flies, the town is not far from the Croatian border, but getting there entails a long circuitous drive around the Gulf of Kotor, which perforates deeply, fjord-like, into the Montenegrin coastline.
Kotor
On arrival, we exited hesitantly from the van, unfurled our umbrellas and splashed into town. What should have been an interesting, leisurely stroll down blind alleys and through colourful curio shops turned into a quick excursion—hurdling
overflowing gutters and dodging the deluge spilling from dilapidated gargoyles in the old fortified town. Overall, the morning was a wet bust. Zoran was apologetic, as if he were personally responsible for the obscuring rain. 'I wish you could see our beautiful mountains.'
But then came lunch—and, nonpareil, the best meal of our three-week Balkan adventure. I stepped, glasses fogged, into the Konoba Akustik Restaurant and discarded my broken umbrella amongst a stack of equally derelict parasols.
Rainwater, dripping from the ceiling, clanged into an ancient metal pail in the foyer. Expectations were low as we dodged around the overflowing bucket and took our squeaky seats at a rustic wooden table.
Then the food began to appear. First a hearty veal soup served with fresh jecmeni—barley flatbread. Then a platter of green olives and prosciutto. Then gnocchi and pasticada—beef marinated in wine vinegar. More jecmeni arrived to sop up stray sauces.
Perhaps a cocktail with your jecmeni?
The dishes kept coming. Stuffed to the gills, I declined desert, sat back in my rickety chair, and focused my attention on the adjoining table where Zoran and two large companions sat, surrounded by three nonplussed waiters and a gesticulating chef.
In unwavering concentration, they methodically devoured every dish we'd been offered plus massive plates of crni rizot—black risotto, and ajvar—spicy red pepper paste. Between mouthfuls they'd wedge in a large portion of Pag cheese. When the
skewers of lamb kebab arrived I could watch no more and directed my attention to the restaurant's ornate opaque windows and the passersby sloshing outside.
Montenegrins are not the tallest people on earth—the Dutch stubbornly cling to that lofty position. But I can state (anecdotally at least, having spent one full day in the
country) that the people of Montenegro are really, really tall. And apparently it takes a lot of calories to develop that degree of vertical span.
Zoran is on the right… in case you were confused
It was a full day. On the long drizzly drive back to the Valamar Hotel, the windshield wipers flapped incessantly, hypnotizing me into a sleepy daze, interrupted only by Zoran's occasional, meaningful collision with a muddy pothole. Nearly home, we passed through the beautiful old city of Dubrovnik. At a bus stop, under a portico tucked into the ancient city wall, I spied a small tidy man huddled under an umbrella, expensive luggage stacked neatly by his side. The fellow from my nightmare. I wiped my eyes and peered again. He was gone.
I slept dreamlessly that night.
Gerry Feehan is an award-winning travel writer and photographer. He lives in Kimberley, BC.
Thanks to Kennedy Wealth Management for sponsoring this series. Click on the ads and learn more about this long-term local business.