21st Century Learning for Everyone at Innovation Lab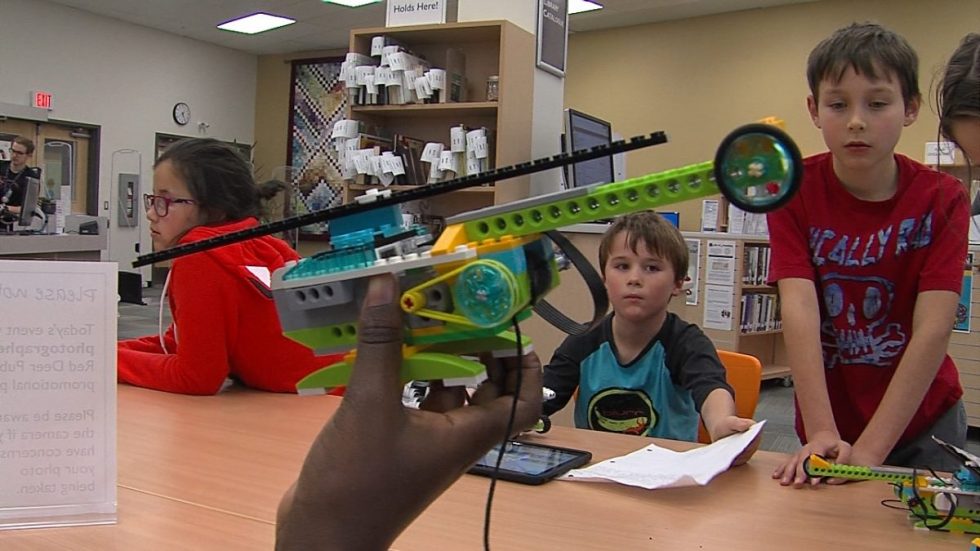 Video by Calvin Bellows, todayville.com
Want to know how our schools are preparing children for the 21st Century?  Want to take part in 21st Century learning yourself?  It's all possible now thanks to a partnership between Red Deer Public Schools and Red Deer Public Library.
Students at Ecole Barrie Wilson Elementary School which is attached to the Red Deer Public Library Timberlands branch are taking advantage of this unique new program called Innovation Lab.  It's a chance for students and visitors to the public library to get some hands on experience in robotics, computer coding, and 3-D printing.
At Ecole Barrie Wilson they're referring to this as "Maker Space".  The Public Library is calling this a "Digital Sandbox".  Whatever the name, it's certainly a unique and fun opportunity to spend some quality time learning in the 21st Century.
And if you need just a bit more explanation… here's Presley from Ecole Barrie Wilson.
Family math nights add up to success
In an effort to build an understanding of teaching math both at school and in the home, Red Deer Catholic Regional Schools is pleased to provide Family Math Nights.
These school-specific evenings first begin with an information session, and end with interactive stations for families to explore, all centred around developing understanding of concepts versus memorization skills. These sessions provide an opportunity to engage in math with a hands-on approach and ask questions to our numeracy experts.
Feedback from parents at other schools has shown that these Family Math Nights have a positive impact on student success.
Please note the upcoming Family Math Nights:
St. Teresa of Avila School (Grades 1-3) – January 18 from 6:00 – 7:30 p.m.
Holy Family School (Grades 1-5) – February 1 at 6:00 – 7:30 p.m.
Retro Radio Christmas Review – A Family Christmas Time Treat Courtesy of RDC
When you're tired of work and technology and a busy life, it can be hard to take a deep breath and slow down for a few hours.  That makes it all the more difficult to get into the "Christmas" spirit.
If that's your challenge, RDC's School of Creative Arts has some tonic for you.  This week, through to Saturday night, RDC presents "Retro Radio Christmas Review".
Student actors portray some of the biggest names in radio broadcast history from the heydays of radio programs.
Check out this video… and get your tickets for the whole family!
Here's all the information you need from RDC…
Let your imagination soar as the Theatre Performance and Creation students in the RDC School of Creative Arts bring their characters to life on stage. Our season would not be possible without the hard-working, professional Theatre and Entertainment Production students, providing behind-the-scenes support with costumes, props, weaponry, special effects, lighting, sound equipment, and stage management. 
Retro Radio Christmas Review
– live, on stage – by various authors
Age Group: Teens and Adults
Mainstage, Arts Centre
Evenings:  November 23 -25 & November 28 – December 2 | 7:30 pm
Weekend Public Matinees: November 25 & December 2 | 1:00 pm
School Matinees: November 24 & Dec 1 | 12:00 pm
Imagine yourself transported to the golden age of radio. Our actors will be portraying some of the biggest names in radio from some of the great Christmas classics. See how all those sound effects are created live on stage and what really happens between the performers when the broadcast goes live. A great evening for the whole family.