Zelenskyy pleads for aid as Biden, allies begin summits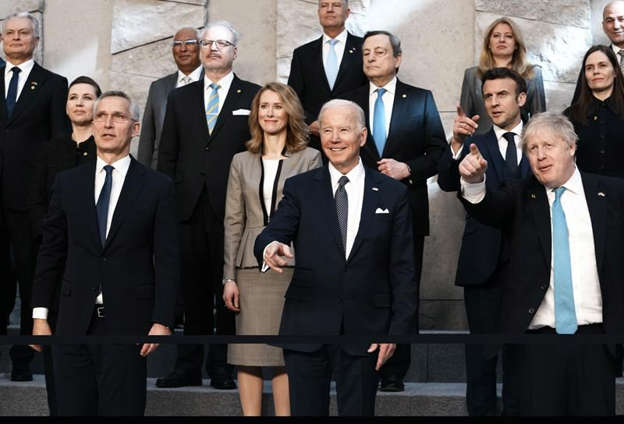 BRUSSELS (AP) — Ukrainian President Volodymyr Zelenskyy called for "military assistance without limitations" as he addressed an emergency NATO summit on Thursday, the first of three urgent meetings U.S. President Joe Biden and world leaders are holding in response to the Russian invasion.
Zelenskyy pleaded for anti-air and anti-ship weapons, asking "is it possible to survive in such a war without this?"
"It feels like we're in a gray area, between the West and Russia, defending our common values," Zelenskyy said in his video address to the summit. "This is the scariest thing during a war — not to have clear answers to requests for help!"
A Biden administration official, who requested anonymity to discuss the closed summit, said Zelenskyy did not repeat his demand for a no-fly zone, a demand NATO already has rejected. Western officials fear such a step would lead to direct conflict between NATO and Russia, which Biden described as a potential World War III.
However, in brief opening remarks as the NATO summit began, Secretary-General Jens Stoltenberg said the alliance must boost its defenses and "respond to a new security reality in Europe."
"We gather at a critical time for our security," he told the leaders seated at a large round table. "We are united in condemning the Kremlin's unprovoked aggression and in our support for Ukraine's sovereignty and territorial integrity."
Stoltenberg said the alliance is "determined to continue to impose costs on Russia to bring about the end of this brutal war."
Over the course of Thursday, the European diplomatic capital is hosting the NATO summit, a gathering of the Group of Seven industrialized nations and a summit of the European Union. Biden will attend all three meetings and hold a news conference afterward.
The schedule left Brussels interlaced with multiple police checkpoints and road closures to help motorcades crisscross the city as the leaders go from one meeting to the next.
While the West has been largely unified in confronting Russia after it invaded Ukraine, there's wide acknowledgement that unity will be tested as the costs of war chip at the global economy.
The bolstering of forces along NATO's eastern flank, almost certainly for at least the next five to 10 years if Russia is to be effectively dissuaded, will also put pressure on national budgets.
"We need to do more, and therefore we need to invest more. There is a new sense of urgency and I expect that the leaders will agree to accelerate the investments in defense," Stoltenberg said before the summit.
Biden's national security adviser, Jake Sullivan, said the U.S. wants to hear "that the resolve and unity that we've seen for the past month will endure for as long as it takes."
The energy crisis exacerbated by the war will be a particularly hot topic at the European Council summit, where leaders from Spain, Portugal, Italy and Greece are hoping for an urgent, coordinated bloc-wide response. EU officials have said they will seek U.S. help on a plan to top up natural gas storage facilities for next winter, and they also want the bloc to jointly purchase gas.
German Chancellor Olaf Scholz has dismissed calls to boycott Russian energy supplies, saying it would cause significant damage to his country's economy. Scholz is facing pressure from environmental activists to quickly wean Germany off Russian energy, but he said the process will have to be gradual.
"To do so from one day to the next would mean plunging our country and all of Europe into recession," Scholz said Wednesday.
Poland and other eastern flank NATO countries will also be looking for clarity on how the United States and fellow European nations can assist in dealing with their growing concerns about Russian aggression as well as a spiraling refugee crisis. More than 3.5 million refugees have fled Ukraine in recent weeks, including more than 2 million to Poland.
Biden is scheduled to visit Poland on Friday, where both issues are expected to be at the center of talks with President Andrzej Duda. Another significant moment could come shortly before Biden returns to Washington on Saturday. The White House said he plans to "deliver remarks on the united efforts of the free world to support the people of Ukraine, hold Russia accountable for its brutal war, and defend a future that is rooted in democratic principles."
Sullivan said Biden and fellow leaders would aim to "set out a longer-term game plan" for what forces and capabilities are going to be required for the alliance's eastern flank countries.
Four new NATO battlegroups, which usually number between 1,000-1,500 troops, are being set up in Hungary, Slovakia, Romania and Bulgaria.
Ukrainian President Volodymyr Zelenskyy, who is expected to address the NATO summit by video, said late Wednesday that he wants the alliance to "declare that it will fully assist Ukraine to win this war" by supplying any weapons necessary.
All the while, national security officials from Washington to Warsaw are increasingly worried that Putin might deploy chemical, biological or even nuclear weaponry. Sullivan said the allies would consult on how to respond to "potential contingencies" of that sort.
Biden said this week that the possibility of Russia deploying chemical weapons was a "real threat."
Stoltenberg declined Thursday to discuss whether such a strike is a red line that would draw the alliance into war with Russia. "I will not speculate beyond the fact that NATO is always ready to defend, to protect and to react to any type of attack on a NATO allied country," he said.
Kremlin spokesman Dmitry Peskov in a CNN interview this week said that Russia could consider using its nuclear weapons if it felt there was "an existential threat for our country."
Ursula von der Leyen, head of the European Union's executive arm, said before Biden's visit that she wants to discuss the possibility of securing extra deliveries of liquefied natural gas from the United States for the 27-nation bloc "for the next two winters."
The EU imports 90% of the natural gas used to generate electricity, heat homes and supply industry, with Russia supplying almost 40% of EU gas and a quarter of its oil. The bloc is looking at ways to reduce its dependence on Russian gas by diversifying suppliers.
Sullivan said the United States was looking for ways to "surge" LNG supplies to Europe to help.
Biden, for his part, was expected to detail plans for new sanctions against Russia and humanitarian assistance for the region.
One new sanctions option that Biden is weighing is to target members of the Russian State Duma, the lower house of parliament, according to a U.S. official who spoke on the condition of anonymity to discuss private deliberations. The new sanctions would be rolled out in coordination with Western allies.
Biden arrived in Brussels with Americans increasingly accepting of the need for the U.S. to help stop Putin, according to a poll from The Associated Press-NORC Center for Public Affairs Research.
But even as concern among Americans has swelled and and support for a major U.S. role in the conflict strengthened in the last month, Biden's negative approval rating has not budged, the AP-NORC poll found. Few are very confident that he can handle a crisis, and a majority thinks he lacks toughness in dealing with Russia.
Biden promised voters that he had the experience to navigate a complicated international emergency like the one unfolding in Europe and his trip will be the latest test of that proposition as he tries to maintain unity among Western allies and brace for potentially even bigger challenges.
___
Madhani reported from Washington. Associated Press writers Matthew Lee, Hannah Fingerhut and Darlene Superville in Washington and Samuel Petrequin in Brussels contributed to this report.
Chris Megerian, Lorne Cook And Aamer Madhani, The Associated Press
India suspends visa services in Canada and rift widens between countries
India's visa processing centre in Canada suspended services Thursday as a rift widened between the countries after Canada's leader said India may have been involved in the killing of a Canadian citizen. The High Commission of India is seen in Ottawa, Wednesday, Sept. 20, 2023. THE CANADIAN PRESS/Patrick Doyle
New Delhi
India's visa processing centre in Canada suspended services Thursday as a rift widened between the countries after Prime Minister Justin Trudeau said India may have been involved in the killing of a Canadian citizen.
Trudeau told Parliament on Monday that there were "credible allegations" of Indian involvement in the assassination of Sikh independence activist Hardeep Singh Nijjar, who had been wanted by India for years and was gunned down in June outside the temple he led.
Canada also expelled an Indian diplomat, and India followed by expelling a Canadian diplomat on Tuesday. It called the allegations being investigated in Canada absurd and an attempt to shift attention from the presence of Nijjar and other wanted suspects in Canada.
"Important notice from Indian Mission: Due to operational reasons, with effect from 21 Sept. Indian visa services have been suspended till further notice," the BLS Indian Visa Application Center in Canada said. It gave no further details. BLS is the agency that processes visa requests for India.
India's External Affairs Ministry did not immediately comment.
The Canadian High Commission in New Delhi said all its consulates in India are open and are continuing to provide services, but staff safety is being assessed.
"In light of the current environment where tensions have heightened, we are taking action to ensure the safety of our diplomats. With some diplomats having received threats on various social media platforms, Global Affairs Canada is assessing its staff complement in India," it said in a statement.
It said Canada expects India to provide for the security of its diplomats and consular officers under the Vienna conventions.
In 2021, 80,000 Canadian tourists visited India, making them the fourth largest group, according to India's Bureau of Immigration.
On Wednesday, India's External Affairs Ministry issued an updated travel advisory urging its citizens travelling in Canada and especially those studying in the North American country to be cautious because of "growing anti-India activities and politically condoned hate-crimes."
Indians should also avoid going to venues in Canada where "threats have particularly targeted Indian diplomats and sections of the Indian community who oppose anti-India agenda," the ministry said.
Nijjar was working to organize an unofficial referendum among the Sikh diaspora on independence from India at the time of his killing. He had denied India's accusation that he was a terrorist.
The second stage of B.C. voting on whether a Sikh homeland should be established in India's Punjab province is scheduled to be held on Oct. 29.
The Vancouver Police Department beefed up security outside India's Consulate after Trudeau's announcement this week.
Const. Tania Visintin, Vancouver police media relations officer, said in a statement Wednesday that police are "closely monitoring the situation."
"We're doing significant work behind the scenes, which includes continuous risk assessments, with a goal of maintaining public safety and preventing violence," Visintin said in an emailed statement.
Visintin said Vancouver police were not aware of any specific threats to Indian consular officials, but have increased their presence at the downtown Vancouver consulate.
Demands for an independent Sikh homeland, known as Khalistan, started as an insurgency in India's Punjab state in the 1970s that was crushed in an Indian government crackdown that killed thousands. The movement has since lost much of its political power but still has supporters in Punjab, where Sikhs form a majority, as well as among the sizable overseas Sikh diaspora.
India's National Investigation Agency said Wednesday it has intensified its crackdown on Sikh insurgents operating in India.
It announced rewards of up to 1 million rupees (CAD$16,240) for information leading to the arrest of five insurgents, one of whom is believed to be based in neighboring Pakistan.
The agency accused them of extorting money from businesses for a banned Sikh organization, the Babbar Khalsa International, and of targeted killings in India. "They also have established a network of operatives in various countries to further their terrorist activities in India," it said in a statement, without naming any country.
India accuses Pakistan of supporting insurgencies in Kashmir and Punjab, a charge Islamabad denies.
— with files from The Associated Press
Who was Hardeep Singh Nijjar, slain B.C. Sikh leader at heart of diplomatic crisis?
An image of Hardeep Singh Nijjar is seen on a poster as people gather outside the Indian Consulatein Vancouver, B.C., during a protest on Saturday, June 24, 2023. Nijjar is being remembered by family and supporters as a generous community activist. THE CANADIAN PRESS/Ethan Cairns
By Nono Shen
On June 18, Hardeep Singh Nijjar phoned his eldest son for the last time, to say he was on his way home for dinner.
Baljar Singh Nijjar, 21, said his father had been in a good mood earlier that Father's Day, joking about the jeans Baljar and his younger brother had bought him as a gift.
"I'm on a diet, why did you give me this size, I'm not going to fit," Baljar recalled his father saying.
But a few minutes after the 8:20 p.m. call, Hardeep Singh Nijjar, 45, was dead, shot in his pickup truck by two masked gunmen in the parking lot of the Guru Nanak Sikh Gurdwara, in Surrey, B.C.
Nijjar is now at the heart of a diplomatic crisis between India and Canada, after Prime Minister Justin Trudeau announced on Monday that intelligence services were investigating "credible" information about "a potential link" between India's government and the killing.
He's being remembered by family and supporters as a giving community activist. But in India, Nijjar was a wanted man, after authorities labelled him a terrorist in 2020.
Balraj Singh Nijjar said his father was "generous, outgoing and a jolly person."
"I know, people have been saying that India labelled my father as a terrorist. But (the Indian government) tried to extradite my father, but the Canadian government had denied that request," he said, calling the accusations "false news."
He said his father had moved from India to Canada in 1997 and had worked as a plumber in B.C. for more than 20 years.
Hardeep Singh Nijjar was also president of the Surrey gurdwara where he died, and a vocal supporter of the Khalistan movement that advocates for a separate Sikh homeland in India's Punjab province.
At the time of his death, he was organizing an unofficial referendum about Khalistan among the Sikh diaspora in B.C. with the organization Sikhs For Justice.
In 2016, Indian media reported that he was suspected of masterminding a bombing in the Sikh-majority state of Punjab and training terrorists in B.C. Last year, Indian authorities accused Nijjar of involvement in an alleged attack on a Hindu priest in India and announced a reward of about $16,000 for information leading to his arrest.
He denied the terrorism allegations and told the Vancouver Sun that he was too busy to participate in Sikh diaspora politics, calling the claims "garbage."
Balraj Singh Nijjar emphasized that his father was a Canadian citizen. Then-immigration minister Marc Miller, aiming to "dispel the baseless rumours" about Nijjar's citizenship, said on social media that Nijjar had indeed become Canadian in 2015.
Balraj said everyone at the temple remembered his father's "iconic laugh."
"Dad's personality was just so outgoing … it made us feel like there is someone here that you can talk to if you have any problems," he said.
He said the loss of his father hit his family "really hard."
On June 24, about 200 protesters gathered in front of the Indian Consulate in Vancouver to demonstrate against Nijjar's killing. They described him as "peaceful" and "humble" and dismissed allegations that he was connected to violence.
Many of the protesters were already convinced that Nijjar's killing was linked to his calls for an independent Sikh state.
"He was a loving man, a hard-working man, a family man," said Gurkeerat Singh, one of the protesters.
— With files from The Associated Press
This report by The Canadian Press was first published Sept. 20, 2023.