With 'Jurassic World 3,' dinosaurs rule again at box office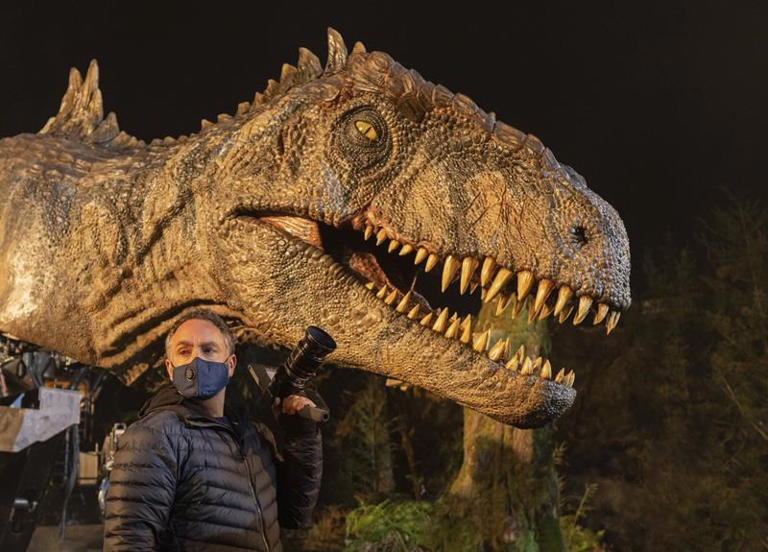 Move over Maverick, the dinosaurs have arrived to claim their throne.
"Jurassic World: Dominion" took a mighty bite out of the box office with $143.4 million in North American ticket sales, according to studio estimates Sunday. Including earnings from international showings — the film opened in various markets last weekend — "Jurassic World: Dominion," released globally by Universal Pictures, has already grossed $389 million. And it's just getting started.
The hefty haul is yet another sign that the box office is continuing to rebound this summer. With the blockbuster successes of films like "Doctor Strange in the Multiverse of Madness," "Top Gun: Maverick" and now "Jurassic World 3," audiences are coming back to movie theaters more consistently.
This weekend is only the third of the pandemic era in which the total domestic box office surpassed $200 million, according to box office tracker Comscore.
Both "Top Gun: Maverick" and "Jurassic World: Dominion" also represent an important caveat for an industry that continues to learn new lessons about pandemic-era moviegoing every week. Although both films are legacy sequels, neither are of the superhero variety, which, for a long time, had seemed like the only pandemic-proof genre.
"Top Gun: Maverick" is still coasting in rarefied skies too: It fell only 44% in its third weekend with an estimated $50 million to take second place, bringing its North American total north of $393.3 million.
"Dominion," a co-production of Universal Pictures and Amblin Entertainment, is the third film in the "Jurassic World" trilogy, which began in 2015 and introduced characters played by Chris Pratt and Bryce Dallas Howard. The newest installment brings back actors Laura Dern, Sam Neill and Jeff Goldblum from Steven Spielberg's 1993 "Jurassic Park."
Colin Trevorrow, who stewarded the "World" trilogy and directed the first film, returned to direct "Dominion," in which dinosaurs are no longer contained and locusts are threatening the world's food supply.
Critics were not kind to the dino extravaganza, but audiences seem to be enjoying themselves based on exit polls. Moviegoers gave it an A- CinemaScore and an 81% audience score on Rotten Tomatoes, suggesting that word of mouth will be strong in the coming weeks. The film opened on 4,676 screens in the U.S and Canada and cost a reported $185 million to produce, not accounting for marketing and promotion.
The filmmakers have said "Dominion" is intended to be the last of the "Jurassic World" films, which have been enormously profitable with over $3 billion in ticket sales. The first earned over $1.7 billion globally alone. Including the original "Jurassic Park" trilogy, that number skyrockets to $5 billion.
___
Follow AP Film Writer Lindsey Bahr on Twitter: www.twitter.com/ldbahr
Lindsey Bahr, The Associated Press
Cynthia Weil, Grammy winning lyricist who teamed husband Barry Mann, dead at 82
NEW YORK (AP) — Cynthia Weil, a Grammy-winning lyricist of notable range and endurance who enjoyed a decades-long partnership with husband Barry Mann and helped write "You've Lost That Lovin' Feeling," "On Broadway," "Walking in the Rain" and dozens of other hits, has died at age 82.
Her death was confirmed Friday by Interdependence Public Relations, which represents Mann's daughter, Dr. Jenn Mann. A spokesperson did not immediately have further details.
Cynthia Weil and Barry Mann, married in 1961, were one of popular music's most successful teams, part of a remarkable ensemble recruited by impresarios Don Kirshner and Al Nevins and based in Manhattan's Brill Building neighborhood, a few blocks from Times Square. With such hit-making combinations as Carole King and Gerry Goffin and Jeff Barry and Ellie Greenwich, the Brill Building song factory turned out many of the biggest singles of the '60s and beyond.
Weil and Mann were key collaborators with producer Phil Spector on songs for the Ronettes ("Walking in the Rain"), the Crystals ("He's Sure the Boy I Love") and other performers, and also provided hits for everyone from Dolly Parton to Hanson. "Don't Know Much," a Linda Ronstadt-Aaron Neville duet they helped write, was a top 5 hit that won a best pop performance Grammy in 1990.
Their most famous song, a work of history overall, was "You've Lost That Lovin' Feeling," an anthem of "blue-eyed soul" produced by Spector as if scoring a tragedy and sung with desperate fury by the Righteous Brothers. "You've Lost That Lovin' Feeling" topped the charts in 1965 and was covered by numerous other artists. According to Broadcast Music Inc. (BMI), no other song was played more on radio and television in the 20th century.
But when Weil and Mann first played "You've Lost That Lovin' Feeling" for the Righteous Brothers, the response from singers Bill Medley and Bobby Hatfield was "dead silence."
"Bill said, 'Sounds good for The Everly Brothers not the Righteous Brothers,'" she told Parade magazine in 2015. "We thought 'Oh, God.' Then Bobby said, 'What am I supposed to do while the big guy's singing?' and Phil (Spector) said "You can go to the bank.'"
While many of Weil's peers struggled once the Beatles caught on, she continued to make hits, sometimes with Mann, or with such partners as Michael Masser, David Foster and John Williams, with whom she wrote "For Always" for the soundtrack to Steven Spielberg's "A.I. Artificial Intelligence." Mann helped write Parton's pop breakthrough "Here You Come Again"; the Peabo Bryson ballad "If Ever You're In My Arms Again"; James Ingram's "Just Once"; the Pointer Sisters' "He's So Shy"; and Lionel Richie's "Running With the Night." In 1997, she was in the top 10 again with Hanson's "I Will Come to You."
"When they are successful, songs are like little novels. They have a beginning, a middle and an end. You feel what the person is feeling who's singing it and it paints a picture of the human condition," Weil, who eventually published the novel "I'm Glad I Did," told Parade.
Her talents reached well beyond love ballads. She and Mann wrote one of rock's first anti-drug songs, "Kicks," a hit for Paul Revere and the Raiders in 1966. She also had a knack for lyrics about ambition and aspiration, such as "On Broadway" and its unforgettable opening line, "They say the neon lights are bright/on Broadway." The Animals had a hit with her tale of working class frustration, "We've Got to Get Out of This Place." The Crystals' "Uptown" was a 1961 hit that touched upon race and class in ways not often heard in rock's early years.
____
Downtown he's just one of a million guys
He don't get no breaks
And he takes all they got to give
'Cause he's got to live
But then he comes uptown
Where he can hold his head up high
Uptown he knows that I am standing by
_____
Weil and Mann were inducted into the Songwriters Hall of Fame in 1987 and the Rock & Roll Hall of Fame in 2010, with King introducing them at the Rock Hall ceremony. Mann and Weil were supporting characters in the hit Broadway musical about King, "Beautiful," which opened in 2013 and documented the intense friendship and rivalry between the two married couples. Mann and Weil's musical "They Wrote That?" had a brief run in 2004.
Weil, the daughter of Jewish immigrants from Eastern Europe, was born in New York City and studied piano and ballet as a child. She majored in theater at Sarah Lawrence University, but was encouraged by an agent to try songwriting. By age 20, she was working for the publishing company of "Guys and Dolls" composer Frank Loesser, and would soon meet her future husband.
"I was writing with a young Italian boy singer, the Frankie Avalon of his day, named Teddy Randazzo, when Barry came in to play him a song," she told the Los Angeles Times in 2016. "I asked the receptionist, 'Who is this guy? Does he have a girlfriend?' She said, 'He's signed to a friend of mine, Don Kirshner, and if I call Donny, maybe you can go up there to show him your lyrics and meet Barry again.' So that's what she did. And that's what I did. He didn't have a chance."
Hillel Italie, The Associated Press
Céline Dion cancels 'Courage' world tour dates citing medical condition
Celine Dion has announced she is cancelling her "Courage" world tour as she continues to receive treatment for a rare neurological disorder. Dion gestures as she performs at the Bell Centre in Montreal, Sunday, July 31, 2016.THE CANADIAN PRESS/Graham Hughes
Céline Dion has cancelled her "Courage" world tour due to ongoing health woes related to a rare neurological disorder.
The Quebec-born songstress says she's not ready to return to the stage for European and U.K. tour dates that had been set to run from August through October, and in March and April 2024.
The 55-year-old Canadian icon postponed and cancelled some shows last December when she announced she had been diagnosed with "stiff person syndrome," a condition commonly marked by severe muscle rigidity and spasms.
In a statement posted to her social media, Dion says "even though it breaks my heart, it's best that we cancel everything now until I'm really ready to be back on stage again."
The statement says Dion's medical team continues to evaluate and treat her condition.
Dion closed her statement saying, "I'm not giving up… and I can't wait to see you again."
This report by The Canadian Press was first published May 26, 2023.