William Hurt, star of 'Broadcast News,' 'Body Heat,' dies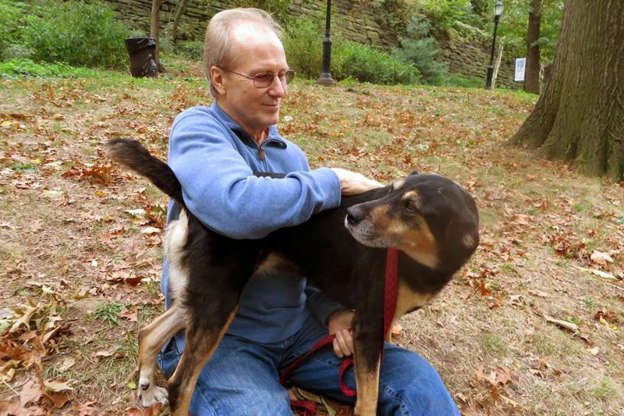 NEW YORK (AP) — William Hurt, whose laconic charisma and self-assured subtlety as an actor made him one of the 1980s foremost leading men in movies such as "Broadcast News," "Body Heat" and "The Big Chill," has died. He was 71.
\Hurt's son, Will, said in a statement that Hurt died Sunday of natural causes. Hurt died peacefully, among family, his son said. The Hollywood Reporter said he died at his home in Portland, Oregon. Deadline first reported Hurt's death. Hurt was previously diagnosed with prostate cancer that had spread to the bone in 2018.
In a long-running career, Hurt was four times nominated for an Academy Award, winning for 1985's "Kiss of the Spider Woman." After his breakthrough in 1980's Paddy Chayefsky-scripted "Altered States" as a psychopathologist studying schizophrenia and experimenting with sensory deprivation, Hurt quickly emerged as a mainstay of the '80s.
In Lawrence Kasdan's 1981 steamy neo noir "Body Heat," Hurt starred alongside Kathleen Turner as a lawyer coaxed into murder. In 1983's "The Big Chill," again with Kasdan, Hurt played the brooding Vietnam War veteran Nick Carlton, one of a group of college pals who gather for their friend's funeral.
Hurt, whose father worked for the State Department, was born in Washington D.C. and traveled widely as a child while attending boarding school in Massachusetts. His parents divorced when he was young. When Hurt was 10, his mother married Henry Luce III, son of the Time magazine founder. Hurt studied acting at Julliard and first emerged on the New York stage with the Circle Repertory Company. After "The Big Chill," he returned to the stage to star on Broadway in David Rabe's "Hurlyburly," for which he was nominated for a Tony.
Shortly after came "Kiss of the Spider Woman," which won Hurt the best actor Oscar for his performance as a gay prisoner in a repressive South American dictatorship.
"I am very proud to be an actor," Hurt said, accepting the award.
In 1986's "Children of a Lesser God," it was his co-star, Marlee Matlin, who took the Oscar for her performance as a custodian at a school for the deaf. Hurt played a speech teacher. For Hurt and Matlin, their romance was off-screen, as well — but it wasn't Hurt's first experience with his private life finding notoriety.
Hurt was first married to actor Mary Beth Hurt from 1971 to 1982. While he was married, he began a relationship with Sandra Jennings, whose pregnancy with their son precipitated Hurt's divorce from Mary Beth Hurt. A high-profile court case ensued six years later in which Jennings claimed she had been Hurt's common-law wife under South Carolina law and thus entitled to a share of his earnings. A New York court ruled in Hurt's favor, but the actor continued to have a strained relationship with fame.
"Acting is a very intimate and private thing," Hurt told The New York Times in 1983. "The art of acting requires as much solitude as the art of writing. Yeah, you bump up against other people, but you have to learn a craft, technique. It's work. There's this odd thing that my acting is assumed to be this clamor for attention to my person, as if I needed so much love or so much attention that I would give up my right to be a private person."
In her 2009 memoir, Matlin detailed physical and emotional abuse during their relationship. At the time of its publishing, Hurt issued an apology saying: "My own recollection is that we both apologized and both did a great deal to heal our lives."
In those years, Hurt also struggled with drug and alcohol abuse, and attended rehabilitation clinics. He also developed a reputation for not always being an easy collaborator. The New Yorker called him "notoriously temperamental." In 1989, Hurt married to Heidi Henderson, who he met at rehab. They had two children together. Hurt also had a daughter with French actress and filmmaker Sandrine Bonnaire, whom he met while making the straight-to-video 1992 Albert Camus adaptation "The Plague."
Among Hurt's greatest performances was James L. Brooks' 1987 comedy "Broadcast News," as a slick but lightweight anchorman who symbolized the emerging fusion of entertainment and journalism.
Albert Brooks, Hurt's "Broadcast News" co-star, was among the many who responded to Hurt's passing Sunday. "So sad to hear this news," wrote Brooks on Twitter. "Working with him on 'Broadcast News' was amazing. He will be greatly missed."
After his torrid '80s run, Hurt fell increasingly out of favor with filmmakers in the '90s, and some reasoned that it was because of his reputation. Hurt, however, continued to defend his approach, telling The Los Angeles Times in 1994 that "I give more by solving the truth than by pandering to expectations and facile hopes."
"If a director tells me to make the audience think or feel a certain thing, I am instantaneously in revolt," Hurt said. "I'm not there to make anyone else think or feel anything specific. I have agreed to something the whole piece says. Beyond that it is my only obligation to solve the truth of the piece. I don't owe anybody anything — including the director."
Nevertheless, Hurt never slowed down, piling up credits in the '90s and '00s — Woody Allen's "Alice," Wayne Wong's "Smoke," Nora Ephron's "Michael," Franco Zeffirelli's "Jane Eyre."
Hurt, always a intelligent screen presence, gradually morphed into a character actor. He received his fourth Oscar nomination for his small but potent role in David Cronenberg's 2005 thriller "A History of Violence."
Hurt continued to work constantly in the years leading up to his death: 10 episodes of "Damages"; a string of Marvel films, including "Avengers: Endgame" and "Black Widow," as the military officer Thaddeus Ross; 14 episodes on Amazon's "Goliath."
Often, Hurt suggested that his fabled run in the '80s was the outlier to what defined him as an actor.
"Success is isolating," he told The Telegraph in 2004. "Certainly the Oscar was isolating. In some ways, it was antithetical to what I was aiming at. I didn't want to be isolated. I didn't want some big target on my chest saying: 'He's an Oscar-winner, he's the one to be.' I wanted to be an actor, so I was very confused about it. Sometimes I'm still confused about it."
___
This story has been updated to remove a reference to Mary Beth Hurt. The actress did not appear in "The Big Chill."
___
Follow AP Film Writer Jake Coyle on Twitter at: http://twitter.com/jakecoyleAP
___
This story has been corrected to remove reference to Mary Beth Hurt acting in 'The Big Chill.' She did not appear in the film.
Jake Coyle, The Associated Press
CRTC renews CBC licensing for another five years, tweaks its mandate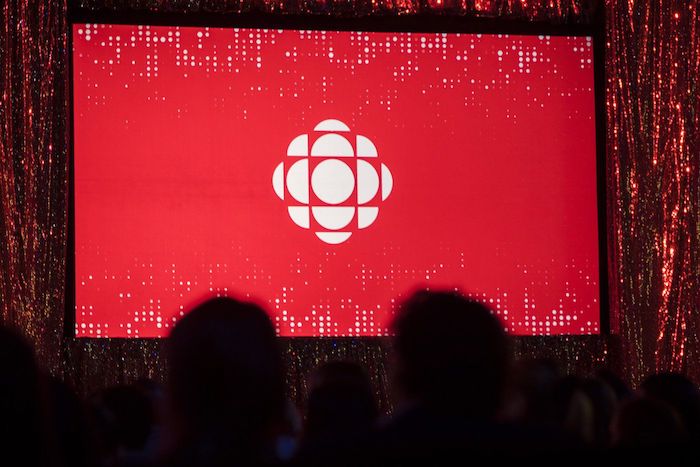 By Sarah Ritchie in Ottawa
The Canadian Radio-television and Telecommunications Commission said Wednesday that it is renewing CBC's licensing, with tweaks to its mandate that will make it spend money on programming produced by people with disabilities, Indigenous and racialized people and the LGBTQ community.
It's also clarifying that it "expects the CBC to maintain local, regional and national news broadcasts in a crisis or emergency on all of its audiovisual and audio services."
That's in response to the broadcaster's decision to replace local supper-hour and late newscasts across the country with its national programming in the early days of the pandemic.
CBC said at the time that it was dealing with staffing issues as some workers were off sick with COVID-19 and others were in isolation. The CRTC noted in its decision that the pandemic has increased demand for news, and "Canadians expect the CBC to disseminate and make available information in the event of an emergency."
The CRTC is dropping the requirement for CBC to maintain minimum thresholds of local programming in urban markets where Canadians have multiple options, but it's maintaining those thresholds in rural parts of the country.
The CBC asked to reduce the number of hours of local TV programming it needs to air per week in its English markets across the board, and to make that up in digital content.
The CRTC noted that actual hours of local programming on English TV stations dropped between 2014 and 2020, although they still meet the minimum requirements.
It said there is a higher risk that less local news would be broadcast in non-metropolitan markets if those requirements are dropped, naming "difficult access to high-speed internet" and "the lack of news bureaus in non-metropolitan areas" as reasons.
The commission says there has been a great deal of change in the media landscape since 2013, the last time the licence was renewed, and it's making changes to the CBC mandate to align with that.
It's setting out new rules to ensure the difference between news and information programming and "branded content" or advertising is clearly distinguished.
CBC will need to submit new reports to the CRTC on a range of topics including workforce diversity, privacy issues and perception and consultation.
The CRTC decision also noted the CBC's digital streaming services for audio and video didn't exist, or didn't exist in their current form, when the last licensing agreement was made.
"As part of its proposal, the CBC requested that it be able to count hours of content exhibited on some of its (digital media broadcasting undertakings) toward meeting its overall content exhibition requirements," the decision said.
However, the commission is instead including that digital content in the broadcaster's spending requirements on Canadian programming, giving the CBC the flexibility to count the cost of online content toward those quotas.
CBC and Radio-Canada's president and CEO said the broadcaster welcomes the CRTC announcement.
"We're pleased that the CRTC has, for the first time ever, recognized the significant contribution of our digital streaming services … to the Canadian content ecosystem," Catherine Tait said in a statement on Wednesday.
The main outcomes covered by the mandate include programming for Indigenous Peoples and diverse Canadians; creating and supporting access to Canadian content; ensuring access to local, regional and national news and information; accessibility of content; and accountability and transparency to the public.
Licences for radio, TV and multiplatform content in both English and French are valid until August 2027.
This report by The Canadian Press was first published June 22, 2022.
Cineplex introduces $1.50 booking fee for online ticket purchases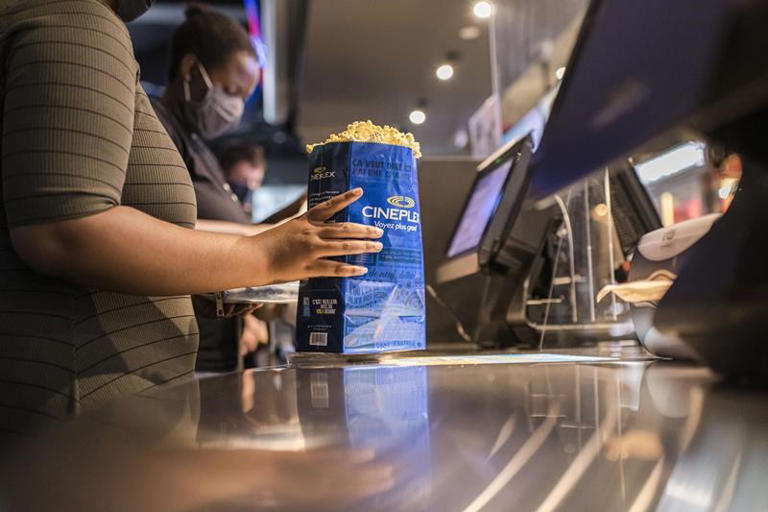 TORONTO — Moviegoers could be paying a little extra for a seat at a Cineplex theatre this summer.
Canada's largest film exhibitor says it has introduced a new $1.50 booking fee that applies to each ticket purchased through its mobile app and website.
The move comes as Cineplex representative Sarah Van Lange says the company looks to "further invest and evolve our digital infrastructure," including website upgrades.
However, not everyone will have to pay the new service charge.
Cineplex Inc. says purchases made in-person at the box office, ticket kiosks, or concession stands will not be subject to the fee, while members of the Scene Plus rewards program will pay a reduced $1 per ticket.
Members of CineClub, the company's monthly subscription program, will have the fee waived.
Service charges are a long-standing practice in the entertainment industry where concerts, live theatre and sporting events all add some form of a "convenience fee" to collect more revenue.
When Cineplex first introduced online ticket sales years ago, it charged a similar processing fee for each ticket. Eventually it eliminated the charge around the same time it began encouraging moviegoers to buy tickets in advance instead of waiting in line at the box office.
More recently, Cineplex has dabbled in other upcharge experiments that included charging an extra $2 for "prime seats" at a few of its busier theatres. It also tacked on an extra $1 to reserve seats at showings of "Star Wars: The Last Jedi" in 2017.
In the United States, most of the largest theatre chains already charge a fee for online ticket purchases.
Earlier this year U.S. chain AMC Theatres went a step further when it began testing "variable pricing" for tickets to the anticipated DC Comics movie "The Batman." The new cost added around US$1.50 to each ticket in some cities.
This report by The Canadian Press was first published June 21, 2022.
David Friend, The Canadian Press