Wife of N.S. mass killer explains why she didn't report earlier violence to police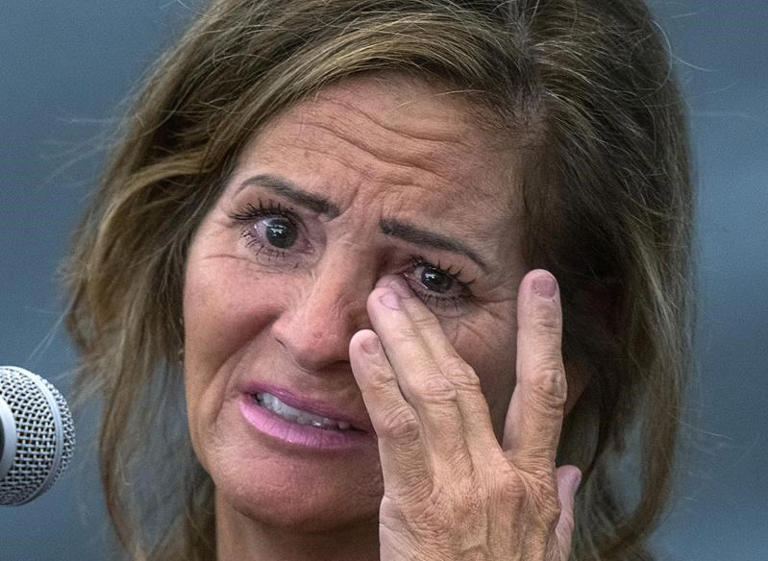 HALIFAX — The common-law wife of the man responsible for the Nova Scotia mass shooting told an inquiry Friday that she lied to police about his illegal weapons and failed to report earlier violent behaviour because she was deeply afraid of him.
Lisa Banfield struggled to maintain her composure as she described how her partner beat her in 2003 as witnesses looked on, and she offered new details about what happened when her spouse threatened to kill his parents in 2010.
It was the first time she has spoken publicly about her life with the killer, and the inquiry's decision to spare her from facing cross-examination proved contentious. Lawyers from a firm representing families of 14 of the victims, as well as about 20 of those family members, walked out of the hearing in protest before it ended.
The inquiry has heard Banfield was beaten and badly injured by Gabriel Wortman on the night of April 18, 2020, immediately before he began a shooting rampage that would claim 22 lives. She told investigators that she escaped into the woods and emerged the next morning to tell police that her partner was still at large and driving a vehicle that looked exactly like an RCMP cruiser.
Banfield said she will remain forever haunted by her decision to flee, as she wonders if her spouse might have harmed her and then left others alone.
"I often think would any of those people have died? So that is something that haunts me all the time, because I feel that they weren't targeted. He was looking for me in the beginning," she said.
Banfield's testimony was at times painful and dramatic as she described what happened in June 2010 when Wortman's uncle alerted Halifax police that his nephew had threatened to kill his parents over a property dispute.
Banfield recalled how the killer had been drinking heavily and fired a bullet into the wall of their home in Dartmouth, N.S., terrifying her. When a Halifax police officer arrived at their door, Banfield admitted she lied when asked about the death threats and whether her spouse owned any weapons.
When commission lawyer Gillian Hnatiw asked why she lied, Banfield sobbed as she explained.
"He had the handgun by the nightstand, and he said. 'If any police come, I'm shooting,'" she said. "So, when they asked me that, I didn't want them to go in, because I didn't want them (police) to get hurt."
When an RCMP officer showed up at the couple's summer home in Portapique, N.S., after the death threat was reported, Wortman insisted he didn't own any firearms, aside from an old musket and another antique weapon suspended near the fireplace and "filled with wax," Banfield testified.
She confirmed that the officer in question was Const. Greg Wiley, who had known Wortman for years and later told investigators that he had visited his Portapique home 16 times.
Hnatiw also asked Banfield about a violent assault at a gathering in Sutherland Lake, north of Portapique. In earlier interviews with the inquiry, she indicated the attack took place in 2001 or 2002, but she confirmed Friday the actual date was 2003.
She testified that when she tried to leave the bush party, Wortman became irate. As the pair drove away in his Jeep, he started punching her, she said.
"And as I was driving back on the back road, he's yelling at me," she said as the hearing room fell silent. "He started smacking me in my face. I'm thinking, 'I've never had anybody hit me before … and I'm trying to drive. He just kept whacking me in the head."
She said she jumped out of the vehicle and ran into the woods. He ran after her and caught her.
"He grabbed by the hair and was punching me, and I'm trying to protect myself," she said. "I'm screaming. He pulled me out by the road … and then I could see these two (all-terrain vehicles) and their lights were on me. He looked up and he dropped me."
Banfield said Wortman was later placed in the back of a police cruiser and taken back to their home in Portapique.
Asked why she declined to report the assault to police, Banfield replied: "That's the first time anybody hit me, and I didn't want to get anybody in trouble. I just thought, 'I'm walking away.'"
Hnatiw also asked Banfield about the early stages of the couple's relationship, which started in 2001 after they met at a bar in downtown Halifax. Banfield said that on their first date, he showed up with two dozen long-stemmed roses. "I thought that was over the top," she said.
But later that night, she was impressed by his reaction when his car was rear-ended by a vehicle driven by a young woman. "He approached the two young girls in the vehicle. He was smiling," she said. "He said, 'It's OK.' He was very calm. I thought, 'He's a good guy.'"
Earlier this week, the commission released a document based on evidence provided by Banfield during interviews with the RCMP and the inquiry detailing the killer's long history of violence toward her. It said she would not face cross-examination, mainly because she could be traumatized by having to relive the violence she endured.
Still, lawyer Michael Scott, whose firm represents families of 14 of the victims, says the decision to limit questioning will leave lingering doubts about Banfield's testimony.
Scott, several other lawyers in his firm and about 20 family members the firm represents walked out of the hearing in the afternoon. "We've decided with our clients we've heard enough and we'll be leaving for the rest of the day," he said.
"I don't know if Ms. Banfield is lying, I don't know if she's telling the truth, I don't know if Ms. Banfield is mistaken, because we don't have an opportunity to ask her any questions."
In the afternoon testimony, Hnatiw asked Banfield whether she ever suspected her spouse might harm others, given she knew he owned a mock RCMP cruiser, illegal guns and a stockpile of gas and money.
She replied she regarded it as related to his paranoia about the pandemic. "He was talking crazy, and I would pass it off because I didn't want to listen to what he was saying," she said.
During the 13 hours he was at large, the killer fatally shot 22 people, including a pregnant woman and a Mountie. He was shot dead by two Mounties on the morning of April 19, 2020.
This report by The Canadian Press was first published July 15, 2022.
Michael Tutton and Michael MacDonald, The Canadian Press
'Not true': Justice minister denies crying or yelling during doctor confrontation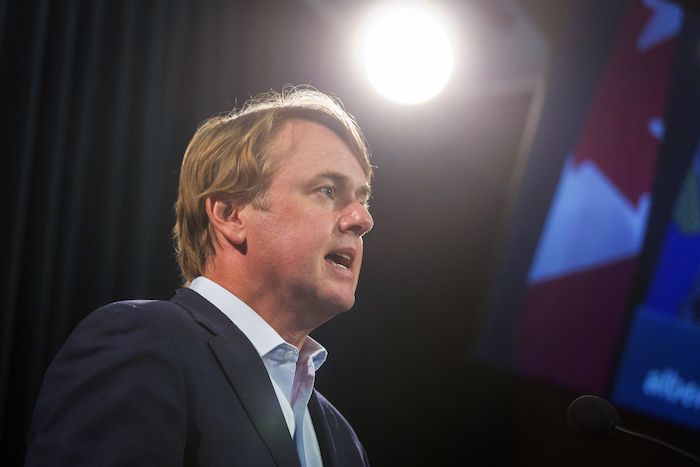 By Bill Graveland in Calgary
Alberta's justice minister said he felt sad and disappointed when he discovered someone he considered to be a friend was behind a social media post targeting him and his wife.
The Law Society of Alberta is in the final day of a hearing into allegations Tyler Shandro violated the profession's code of conduct. The three complaints date back to his time as the provincial health minister early in the COVID-19 pandemic.
Dr. Mukarram Zaidi, who had posted a photo on social media of Shandro with a caption related to privatizing health care, told the hearing the minister and his wife visited his home in March 2020. He said it occurred during fractious negotiations between the government and the Alberta Medical Association over fees.
The photo of Shandro, with a thought bubble caption, said: "So every Albertan that I can kick off health care is another client we can sign up for Vital Partners. We're going to be RICH." Shandro's wife, Andrea, is the co-founder of Vital Partners, a health insurance agency.
Shandro said Thursday his spouse alerted him to the post earlier in the day, when there had been up to a thousand threats made against the couple.
"I recognized the account being someone I considered a friend and who lived around the corner," Shandro said under questioning by his lawyer.
"The irony is that this is a fellow who had often engaged with me to discuss the importance of being careful with words, with online posts and what that could result in."
The doctor testified earlier this week that he went outside of his home to meet Shandro and described the minister as being highly upset as he demanded the doctor remove the post immediately because his family was being subjected to death threats.
"I see Shandro and his wife standing at the sidewalk. He was crying, he was emotionally charged. His wife was holding him," Zaidi said.
"He said: 'You can't do this to us. We're getting death threats.' I think I asked him: 'What do you want me to do?' And he said: 'Delete your post."'
Shandro said he walked over to Zaidi's home by himself and asked the doctors' children to send out their father. He said the conversation was over in a matter of minutes.
"I said: 'Mukarram, why wouldn't you have just asked me if you had questions? We know each other. You know me. You know Andrea. You know this isn't true.' And then I asked him: 'Do you know this conspiracy theory is resulting in Andrea getting death threats?'" Shandro said.
"He said softly: 'What do I do? Do I delete the post?' I specifically did not take him up on that offer. I said: 'Look, you have to decide that for yourself.'"
Shandro's lawyer, Grant Stapon, asked his client what he had to say to Zaidi's description of him crying and yelling while being held by his wife during the discussion.
"It's not true. It isn't true at all. Andrea was not there and if she really was there, it doesn't benefit me to say she wasn't there. If anything, it would be helpful to have her be there to corroborate," Shandro replied.
"I definitely did not yell at him."
Shandro said his wife did show up at the end of the conversation.
"She was emotional. She did have red eyes. She was crying earlier. She said: 'Don't talk to him. He's not interested in us. He's only interested in money.'"
Shandro said at that point they returned home.
Andrea Shandro is expected to testify later Thursday afternoon.
This report by The Canadian Press was first published Jan. 26, 2023.
'Threats': Tyler Shandro tells Alberta Law Society hearing he was protecting family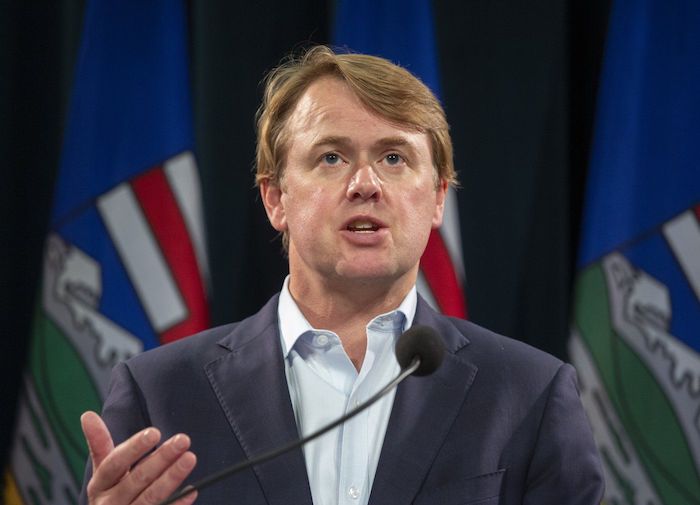 By Bill Graveland in Calgary
Justice Minister Tyler Shandro told a Law Society of Alberta hearing Wednesday into complaints about his conduct that he was protecting his wife and family.
Shandro, who was Alberta's health minister in 2020, took the stand in his own defence at the hearing that is looking into complaints that he committed professional misconduct on three separate occasions.
He told the hearing that there was an escalation of threats against him and his wife beginning in December 2019 through to March 2020. The United Conservative Party government at the time was embroiled in rocky negotiations with health-care unions and the Alberta Medical Association.
Shandro said he and his wife Andrea received between 900 and 1000 threats during that time.
"There were threats of physical violence, there were death threats, there were threats of sexual violence. Some of the most grotesque were voice mails that she (Andrea) had received that were quite distressing to her," Shandro said.
"It culminated on March 20 of somebody actually coming to Andrea's office to physically attack her."
Shandro said Calgary police were called and interviewed them.
He said he was shocked when a long-time supporter sent a note to his wife's office accusing the couple of being in a conflict of interest.
Janice Fraser said Shandro represented her family as a lawyer and she supported his run for office. Fraser said that changed after she sent a note to Andrea Shandro, one of the co-founders of Vital Partners, a health insurance agency.
"Dear Andrea, you and your husband Tyler Shandro (who I used to have a tremendous amount of personal and professional respect for up until 2020) are considered to be in a conflict of interest by Albertans. We will not forget," reads the comment posted on the company website.
Fraser said she was traumatized when she received an email from Shandro.
"Janice, sending threatening notes to my wife is completely inappropriate and must stop," Shandro replied.
"If you want to believe lies about her on social media that's up to you. But you can send your threatening emails to this office and this office only. Email her again and it will be referred to protective services."
Fraser said Shandro should have known the threat would trigger her post-traumatic stress disorder, which is related to the matters on which he had represented her in the past, so she reached out to various media outlets as a way of protecting herself.
"It was pretty scary. Protective services to me means the police and it felt extremely threatening. It petrified me," she told the panel.
"I had some PTSD about all of that terrible experience with the system and trying to get justice for my kids. So I was quite shocked that he would say that because he knew my past and he should have known that this would be quite triggering to a person with a criminal injuries background."
Shandro said his spouse was living in fear at the time.
"She had difficulty sleeping. She was worried that she would have to change her name. She was worried she would have to move to another province, that she would have to leave the business. It was a distressing time for her," he said.
Shandro said he saw the note addressed to his wife and not him as a threat.
"Directly contacting your spouse is inherently threatening," he testified.
"I think she knew by not going to me and going directly to Andrea would be interpreted as being threatening to our family."
Shandro also addressed complaints from two Red Deer, Alta., doctors over his obtaining their private numbers and calling them at home.
The two doctors had attempted to speak to Shandro at a government announcement and were angry he wouldn't stop.
Shandro asked his staff to find out who they were and didn't realize they were providing him with private phone numbers.
"In hindsight, Mr. Shandro, looking at all your engagement with those two individuals do you believe you did anything wrong as either a politician or a member of the law society or otherwise," asked his lawyer Grant Stapon.
"No. First when you are minister, in particular, minister of health, engaging with people who want to speak with you about various issues, and second because they're demanding it and I was being chided for not engaging with them on the 26th," he said.
"It was within the capacity as a politician, not as a lawyer. There was a constituency that wanted to have their voices heard when it came to public policy."
The hearing is scheduled to wrap up on Thursday.
This report by The Canadian Press was first published Jan. 25, 2023.