Widespread Twitter layoffs begin a week after Musk takeover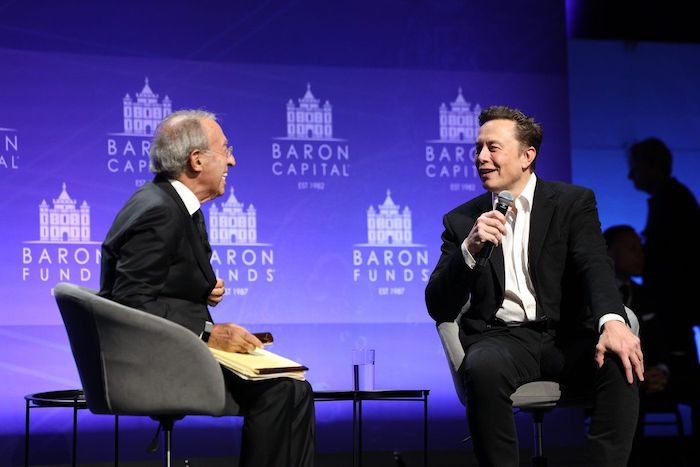 By Barbara Ortutay And Matt O'brien in New York
Twitter began widespread layoffs Friday as new owner Elon Musk overhauls the company, raising grave concerns about chaos enveloping the platform as a source of reliable information just days ahead of the U.S. midterm elections.
The speed and size of the cuts also opened Musk and Twitter to lawsuits. At least one was filed Thursday in San Francisco alleging that Twitter intends to lay off more workers and has violated federal law by not providing the required notice.
The company had told employees by email that they would find out by 9 a.m. PDT (noon EDT) if they had been laid off. It did not say how many of the roughly 7,500 employees would lose their jobs.
Musk didn't confirm or correct investor Ron Baron at a Friday conference in New York when he asked the billionaire Tesla CEO how much money he would save after he "fired half of Twitter."
Musk responded by talking about Twitter's cost and revenue challenges and blamed activists who urged big companies to halt advertising on the platform. Musk hasn't commented on the layoffs themselves.
"The activist groups have been successful in causing a massive drop in Twitter advertising revenue, and we've done our absolute best to appease them and nothing is working," he said.
Some employees of the San Francisco-based company got clues about their pending dismissal when they lost access to their work accounts hours earlier. They and others tweeted messages of support using the hashtag #OneTeam. The email to staff said job reductions were "necessary to ensure the company's success moving forward."
No other social media platform comes close to Twitter as a place where public agencies and other vital service providers — election boards, police departments, utilities, schools and news outlets — keep people reliably informed. Many fear Musk's layoffs will gut it and render it lawless.
Several employees who tweeted about losing their jobs said Twitter also eliminated their entire teams, including one focused on human rights and global conflicts, another checking Twitter's algorithms for bias in how tweets get amplified, and an engineering team devoted to making the social platform more accessible for people with disabilities.
Eddie Perez, a Twitter civic integrity team manager who quit in September, said he fears the layoffs so close to the midterms could allow disinformation to "spread like wildfire" during the post-election vote-counting period in particular.
"I have a hard time believing that it doesn't have a material impact on their ability to manage the amount of disinformation out there," he said, adding that there simply may not be enough employees to beat it back.
Perez, a board member at the nonpartisan election integrity nonprofit OSET Institute, said the post-election period is particularly perilous because "some candidates may not concede and some may allege election irregularities and that is likely to generate a new cycle of falsehoods."
Twitter's employees have been expecting layoffs since Musk took the helm. Already, he has fired top executives, including CEO Parag Agrawal, on his first day as owner.
Musk also had removed the company's board of directors and installed himself as the sole board member. As the emailed notices went out, many Twitter employees took to the platform to express support for each other — often simply tweeting blue heart emojis to signify its blue bird logo — and salute emojis in replies to each other.
The sweeping layoffs will jeopardize content moderation standards, according to a coalition of civil rights groups, who escalated their calls Friday for brands to pause advertising buys on the platform. The layoffs are particularly dangerous ahead of the elections, the groups warned, and for transgender users and other groups facing violence inspired by hate speech that proliferates online.
Leaders with the organizations Free Press and Color of Change said they spoke with Musk on Tuesday, and he promised to retain and enforce election integrity measures already in place. But the mass layoffs suggest otherwise, according to Jessica González, co-CEO of Free Press.
González pushed back on Musk's assertion that content moderation rules — an operation she said was already "dangerously under-resourced" — had not changed since his takeover.
"When you lay off reportedly 50% of your staff — including teams who are in charge of actually tracking, monitoring and enforcing content moderation and rules — that necessarily means that content moderation has changed," González said. "He cannot enforce content moderation if he doesn't have the staff to do so. AI alone cannot solve this problem."
As of Friday, Musk and Twitter had given no public notice of the coming layoffs, according to a spokesperson for California's Employment Development Department. That's even though the Worker Adjustment and Retraining Notification statute requires employers with at least 100 workers to disclose layoffs involving 500 or more employees, regardless of whether a company is publicly traded or privately held.
A lawsuit was filed Thursday in federal court in San Francisco on behalf of one employee who was laid off and three others who were locked out of their work accounts. It alleges Twitter intends to lay off more employees and has violated the law by not providing the required notice.
The layoffs affected Twitter's offices around the world. In the United Kingdom, Twitter would be required by law to give employees notice, said Emma Bartlett, a partner specializing in employment and partnership law at CM Murray LLP.
In the case of mass firings, failure to notify the government could "have criminal penalties associated with it,'' Bartlett said, adding that whether criminal sanctions are ever applied is another question.
The speed of the layoffs could also open Musk and Twitter up to discrimination claims if it turns out, for instance, that they disproportionally affected women, people of color or older workers.
Employment lawyer Peter Rahbar said most employers "take great care in doing layoffs of this magnitude" to make they are justified and don't unfairly discriminate or bring unwanted attention to the company.
"For some reason, he wants to lay off half the company without doing any due diligence on what these people do or who they are and without any regards to the law," Rahbar said.
The layoffs come at a tough time for social media companies, as advertisers are scaling back and newcomers — mainly TikTok — are threatening older platforms like Twitter and Facebook.
In a tweet Friday, Musk blamed activists for what he described as a "massive drop in revenue" since he took over Twitter late last week. He did not say how much revenue had dropped.
Big companies including General Motors, REI, General Mills and Audi have all paused ads on Twitter due to questions about how it will operate under Musk. Volkswagen Group said it is recommending its brands, which include Skoda, Seat, Cupra, Audi, Lamborghini, Bentley, Porsche and Ducati, pause paid activities until Twitter issues revised brand safety guidelines.
Musk last week sought to convince advertisers that Twitter wouldn't become a "free-for-all hellscape" but many remain concerned about whether content moderation will remain as stringent and whether staying on Twitter might tarnish their brands.
In his tweet, Musk said "nothing has changed with content moderation."
But Twitter advertisers have steadily declined since Musk agreed to buy Twitter in April, according to MediaRadar, which tracks ad buys. Between January and April, the average number of advertisers on Twitter was 3,350. From May through September, the number dropped to 3,100. Prior to July, more than 1,000 new advertisers were spending on Twitter every month. In July and August, that number dropped to roughly 200.
One company that hasn't stepped away is SoFi, the online banking company run by Twitter's former COO, Anthony Noto. SoFi has been running promoted tweets — ads on Twitter's platform — offering to pay its customers Twitter Blue platform.
"The audience we are trying to reach is there," SoFi said, but it is still monitoring risks on Twitter and could pull its campaign.
Insider Intelligence analyst Jasmine Enberg said there is "little Musk can say to appease advertisers when he's keeping the company in a constant state of uncertainty and turmoil, and appears indifferent to Twitter employees and the law."
"Musk needs advertisers more than they need him," she said. "Pulling ads from Twitter is a quick and painless decision for most brands."
—-
AP Business Writers Mae Anderson, Alexandra Olson and Ken Sweet in New York, James Pollard in Columbia, S.C., Frank Bajak in Boston and Danica Kirka in London contributed.
Share debacle a rare setback for Indian tycoon Adani
By Krutika Pathi in New Delhi
NEW DELHI (AP) — Indian billionaire Gautam Adani grinned as he posed this week for photos with Israeli leader Benjamin Netanyahu after acquiring one of the country's main ports, in Haifa.
"I promise you that in the years to come, we will transform the skyline we see around us," said Adani, his manner upbeat even as his business empire was losing billions. Investors have been dumping Adani shares for more than a week after U.S. short-selling firm Hindenburg Research put out a report alleging his businesses have engaged in fraud and stock price manipulation. The Adani group has denied this.
Before the debacle, Adani, 60, was Asia's richest man and the third wealthiest in the world, according to Bloomberg's Billionaires Index. Not anymore.
The massive losses are a rare setback for the coal mining tycoon from western India's Gujarat state and raise questions about what lies ahead.
Expansion has been at the heart of Adani's success story. The son of a middle-class family in the Gujarat capital, Ahmedabad, he quit college to become a diamond trader in the country's financial capital, Mumbai. He returned home to join his brother in importing plastics before establishing Adani Enterprises in the 1980s, trading in everything from shoes to buckets.
Adani shifted to investing in ports, construction and coal mining as India opened up its economy in the 1990s. A new middle class emerged and the ambitious businessman placed bets on providing energy to serve them.
Adani's first big project, Mundra Port, is now India's largest commercial port and he is the country's biggest private port operator. Within a decade, he also became India's largest developer and operator of coal mines.
Today, Adani companies also operate airports in major cities, build roads, generate electricity, manufacture defense equipment, develop agricultural drones, sell cooking oil and run a media outlet. He has his eyes set on becoming the world's largest renewable energy player by 2030.
Citing market volatility, late Wednesday his flagship Adani Enterprises scrapped a $2.5 billion share offering that, despite the bloodletting in the group's shares and a 28% plunge that day in its own share price, had been oversubscribed.
In a video address Thursday, Adani said the share offering was canceled to "insulate investors from potential losses."
"For me, the interest of my investors is paramount and everything else is secondary," he said.
The share offering was seen as a test of investor confidence in the self-made industrialist, whose ascent has been celebrated as a symbol of India's economic ambitions. The Adani Group said in a statement that canceling the offering would not "have any impact on our existing operations and future plans."
The Adani Group said its balance sheet was "very healthy" and its history of servicing debt was "impeccable."
Still, Brian Freitas, a New Zealand-based analyst with Periscope Analytics who has researched the Adani Group, said the collapse in share prices for India's second-largest conglomerate may hinder its future plans for expansion.
"It's going to be difficult for them to raise new money," he said.
Adani shares are still losing value. Shares in Adani Enterprises tumbled 27% Thursday, while stock in six other Adani companies fell 5%-10%.
The tycoon, who favors a plain white shirt and dark trousers over fancy dress and is said to be affable and quiet spoken, slid from being the world's third richest man to the 13th as his fortune sank to $72 billion, according to Bloomberg's Billionaire Index. Prior to the Hindenburg report, his net worth was about $120 billion.
More vitally, the company is now without the funds it had hoped to raise in this week's offering. Companies often launch such share offerings to finance growth while reducing debt.
"Thanks to the short-seller, Adani's plans will get slowed down significantly," said R.N. Bhaskar, a journalist who wrote a biography on Adani.
Analysts say that rapid expansion has largely been fueled by borrowing. The group's debt stands at $30 billion, out of which $9 billion is from Indian banks, the group's chief financial officer said recently.
After the stock rout of the past week, lenders may deem his group high risk and toughen their criteria for borrowing, like demanding higher interest rates or more collateral, said Freitas.
"Equity investors are going to be wary because the stock isn't doing well — if they can't raise equity, they will have to go to the debt market," he added. "Given the situation, foreign lenders will think twice before lending any new money to Adani."
Despite Adani's longstanding ties with Prime Minister Narendra Modi, a fellow Gujarati, and other powerful politicians, the government has so far remained silent on his recent troubles even as pressure from the political opposition for an investigation into Adani's situation grows.
In recent years, Adani has pumped money into sectors like agriculture, defense and renewable energy — all seen as high priorities for the Indian government.
Like Adani's commitment to the port in Israel's Haifa, many of the group's overseas infrastructure projects, in countries such as Sri Lanka and Tanzania, have served as an Indian counterweight to rival China's holdings.
The Haifa deal was a coup for India, located close to another port managed by the Shanghai International Port Group.
"India is working with great fervor with Israel on defense and technology, and Adani now has a port there. You think the Indian government can sniff at that?" said Bhaskar. "The thing is, you can't wish away Adani — because he is indispensable at this point."
He expects Adani to remain undaunted.
"The more challenging a situation gets, the more defiant and creative he becomes to overcome it," Bhaskar said.
Senate passes Liberals' controversial online streaming act with a dozen amendments
By Mickey Djuric in Ottawa
Big tech companies that offer online streaming services could soon be required to contribute to Canadian content as a controversial Liberal bill gets one step closer to becoming law.
The Senate has passed the online streaming act known as Bill C-11 with a dozen amendments following a lengthy study by senators.
The bill would update Canada's broadcasting rules to reflect online streaming giants such as YouTube, Netflix and Spotify, and require them to contribute to Canadian content and make it accessible to users in Canada — or face steep penalties.
Canadian Heritage Minister Pablo Rodriguez says he hopes the House of Commons will pass the bill next week after it reviews the Senate's changes.
Senators made amendments intended to protect user-generated content and highlight the promotion of Indigenous languages and Black content creators.
They also included a change that would prohibit CBC from producing sponsored content, and another that would require companies to verify users' ages before they access sexually-explicit material.
Rodriguez said Thursday that the Liberal government would not accept all of the Senate's recommendations, but he didn't say which ones he disagrees with.
"We'll see when the bill comes back. There are amendments that have zero impact on the bill. And others that do, and those, we will not accept them," the minister said Thursday during a Canadian Media Producers Association panel.
The Senate also removed a clause in the bill that Sen. Paula Simons described as giving "extraordinary new powers to the government to make political decisions about things."
Ian Scott, the former chair of Canadian Radio-television and Telecommunications Commission, had told a Senate committee that some provisions in the bill did move the balance point "slightly closer to lessening the independence" of the regulator — though he insisted that it would remain independent.
The CRTC, now under the leadership of Vicky Eatrides, will be tasked with enforcing the bill's provisions.
The Senate passed the bill on the anniversary of its introduction in the House of Commons.
Between the House of Commons and Senate, there have been approximately 218 witnesses, 43 meetings, 119 briefs and 73 proposed amendments, said Rodriguez.
"It's the longest bill," he said.
The proposed law has come under intense scrutiny amid accusations from companies and critics who said it left too much room for government control over user-generated content and social-media algorithms.
Rodriguez said tech giants can get creative with ways they promote Canadian content, such as with billboards, advertising or, if they so choose, tweaks to their algorithms.
The bill has also caught the attention of the United States. Its embassy in Ottawa recently said that it is holding consultations with U.S. companies that it is concerned could face discrimination if the bill passes.
Last week, two U.S. senators called for a trade crackdown on Canada over Bill C-11, saying that the prospective law flouts trade agreements.
"I'm not worried, because we think it complies with trade obligations," Rodriguez said.
This report by The Canadian Press was first published Feb. 2, 2023.