Widespread flight cancellations continue as omicron spreads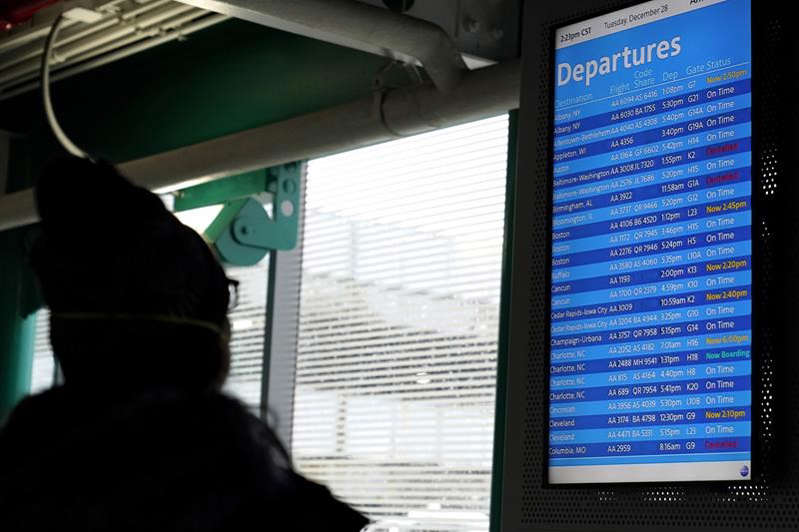 NEW YORK (AP) — Hundreds of flights were cancelled Wednesday as the omicron variant creates havoc both for travelers and for airlines that are having to cobble together flight crews as pilots, flight attendants and ground crews become infected or are exposed to others who have been.
More than 850 flights were cancelled by midday Wednesday and that number has ticked higher throughout the day, according to data from the flight-tracking website FlightAware. There were nearly 1,300 cancellations for flights entering, leaving or inside the U.S. Tuesday, and about 1,500 on Monday.
Cancellations began to spike the day before Christmas during what is already a buzzing pace for airlines this time of year.
Delta, United and JetBlue have all said that the omicron variant was causing enough staffing issues that flights were cancelled.
SkyWest led U.S. carriers with 195 cancellations, followed by United with 158 and Delta with 103. SkyWest, a regional airline based in Utah, has suffered an elevated level of cancellations after severe weather hit several of its hubs, but it's reporting the same staffing issues due to COVID-19.
The Pacific Northwest was slammed with cold and heavy snow over the weekend. Among U.S. airports, Seattle-Tacoma had the highest percentage of incoming and outgoing flights cancelled Wednesday, according to FlightAware.
Omicron has intensified already significant staffing issues for airlines, which winnowed workforces in 2020 as air travel collapsed, only to be broadsided when vaccination rates jumped and millions of people felt comfortable flying again this year.
That could translate to travel headaches for hundreds of thousands of people if cancellations maintain the current pace into the weekend. The Transportation Security Administration expects the Monday after New Year's will be one of the busiest days of the holiday season.
According to TSA checkpoint data, the numbers of people flying this holiday season far exceeds last year — before COVID-19 vaccinations were available — but still trails 2019 traveler numbers.
The Associated Press
Civil rights group says Vancouver has at least one secret police station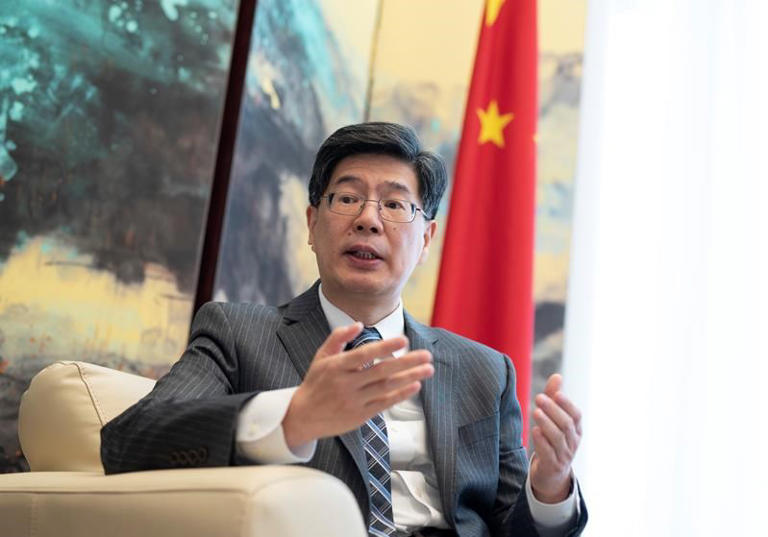 VANCOUVER — A Spanish civil rights group says Vancouver has at least one secret police station operated by Chinese authorities.
The group Safeguard Defenders said in a report in September that there were Chinese police operations around the world, including three in Toronto, and an updated report names another 48 locations.
Safeguard Defenders, a not-for-profit human rights group, said two of the new locations are in Canada: one in Vancouver and the second unknown.
The group's previous investigation looked into the expansion of "long-arm policing" and transnational repression imposed by the Chinese government.
Its latest report, titled "Patrol and Persuade," gathered more evidence on how these police station function and their "persuasions of return" strategies, the group said in its report.
"Patrol and Persuade also documents the silent complicity of a number of host countries, instilling a further sense of fear into targeted communities and severely undermining the international rules-based order," Safeguard Defenders said in an online statement.
Its previous report alleged employees from the overseas police system use intimidation and threats to enforce the "involuntary" return of immigrants back to China for persecution.
The group claimed that between April 2021 and July 2022, Chinese police "persuaded" 230,000 claimed fugitives to return to China.
No one from the Chinese Embassy was immediately available for comment on the new information, but it has previously described the offices as volunteer-run service stations to process things like driver's licences.
The report said the newly documented Vancouver-based police station is being operated by authorities from Wenzhou, a port and industrial city in China's Zhejiang province.
It said most of the newly documented stations were set up starting in 2016, directly refuting the government of China's previous statements that the operations were started in response to the COVID-19 pandemic.
"New information shows at least one illegal 'persuasion to return' operation run through the Wenzhou station in Paris, France; and at least 80 cases where the Nantong overseas police system assisted in the capture and/or persuasion to return operation," the report said.
The group claimed their work prompted at least 12 countries, including Canada, to launch investigations into local police stations.
A series of recommendations have been listed by Safeguard Defenders for all governments to consider, such as educating local law enforcement on the methods used by the operators and imposing costs on entities and individuals involved in the repression efforts.
Prime Minister Justin Trudeau said last month he raised the issue of interference directly with Chinese President Xi Jinping at the G20 summit in Indonesia.
Xi later berated him for informing the media about their conversation.
The RCMP said in early November that it is investigating the issue, and officials told MPs in early October that they were aware of the claims by the group.
This report by The Canadian Press was first published Dec. 5, 2022.
This story was produced with the financial assistance of the Meta and Canadian Press News Fellowship.
Nono Shen, The Canadian Press
Kirstie Alley, Emmy-winning 'Cheers' star, dies at 71
LOS ANGELES (AP) — Kirstie Alley, a two-time Emmy winner whose roles on the TV megahit "Cheers" and in the "Look Who's Talking" films made her one of the biggest stars in American comedy in the late 1980s and early 1990s, died Monday. She was 71.
Alley died of cancer that was only recently discovered, her children True and Lillie Parker said in a post on Twitter. Alley's manager Donovan Daughtry confirmed the death in an email to The Associated Press.
"As iconic as she was on screen, she was an even more amazing mother and grandmother," her children's statement said.
She starred opposite Ted Danson as Rebecca Howe on "Cheers," the beloved NBC sitcom about a Boston bar, from 1987 to 1993. She joined the show at the height of its popularity after the departure of original star Shelley Long.
Alley would win an Emmy for best lead actress in a comedy series for the role in 1991.
"I only thank God I didn't have to wait as long as Ted," Alley said in her acceptance, gently ribbing Danson, who had finally won an Emmy for his "Cheers" role as Sam Malone in his eighth nomination the previous year.
She would take a second Emmy for best lead actress in a miniseries or television movie in 1993 for playing the title role in the CBS TV movie "David's Mother."
She had her own sitcom on the network, "Veronica's Closet," from 1997 to 2000.
In the 1989 comedy "Look Who's Talking," which gave her a major career boost, she played the mother of a baby who's inner thoughts were voiced by Bruce Willis. She would also appear in a 1990 sequel "Look Who's Talking Too," and another in 1993, "Look Who's Talking Now."
John Travolta, her co-star in the trilogy, paid her tribute in an Instagram post.
"Kirstie was one of the most special relationships I've ever had," Travolta said, along with a photo of Alley. "I love you Kirstie. I know we will see each other again."
She would play a fictionalized version of herself in the 2005 Showtime series "Fat Actress," a show that drew comedy from her public and media treatment over her weight gain and loss.
She dealt with the same subject matter in the 2010 A&E reality series "Kirstie Alley's Big Life," which chronicled her attempt to lose weight and launch a weight-loss program while working as a single mother in an unconventional household that included pet lemurs.
Alley said she agreed to do the show in part because of the misinformation about her that had become a tabloid staple.
"Anything bad you can say about me, they say," Alley told the AP at the time. "I've never collapsed, fainted, passed out. Basically, anything they've said, I never. The only true thing is I got fat."
In recent years she appeared on several other reality shows, including a second-place finish on "Dancing With the Stars" in 2011. She appeared on the competition series "The Masked Singer" wearing a baby mammoth costume earlier this year.
She appeared in the Ryan Murphy black comedy series "Scream Queens" on Fox in 2015 and 2016.
One of her co-stars on the show, Jamie Lee Curtis, said on Instagram Monday that Alley was "a great comic foil" on the show and "a beautiful mama bear in her very real life."
Alley's "Cheers" co-star Kelsey Grammer said in a statement that "I always believed grief for a public figure is a private matter, but I will say I loved her."
Another "Cheers" co-star, Rhea Pearlman, recounted how she and Alley became friends almost instantly after she joined the show. She said Alley organized large Easter and Halloween parties and invited everyone. "She wanted everyone to feel included. She loved her children deeply. I've never met anyone remotely like her. I feel so thankful to have known her."
A native of Wichita, Kansas, Alley attended Kansas State University before dropping out and moving to Los Angeles.
Like Travolta, she would become a longtime member of the Church of Scientology.
Her first television appearances were as a game show contestant, on "The Match Game" in 1979 and "Password" in 1980.
She made her film debut in 1982's "Star Trek: The Wrath of Khan."
Other film roles included 1987's "Summer School," 1995's "Village of the Damned" and 1999's "Drop Dead Gorgeous."
Alley was married to her high school sweetheart from 1970 to 1977, and to actor Parker Stevenson from 1983 until 1997.
She told the AP in 2010 if she married again, "I'd leave the guy within 24 hours because I'm sure he'd tell me not to do something."
___
Rancilio reported from Detroit. Follow AP Entertainment Writer Andrew Dalton on Twitter: https://twitter.com/andyjamesdalton
Andrew Dalton And Alicia Rancilio, The Associated Press