'Why do I feel so guilty?' Saskatchewan residents sending rapid tests out of province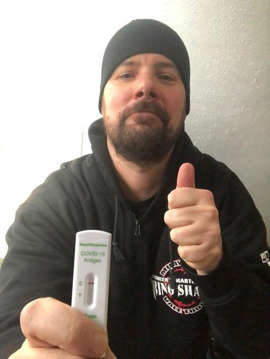 Troy Weppler says he turned away from a post office employee in Saskatoon as he shoved a box of COVID-19 rapid tests into an envelope to send to family in British Columbia.
"Why do I feel so guilty about doing this? Am I breaking any laws or is it just an ethical thing?" Weppler said as he recalled the moment during the holiday season when he felt like an outlaw.
"Everywhere I go I'm getting tests thrown at me, so why can't I throw a couple in an envelope and mail them out to family?"
Weppler is not the only person in Saskatchewan fielding family requests from across the country for the much sought-after tests. Walk into libraries, firehalls andsome grocery stores and a smiling worker is likely to offer a kit with five tests.
Weppler was given his first box weeks ago when he went to cash in a lottery ticket. The employee told him he'd won $20 and a free play, then handed him the kit.
It's puzzling for most people elsewhere in Canada where the demand for tests vastly outweighs supply. Federal Conservative Leader Erin O'Toole compared the situation to the 'Hunger Games' movies earlier this week.
Federal Health Minister Jean-Yves Duclos has said that 140 million tests are to be distributed to provinces and territories on a per-capita basis this month. He said that would allow every Canadian to have one test per week in January.
But many are wondering if the uptick in supply will make a difference in being able to find rapid tests since each province, so far, has distributed them differently.
Ontario's pop-up model for rapid tests has been widely criticized. British Columbia's provincial health officer, Dr. Bonnie Henry, had to assure residents earlier this week that tests were not being hoarded after growing public frustration.
The demand has only grown with the fast-spreading Omicron variant and with many provinces limiting the standard molecular lab tests to certain groups.
"Why can they get them in … grocery stores in Saskatchewan and why can't you get them here?" Scott Forbes asked.
The University of Winnipeg biology professor has a son who lives in Moose Jaw, Sask. He came home for the holiday season and was having some light cold symptoms, Forbes said.
Forbes said his son went to get a lab test in Winnipeg and waited in line for more than four hours. The family had heard that the results could be delayed by up to a week. Rapid tests were nowhere to be found.
"He knew he wouldn't get the test results for awhile … so he called his girlfriend to ship out some rapid tests from Moose Jaw." Forbes said.
"She just picked them up from the grocery store and we had them the next day."
Forbes said his son tested negative and his symptoms quickly subsided. He still hasn't received results from the lab test.
The Saskatchewan government said this week that it has distributed over 12 million tests to about 600 sites. About 3.7 million of those were sent to communities through public distribution networks, including libraries and fire halls, starting in November.
The Manitoba government did not respond to a request for updated numbers of rapid tests.
Federal numbers from Dec. 17 indicate the province had been sent about 3.2 million tests. Saskatchewan had received more than 10.6 million tests, significantly more than its neighbours.Almost 3.4 million had gone to British Columbia.
Saskatchewan officials have said they received more tests from Ottawa because they asked for more.
Forbessaid he wonders why other provincial governments didn't do the same.
Ontario anticipated receiving 15.5 million rapid tests from the federal government in December, but only 3.4 million arrived, Ivana Yelich, a spokeswoman for Premier Doug Ford, said in an email.
"The federal government has confirmed they will not be providing the remaining … 12 million tests," Yelich said.
Ontario has received about 34.2 million tests from the federal government so far, she added. The province also obtained almost 20.8 million tests on its own. It has deployed about 55 million tests since the start of the pandemic.
Marlo Pritchard, president of the Saskatchewan Public Safety Agency, said he's optimistic Saskatchewan will continue to have a bounty of rapid tests despite the federal government signalling population will play a larger role in distribution.
The province expects four million tests in January and again in February, he added.
In Saskatoon, Weppler said if that's the case, he will consider making another clandestine journey to the post office to help family elsewhere.
"It's nice to be able to do this test."
This report by The Canadian Press was first published Jan. 7, 2022.
— With files from Mickey Djuric in Regina
Kelly Geraldine Malone, The Canadian Press
'Freedom Convoy' organizer Tamara Lich expected to have bail hearing today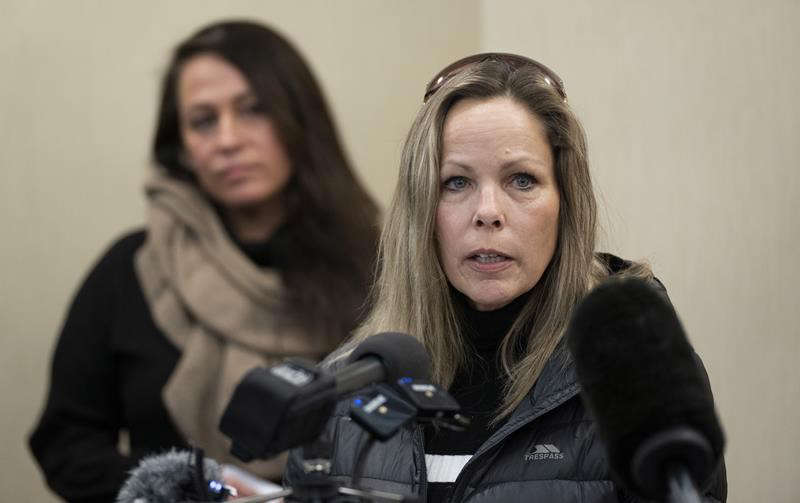 OTTAWA — Tamara Lich, an organizer of the "Freedom Convoy," is set to appear in an Ottawa court today for a bail hearing after being arrested last week for allegedly breaching one of her bail conditions.
She was arrested in Medicine Hat, Alta., where she lives, on a Canada-wide arrest warrant sought by the Ottawa police.
Police transported her to the capital and she briefly appeared before an Ottawa judge on Thursday before remaining in custody over the weekend.
Lich was a key figurehead of the massive protest that overtook the capital's downtown streets for more than three weeks in February.
She and fellow protest organizer Chris Barber are jointly accused of mischief, obstructing police, counselling others to commit mischief and intimidation.
She was released with a long list of conditions, including a ban from all social media and an order not to support anything related to the "Freedom Convoy."
Police have not said which condition she's accused of breaching.
This report by The Canadian Press was first published July 5, 2022.
—
This story was produced with the financial assistance of the Meta and Canadian Press News Fellowship.
The Canadian Press
Poilievre among those marching with soldier charged for criticizing vaccine mandates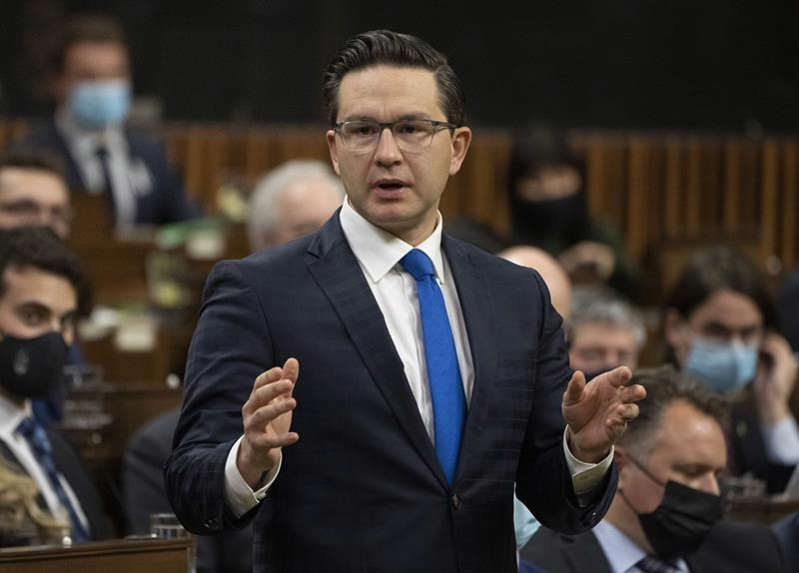 By Lee Berthiaume in Ottawa
Conservative leadership candidate Pierre Poilievre joined the final leg of a march led by a Canadian soldier charged for speaking out against COVID-19 vaccine requirements that has sparked promises⁠ — and fears — of a new wave of protests in the capital.
James Topp was charged in February with two counts of conduct to the prejudice of good order and discipline for comments made while wearing his uniform, and has since been leading a four-month march to the capital from Vancouver.
His march has been supported by many of the same figures involved in the "Freedom Convoy" that snarled downtown Ottawa for weeks until police used force to end what they and the government described as an illegal occupation.
His arrival in the capital and promises of a new round of protests starting Canada Day have set residents on edge. Ottawa Mayor Jim Watson and the city's interim police chief, Steve Bell, have promised to crack down on any illegal activity.
Poilievre walked alongside Topp for about half an hour after the two met in the parking lot of a strip mall west of downtown Ottawa shortly before noon, where hundreds of people had gathered to see the army reservist.
Video of the meeting shows Poilievre citing to Topp a famous quote by then-prime minister John Diefenbaker about being a "free Canadian" when the latter signed the Canadian Bill of Rights in 1960, before expressing his opposition to vaccine mandates.
When Topp says he wants the reinstatement and reparations for anyone who lost their job because of vaccine mandates, Poilievre said: "Everybody who lost their job simply because of a COVID mandate should be restored to their job, no question about it."
The two also spoke about the divisions within Canada, with Poilievre saying: "People are desperate for hope … I think it's time to put this country back together, and heal the wounds and reunite our country."
The two were then followed by about 200 supporters, many of them carrying Canadian flags and some sporting camouflaged backpacks and other gear, as they walked down the sidewalk of a major street for about half an hour before Poilievre left.
Poilievre's appearance with Topp comes as the presumed Conservative leadership front-runner has been accused of unabashedly cozying up to anti-vaccine protesters and other groups associated with the "Freedom Convoy."
Topp has said he has no plans to lead an occupation of the capital, and invited Ottawa police to work with him to facilitate his march through the city to the National War Memorial.
However, an organizer for a group calling itself Veterans 4 Freedom said in a recent video posted to YouTube that it plans to set up a semi-permanent camp east of Ottawa called "Camp Eagle" and hold events in the city all summer.
While police have since managed to prevent similar protests from taking over the city, stopping planned demonstrations from getting out of hand during Canada Day is likely to be complicated by the presence of thousands of people celebrating the holiday.
The charges against Topp relate to two videos posted online in the winter in which the army reservist appears in uniform criticizing vaccine requirements for military personnel and other federal employees.
Canadian Armed Forces members are severely restricted in the comments they can make while in uniform, particularly when it comes to criticizing government policies, in large part to protect the military from any perception of politicization.
His lawyer has argued such restrictions should not apply to policies that affect Armed Forces members personally.
Prime Minister Justin Trudeau on Thursday said police are taking their responsibility to keep people safe during Canada Day celebrations "very seriously," while Ontario Premier Doug Ford called on those intending to protest in Ottawa to respect the law.
"Folks, be considerate this weekend, you're going to Ottawa, be considerate. It's Canada Day, we're Canadians, just everyone have a good time, a safe time, stay healthy and safe and spend time with your families," Ford said.
Ford said he is disappointed to see such protests return to the capital.
"I'm all for peaceful protests and you can demonstrate, but no shenanigans this weekend, just be peaceful and let the people of Ottawa enjoy their weekend," he said.
"Honestly, we shouldn't even be going through this. It's disappointing, but it is what it is."
More than two dozen Conservative MPs hosted Topp and other leading figures in the Freedom Convoy on Parliament Hill last week, posing for pictures, promising their support and listening to a lecture on the purported dangers of COVID-19 vaccines.
Health Canada says only vaccines that meet strict safety, efficacy and quality standards are approved for use in the country, and the benefits of COVID-19 vaccines continue to outweigh the risks of the disease. About 85 per cent of Canadians have received at least one dose.
Topp told the MPs that he was marching in part to get all vaccine mandates repealed, as well as to demand the reinstatement of anyone who lost their job because of such a requirement and compensation for wages lost.
At the same time, he and the others raised the spectre of civil war in describing the state of the country.
"We won't be intimidated by any group that plans to disrupt the celebrations," Mayor Jim Watson said during a briefing earlier this week. "We're prepared and we will not tolerate any illegal activity by anyone."
Bell said police are prepared for a number of different scenarios, and will respond quickly to any illegal activity, including efforts to set up structures such as stages.
In late April, the Ottawa Police Services Board approved a request from Bell to appoint up to 831 RCMP officers to help with the Rolling Thunder motorcycle events, and made those appointments valid until July 4.
The city is warning that vehicles will be ticketed and towed if they're found violating no-stopping zones, although the full extent of the areas that will be off limits has not been determined.
Many Ottawa residents remain angry at how the city and police handled the "Freedom Convoy" protests, with several community groups banding together to launch a citizens' inquiry into how that protest was handled.
This report by The Canadian Press was first published June 30, 2022.