White House: Improved surveillance caught Chinese balloon
By Zeke Miller, Aamer Madhani, And Colleen Long in Washington
WASHINGTON (AP) — U.S. officials said Monday that improvements ordered by President Joe Biden to strengthen defenses against Chinese espionage helped identify last week's spy balloon — and determine that similar flights were conducted at multiple points during the Trump administration.
White House national security adviser Jake Sullivan said Monday that after Biden took office, the U.S. "enhanced our surveillance of our territorial airspace, we enhanced our capacity to be able to detect things that the Trump administration was unable to detect."
Speaking at the event hosted by the U.S. Global Leadership Coalition, Sullivan added that as part of those efforts "we were able to go back and look at the historical patterns" and uncover "multiple instances" during the Trump administration in which Chinese surveillance balloons traversed American airspace and territory.
Several Trump administration officials have have said they didn't learn of Chinese surveillance balloons during their tenures.
Before Monday, U.S. officials had said that at least three times during the Trump administration and at least one other time during Biden's time as president balloons have crossed American airspace, but not for this long.
Sullivan did not explain what specifically allowed the U.S. to detect and track the latest balloon where the previous administration might not have. Officials have said, without elaborating, that China has flown similar balloons over parts of five continents in recent years.
Sullivan defended Biden's decision to wait until the balloon was off the Carolina coastline before shooting it down, saying military advisers assessed that downing it over water "created a greater possibility that we could effectively exploit the wreckage than if it were shot down over land." Some GOP lawmakers have criticized the president for not shooting it down sooner, though Pentagon officials also warned of a potential risk to Americans on the ground.
Sullivan said the U.S. was "still piecing through" which Chinese officials knew what about the balloon when in Beijing and would not speak publicly yet about U.S. assessments about China's intentions flying it over the U.S.
Separately, White House National Security Council spokesman John Kirby told reporters on Monday that the U.S. military has begun collecting debris from the balloon.
He also confirmed that the White House has offered to brief key officials from the Trump administration but declined to name any that have been briefed.
Kirby firmly rejected Beijing's claim that the U.S. violated international law by shooting down the balloon.
"The United States, under President Biden's authority and orders acted in accordance with international law and in defense of our homeland and our sovereign airspace," Kirby said. "We were absolutely within our rights to bring down that balloon."
Trump indicted: What to know about the documents case and what's next
The federal charges represent the biggest legal jeopardy so far for Trump, coming less than three months after he was charged in New York with 34 felony counts of falsifying business records.
Here's a look at the charges, the special counsel's investigation and how Trump's case differs from those of other politicians known to be in possession of classified documents:
WHAT ARE THE CHARGES, AND HOW IS TRUMP REACTING?
Trump has been charged with seven counts related to the mishandling of classified documents, according to two people familiar with the indictment but not authorized to speak publicly about it.
Trump's lawyer James Trusty said Thursday on CNN that the indictment includes charges of willful retention of national defense information, obstruction of justice, false statements and conspiracy.
Trump, on his Truth Social app, called it "a DARK DAY for the United States of America." In a video post, he said, "I'm innocent and we will prove that very, very soundly and hopefully very quickly." Within 20 minutes of breaking the news, his 2024 presidential campaign sent out a fundraising missive telling his followers he'd been indicted and asking for financial support.
WHAT HAPPENS NEXT?
The Justice Department did not immediately publicly confirm the indictment, and any charges were not publicly filed.
Trump said he'd been summoned to appear in court Tuesday afternoon in Miami. It wasn't immediately clear if Trump planned to make the appearance and what the procedure would look like.
When he was charged by the Manhattan district attorney in the New York case, Trump surrendered to authorities, where he was booked behind closed doors and appeared in the courtroom, sitting with his lawyers at the defense table.
HOW DID THIS CASE COME ABOUT?
Officials with the National Archives and Records Administration reached out to representatives for Trump in spring 2021 when they realized that important material from his time in office was missing from their collection.
According to the Presidential Records Act, White House documents are considered property of the U.S. government and must be preserved.
A Trump representative told the National Archives in December 2021 that presidential records had been found at Mar-a-Lago. In January 2022, the National Archives retrieved 15 boxes of documents from Trump's Florida home, later telling Justice Department officials that they contained "a lot" of classified material.
That May, the FBI and Justice Department issued a subpoena for remaining classified documents in Trump's possession. Investigators who went to visit the property weeks later to collect the records were given roughly three dozen documents and a sworn statement from Trump's lawyers attesting that the requested information had been returned.
But that assertion turned out to be false. With a search warrant, federal officials returned to Mar-a-Lago in August 2022 and seized more than 33 boxes and containers totaling 11,000 documents from a storage room and an office, including 100 classified documents.
In all, roughly 300 documents with classification markings — including some at the top-secret level — have been recovered from Trump since he left office in January 2021.
HOW DID A SPECIAL COUNSEL GET INVOLVED?
Last year, U.S. Attorney General Merrick Garland picked Jack Smith, a veteran war crimes prosecutor with a background in public corruption probes, to lead investigations into the presence of classified documents at Trump's Florida estate, as well as key aspects of a separate probe involving the Jan. 6, 2021, insurrection and efforts to undo the 2020 election.
Smith's appointment was a recognition by Garland of the politics involved in an investigation into a former president and current White House candidate. Garland himself was selected by Democratic President Joe Biden, whom Trump is seeking to challenge for the White House in 2024.
Special counsels are appointed in cases in which the Justice Department perceives itself as having a conflict or where it's deemed to be in the public interest to have someone outside the government come in and take responsibility for a matter.
According to the Code of Federal Regulations, a special counsel must have "a reputation for integrity and impartial decisionmaking," as well as "an informed understanding of the criminal law and Department of Justice policies."
DIDN'T BIDEN AND FORMER VICE PRESIDENT MIKE PENCE HAVE CLASSIFIED DOCUMENTS, TOO?
Yes, but the circumstances of their cases are vastly different from the situation involving Trump.
After classified documents were found at Biden's think tank and Pence's Indiana home, their lawyers notified authorities and quickly arranged for them to be handed over. They also authorized other searches by federal authorities to search for additional documents.
There is no indication either was aware of the existence of the records before they were found, and no evidence has so far emerged that Biden or Pence sought to conceal the discoveries. That's important because the Justice Department historically looks for willfulness in deciding whether to bring criminal charges.
A special counsel was appointed earlier this year to probe how classified materials ended up at Biden's Delaware home and former office. But even if the Justice Department were to find Biden's case prosecutable on the evidence, its Office of Legal Counsel has concluded that a president is immune from prosecution during his time in office.
As for Pence, the Justice Department informed his legal team earlier this month that it would not be pursuing criminal charges against him over his handling of the documents.
DOES A FEDERAL INDICTMENT PREVENT TRUMP FROM RUNNING FOR PRESIDENT?
No. Neither the indictment itself nor a conviction would prevent Trump from running for or winning the presidency in 2024.
And as the New York case showed, criminal charges have historically been a boon to his fundraising. The campaign announced that it had raised over $4 million in the 24 hours after that indictment became public, far smashing its previous record after the FBI search of Trump's Mar-a-Lago club.
HOW ARE TRUMP'S REPUBLICAN RIVALS REACTING TO THE NEWS?
Many of Trump's challengers for the GOP nomination jumped to his defense Thursday night after news of the indictment broke.
Florida Gov. Ron DeSantis, Trump's top rival for the 2024 nomination, accused the Justice Department of political bias in charging the former president.
"The weaponization of federal law enforcement represents a mortal threat to a free society," DeSantis tweeted. "We have for years witnessed an uneven application of the law depending upon political affiliation."
He questioned why the Justice Department had been "so zealous" in bringing charges against Trump and "so passive" about going after former Democratic presidential nominee Hillary Clinton or Biden's son Hunter.
Sen. Tim Scott of South Carolina said he felt the justice system's "scales are weighted" based on politics. "In America, every single person is presumed innocent, not guilty," Scott said on Fox News, decrying "the weaponization of the Department of Justice against the former president."
Biotech entrepreneur and "anti-woke" activist Vivek Ramaswamy said the federal case was part of "an affront to every citizen." Reiterating his comments that he would pardon Trump, Ramaswamy called it "hypocritical for the DOJ to selectively prosecute Trump but not" Biden over his own classified documents case.
Former Arkansas Gov. Asa Hutchinson, who called for Trump to drop out of the race after the New York charges were filed, said the federal indictment marked "a sad day for our country" and "reaffirms the need for Donald Trump to respect the office and end his campaign."
Former Vice President Mike Pence said earlier Thursday that if Trump were to be indicted, he would hope the Justice Department had strong evidence — a shift in tone from the night before, when he said he hoped Trump wouldn't be charged even if evidence is clear he committed a crime.
___
Europe's Digital Services Act Puts Free Speech at the Mercy of Eurocrats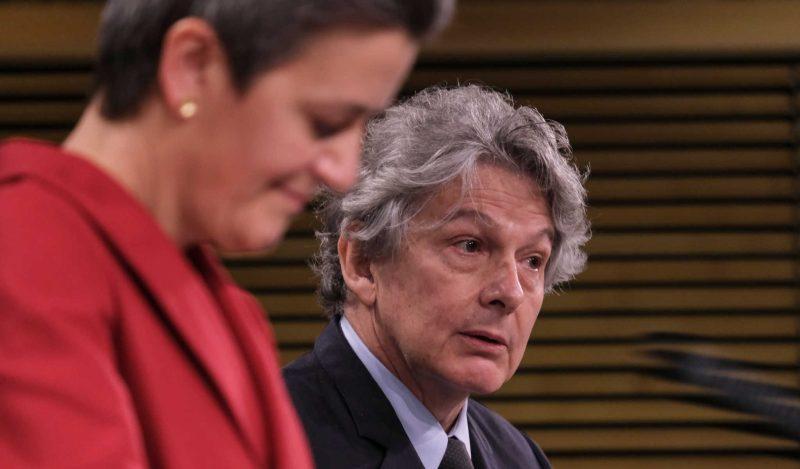 BY
DAVID THUNDER
The European Union's Internal Market Commissioner, Thierry Breton, was apparently miffed that Elon Musk withdrew Twitter from the EU's "voluntary code of practice against disinformation." He was sufficiently put out by Twitter's withdrawal from the "voluntary code" that he felt the need to publicly reprimand Twitter for not gratefully submitting to the European Union's expert guidance: "You can run but you can't hide…Beyond voluntary commitments, fighting disinformation will be legal obligation under Digital Services Act as of August 25th."
The declared aim of the new Digital Service Act is "to contribute to the proper functioning of the internal market for intermediary services by setting out harmonised rules for a safe, predictable and trusted online environment that facilitates innovation and in which fundamental rights enshrined in the Charter, including the principle of consumer protection, are effectively protected."
Who can argue against a "safe, predictable and trusted online environment?" Who would argue against "consumer protection?" And who would argue against Mr Breton's commitment to the fight against "disinformation?" I certainly would, because when a person or institution in a position of great power endorses values like "predictability," rails against "disinformation," and promises to keep us all "safe" on the internet, you can be sure that it will be "safety," "predictability," and "disinformation," as viewed from their self-serving ideological and political perspective.
I am just as worried as Mr Breton about "disinformation," but my chief concern is with disinformation coming from official sources, which can do an extraordinary amount of harm due to the extraordinary reach and prestige of official organisations. It is these same organisations that Mr Breton would like to put in charge of policing "disinformation:" organisations like national governments, that have been among the most frequent perpetrators of false and misleading information, on matters of no small moment, from the efficacy and safety of Covid vaccines, masks and lockdowns to the origins of the SARS-CoV-2 virus, the true standing of climate "science," and the potential harms to the economy and food supply chain of aggressive climate interventions such as the expropriation of farmland.
The Digital Services Act is an endless maze of complicated regulations worthy of a team of lawyers. Seeing as I don't have a budget to hire a team of lawyers, I decided to skim through the Act for myself. It does not make for pleasant bedtime reading, not only because it is a morass of complicated legalese, but also, because what hides behind this legalese is an attempt by EU politicians to get social media platforms under their thumb, through
the obligation on the part of social media companies to periodically submit content moderation and "risk mitigation" reports to EU bureacrats
EU supervision of social media platforms' policing of "harmful" information, which could potentially include health misinformation as well as "illegal hate speech"
the creation of new emergency powers in the European Commission to "require" social media platforms to take actions to "prevent, eliminate or limit" any use of their services that might "contribute" to a "threat" to public security or public health
…and all backed up by crippling fines of up to 6 percent of a company's worldwide turnover for non-compliance. Yes, you heard that right: up to six percent of a company's worldwide turnover.
At bottom, the Digital Services Act is an attempt to ramp up the level of control that EU bureacrats have over the flow of information on social media platforms. You would have to have a very short historical memory to think that broad powers of censorship will generally be used to advance the cause of truth and justice. Whether Mr Thierry Breton and his colleagues will be successful in forcing social media companies to do their bidding, this much is clear: the Digital Services Act creates a European legal environment that is increasingly hostile to free speech.
Republished from the author's Substack