What to know about new research on coffee and heart risks
A worker prepares a coffee drink at a shop in Overland Park, Kan., Thursday, Aug. 14, 2008. In a study published in the New England Journal of Medicine on Wednesday, March 22, 2023, healthy volunteers who were asked to drink coffee or skip it on different days showed no signs of an increase in a certain type of heart rhythm after sipping the caffeinated drinks, although they did walk more and sleep less. (AP Photo/Orlin Wagner)
By Jonel Aleccia
Coffee lovers — and their doctors — have long wondered whether a jolt of java can affect the heart. New research published Wednesday finds that drinking caffeinated coffee did not significantly affect one kind of heart hiccup that can feel like a skipped beat.
But it did signal a slight increase in another type of irregular heartbeat in people who drank more than one cup per day. And it found that people tend to walk more and sleep less on the days they drank coffee.
Coffee is one of the most common beverages in the world. In the U.S., two-thirds of Americans drink coffee every day, more than bottled water, tea or tap water, according to the National Coffee Association, a trade group. Coffee contains caffeine, a stimulant, which is widely regarded as safe for healthy adults at about 400 milligrams per day, or roughly the equivalent of four or five cups brewed at home.
Coffee has been associated with multiple health benefits and even a lower risk of dying, based on large studies that observed participants' behavior. Despite research that has shown moderate coffee consumption doesn't raise the risk of heart rhythm problems, some professional medical societies still caution against consuming caffeine.
The latest research:
THE EXPERIMENT
Researchers outfitted 100 healthy volunteers with gadgets that continuously monitored their heart function, daily steps, sleep patterns and blood sugar. The volunteers, who were mostly younger than 40, were sent daily text messages over two weeks instructing them to drink or avoid caffeinated coffee on certain days. The results were reported Wednesday in the New England Journal of Medicine.
This type of study, which directly measures the biological effects of drinking or not drinking caffeinated coffee in the same people, is rare and provides a dense array of data points, said study co-author Dr. Gregory Marcus, a cardiologist at the University of California, San Francisco, who specializes in treating heart arrhythmias.
THE FINDINGS
Researchers found that drinking caffeinated coffee did not result in more daily episodes of extra heartbeats, known as premature atrial contractions. These extra beats that begin in the heart's upper chambers are common and typically don't cause problems. But they have been shown to predict a potentially dangerous heart condition called atrial fibrillation.
They also found slight evidence of another kind of irregular heartbeat that comes from the lower heart chambers, called premature ventricular contractions. Such beats are also common and not usually serious, but they have been associated with a higher risk of heart failure. The researchers found more of these early beats in people on the days they drank coffee, but only in those who drank two or more cups per day.
The volunteers logged about 1,000 more steps per day on the days they drank coffee — and they slept about 36 minutes less, the study found. There was almost no difference in blood sugar levels.
One interesting result: People with genetic variants that make them break down caffeine faster experienced less of a sleep deficit, while folks with variants that lead them to metabolize caffeine more slowly lost more sleep.
WHAT IT MEANS FOR YOU
Because the study was performed in a small number of people over a short period of time, the results don't necessarily apply to the general population, said Dr. Dave Kao, a cardiologist and health data expert at the University of Colorado School of Medicine, who was not involved in the study. However, the study is consistent with others that have found coffee is safe and it offers a rare controlled evaluation of caffeine's effect, Kao added.
Co-author Marcus cautions that the effects of drinking coffee can vary from person to person. He said he advises his patients with heart arrhythmias to experiment on their own to see how caffeine affects them.
"They're often delighted to get the good news that it's OK to try coffee and drink coffee," he said.
Health Foundation commits $325,000 to support child, adolescent mental health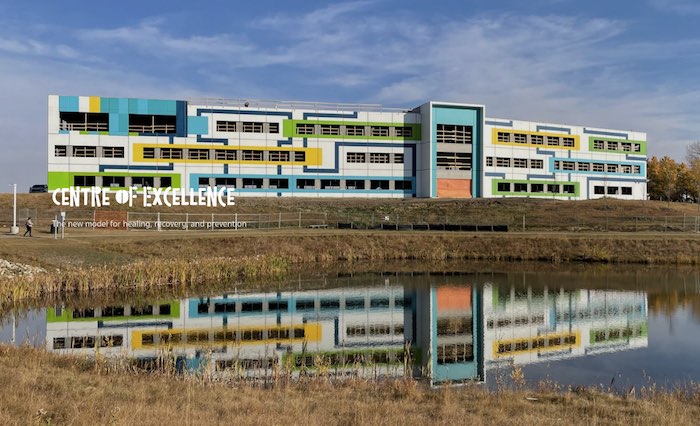 Foundation donors provide furnishings, supplies for program for ages 13 to 17
Thanks to Central Alberta donors, the Red Deer Regional Health Foundation is supporting Step Up Step Down, a program helping youth aged 13 to 17 who have complex mental health challenges.
Step-Up Step-Down will find a new home in the Centre of Excellence, described as a centre for "healing, recovery, and prevention" being built at Red Deer Polytechnic.
"We thank our generous donors for supporting the Foundation's greatest needs, which allows us to dedicate funds to help young people and families in our community," says Manon Therriault, Chief Executive Officer of the Red Deer Regional Health Foundation.
Funds raised by the Foundation will provide a fully furnished, equipped and supplied environment to allow staff to provide timely recreational, therapeutic, and extracurricular activities to the youth in care. Funded items include furnishings, equipment, and supplies for the kitchen, bedrooms, sensory and therapy rooms, classroom, living room, gym, outdoor spaces, and indoor activity spaces.
The move into the Centre of Excellence will allow expansion of the Step Up Step Down program up to 16 beds from the current 5 beds and allow the program to provide intensive, comprehensive, individualized clinical services to youth in a live-in and community setting.
Step Up Step Down will support approximately 50-75 live-in treatment families, along with 100 intensive outpatient families per year, reducing stress on the Emergency Department and Pediatric Psychiatric units at the Red Deer Hospital. The facility will serve youth and families from all areas of the Central Zone.
About Red Deer Regional Health Foundation
The Red Deer Regional Health Foundation is a fundraising organization for Alberta Health Services Central Zone, with a mandate to raise and disburse funds for programs, services, and the purchase of medical equipment.
Ruling clears way for Purdue Pharma to settle opioid claims, protect Sacklers from lawsuits
Jayde Newton helps to set up cardboard gravestones with the names of victims of opioid abuse outside the courthouse where the Purdue Pharma bankruptcy is taking place in White Plains, N.Y., on Aug. 9, 2021. A three-judge panel of the 2nd U.S. Circuit Court of Appeals in New York on Tuesday, May 30 overturned a lower court's 2021 ruling that found bankruptcy courts did not have the authority to protect members of the Sackler family who own the company and who have not filed for bankruptcy protection from lawsuits. (AP Photo/Seth Wenig, File)
By Geoff Mulvihill
A federal court ruling cleared the way Tuesday for OxyContin maker Purdue Pharma's settlement of thousands of legal claims over the toll of opioids.
Under the plan approved by the 2nd U.S. Circuit Court of Appeals in New York, members of the wealthy Sackler family would give up ownership of Stamford, Connecticut-based Purdue, which would become a new company known as Knoa, with its profits being used to fight the opioid crisis. They would also contribute $5.5 billion to $6 billion in cash over time. A chunk of that money — at least $750 million — is to go to individual victims of the opioid crisis and their survivors. Only one other major opioid lawsuit settlement includes payments for victims.
Tuesday's decision also protects members of the Sackler family from lawsuits over the toll of opioids, even though they did not file for bankruptcy.
The court's ruling reversed a 2021 ruling that found bankruptcy court judges did not have the authority to approve a settlement that would offer bankruptcy protections for those who have not filed for bankruptcy.
Those protections are at the heart of the proposed deal that would end claims against Purdue filed by thousands of state, local and Native American tribal governments and other entities.
"It's a great day for victims, some of who desperately need the money and have been waiting for this day for a long time," said Ed Neiger, a lawyer representing individual victims.
Sackler family members have been clear: If they don't get the legal protections, they won't do their part of the deal.
"The Sackler families believe the long-awaited implementation of this resolution is critical to providing substantial resources for people and communities in need," family members who own Purdue said in a statement Tuesday. "We are pleased with the Court's decision to allow the agreement to move forward and look forward to it taking effect as soon as possible."
Purdue issued its own statement, calling the ruling "a victory for Purdue's creditors, including the states, local governments, and victims who overwhelmingly support the Plan of Reorganization." The company said it would focus on delivering "billions of dollars of value for victim compensation, opioid crisis abatement, and overdose rescue medicines."
Several states had been withholding support for the plan, but after a new round of negotiations last year, all of them came on board. That left just one high-profile objector: the Office of the U.S. Bankruptcy Trustee, an arm of the Justice Department.
A lawyer from that office told the 2nd Circuit in April 2022 that it's a "fundamental inconsistency" that people who do not seek bankruptcy protection and have to give up most of their assets could be exempted from some lawsuits.
The Justice Department has not immediately said whether it would appeal Tuesday's ruling to the U.S. Supreme Court. A spokesperson declined comment Tuesday.
The the latest version of the settlement must still be approved by a bankruptcy court judge before it can be finalized.
While Sackler family members still technically own Purdue, they stopped receiving money from the company years ago.
All three federal appeals judges who heard the Purdue case last year agreed that the Sackler family can be protected from lawsuits. But one — Richard Wesley — said in a separate opinion that he did so reluctantly, noting that while courts allow such deals they're not explicitly allowed under bankruptcy law.
Purdue is perhaps the highest-profile player in the opioid industry. But several other drugmakers, distribution companies and pharmacies also have been sued by state and local governments. While a handful of cases have gone to trial, many also are being settled.
The total value of proposed and finalized settlements in recent years is more than $50 billion. Companies that have reached deals include drugmakers Johnson & Johnson and Teva; distribution giants AmerisourceBergen, Cardinal Health and McKesson; and pharmacy chains CVS, Walgreens and Walmart. Most of the money is required to be used to fight the opioid crisis, which has been linked to more than 500,000 deaths in the U.S. over the past two decades, including more than 70,000 a year recently.
In recent years, most of the deaths have been connected to fentanyl and other illicit synthetic opioids, not prescription painkillers.