WestJet pilots vote in favour of strike mandate, could walk before May long weekend
A WestJet plane waits at a gate at Calgary International Airport in Calgary, Alta., Wednesday, Aug. 31, 2022. The union representing WestJet pilots says they have voted overwhelmingly in favour of a strike mandate. THE CANADIAN PRESS/Jeff McIntosh
By Christopher Reynolds in Montreal
The union representing WestJet pilots voted overwhelmingly in favour of a strike mandate Tuesday, casting clouds of uncertainty over Canadians' travel plans.
The Air Line Pilots Association said its 1,600 WestJet pilots can launch a strike as early as May 16 — the Tuesday ahead of the May long weekend, which typically kicks off the summer travel season for thousands whose itineraries could now be upended.
The workers' issues revolve around job protection, pay and scheduling at the airline and its discount subsidiary Swoop, said Bernard Lewall, who heads the union's WestJet contingent.
"If you're trying to attract new pilots or retain the experienced ones that we have, there's got to be some definition of a career path for them. And because there's three different airlines under the umbrella of WestJet flying the same airplanes, all with different wages and working conditions, there really isn't that defined career path," he said in a phone interview from Calgary.
"It is no longer a career destination."
Some 240 pilots left the carrier last year, followed by about 100 so far this year, most of them to other airlines, he said.
Around 95 per cent of pilots took part in the strike vote, with 93 per cent of them in favour of the mandate.
Pilots could also opt for more restrained job action such as refusal to work overtime, Lewall noted.
WestJet chief operating officer Diederik Pen said in a statement that strike authorization is a "common step" by unions during labour negotiations and "does not mean a strike will occur."
WestJet CEO Alexis von Hoensbroech told reporters last Wednesday that bookings were not being affected by the threat of a strike and that he expects to resolve the standoff.
"Recruitment is actually running pretty well," he said in a phone interview from Calgary last Thursday, referring to pilots. "But what we are seeing is high attrition. That's certainly an impact of the current situation."
Resignations have been especially frequent at WestJet Encore, the carrier's regional subsidiary, "which is actually pretty painful, although they're not subject to the current bargaining," von Hoensbroech said.
"Some of them are being actively recruited by some competitors."
Von Hoensbroech, who has headed the Calgary-based airline since February 2022, said he expects to get through negotiations without any job action and with "meaningful improvements to their contract."
Lewall is calling for a "North American standard contract," but von Hoensbroech suggested that asking for pay on par with U.S. counterparts is far-fetched.
"Pilots dream about U.S. wages. The union keeps on repeating that all they want is a standard North American contract," the CEO said.
"But the U.S. is a totally different market on the aviation side," he continued. "If you want the wages of another country, then you move to this other country and then live with everything it comes with."
Talks are ongoing through the federal conciliation process, which will end April 24 followed by a three-week break, unless the parties agree to extend negotiations.
This report by The Canadian Press was first published April 18, 2023.
Canadian Press NewsAlert: Suncor cutting 1,500 jobs
Suncor Energy Inc. says it is cutting 1,500 jobs by the end of the year in an effort to reduce costs and improve the company's lagging performance.
The Calgary-based energy company says employees were informed in an email this afternoon.
More coming.
The Canadian Press
Peavey Industries LP, the Red Deer-based retailer, has announced the acquisition of long-term partner and fellow Red Deer stalwart, Guy's Freightways.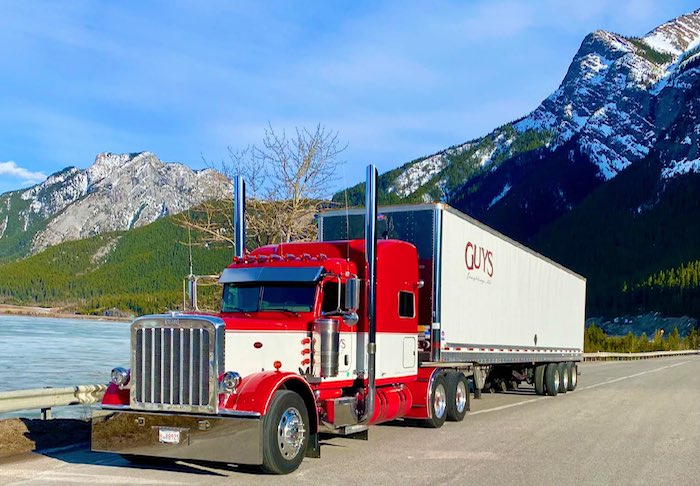 News release from Peavey Industries
Guy's Freightways, a leading logistics and transport company established in 1975 by Bernie Schwartz, began its journey as a single truck operation delivering products to just six Peavey Mart stores. Today, with 16 full-time trucks and 43 trailers, Guy's has evolved alongside Peavey Mart, now part of Peavey Industries LP, to service their vast retail network across in Canada.
National Farmway Stores, founded in 1967 and later rebranded as Peavey Mart in 1975- has grown exponentially over the decades. Today, Peavey Industries LP (Red Deer, Alberta) has more than 160 retail locations with its brands Peavey Mart, ACE Canada & MainStreet Hardware, with Guy's Freightways being instrumental in ensuring reliable product delivery to many of these stores in Canada.
The acquisition will see Guy's Freightways operate as a subsidiary of Peavey Industries LP. This strategic move solidifies an already close relationship that has endured for nearly 50 years. Peavey Industries LP recognizes the enormous value that Guy's Freightways has brought to their operations, having played a pivotal role in their expansive growth over the years.
'We've had a great relationship with Peavey for 48 years, so it was only natural to have Peavey continue the Guy's legacy. I'm thrilled for our people to be able to continue being a part of the Peavey family' said Todd Schwartz, Guy's Freightways.
'Today marks a historic moment for both Peavey Industries LP and Guy's Freightways,' said Doug Anderson, CEO of Peavey Industries LP. 'By formalizing this symbiotic relationship, we are enhancing our operational efficiency while preserving Guy's Freightways' legacy. We look forward to continuing our growth journey together.'