Western Canada desperately needs rain but it's not in the forecast: climatologist
EDMONTON — A lengthy rainfall and strong winds could dissipate the raging wildfires and smoky air gripping parts of Western Canada but that's not what's in the forecast for this week, says a senior climatologist with Environment Canada.
As wildfires in B.C., Alberta, Saskatchewan and Manitoba continue to burn, Environment Canada's David Phillips says he's particularly shocked that smoke was covering Alberta "from as high as jet aircraft fly right down to the surface."
"One of the things that just blew my mind — and it takes a lot for me to be surprised — is that yesterday … the temperature got up to 13.4 C (in Edmonton) but it was forecasted to be 26, 27," Phillips said Monday.
"So the temperature was half of what it would have been. This shows you how crazy that air column was. The sun couldn't come in and warm the air."
Although some rain was in the forecast for some areas, Phillips said he doesn't see any major weather system staying put in parts of the Prairies or British Columbia to help extinguish some of the flames.
"What Western Canada needs is a long duration of rain, something that would spoil a camping trip over a weekend. Strong westerly winds that seem foreign to this time of year would also help to clear out the air, so there's ways that meteorology can correct the situation, but we just don't see them coming. 
"In Edmonton, Alberta, you can taste it, smell it, see it and feel it. It's like smoking several packs of cigarettes to breathe that air in."
On Monday, the Saskatchewan Public Safety Agency ended a fire ban as cooler temperatures and a light rainfall hit the province and let fire crews make some headway in their fight against the flames. Steve Roberts, vice-president of operations, said the agency revoked the fire ban because even though the number of wildfires was high, they were not as large in size.
There were 161 active fires blazing in Saskatchewan, an increase from the 137 reported fires on Friday. Roberts said Saskatchewan has had 424 wildfires this year, which is double the provincial average and one of the highest counts in its 10-year history.
But Phillips said Saskatchewan isn't going to find an escape from the hot and dry temperatures any time soon.
"We haven't even hit the dog days of summer," Phillips said.
"Regina has had 18 days of temperatures above 30 C. Typically, by this time, it would have had maybe eight or so, and normally for the whole year through to September, you end up with maybe 16," he said.
"I think the story is clearly that the heat came early, it's been excruciatingly hot but it's been essentially confined to the West. It is an unfortunate situation and it's something we've had to deal with a lot in recent years."
About 300 wildfires were burning across British Columbia on Monday and new evacuation orders were issued for properties in several regions. The BC Wildfire Service listed the fire danger as high to extreme across most of the southern half of B.C., while cool, damp weather had dropped the danger rating in the northern half.
This report by The Canadian Press was first published July 19, 2021.
Fakiha Baig, The Canadian Press
Provincial funds help build biofuel plant at Lethbridge reducing emissions equivalent to 41,000 homes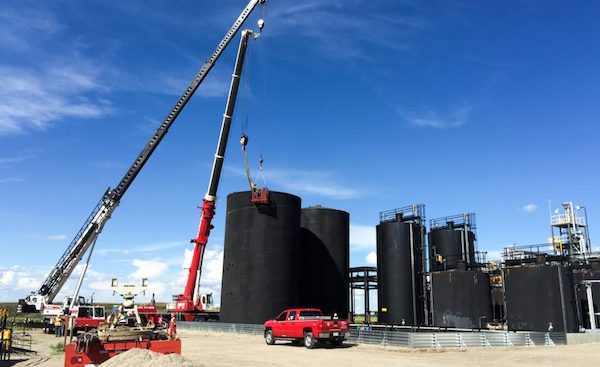 Diversifying the economy with cutting-edge tech
The Technology Innovation and Emissions Reduction (TIER) fund is supporting a new facility in southern Alberta that will create jobs and cut emissions by transforming agricultural waste.
Alberta's government is using $4.7 million from the TIER fund through Emissions Reduction Alberta to create a $28.6-million facility in Lethbridge that will produce an estimated 70 million litres of high-value renewable fuel. This facility will be the first of its kind in Canada, turning local agricultural waste, inedible animal fats and used cooking oil into biodiesel fuel and glycerin.
The facility will buy more than $375 million of local feedstock from farmers over the next five years, generating about $500 million in revenue and supporting up to 130 local jobs in fields like engineering, construction and transportation. It will also cut about 224,000 tonnes of emissions each year – the same as reducing emissions from the electricity used by 41,000 homes.
"Alberta is home to world-renowned expertise on cutting agricultural emissions, and the Canary Biofuels facility is another world-class project Alberta's government is supporting to diversify the economy and create jobs. I'm pleased to see the expansion of another groundbreaking Alberta-based technology that is cutting emissions and getting Albertans back to work."
The facility's biodiesel will have up to one-third the carbon intensity of petroleum diesel. The renewable fuel produced at the facility has also been pre-sold to a leading Canadian supplier of biodiesel whose customers include fuel retailers, wholesalers, distributors and fleet managers across Canada and the United States. This builds on Alberta's strong record of environmental, social and governance actions.
"As world leaders in agricultural emission reductions, Alberta farmers will be key beneficiaries of the renewable diesel produced at this facility. Projects like this showcase the steps Alberta is taking to diversify the economy with cutting-edge technology and to create local jobs and opportunities."
"Emissions Reduction Alberta continues to identify and invest in opportunities that accelerate the innovation required to strengthen Alberta's economy and reduce greenhouse gases. Canary's project will create new revenues for western Canadian agricultural producers and help meet the growing North American demand for biodiesel. This project is another example of what can happen when government, industry and entrepreneurs come together to deliver better economic and environmental outcomes."
This funding is part of the province's commitment of up to $750 million for emissions reduction and economic diversification programs and projects through the TIER fund and other funding that will directly support about 9,000 jobs and inject $1.9 billion into Alberta's economy.
"Canary Biofuels is Alberta's first Generation 2 biodiesel producer with its flagship facility in Lethbridge. Canary is excited to lead the path in Alberta in abating emissions through sustainable waste-based biodiesel production that supports the energy and agriculture industries in Alberta and the Prairies. Canary would like to thank all its investors and partners, including the Government of Alberta, for their tremendous support. Canary is proud to support Alberta in creating new jobs and helping Alberta industry on its journey to net zero."
"Canadian canola is used in biofuel production around the world because it's a low-carbon, sustainable and renewable resource. We are excited to see more investment in Lethbridge that will directly benefit canola farmers and Alberta's agriculture value chain."
"Canary Biofuels will provide long-term diversified business opportunity for R.K. Heggie Grain and Transmark. Local canola producers will have direct market access to the growing biofuel industry, and the livestock industry will get a much-needed supply of canola meal. Canary Biofuels is natural fit with R.K. Heggie Grain and Transmark to provide the company with feedstock for the plant and rail infrastructure to the get finished product to international markets."
TIER funding
The TIER system is funded by large industry that pay into the fund when they do not meet emissions targets. Alberta is using the TIER fund for a range of programs that are reducing emissions, boosting the economy and getting Albertans back to work.
Quick facts
The new Canary Biofuels facility is expected to be operational by fall 2021.
TIER helps industrial facilities, which account for more than 60 per cent of Alberta's total emissions, find innovative ways to reduce emissions and invest in clean technology to save money and stay competitive.
Emissions Reduction Alberta invests revenues from TIER to accelerate the development and deployment of innovative clean technology solutions.
Since 2009, Emissions Reduction Alberta has committed $649 million toward 204 projects worth $4.5 billion that are reducing emissions, creating competitive industries and leading to new business opportunities in Alberta. These projects are estimated to deliver cumulative reductions of almost 35 million tonnes of emissions by 2030.
Sentencing delay for men found guilty of flouting Alberta COVID-19 rules
CALGARY — Sentencing arguments for an Alberta pastor and his brother found guilty of contempt after deliberately violating COVID-19 health orders have been put over until September.
Artur Pawlowski and his brother Dawid Pawlowski were arrested in May and accused of organizing an illegal gathering as well as promoting and attending an illegal gathering.
The arrests came after court orders were granted allowing Alberta Health Services and police to arrest and charge anyone who advertised gatherings that would breach health restrictions.
Last month, Justice Adam Germain ruled that Alberta Health Services had proven "nearly to absolute certainty" that the two Calgary men were "guilty beyond a reasonable doubt of contempt."
Discussions on possible sanctions were set for Tuesday, but the lawyer for the Pawlowskis asked for a delay since Alberta Health Services was preparing further affidavits against her clients.
The health provider has indicated it will be seeking 21 days of jail time for the two men.
Germain granted the delay to make sure that defence lawyer Sarah Miller had time to prepare her arguments.
"Frankly, on a matter of this nature, where you have what some legal authorities might describe as an almost public contempt, bordering on criminal contempt … I'm going to give her every opportunity to vigorously defend her clients," said Germain.
Alberta Health Services has indicated it is seeking 21 days of jail time for the two men.
The judge said the delay might give the court a better understanding of COVID-19 in remand centres and provincial correction institutions.
"There are people who doubt the COVID-19. I can look at the death or morbidity statistics as much as any other judge and it's a real issue," Germain said.
"If COVID is running wild in the institutions, we don't want the 21-day jail sentences that you've asked for."
Germain said he might consider the "unique risks" of someone going to jail. He said the Pawlowskis' lawyer could have a number of arguments for why they're not vaccinated, including illnesses that prevent vaccinations.
"Maybe there's an outbreak in the prison system. All of those things may influence the decision."
The case is to return to court Sept. 13.
This report by The Canadian Press was first published July 27, 2021.
Bill Graveland, The Canadian Press