Weakened UK leader Boris Johnson survives no-confidence vote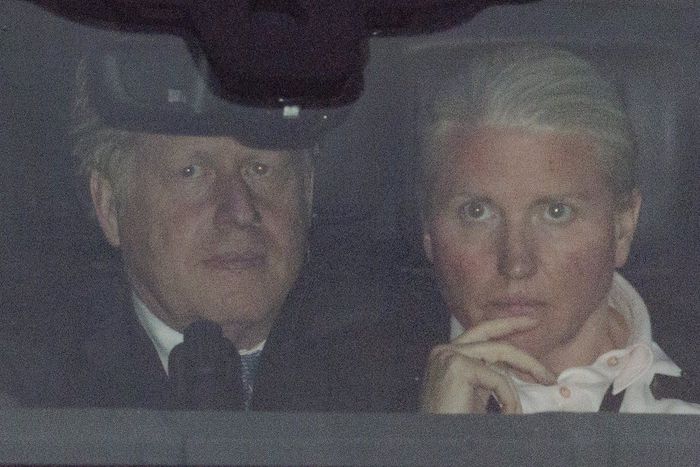 By Jill Lawless in London
LONDON (AP) — British Prime Minister Boris Johnson survived a no-confidence vote on Monday, securing enough support from his Conservative Party to remain in office despite a substantial rebellion that leaves him a weakened leader with an uncertain future.
Known for his ability to shrug off scandals, the charismatic leader has struggled to turn the page on revelations that he and his staff repeatedly held boozy parties that flouted the COVID-19 restrictions they imposed on others. Support among his fellow Conservative lawmakers has weakened as some see a leader renowned for his ability to connect with voters increasingly as a liability rather than an asset in elections.
Johnson won the backing of 211 out of 359 Conservative lawmakers in a secret ballot, more than the simple majority needed to remain in power, but still a significant rebellion of 148 MPs.
Johnson called it a "convincing" win and said the party should now "come together."
"What it means is that as a government we can move on and focus on stuff that I think really matters to people," he said.
With no clear front-runner to succeed him, most political observers had predicted Johnson would defeat the challenge. But the rebellion could still be a watershed moment for him — and is a sign of deep Conservative divisions, less than three years after he led the party to its biggest election victory in decades.
Johnson's winning margin is less than that secured by his predecessor Theresa May in a similar vote in December 2018. She was forced to resign six months later.
Since replacing May as prime minister in 2019, Johnson has led Britain out of the European Union and through a pandemic, both of which have shaken the U.K. socially and economically. The vote comes as Johnson's government is under intense pressure to ease the pain of skyrocketing energy and food bills.
But the main blow to his leadership has been revelations that he and his staff repeatedly held boozy parties that flouted the COVID-19 restrictions they imposed on others. That caused anger in the country, and unease among many Conservatives.
Discontent that has been building for months erupted after a 10-day parliamentary break that included a long weekend of celebrations of Queen Elizabeth II's Platinum Jubilee. For many, the four-day holiday was a chance to relax — but there was no respite for Johnson, who was booed by some onlookers as he arrived for a service in the queen's honor at St. Paul's Cathedral on Friday.
Conservative Party official Graham Brady announced Monday that he had received letters calling for a no-confidence vote from at least 54 Tory legislators, enough to trigger the measure under party rules. Hours later, party lawmakers lined up by the dozen in a corridor at Parliament to cast their ballots in a wood-paneled room, handing over their phones as they entered to ensure secrecy.
Johnson addressed dozens of Conservative lawmakers in a House of Commons room before the vote as he tried to shore up support, vowing: "I will lead you to victory again."
Johnson's allies had insisted he would stay in office if he won by even a single vote.
Education Secretary Nadhim Zahawi said Johnson had won the vote "handsomely," and urged the party to "draw a line under this now."
Foreign Secretary Liz Truss, one of the favorites to succeed Johnson if he is ousted, tweeted: "Pleased that colleagues have backed the Prime Minister. I support him 100%. Now's the time to get on with the job."
But previous prime ministers who survived no-confidence votes emerged severely weakened.
Johnson became prime minister in July 2019, capping a rollercoaster journey to the top. He had held major offices, including London mayor and U.K. foreign secretary, but also spent periods on the political sidelines after self-inflicted gaffes. He kept bouncing back, showing an uncommon ability to shrug off scandal and connect with voters that, for many Conservatives, overshadowed doubts about his ethics or judgment.
But concerns came to a head after an investigator's report late last month that slammed a culture of rule-breaking inside the prime minister's office in a scandal known as "partygate."
Civil service investigator Sue Gray described alcohol-fueled bashes held by Downing Street staff members in 2020 and 2021, when pandemic restrictions prevented U.K. residents from socializing or even visiting dying relatives.
Gray said Johnson and senior officials must bear responsibility for "failures of leadership and judgment."
Johnson also was fined 50 pounds ($63) by police for attending one party, making him the first prime minister sanctioned for breaking the law while in office.
The prime minister said he was "humbled" and took "full responsibility" — but insisted he would not resign. He urged Britons to "move on" and focus on righting the battered economy and helping Ukraine defend itself against a Russian invasion.
But a growing number of Conservatives feel that Johnson is now a liability who will doom them to defeat at the next election, which must be held by 2024.
"Today's decision is change or lose," said Jeremy Hunt, who ran against Johnson for the Conservative leadership in 2019 but has largely refrained from criticizing him since. "I will be voting for change."
Lawmaker Jesse Norman, a longtime Johnson supporter, said the prime minister had "presided over a culture of casual law-breaking" and had left the government "adrift and distracted."
Despite his victory, Johnson is likely to face more pressure. The war in Ukraine, a simmering post-Brexit feud with the EU and soaring inflation are all weighing on the government.
Polls give the left-of-center opposition Labour Party a lead nationally, and the Conservatives could lose special elections later this month for two parliamentary districts, called when incumbent Tory lawmakers were forced out by sex scandals.
Johnson tried to focus on broader issues, promising colleagues he would cut taxes — a policy popular with Tories — and noting that he spoke Monday to Ukrainian President Volodymyr Zelenskyy. He has been a vocal supporter of Ukraine's cause, a stance shared by his possible successors.
Cabinet minister Steve Barclay, a Johnson ally, said toppling the leader now would be "indefensible."
But Steve Baker, a strong Brexit supporter whose opposition to May helped Johnson take power, said he was voting for Johnson to go because the prime minister had broken the law.
He predicted before the vote that Johnson would likely "formally win" but said that would not settle the matter.
"What that means over the months ahead, I don't know," Baker said.
'War of the states': EV, chip makers lavished with subsidies
Workers prepare the site of a $4 billion Panasonic EV battery plant Thursday, March 30, 2023, near DeSoto, Kan. Economic incentives offered by Kansas state and local governments beat out those offered by neighboring Oklahoma to help lure the project to the site on land formerly occupied by an Army ammunition plant. (AP Photo/Charlie Riedel)
By Marc Levy in Harrisburg
HARRISBURG, Pa. (AP) — States are doling out more cash than ever to lure multibillion-dollar microchip, electric vehicle and battery factories, inspiring ever-more competition as they dig deeper into their pockets to attract big employers and capitalize on a wave of huge new projects.
Georgia, Kansas, Michigan, New York, North Carolina, Ohio and Texas have made billion-dollar pledges for a microchip or EV plant, with more state-subsidized plant announcements by profitable automakers and semiconductor giants surely to come.
States have long competed for big employers. But now they are floating more billion-dollar offers and offering record-high subsidies, lavishing companies with grants and low-interest loans, municipal road improvements, and breaks on taxes, real estate, power and water.
"We're in the second war of the states," said John Boyd, a principal at the Florida-based Boyd Company, which advises on site selections. "That's how competitive economic development is between the states in 2023."
The projects come at a transformative time for the industries, with automakers investing heavily in electrification and chipmakers expanding production in the U.S. following pandemic-related supply chain disruptions that raised economic and national security concerns.
One of the driving forces behind them are federal subsidies signed into law last summer that are meant to encourage companies to produce electric vehicles, EV batteries, and computer chips domestically. Another is that states are flush with cash thanks to inflation-juiced tax collections and federal pandemic relief subsidies.
The number of big projects and the size of state subsidy packages are extraordinary, said Nathan Jensen, a University of Texas professor who researches government economic development strategies.
"It is kind of a Wild West moment," Jensen said. "It's wild money and every state seems to be in on it."
Good Jobs First, a nonprofit that tracks and is critical of corporate subsidies, said 2022 set a record for the number of billion-dollar-plus incentive deals. At least eight were finalized, though that figure might be higher since such deals can be cloaked in secrecy and take time to come to light.
Eighteen of last year's 23 known "megadeals," in which state and local incentive packages to private companies exceeded $50 million in value, were for semiconductor and EV plants, according to the group's data.
More than $20 billion in public money was committed to subsidizing those known megadeals, according to Good Jobs First data. That total eclipsed the previous record of $17.7 billion that was committed to subsidizing such deals in 2013.
Many of the companies drawing the biggest subsidy offers — such as Intel, Hyundai, Panasonic, Micron, Toyota, Ford and General Motors — are profitable and operate around the globe. Some lesser-known names in the nascent EV field are getting big offers too, such as Rivian, Volkswagen-backed Scout Motors and Vietnamese automaker VinFast.
The subsidy offers are generally embraced by politicians from both major parties and the business elite, who point to promises of hundreds or thousands of jobs, massive investments in construction and equipment, and what they contend are immeasurable trickle-down benefits.
Still, academics who study such subsidies find them to be a waste of money and rarely decisive in a company's choice of location.
In a 2021 paper arguing that subsidies are driven by politicians for their own benefit, researchers from The Citadel, the College of Charleston and the University of Louisville-Lafayette wrote that studies conclude "they do little, if anything, to promote meaningful improvements in economic outcomes."
The mounting cost of competing for the projects hasn't dissuaded states from trying. On the contrary, they're clambering to outdo each other.
Michigan was stung by hometown Ford's $11.4 billion commitment in 2021 to build electric vehicle and battery plants in Tennessee and Kentucky. It responded by pledging more than $2.5 billion for electric-vehicle projects by Ford and GM and plants by makers of EV batteries and battery components.
Pennsylvania has yet to lure a microchip or EV factory, and the state's business elite are sounding the alarm after watching neighboring Ohio land a $20 billion Intel plant.
In his first budget speech to lawmakers, newly inaugurated Gov. Josh Shapiro said Pennsylvania needs to "get in the game" and warned that it would take money.
Jabbing a finger in the air, he brought the room to a standing ovation, saying: "It's time to compete again here in Pennsylvania!"
Oregon lawmakers hoping to attract a major semiconductor plant are advancing legislation that would marshal $200 million in subsidies and loosen decades-old protections against urban sprawl.
The aim is to procure huge plots of land with ready-made utilities. That has elicited protests from conservationists who say the state mishandled developable land and agricultural groups that warned of the permanent destruction of high-quality farmland.
Dick Sheehy, a retired site selection consultant who traveled the world to inspect possible locations for semiconductor makers, told a panel of Oregon lawmakers in January that states are tipping the scales over better-qualified competitors by offering larger incentive packages.
"The money the state is putting up is so large that certain companies can't afford not to look at it," Sheehy said.
In Texas, Gov. Greg Abbott promised to win passage of "economic development tools" during the current legislative session, saying the state lost out on a massive Micron semiconductor plant because it couldn't match the $5.5 billion in tax credits offered by New York.
"The CEO of Micron was basically begging me because he really wanted to do business in Texas. He knew Texas was a better place. He said, 'Please could you come up with some more?'" Abbott told a Greater Arlington Chamber of Commerce crowd in February. "We gave every penny that we could give."
Asked about Abbott's assertions, Micron declined to address Abbott's description of the phone call with CEO Sanjay Mehrotra, but it called New York the most competitive state and listed reasons why it is the "ideal home" for its plant.
Those included a compelling case made by top officials — including Gov. Kathy Hochul and U.S. Sen. Chuck Schumer — plus an attractive local workforce, local research and development partners, and a good quality of life for employees.
In Oklahoma, frustration among lawmakers has been bubbling over since the state lost out on a string of projects: first a Tesla plant to Texas, then a Panasonic EV battery plant to Kansas and, just days ago, a Volkswagen EV battery plant to Canada.
That latest loss led state Senate President Pro Tempore Greg Treat to create a committee to figure out what went wrong in Oklahoma's bidding for a "megaproject."
Business-friendly Oklahoma shouldn't keep losing out to other states, Treat said.
"You never know if you're being used so they can go to that other state so they can say, 'Hey, Oklahoma is willing to do this,'" Treat said in an interview. "And they intend on going to that state the whole time."
___
Associated Press writers Sean Murphy in Oklahoma City and Andrew Selsky in Salem, Oregon, contributed to this report.
Ottawa is going all in on 'friendshoring.' Here's what that could mean.
Minister of Foreign Affairs Mélanie Joly rises during Question Period in the House of Commons on Parliament Hill in Ottawa on Monday, March 27, 2023. Economists and geopolitical experts say this week's federal budget is confirmation that the Trudeau government sees the future of Canadian trade as relying more on allied countries, even if it is results in more expensive goods. THE CANADIAN PRESS/Justin Tang
By Dylan Robertson in Ottawa
This year's budget reveals the federal Liberals envision Canada relying more on its allies for trade in the future, economists and geopolitical experts say — even if that could result in higher prices or missed opportunities.
"It's a reframing," University of British Columbia professor Vina Nadjibulla said after the budget's release this week. "It's essentially saying what we've been doing for the last 30 years of engagement is over."
U.S. Treasury Secretary Janet Yellen coined the term "friendshoring" a year ago, saying allies should rely on each other to make supply chains more resilient, and defang hostile actors from taxing or withholding goods.
The Liberals have sent mixed messages in the past year on the extent to which they agree with that approach. Last October, Industry Minister François-Philippe Champagne said Canada was "decoupling" from China, but days later Foreign Affairs Minister Mélanie Joly said she wanted to "re-establish ties" with Beijing.
The language in the federal budget paints a clearer picture. But some experts warn that the us-versus-them language means Canadian businesses will need to adjust in order to avoid losing out on opportunities with the developing world.
Nadjibulla, speaking at a Wednesday panel held by the Canadian Global Affairs Institute in Ottawa, said Tuesday's budget contains the government's clearest articulation yet of where the world is now.
"The language there is that it is a more dangerous world and a more competitive world. And in that world, Canada needs to deepen its connections with its allies," she said.
Specifically, the document says trading with other democracies prevents "economic extortion" and being "vulnerable to exploitation" by "hostile foreign powers" who are buying up Canada's natural resources.
"Depending on dictatorships for key goods and resources is a major strategic and economic vulnerability," the budget reads, echoing comments U.S. President Joe Biden made during his recent visit to Ottawa.
Nadjibulla, who specializes in international security and the Indo-Pacific region, said the rhetoric marks "a big departure from previous budget documents" in its frankness.
"Even more so than in the Indo-Pacific strategy, we see the direction of travel," she said.
Mark Warner, a Canadian and American trade lawyer, told a panel that the implementation of "friendshoring" is already raising questions from his clients.
The automotive and textile sectors have asked him how much material they can use from China before Washington labels a product made in Canada, Mexico or Guatemala as including Chinese content, he warned.
He said that question is coming up for electronics and will likely affect pharmaceuticals, too.
"The question of how much Chinese content gets called Canadian is coming," he said. "If we're seen as being the back door for China, or whatever, that's going to be more problematic."
Warner said Canada's geography means it will always make sense to rely on Washington, even if Ottawa needs to tweak how it treats other countries under a "friendshoring" policy.
"If the Americans are serious about this, then we really have to figure out our way to be in that (space) in a way that's coherent. And that's how we'll protect our manufacturers," he said.
Yet Mary Lovely, an American economist with the Washington-based Peterson Institute, said the U.S. has been inconsistent in listing who actually qualifies as a friend.
"The U.S. language and the rhetoric can be interpreted in a lot of ways," she said, adding that this goes back to the Trump administration's steel and aluminum tariffs on Canada, Europe and Mexico.
"We saw some confusion in U.S. trade policy over who's a quote-unquote friend," she said.
For example, on Friday, the U.S. Treasury Department announced an electric-vehicle tax credit that would apply to goods from Canada, Nicaragua and Oman, but not to those from France and Germany.
Canada is already setting the stage for a cross-border salvo with Washington, announcing in this week's budget that Ottawa is considering retaliatory policies if the U.S. doesn't stop blocking Canadian companies from certain government contracts and green-tech programs.
Still, Washington has successfully been wedging countries against China, such as with language in the United States-Mexico-Canada free-trade agreement that forbids Canada from signing a trade deal with Beijing without U.S. consent. The same language has appeared in recent agreements with Japan and Taiwan.
Last October, the Biden administration announced sweeping restrictions on China's access to semiconductor chips made in any country using U.S. technology, in order to slow Beijing's technological and military rise.
Washington is already talking about similar restrictions on biotechnology and quantum tech, Nadjibulla said. She added that this is causing consternation in Southeast Asia, where countries want to maintain economic links with China, Australia, Europe and the world.
But Lovely said many countries are willing to go along with these rules because they crave American investment and a guarantee they won't be suddenly frozen out of the world's largest economy.
"They fear coming a closure of the American market, and they want to be on the right side of that door," she said.
Lovely expresses skepticism about governments combining "friendshoring" policies with subsidies for their domestic businesses. She said this imposes a necessity to make subsidized companies succeed even when they're inefficient, and positions foreign trade as a threat to local firms.
"We can think of these (partnerships) as secure, like-minded, that speak to our values — however you want. But they are going to be higher-cost," she said.
"We do need to be aware of the fact that closing markets will lead our own economies to be less competitive on the export side."
She said this will further isolate countries and make it harder to rally global investment to counter climate change.
South Africa's high commissioner in Ottawa expressed a similar view.
In an interview, Rieaz Shaik argued that Yellen's term lets rich countries divide the world without acknowledging the realities of developing countries and the need to address the climate crisis.
"It is the most dangerous term in the history of global political relationships, 'friendshoring,' because it's exclusionary. Worse, it says that your non-friend is the other," Shaik said in a wide-ranging interview.
"We know how apartheid South Africa dealt with the other. They dehumanized us and they removed all our rights to exist. As the other, they could do whatever they want. So I detest 'friendshoring.'"
In any case, Nadir Patel, a senior strategic advisor with Norton Rose Fulbright Canada, said Ottawa's simultaneous rhetoric around shoring up trade with allies and developing deeper ties with regions such as Southeast Asia will only come to fruition if corporate Canada follows suit.
"Canadian business needs to step up and do more in other parts of Asia, where we're not active," said Patel, a former Canadian high commissioner to India, during the panel.
"Businesses need to step up and want to leverage that, and not just kick tires once in a while, but really be out there with a presence on a regular basis."
This report by The Canadian Press was first published April 1, 2023.