'We just gave'r': Inside the Totten Mine rescue from a kilometre below the earth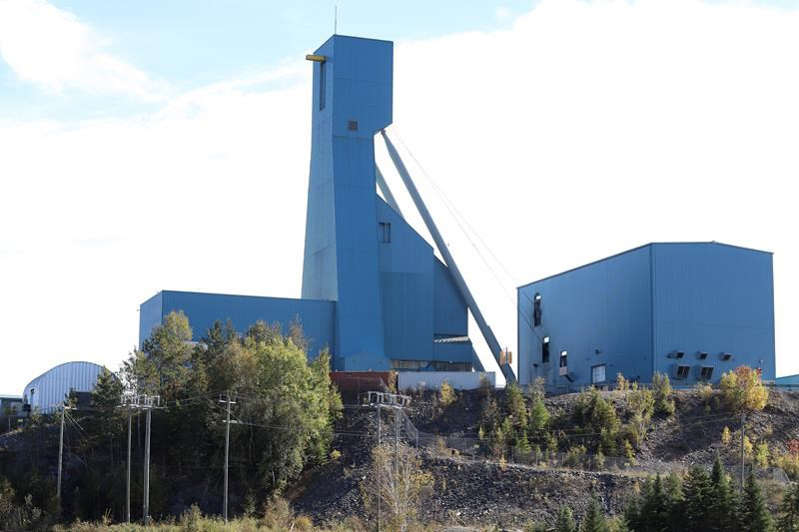 Danny Taillefer and Jason Leger were in the middle of a first aid refresher course when the phone rang.
Shawn Rideout, the chief rescue officer with Ontario Mine Rescue, was on the other end. There were 39 miners stuck underground at Totten Mine near Sudbury, Ont., after the mine shaft was compromised, he said.
There was another way out: climbing a complex warren of ladders at the Vale-owned mine from about a kilometre underground.
Taillefer and Leger – mine rescue officers with the non-profit who were based in Timmins, Ont.– were told they were needed for a complicated mission, and instructed to bring several hundred kilograms of rope and other gear. Not long after the call on Monday last week, they got in a truck and motored to the mine in Worthington, Ont.
The operation that ensued turned into what Taillefer and Leger called the most stressful event of their lives.
"You just couldn't control the tears coming out," Taillefer told The Canadian Press when recalling some of the most intense moments of the mission. "You just walk away, wipe your eyes, get it together and then get back at it."
Ontario Mine Rescue had been in touch with Vale's emergency response team since Sunday, Sept. 26, when the workers became stuck underground.
A scoop bucket had dislodged and tumbled down part of the mine shaft, causing major damage, Vale said. The repairs could take weeks, said Ted Hanley, vice-president with Ontario Mine Rescue.
A secondary escape route, required by law in Ontario, would be the miners' way out.
Taillefer and Leger arrived at the mine around 4:30 p.m. Monday. By that point, part of the 60-person rescue team was already about 564 metres underground, where four miners were in a refuge room.
The team was setting up a series of ropes to go deeper – 960 metres down – where 35 other miners waited, passing the time watching videos on their phones using the mine's Wi-Fi system.
The rescuers believed able-bodiedminers could climb out without much trouble, harnessed to ropes like mountain climbers. But it was clear four miners in the group farthest below the surface would need significant help, Hanley said.
It took about a day to set up the ropes that would help the miners climb out, the rescuers said. Not long after midnight on Tuesday, the workers gradually began their journey up.
"We just gave'r," Taillefer, 39, said.
The miners closest to the surface climbed out first, in about three hours. Below them, groups of three miners set out with one rescuer above them and one below.
Meanwhile, Taillefer and other rescuers devised a plan for the final four.
"They had been down there for well over 40 hours at that point, they were all exhausted, and some of these guys just physically couldn't climb a ladder due to old injuries or ailments," said Taillefer.
With no electricity and only light from their headlamps, the rescuers used the rope system – and a lot of muscle – to pull three of the final four up about 61 metres.
It became clear they needed a better way, Taillefer said.
The crew then employed an AZTEK pulley system, which helped offset the weight of the miners, he said. A single system wasn't long enough so the rescuers used two, giving them a mechanical advantage that made 10 kilograms feel like one, Taillefer explained.
"It was slow, but it was working extremely well," he said.
Leger said the double pulley system made a significant difference. "It was a big change and made things go a lot faster," said the 49-year-old.
The operation was nonetheless exhausting. It would take three minutes to raise a miner up a six-metre ladder, Taillefer said.
"Then we'd rest for 15 minutes," he said, adding that he'd lie down and try to sleep.
The rescue crew would then reset the pulley system, and start all over again with the next ladder.
"Our very last guy took us probably about eight or nine hours to get them up 30 of the 67 landings," he said.
The miners weren't hurt when the mine shaft was compromised and it was up to the rescue crew to ensure they stayed uninjured – that responsibility eventually took a toll, the rescuers said.
"There were times where the stress would just boil over and you would just start to cry for really no good reason at all," Taillefer said.
For Leger, it was the first time he "felt physical stress turn into mental stress."
But both said they took inspiration from the miners.
"A lot of these people had kids around the same age as ours and it was really important for us to get them home," Taillefer said.
The last phase of the operation proved the most daunting.
At about 564 metres underground, the final four miners and the rescuers faced a 122-metre stretch of ladder, at an angle of 78 degrees, with "small landings that you could just sort of scooch over to rest your bum on," Taillefer said.
The crew set up a two-rope system that three miners clipped into and climbed up, but the last miner was unable to scale that stretch.
The rescuers then set up a winch, placed the final miner in a basket and hauled him up as Taillefer climbed the ladder beside him.
Two hours later, near the top of that section, cold groundwater pouring through fissures in the rock hit the group.
"It was like somebody had a fire hose wide open on you," Taillefer said.
Wet, cold and exhausted, the group returned to the AZTEK pulley system for a final 61 metres to get to an elevator that took them to the surface, Taillefer said.
It was shortly after 4 a.m. on Wednesday when the final miner and seven rescuers got to that point.
"You would have thought there was 100 people down there screaming, laughing and crying," Taillefer said of the celebration that broke out.
"And there wasn't as much as a Band-Aid on anybody," Leger said.
This report by The Canadian Press was first published Oct. 5, 2021.
Liam Casey, The Canadian Press
David Johnston plans to keep role, as House of Commons votes for him to step aside
After members of Parliament voted in favour of his ouster Wednesday, David Johnston said his mandate to probe allegations of foreign interference comes from the government — not from the House of Commons.
The former governor general released a statement following the vote on a motion brought forward by the NDP, which the Conservatives and Bloc Quebecois supported while the Liberals stood opposed. It passed 174 to 150.
It called on Johnston — tasked by Prime Minister Justin Trudeau back in March with looking into allegations that China tried to meddle in the past two federal elections — to "step aside from his role."
It asked the government to instead launch a public inquiry into the issue of foreign interference. Johnston, the former governor general, recommended against such an inquiry in his initial report last week.
"When I accepted the mandate to act as independent special rapporteur, I did so with full knowledge of the fact that the work ahead would be neither straightforward nor uncontroversial," Johnston said in his statement.
"I deeply respect the right of the House of Commons to express its opinion about my work going forward, but my mandate comes the government. I have a duty to pursue that work until my mandate is completed."
Earlier in the day, Trudeau said he maintained confidence in Johnston, despite the stance of opposition MPs.
Opposition parties initially decried his appointment because of Johnston's family connections to the prime minister's family and the Pierre Elliott Trudeau Foundation.
Trudeau brushed off those concerns, telling reporters that he views the matter as political parties wanting to score "partisan points."
"The fact of the matter is David Johnston has served this country in extraordinary capacities for decades," Trudeau said Wednesday on his way into a meeting with his Liberal caucus.
"He's taken this incredibly seriously."
Government House leader Mark Holland has said he has been trying to negotiate with opposition parties to find additional avenues to address concerns about foreign interference that go beyond what has already been offered.
Holland has repeatedly said the hyper-political rhetoric around the discussions in public has been counterproductive, but he would not elaborate on what else the government is offering.
Johnston said in his report that due to the sensitive nature of national security and the intelligence he studied, there would be no way to divulge the information Canadians are seeking publicly. He said that would defeat the purpose of a public inquiry.
He said what he plans to do instead is hold a series of public hearings to further probe the issue.
Those hearings would focus on hearing from officials of both past and present governments, as well as members of diaspora communities affected by foreign interference attempts.
"Foreign governments are undoubtedly attempting to influence candidates and voters in Canada, and I have identified serious shortcomings in the way intelligence is communicated and processed from security agencies through to government," Johnston said in his statement Wednesday
"As I have indicated, there is much work yet to be done and a further public process is required to identify specific reforms that are necessary to preserve the integrity of our democratic institutions."
NDP Leader Jagmeet Singh had attempted to walk a fine line in promoting his party's motion. He has said that while he has no qualms with Johnston, he understands that others do and that creates an appearance of bias that taints his work.
Conservative Leader Pierre Poilievre has been egging Singh on to trigger an election over the issue.
The NDP signed on to a confidence-and-supply deal with the Liberals, in which it agreed to support the minority government in key parliamentary votes in exchange for movement on shared priorities, such as dental care.
Singh has said he will not kibosh that deal over the issue, arguing that it wouldn't make sense to set the wheels in motion for an election when Canadians have concerns about alleged foreign interference in the last two federal contests.
The motion was brought forward by NDP Jenny Kwan. She recently told reporters that the Canadian Security Intelligence Service informed her she has been a target of China since before the 2019 federal vote, because of her advocacy around human rights in China.
Trudeau has dismissed allegations of Johnston is in a conflict of interest as politically motivated attacks without any basis in fact.
Speaking to reporters last week, Johnston also defended his work, saying this has been the first time his impartiality has been questioned, which he finds "troubling."
He has said his "friendship" with the prime minister is rooted only in the five or so times their families went skiing together decades ago.
Trudeau was also a student at McGill University at the time when Johnston was serving as principal and vice-chancellor.
This report by The Canadian Press was first published May 31, 2023.
Court of Appeal overturns ruling directing Ottawa to help repatriate men in Syria
OTTAWA — The Federal Court of Appeal has overturned a judge's declaration that four Canadian men being held in Syria are entitled to Ottawa's help to return home.
In a ruling released Wednesday, a three-member panel of the Court of Appeal said the federal government is not obligated under the law to repatriate the men.
The Canadians are among the many foreign nationals in Syrian camps and jails run by Kurdish forces that reclaimed the strife-torn region from the extremist group Islamic State of Iraq and the Levant.
The latest ruling sets aside a January decision by Federal Court Justice Henry Brown, who directed Ottawa to request repatriation of the men from the squalid conditions as soon as reasonably possible and provide them with passports or emergency travel documents.
Brown said the men were also entitled to have a representative of the federal government travel to Syria to help facilitate their release once their captors agree to hand them over.
The men include Jack Letts, whose parents John Letts and Sally Lane have waged a campaign to pressure Ottawa to come to his aid.
"The Federal Court of Appeal made a clear choice to perpetuate the arbitrary detention and torture of my son and the other Canadian detainees," Lane said Wednesday.
"The decision is nothing but victim-blaming and narrow legalese that stands in utter contempt of human rights law and fails to rise to the challenge of the moment. From the very start, Canada has held the key to their release, and it refuses to unlock the prison doors that the Kurds are willing to hold open for them."
The identities and circumstances of the three other Canadian men are not publicly known.
The federal government had argued that Brown mistakenly conflated the recognized Charter right of citizens to enter Canada with a right to return — effectively creating a new right for citizens to be brought home by the Canadian government.
The Federal Court of Appeal agreed, saying the judge's interpretation "requires the Government of Canada to take positive, even risky action, including action abroad," to facilitate the men's right to enter Canada.
"Such a right would have potentially limitless scope. It would cover cases ranging from the repatriation of someone detained abroad for whatever reason, including the alleged violation of foreign law in a foreign land, to the payment of ransom to foreigners holding a Canadian citizen hostage."
The Court of Appeal stressed that Canadian state conduct did not lead to the men being in northeastern Syria, prevent them from entering Canada, or cause or continue their plight. "The respondents' own conduct and persons abroad who have control over them alone are responsible."
The appeal judges said while the government is not constitutionally or otherwise legally obligated to repatriate the men, their ruling "should not be taken to discourage the Government of Canada from making efforts on its own to bring about that result."
Lawyer Lawrence Greenspon, who represents the three men other than Letts, said Wednesday their families were "disappointed with the result."
He said they are "seriously looking at appealing" by way of an application for a hearing in the Supreme Court of Canada.
Amid the legal proceedings, Greenspon reached an agreement with the federal government earlier this year to bring home six Canadian women and 13 children who had been part of the court action.
This report by The Canadian Press was first published May 31, 2023.