Warming up to winter on the Ross Street Patio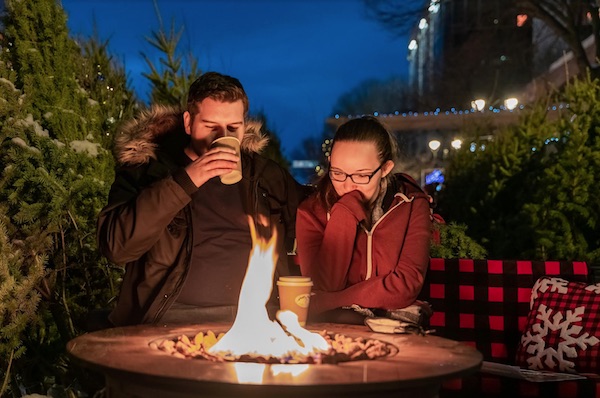 By Mark Weber
We may be into the coldest chill of the winter season, but Red Deerians will find a warm, engaging and inviting atmosphere on the Ross Street Patio just the same. The Ross Street Patio is a spot everyone needs to put on their to do list, even in the winter.
Amanda Gould, executive director of the Downtown Business Association explains the DBA has been bringing special events to the downtown core for several years now. "Every year, we deliver more than 100 events in the downtown core with a favourite being the Ross Street Patio. This marks the first year we will be continuing with programming throughout the winter," she said, adding that the Patio was opened last winter as well, but with the ongoing pandemic there was no programming. "So we aren't really counting last winter as our first go-round, we are counting this winter as our first."
"You will see public art, fire pits, a giant metal 'locks of love' heart, free hot chocolate, a Frosty the Snowman bench where you can take pictures with friends, a live music stage for the warmer days, and an ice sculpture will be (featured) on the music stage, too," Gould explains.
"So we've got lots of activity happening down here, and we are really trying to capture the people's hearts with interesting ideas that we can create that will bring people downtown," adding that another key goal is to help folks realize there is indeed plenty to enjoy downtown through the winter months.
"We aren't going to do things on those minus 25 days, but those other days where it's around minus 10, you can still come outside – the restaurants are open – come down and enjoy a drink, get a hot chocolate and relax on the Patio!"
"Another goal is to just generally increase traffic and overall awareness about all that downtown Red Deer has to offer," says Gould.
"It's really also about engaging the general audience with activity, public art and live music that you can't really get anywhere else," adds Gould. "It's also about showing people the fun that you can have downtown.
"The businesses here are absolutely thriving, and their individual patios kind of spill out onto the streets." Wednesdays in particular are busy especially during the warmer months when special performances are held along with the weekly downtown market.
"During COVID, we've still been seeing great numbers with that," she said. "There will also be the annual car boot sale that we have on Wednesday afternoons as well, where people can come down and sell their wares out of the backs of their cars all along Little Gaetz which is great fun.
"One of the other things we are also working on this year is establishing a new brand for downtown, so that we can really start to change the rhetoric that is happening down here."
"Yes, there is work to be done of course in other areas, but part of what the DBA can control is the messaging that comes out of the downtown. So we will see a new brand roll out toward the end of the year," said Gould.
In the meantime, Gould encourages folks to check out the downtown core and visit businesses they perhaps haven't explored just yet. "Come down and experience it – I think a lot of people who are (affected) by the negative rhetoric maybe haven't been downtown for years, or they have been down recently and seen something that they didn't like.
"But if you come down and experience the downtown on an event day, or during late night shopping, or when there is something like that when there is activity going on, you will have a totally different experience," she said.
"Downtown is such a thriving little community as well – everybody from the various shops knows each other, (staff) from the restaurants know each other – there is a whole bunch of different personalities down here," she said.
"So you are really 'supporting local' while you are down here, but you are also getting an insight into a completely unique way of life in the downtown."
Red Deer Brewery to hold Beer Tasting on the Ross Street Patio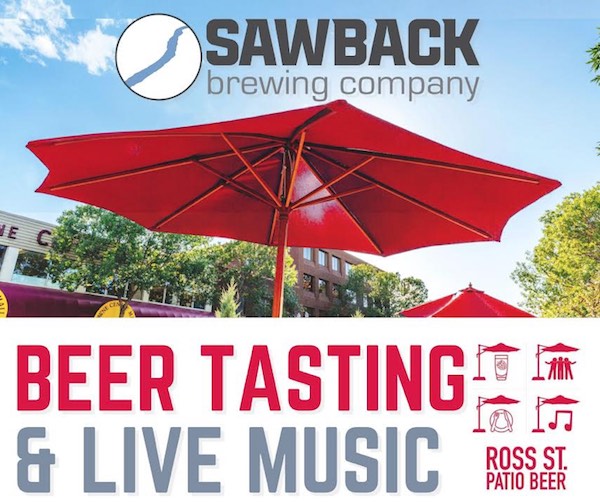 Sawback Beer Tasting on the Ross Street Patio
The Ross Street Patio is celebrating its 10th summer and Sawback Brewing Co. is releasing a new Raspberry Ale named after the Downtown's most loved feature – The Ross Street Patio!
On Friday, May 27th, the Downtown Business Association and Sawback Brewing will host a free tasting from 5-8PM, complete with live music from Paeton Cameron and James Adams and a light snack from Chubby's Jerk BBQ & Kitchen! Visitors can then grab a seat on one of the adjacent restaurant patios for a full-sized Ross Street Patio Beer and enjoy the show. This event is free and open to the public.
Amanda Gould, Executive Director of the DBA says, "This is such an exciting time for the Ross Street Patio and Downtown. We have so much planned over the summer and the next natural step is to license the entire patio through council deeming it an Entertainment District. We will find out in the beginning of June if council approve the bylaw and, straight after that, you can start enjoying full-sized beverages right on the patio while enjoying the summer entertainment!"
The Ross Street Patio is the hub of downtown entertainment, and the DBA is proud to be programming it for the summer season – summer activities include art installations, live music and family fun activities. "Follow us on Facebook to keep updated on what's going on and when. If you are a community group or an event organizer wishing to bring some activity to Ross Street Patio, please direct message or call the DBA to find out about the support, including financial support, that we can provide to help your event or activity come to life."
The Downtown Business Association has been operating in Red Deer for over 30 years, serving approximately five-hundred business owners in the Downtown area. Through partnerships and leadership in advocacy and promotion, the DBA is the catalyst for a vibrant and prosperous downtown that is the place to live, work, play and do business.
Downtown Red Deer: safe, fun and open for business!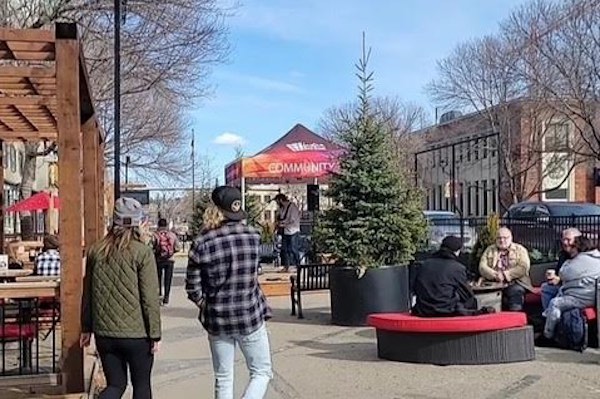 By Mark Weber
With summer just around the corner, downtown Red Deer is all the more bustling with fun events and even more local businesses to check out. But there are a few misconceptions about the area that persist, and that can even prevent some folks from visiting the city's increasingly vibrant core. "Downtown Red Deer has an always lot of good things going for it," explained Amanda Gould, executive director of the Downtown Business Association. "Sometimes, that is outweighed by the perception people have of downtown. "What we need to remember is all that has been happening downtown, what with the murals, the events, the alley upgrades – there are a lot of good things happening. And it's making it such a great destination to come and visit and to also set up your business," she added.
"We have seen, over the last year, an increase of 50 new businesses downtown. It's great news, and the downtown is a great place to go." As mentioned, however, certain misconceptions about the downtown area persist including that
there is a significant parking problem. "We absolutely do not have a parking issue," noted Gould. Visitors may not always be able to park directly in front of their destinations, particularly if they are in a facility with lots of other businesses and agencies, but there are typically plenty of places to park nearby if you are prepared for a short jaunt. "If you were to travel just a half a block down the street, or even a block down, you will find there are usually plenty of spaces. We are lucky that our downtown is walkable as well."
She also mentioned that some residents believe that downtown Red Deer is unsafe. "Again, this is a misperception – it's not the reality of it," she said. "We are so lucky as a neighbourhood downtown to have our own RCMP policing unit everyday – they chat with business owners and help them solve any safety issues they may come into contact with," she said. "There is a team of seven on that unit, and surely that makes downtown one of the safest places to be."
As to the surge in businesses, Gould noted that reasonable rents attract local entrepreneurs to launch ventures there as well – nicely adding to the growing variety of businesses in the area. It's yet another plus for Red Deer residents.
In the meantime, one of downtown's most prominent features – the Ross Street Patio – is really starting to liven up these days with the warmer weather and regularly scheduled musical performances. 'Music on the Ross Street Patio' is a free event and is open to all ages. Performances run from 4:30 –7:30 p.m. on show nights. Another annual favourite, the Downtown Market, kicks off on Wednesday, May 25. An accredited farmers' market, visitors are invited to come down and purchase all their fresh fruits and veggies between 3:30 and 6:30 p.m. each Wednesday. Live music on the Ross Street Patio is also a key feature on Wednesdays.
Gould added that Friday, May 27, is the official kick-off to summer on the Ross Street Patio. To celebrate, they have partnered with Sawback Brewing to introduce a limited-edition Ross Street Patio beer which is super exciting, she explained. "Free samples will be available at 5 p.m. that day (May 27). There will also be music and other activities. The special beer, featured at several downtown restaurants, will be available through the summer.
Looking into June, performances on the Patio will run on Wednesdays, Thursdays and Fridays. "Businesses are now opening up their patios – and we've got the music happening on the Patio, so we are really starting to see a lot more people coming down, spending some time outside and enjoying the live music that we are putting on," she said.
For more about the Downtown Business Association and all that is planned for the Ross Street Patio, find them on Facebook or visit www.downtownreddeer.com.