Waiting Game: After cancellation of mixed doubles trials, curlers waiting on decision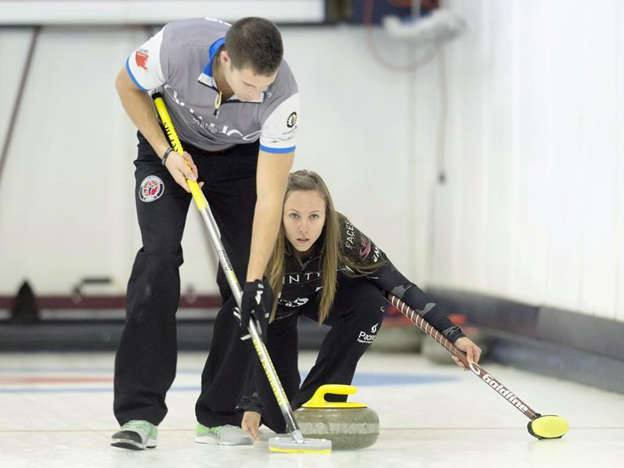 After COVID-19 challenges forced the cancellation of Canada's mixed doubles trials, several top curlers are anxiously waiting to learn whether they will be chosen to represent the country in the discipline at the Beijing Games.
Curling Canada has said it will consult with the Canadian Olympic Committee and Own the Podium before an announcement will be made.
Specifics on a timeline haven't been determined, making an extended wait for the contenders seem even longer.
"This is a position we've never really been in before where it's completely out of your control," said John Morris, who won Olympic mixed doubles gold in 2018. "I think that's the biggest thing. As an athlete, you always want to control your own destiny. That's been the tough part."
The trials were originally scheduled for Dec. 28-Jan. 2 in Portage la Prairie, Man., but were cancelled on Boxing Day. The federation cited travel risks and positive cases among athletes for its decision.
Olympic mixed doubles play begins Feb. 2 at the Ice Cube in Beijing, two days before the opening ceremony. The Canadian nomination decision was still in the "consultation process," a COC spokesman said Tuesday in a text message.
Morris teamed with Kaitlyn Lawes to win gold in the discipline's Olympic debut in Pyeongchang, South Korea.
His usual partner, Rachel Homan, was not available for the trials that year as she had secured an Olympic spot in the women's team competition. Curling Canada doesn't allow curlers to play in both disciplines at the same Games.
Homan and Morris, currently ranked fifth in Canada, are both available for selection this time around. Now they just have to cross their fingers and hope they get the nod when the decision is finally made.
"It's definitely hard on the heart," Homan said Tuesday from Beaumont, Alta.
Jocelyn Peterman and Brett Gallant are ranked No. 1 in Canada but both are already Beijing-bound after victories in the four-player team trials last November in Saskatoon.
Peterman helped Team Jennifer Jones to victory and Gallant helped Team Brad Gushue win the men's berth. Jones and Brent Laing are ranked second in mixed doubles.
Given the unique scenario, it's possible — although seemingly unlikely — that Curling Canada could make an exception to its rule. Many countries allow players to compete in both disciplines at the Games, but it appears doubtful the Canadian federation would want to disrupt team plans at this late date.
Nancy Martin and Tyrel Griffith are ranked third ahead of Lisa Weagle and John Epping. Weagle is part of Jones's five-player team but is eligible for mixed doubles since she's listed as an alternate for Beijing.
Another potential contender is the duo of Kerri Einarson and Brad Jacobs. Einarson, who won the Canadian mixed doubles title last season with Gushue, planned to play the trials with Jacobs.
Rankings and recent results will likely impact the decision-making process. Experience in major events like world championships and Olympic Games could also be factors.
Morris said he was "champing at the bit" to get on the ice before the playdowns were cancelled.
"Rachel and I had a great training camp leading up to the trials," he said in a recent interview. "We were so ready to go. That's the hard part. You can't go and prove yourself."
Sweden, Great Britain, Switzerland, Norway and the United States are some of the headliners in the 10-team Olympic mixed doubles field.
"I would absolutely love to have the chance to take them on but I'm sure there's some other curlers that are saying that too," Morris said from Canmore, Alta. "I just love going to battle against the world's best and I would absolutely love that opportunity."
Homan, meanwhile, is also waiting for news on another curling front. The Ontario Curling Association recently suspended its Jan. 5-9 provincial championship in Thornhill due to new restrictions in the province.
On Friday, the association plans to declare a representative for the Jan. 28-Feb. 6 Scotties Tournament of Hearts in Thunder Bay, Ont.
"It has just been a crazy couple of weeks really," Homan said. "Just so many emotions that come with it."
Homan, a three-time national champion who has led Ontario to three straight Scotties final appearances, would normally be a slam dunk for selection.
However, if she gets the Olympic mixed doubles call, it could open the door for Ontario contenders like Team Hollie Duncan (ranked sixth in Canada) or Team Jacqueline Harrison (tied for sixth at trials).
MORE CANCELLATIONS
The 2022 Canadian Under-18 Championships were postponed Tuesday due to ongoing uncertainty related to the pandemic, Curling Canada said.
The event was scheduled for Feb. 14-20 in Timmins, Ont. The federation said it will try to reschedule the competition for later this year in a different location.
The 2023 U18 nationals will be held in Timmins next year. Curling Canada also said the inaugural Under-23 Lethbridge Classic in March will be cancelled.
SUPER SUNDAY
Five different provincial and territorial championships were on tap this week to fill out the field at the upcoming Canadian women's curling championship.
Finals were set for Sunday in Alberta, Saskatchewan, Yukon, British Columbia and the Northwest Territories.
Kerri Einarson's team will wear Canada colours at the 2022 Scotties. The Manitoba-based rink will be joined by Christina Black (Nova Scotia), Brigitte MacPhail (Nunavut), Sarah Hill (Newfoundland and Labrador) and Mackenzie Zacharias (Manitoba) in the field.
Ontario, Northern Ontario, Quebec, New Brunswick and Prince Edward Island have either cancelled or suspended their playdowns and have yet to announce their representatives. A single wild-card team will also be added.
The men's national championship, the Tim Hortons Brier, is set for March 4-13 in Lethbridge, Alta.
This report by The Canadian Press was first published Jan. 4, 2022.
Follow @GregoryStrongCP on Twitter.
Gregory Strong, The Canadian Press
Are We Ready For A Russian To Become NHL's Top Goal Scorer?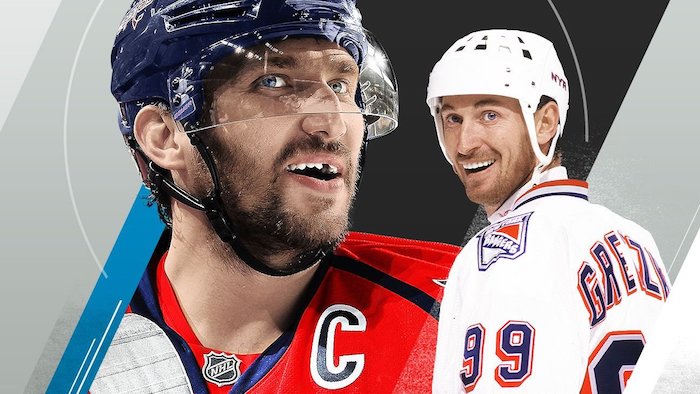 Sign up today for Not The Public Broadcaster newsletters. Hot takes and cool slants on sports and current affairs. Have the latest columns delivered to your mail box. Tell your friends to join, too. Always provocative, always independent.
With the grinding war in Ukraine showing no signs of ceasing and Biden-led sanctions doing nothing tangible to deter Vladimir Putin, Russia's image in the West has rarely been this low. So now might be a good time to ask if the NHL is prepared for a Russian to become the greatest goal scorer in league history.
As the league prepares for its annual draft on Thursday/ Friday, the top pick in the 2004 Draft is showing every sign that he will pass the game's greatest Canadians in goal scoring. Going into 2022-23, the 36-year-old Capitals star is just 21 goals behind the immortal Gordie Howe in second place and 114 back of Wayne Gretzky, the Prometheus of NHL scoring.
Wayne Gretzky. 894
2. Gordie Howe 801
3. Alex Ovechkin 780
Given good health Ovechkin will surpass Howe next season and probably leave Gretzky in his wake in four seasons. Even in a time of peace it will be interesting to see the public reaction in Canada and the U.S. to Ovechkin's passing No. 99. While the No.1 pick in 2005, Sidney Crosby, has had a squeaky clean image, The Great Eight has been a little salty for some folks.
He plays a game Howe would love, dispensing devastating hits as well as brilliant goals. His gap-toothed sneer has not always endeared him to many. Nor has his proximity to Putin himself. In November 2017, Ovechkin started a movement called PutinTeam in support of Putin during the 2018 Russian presidential election .
In recent times he's sought to have a foot in both camps. "I don't know what's happening out there. I know it's a hard situation, but it is what it is. You know, I play here, and this is my second home. I don't want to fight between two countries, because it's going to be a mess."
Too late on that front, Alex. Putin's naked aggression and Biden's desire to unseat him (he's endorsed assassination) have put the West on the brink of a war with nuclear potential. Few can say where the conflict is headed, except that it's highly unlikely the West will be surrendering its sons to the battlefield when NATO runs out of Ukrainians willing to die.
One thing is certain. As we point out in our book Inexact Science: the 6 Most Compelling Drafts in NHL History, Ovechkin put an end to the bias against Russians at the top of the NHL draft. While there had been Russian Hall of Fame selections in the middle to lower rounds of the draft (Sergei Fedorov, Pavel Bure, Sergei Zubov) Ovechkin's No. 1 overall was considered a risk at the time. He changed the equation.
"It began in 2004, when the Capitals selected Russian phenom Alex Ovechkin, maybe the greatest pure goal scorer the NHL has seen. A number one pick who has lived up to the billing of "generational player," Ovechkin maybe would have been even more widely hailed as that "Next One" had he developed under the intense hockey media spotlight of Canada, or North America in general.
Never before had an international player earned the kind of accolades Ovechkin received leading up to his draft year. After all, he was only the second Russian ever to go that high on draft day. But the fact he wasn't a Canadian kid may have tempered the headlines around "Ovie" and made some fans skeptical about his supposed wizardry.
He wasn't helped by how easily a stacked Team Canada had handled him and his Russians in the World Juniors of 2004 and 2005. In retrospect, "The Great 8" was actually undersold as a generational legend. But all of this made his majestic rookie season as a 20-year-old in 2005–06 more of a revelation than it would have been otherwise.
CAA agent J.P. Barry says that some resistance remains. "Even with Russian players, we've seen a hesitance in the past. A few teams have said to me, "Sorry, we just don't draft Russians. End of story." I know of several teams that did make that an internal memo. Some even said, "We can't take a Euro in the first three rounds!" I don't think there's any team that could say any of that anymore, though. Way back when, however, there were these unwritten internal policies that were just silly.
There was definitely a period there where teams didn't want to touch Russians, because they didn't feel that they could get them to come over. Sometimes they were teams impacted by something negative that happened in the past and let it change their course of action."
If Ovechkin didn't entirely smash the Russian stereotype then his countryman Evgeni Malkin, selected right behind Ovechkin in the 2004 draft, sealed the deal. (Ironically the two were rivals for a long time, only reconciling in recent years). Lifetime, Malkin has 444 goals and 702 assists in an injury-riddled career.
To the NHL's credit, it hasn't banned or sanctioned its Russian stars as some have done. The country's teams are banned from international soccer and hockey tournaments and the Paralympics. Russian tennis players Daniil Medvedev and Andrey Rublev (the top-2 ranked Russian male players) were barred from participating at Wimbledon. Many Russian artists have seen their concerts cancelled.
For now Ovechkin is walking a tight rope. He's called for peace without mentioning Russia or Ukraine directly. In May 2022, he reiterated his support for Putin, as well as retaining the Russian president on his Instagram profile photo. Much depends on the progress of the war, and how much Canada and the U.S. are drawn into the combat.
The best advice is probably to keep his head down and his politics to himself if he wants to be celebrated for passing Howe and Gretzky.
Bruce Dowbiggin @dowbboy is the editor of Not The Public Broadcaster (http://www.notthepublicbroadcaster.com). The best-selling author was nominated for the BBN Business Book award of 2020 for Personal Account with Tony Comper. A two-time winner of the Gemini Award as Canada's top television sports broadcaster, he's also a regular contributor to Sirius XM Canada Talks Ch. 167. His new book with his son Evan Inexact Science: The Six Most Compelling Draft Years In NHL History is now available on http://brucedowbigginbooks.ca/book-personalaccount.aspx
Blue Jays deal with 2 losses to Rays, off-field personal matters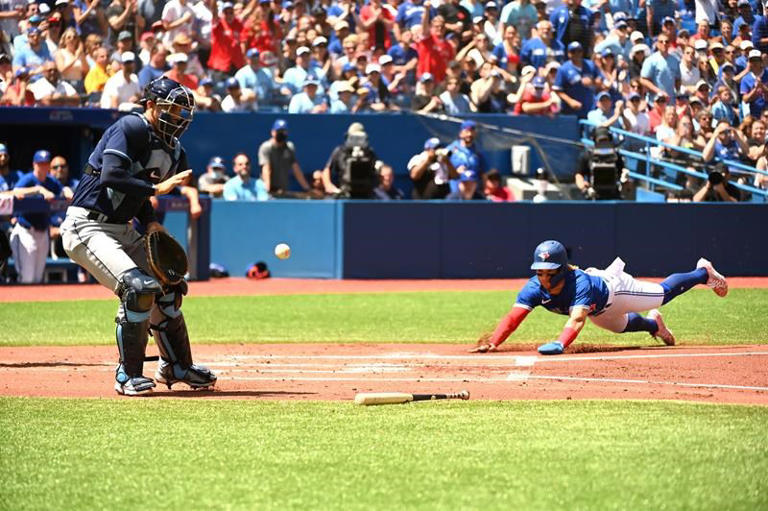 TORONTO — Back-to-back losses in a doubleheader paled in comparison to off-field concerns for the Toronto Blue Jays on Saturday.
Francisco Mejia had a two-run homer in the second inning and a solo shot in the fifth to lead Tampa Bay to an 11-5 rout of the Blue Jays hours after Isaac Paredes and Wander Franco each had a solo home run as the Rays won the first game 6-2.
Toronto first base coach Mark Budzinski left the second game early, with manager Charlie Montoyo repeatedly leaving the dugout for the clubhouse during the game. Bench coach John Schneider filled in as manager during Montoyo's brief absences.
The Blue Jays closed their clubhouse after the game and cancelled their post-game media availabilities.
"As many of you are aware, Mark Budzinski left early in the game tonight," read a statement from the team. "He is dealing with a personal matter and Charlie and our coaches are with him.
"Out of consideration for Bud, we ask that you please respect his privacy at this time. Thank you."
The Blue Jays also had a scary moment in the second inning of the first game when starting pitcher Kevin Gausman took a sharply hit ball off of his right ankle.
He lay prone on the turf in front of the mound as catcher Gabriel Moreno completed the play. After the out trainers came to examine Gausman on the field before helping him to the clubhouse.
His X-rays came back negative and Montoyo said between the games that the pitcher had a contusion.
"Just like everybody else, I was hoping that it wasn't anything worse than a contusion and that's what had happened and that's good news," said Montoyo, who said Gausman would be considered day-to-day.
Paredes added a three-run homer and an RBI double in the late game as Tampa (42-36) earned back-to-back wins.
Starter Drew Rasmussen allowed two runs — one earned — on five hits and two walks over 4 2/3 innings. Reliever Dusten Knight allowed three runs over 2 1/3 innings and Ralph Garza Jr. earned the win, pitching scoreless ball the rest of the way.
Bradley Zimmer had a two-run homer for Toronto (44-35) and Vladimir Guerrero Jr. added a solo bomb.
Thomas Hatch (0-1) coughed up 10 runs on 12 hits and two walks in 4 2/3 innings. Matt Gage, Sergio Romo, Tim Mayza and Adam Cimber came on in relief, with Gage allowing a run.
Tampa had lost four straight heading into Saturday's doubleheader, including losses in Toronto on Thursday and Friday.
"That was an exciting day. We had to find a way to bounce back, we did," said Rays manager Kevin Cash. "It kind of all came together for us through the course of a long day.
"It's tough to win both games of a doubleheader, so really proud and impressed with the guys."
EXTRA HELP — Casey Lawrence was recalled from triple-A as the 27th man for both games of the doubleheader. He pitched 5 2/3 innings of relief in Saturday's first game, allowing six runs to take the loss. Relief pitcher Max Castillo was sent down to triple-A between games to make space for Hatch on Toronto's roster.
PIRATES TRADE — The Blue Jays announced a trade with the Pittsburgh Pirates for left-handed pitcher Anthony Banda during the first game of the doubleheader. Toronto sent cash considerations to Pittsburgh in return. Righty Julian Merryweather was transferred to the 60-day injured list.
UP NEXT — Ross Stripling (4-2) will start for Toronto in the finale of the rare five-game series against Tampa Bay. Shane Baz (0-1) will take the mound for the Rays.
This report by The Canadian Press was first published July 2, 2022.
John Chidley-Hill, The Canadian Press