Vlad Guerrero Jr., Bo Bichette among players to report to Blue Jays spring training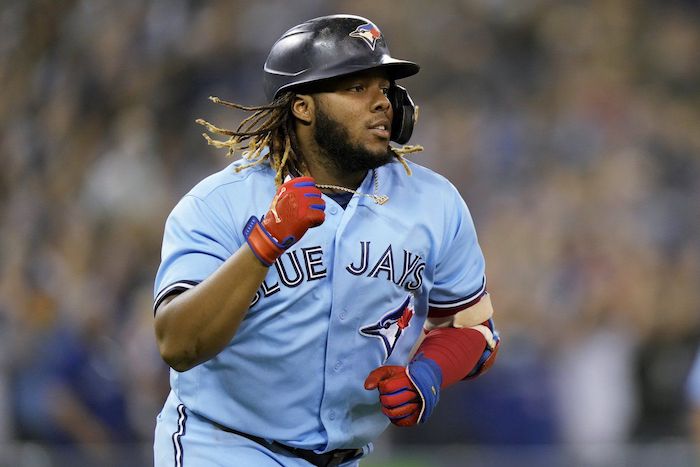 The Toronto Blue Jays are finally back at spring training.
Stars Vladimir Guerrero Jr., Bo Bichette, and Teoscar Hernandez were among the players who reported to Toronto's training camp this morning.
The players got to work at the Blue Jays facility in Dunedin, Fla., a day after Major League Baseball settled its labour strife.
A lockout had threatened to cancel the 2022 season until an agreement was reached between MLB and its players' association late Thursday.
The deal raises the competitive-balance tax threshold by US$34 million over five years, up from a $21 million hike over the 2017-21 deal and an $11 million rise from 2011-16.
Young star players like Guerrero and Bichette were the biggest beneficiaries of the deal.
Shohei Ohtani earned $545,000 in 2018, when he was voted American League Rookie of the Year. Had the new agreement been in place then, he would have earned an additional $750,000.
Cody Bellinger was at $605,000 in 2019, when he won National League MVP. Under the new deal, he would have gotten an extra $2.5 million.
The 22-year-old Guerrero finished second in AL MVP voting last season, earning 269 votes to Ohtani's 420.
Guerrero finished last season with a .311 batting average, leading the majors with 48 home runs and 123 runs. His .401 on-base percentage, .601 slugging percentage, and 1.002 OPS were the best in the AL.
This report by The Canadian Press was first published March 11, 2022.
Russia's path to 2024 Olympics takes shape, Ukraine objects
LAUSANNE, Switzerland (AP) — Russia's path to sending a team to the Paris Olympics next year became clearer on Thursday amid fierce objections from Ukraine.
The International Olympic Committee indicated on Wednesday it favors officially neutral teams from Russia and its ally Belarus at the 2024 Olympics despite a plea from Ukrainian President Volodymyr Zelenskyy to exclude them entirely.
A day later, Russia and Belarus were invited to compete at the Asian Games, a key Olympic qualifier.
Russia typically competes as part of Europe but has a tense relationship with many of the countries set to host qualifying events there. Russia and Belarus have been barred from almost all international competitions in Olympic sports following the invasion of Ukraine.
Zelenskyy has said he told French President Emmanuel Macron, whose country is hosting the Olympics, that Russia should have "no place" there. Ukraine is seeking to rally support against the IOC-brokered plan.
"IOC has been disregarding Russian war crimes, claiming that 'No athlete should be prevented from competing just because of their passport', while Ukrainian athletes continue to be killed by Russia because of their passports. I urge all sports figures to make their stance known," Foreign Minister Dmytro Kuleba wrote on Twitter on Thursday.
Ukraine boycotted an Olympic qualifier in judo last year when Russians were allowed to compete as neutrals.
In Russia, there was praise from the IOC plan from Igor Levitin, an aide to President Vladimir Putin who holds influential government and sports posts.
"I think it is already a success. Olympic society understands that the Olympic Games cannot be staged without Russia," said Levitin, who is the senior vice-president of the Russian Olympic Committee, in comments reported by state news agency Tass.
Some Russian officials expressed unhappiness at the IOC declaring it would not allow athletes found to be "actively supporting the war in Ukraine." Russian Olympic Committee president Stanislav Pozdnyakov said on Wednesday he opposed "any restrictions, extra requirements or sanctions."
The IOC statement on Wednesday referenced the civil war in the former Yugoslavia at the 1992 Olympics in Barcelona. The country was under United Nations sanctions so Yugoslav athletes were allowed to compete individually only as "Independent Olympic Participants." They didn't take part in team sports such as soccer and basketball.
That would be stricter than previous IOC measures against Russia in the years-long fallout from one of the largest doping cases in sports history. Russians competed under the name "Olympic Athlete from Russia" at the 2018 Winter Olympics and as ROC — short for Russian Olympic Committee — in 2021 and 2022, without their country's anthem or flag but with national colors on uniforms.
The Asian Games will be in Hangzhou, China, in September and October, and function as Olympic qualifiers in several sports including archery and boxing. Some other sports host their own Asia-specific qualifying competitions.
"The OCA believes in the unifying power of sport and that all athletes, regardless of their nationality or the passport they hold, should be able to compete in sports competitions," the OCA said in a statement.
The long-time director general of Kuwait-based OCA, Husain al-Musallam, is also the president of World Aquatics, which is overseeing the core Olympic sport of swimming in the IOC home city Lausanne.
"The OCA has offered to give eligible Russian and Belarusian athletes the opportunity to take part in competitions in Asia, including the Asian Games," the organization said.
The OCA added it "remains on standby" until the IOC and the individual sports' governing bodies finalize the conditions for Russia and Belarus to compete.
___
More AP sports: https://apnews.com/hub/apf-sports and https://twitter.com/AP_Sports
Blue Jackets snap Oilers' six-game win streak with 3-2 victory in OT
By Shane Jones in Edmonton
The Columbus Blue Jackets didn't look like a last-place team taking on the hottest squad in the league on Wednesday night.
Kent Johnson scored the overtime winner as the Blue Jackets came away with a surprise 3-2 victory over the Oilers to end Edmonton's longest winning streak of the NHL season.
Johnson's shot from the top of the circle went in off Oilers' goalie Stuart Skinner's glove and into the net 2:29 into the extra session.
"It's one of the best feelings to get an OT winner. That was a huge win for us," Johnson said. "These are the type of games you want to play in, they're really fun, and have great energy. You have to manage the game to get the win."
Boone Jenner and Kirill Marchenko also scored for the Blue Jackets (15-30-3) who have managed to win two of their last three and earn five points out of their last possible six.
"It's big, especially lately, we've been playing good, but we haven't had that many wins," said Columbus goalie Joonas Korpisalo, who made 34 saves. "I think the way we played tonight it was awesome and it's great to get points on the road.
"The battle level was right there from the beginning, and you could see everyone had bought in 100 per cent there, and that's how you win games."
Derek Ryan and Zach Hyman responded with goals for the Oilers (27-18-4) who saw a six-game winning streak snapped. The Oilers are the only team in the NHL that has been unable to stretch a winning streak to seven games or more in the last 20 years.
"It's a bit frustrating," said Oilers defenceman Tyson Barrie. "I think we had enough looks and chances to probably win the game. It certainly wasn't our best game, but we gave ourselves a chance. It was disappointing to let them come back, and then OT is kind of anyone's game."
Edmonton had some early chances, but it was the Blue Jackets who struck first 12:25 into the opening period when Jenner was able to tip an Adam Boqvist snapshot from the point past Skinner. Jenner has now scored in three consecutive games, giving him 14 goals on the season.
Skinner was able to keep it a one-goal game six minutes into the second period, stopping Johnny Gaudreau on a partial breakaway.
The Oilers pulled even midway through the middle frame as Ryan picked up a loose puck at mid-ice and beat Korpisalo with a long rising shot for his seventh.
Shortly after Korpisalo robbed Leon Draisaitl with a huge glove save, Edmonton struck on the power play with 3:44 remaining in the second when Connor McDavid found Hyman at the side of the net for a redirection into the net for his 25th. The assist extended McDavid's points streak to 11 games, and also gave him points in 28 of his last 29 games.
The Blue Jackets tied the game 11:26 into the third period on a great individual effort as Marchenko came out from behind the net and battled hard to slide it under Skinner for his 11th goal to send the game to extra time.
"They played well," Ryan said of Columbus. "There are no easy games in the NHL. Every game is going to be hard. That being said, I don't think we played our best tonight."
NOTES
Oilers forward Evander Kane missed the game for personal reasons, dealing with his bankruptcy case in San Jose. Mattias Janmark returned from illness to take his place. … Out with injuries for Edmonton were Kailer Yamamoto (undisclosed) and Ryan Murray (back). … Missing for the Blue Jackets were Yegor Chinakhov (ankle) and Carson Meyer (oblique strain). Forward Liam Foudy returned to the Columbus lineup after being a healthy scratch the past four games. … Columbus forward Marchenko came into the game as only the fourth player in NHL history to score 10 goals without recording an assist, something that hasn't happened since 1926. The rookie has now scored his 11 goals in just 25 games since being called up from the AHL. … Edmonton forward Hyman is already experiencing a career season, now sitting with 57 points in 48 games this year, besting his previous career high from last year of 54 points in 76 games. Hyman had four goals and five assists in three games last week to be named the NHL's First Star of the Week. … Columbus forward Gustav Nyquist played in his 700th NHL game.
UP NEXT
The Blue Jackets play the third game of a four-game road trip in Vancouver against the Canucks on Friday.
The Oilers host the Chicago Blackhawks on Saturday and then are off until Feb. 7.
This report by The Canadian Press was first published Jan. 25, 2023.