Veterans group winding down work helping Afghan interpreters get to Canada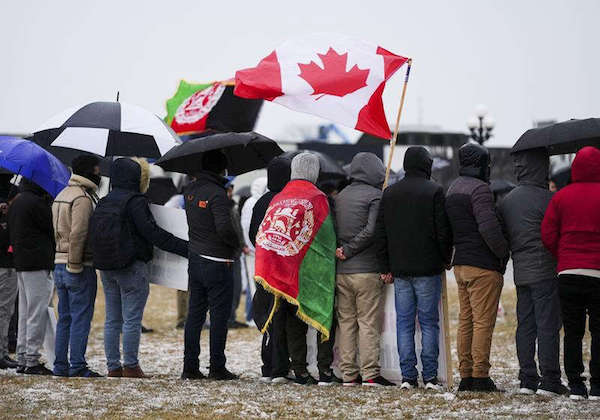 OTTAWA — What began as a 30-day fundraising campaign to help Afghan interpreters flee the Taliban turned into a harrowing, chaotic and deeply frustrating eight-month effort for the Veterans Transition Network, and its executive director says it's time for that to end.
The group started raising money last summer when the Taliban swept to power in Afghanistan, but executive director Oliver Thorne says no one anticipated how long it would be involved.
"This has sort of transformed from a crisis evacuation effort into a long-term migration effort," said Thorne.
The network is ending its public fundraising on May 2, winding down operations over the next six months and returning its focus to mental health programming for Canadian veterans.
Non-governmental organizations led by veterans have been helping people who worked with the Canadian Armed Forces get out of Afghanistan and head to neighbouring countries, then on to Canada.
Thorne says "bureaucratic hoops" are making it difficult to help people get the proper paperwork and causing a bottleneck, and he's calling on the federal government to resume consular services in Afghanistan.
"The ability to provide consular support in Afghanistan would alleviate a lot of these tensions," he said. "That's where we're really seeing the bottleneck."
Retired major general Denis Thompson is part of that grassroots network of veterans, refugee advocates and volunteers working to help people navigate the complex system of visas and other paperwork. He's on the Veterans Transition Network's board of directors and is an adviser to the board of Aman Lara, a Canadian NGO that's been running safe houses in Afghanistan.
He said about 700 people in Pakistan can't get to Canada because they don't have an exit visa from that country. Another 500 are ready to leave Afghanistan but there's nowhere for them to go.
"They have the right documentation," Thompson said. "The pipe is stuck, essentially."
Around 450 of those who are in Pakistan have expired visas and would need to return to Afghanistan to renew them, putting them at further risk of reprisals from the Taliban.
Political upheaval in Pakistan after its recent elections may make it more difficult for Canada to negotiate changes to exit visa requirements, Thompson said, something he feels should have already happened.
"These are people that have already been employed by Canada that already put themselves in harm's way," Thompson said. "I just find it a little bit odd that we don't put more emphasis on those that have helped us."
Thorne said he's also frustrated Afghans don't have "this extraordinary pathway" that's been made available to Ukrainians fleeing the Russian invasion.
Both advocates feel the government needs to do a better job facilitating and funding the work of NGOs and humanitarian groups, but praised the efforts of the "hardworking people" at Global Affairs Canada and Immigration, Refugees and Citizenship Canada.
"A lot of this could have been delegated to officials who are willing to get the job done, but don't appear to have the legal tools to do it," Thompson said. "So that's the part that frustrates me. And that's a ministerial responsibility."
Sanctions prohibit Canadians from spending money in Afghanistan that will end up in the hands of the Taliban, either directly or indirectly, meaning requests for federal funding are stalled and operations within the country are limited.
In an open letter sent April 4 to the ministers of justice, public safety, foreign affairs and international development, nine humanitarian organizations including the Red Cross pleaded with the government to change this, noting that other countries have found a way to exempt humanitarian groups from sanctions.
"Examples of 'indirect' contributions could include paying taxes on staff salaries, something that is required of any organization that wants to continue operating in Afghanistan," the letter read.
Added Thompson: "To be frank, a lot of the solutions to these problems are coming from the NGO sector, and the problems are coming from the government."
The federal government has pledged to resettle 40,000 Afghan refugees and so far more than 10,600 people have arrived in Canada. The departments of Foreign Affairs and Immigration, Refugees and Citizenship Canada did not respond to questions Monday.
The Veterans Transition Network says it has raised $4.6 million and helped 2,061 people get out of Afghanistan.
Thorne said the group will try to determine if another organization can step in and take over its efforts. "I'm really proud of the incredible work that my team has done."
This report by The Canadian Press was first published April 18, 2022.
Sarah Ritchie, The Canadian Press
Trudeau apologizes for presence, recognition of Nazi unit war veteran in Parliament
Prime Minister Justin Trudeau apologizes for the events surrounding Ukraine President Volodomyr Zelenskyy's visit at a media availability in Ottawa on Wednesday, Sept. 27, 2023. THE CANADIAN PRESS/Sean Kilpatrick
By Stephanie Taylor in Ottawa
Prime Minister Justin Trudeau apologized Wednesday on behalf of Canada's Parliament for applauding a man who fought alongside the Nazis in the Second World War after last week's address by Ukraine's president.
He made the brief statement before entering the House of Commons, where he extended "unreserved apologies" for what unfolded during President Volodymyr Zelenskyy's visit.
"This was a mistake that has deeply embarrassed Parliament and Canada," Trudeau told reporters, declining to answer any questions.
"All of us who were in this House on Friday regret deeply having stood and clapped even though we did so unaware of the context."
The prime minister reiterated that Speaker Anthony Rota, who is stepping down over the issue, was solely responsible for inviting and recognizing 98-year-old Ukrainian veteran Yaroslav Hunka, who hails from Rota's Ontario riding.
The Liberal government and Prime Minister's Office have maintained that they had no knowledge of Hunka's invitation or of Rota's plan to acknowledge him.
Twice last Friday, members of Parliament and other guests in the House stood and applauded Hunka, who Rota lauded as both a Ukrainian and a Canadian "hero."
"I also want to reiterate how deeply sorry Canada is for the situation this put President Zelenskyy and the Ukrainian delegation in," Trudeau said.
"It is extremely troubling to think that this egregious error is being politicized by Russia and its supporters to provide false propaganda about what Ukraine is fighting for."
He repeated a similarly worded apology in the chamber.
Ahead of those remarks, Trudeau had faced heavy pressure from Opposition Conservatives and the federal NDP to deliver an apology, with both parties' leaders accusing him of ducking accountability since it happened.
Tory Leader Pierre Poilievre earlier in the day charged that if Trudeau wants power, "he has to take responsibility" and apologize to "Jews, Poles, Ukrainians and all Canadians."
Poilievre went on to say that Trudeau should call Zelenskyy directly, a suggestion the prime minister did not address on Wednesday.
In the House of Commons, the Conservatives rejected the apology Trudeau delivered on behalf of Parliament.
They said he needed to take personal responsibility for the incident, given the harm it has caused to those affected by Nazi war crimes, the country's reputation and the Ukrainian cause.
"It was his personal responsibility to make sure (Zelenskyy's visit) was a diplomatic success," Poilievre told MPs on Wednesday.
He suggested that government officials should have vetted the guests not only for security purposes but for diplomatic ones.
Poilievre added that Hunka's presence created a "monumental, unprecedented and global shame" on Parliament.
Federal NDP Leader Jagmeet Singh has also been calling on Trudeau to apologize and present a plan for how the government intends to fix the damage done to the country's reputation.
"Now, finally, after three days, the prime minister has finally said something," Singh said Wednesday.
"But he's got to take action."
The Centre for Israel and Jewish Affairs said in a statement that it received "private apologies and expressions of profound regret," including from deputy prime minister Chrystia Freeland and Rota himself.
The Friends of Simon Wiesenthal Centre, a non-profit focused on Holocaust education, said Wednesday before Trudeau's apology that it had not received any outreach or apology from the Liberal government about the incident.
Ukraine's embassy in Ottawa has not responded to multiple requests for comment. The Ukrainian Canadian Congress, an outspoken advocacy group, has not commented either.
Before Trudeau apologized, many Liberal MPs heading into their weekly caucus meeting on Wednesday said they felt Rota's apology and resignation stood for itself.
But Ottawa representative David McGuinty said caucus should at least discuss a potential government apology.
"If we make this any more … partisan, it's just not good for our country and it's not good for countries that are watching this country."
Health Minister Mark Holland suggested apologizing should be an individual choice made by each parliamentarian, pointing to his own decision to do so.
"I stood and applauded. I stood in my place and applauded and for that I am deeply sorry, personally."
The event has sparked international controversy. Comedian Rob Schneider cancelled his upcoming trip to Canada, saying on social media that what happened is "beyond the pale."
Trudeau explicitly condemned Russia for trying to make hay of the incident.
Russian ambassador Oleg Stepanov demanding an apology Tuesday specifically for Russians.
He said Hunka's division had carried out war crimes against Russians, and added that Russia might follow Poland in pursuing a criminal case and extradition request.
In Moscow, Russia's foreign ministry said the incident adds credence to its justification for invading Ukraine, which it claims is being run by a Nazi regime, despite Ukranian President Volodymyr Zelenskyy being Jewish.
Ministry spokeswoman Maria Zakharova gave a 18-minute statement Wednesday about the incident that happened in Ottawa.
"We view Canada as an extremely unfriendly state, whose authorities have tainted themselves with complicity with Nazism," Zakharova said in Russian.
She noted government House leader Karina Gould's failed motion Monday to not just strike the incident from the record but to have it deleted from any House of Commons multimedia recording, saying the Liberals are "ridiculous and clumsy."
The Conservatives had opposed that motion on the basis that history should not be erased.
Zakharova denounced Western countries for ignoring Canada's "flirtations with the Nazis" and "liberal fascism," which will "inevitably affect Russian-Canadian relations, which are in the deepest crisis due to Ottawa's positions."
This report by The Canadian Press was first published Sept. 27, 2023.
— With files from Dylan Robertson and Mia Rabson.
Liberals, Tories join calls for House Speaker to resign over Nazi veteran invite
Speaker of the House of Commons Anthony Rota rises in the House of Commons on Parliament Hill in Ottawa, on Monday, Sept. 25, 2023. Prime Minister Justin Trudeau says House of Commons Speaker Anthony Rota will meet with House leaders later today, as reflects on his path forward. THE CANADIAN PRESS/Justin Tang
By Mickey Djuric in Ottawa
House of Commons Speaker Anthony Rota is facing calls to step down from across the political spectrum after he invited a man who fought for the Nazis to attend a speech by Ukraine's president, in what senior Canadian politicians are calling an international embarrassment.
Government House leader Karina Gould said Tuesday morning that she believes members of Parliament have lost confidence in Rota and he should do the "honourable thing."
Conservative Leader Pierre Poilievre also urged Rota to resign, following similar calls by the NDP and Bloc Québécois on Monday.
Rota, whose role it is to be impartial and maintain order in the House of Commons, has been facing international scrutiny over the controversy, and Russia has used the invite to advance its propaganda in an attempt to legitimize its full-scale invasion of Ukraine.
On Friday, Rota honoured and recognized Yaroslav Hunka, a veteran of the First Ukrainian Division, during a parliamentary address by Ukrainian President Volodymyr Zelenskyy.
The voluntary unit was under the command of the Nazis and was also known as the Waffen-SS Galicia Division or the SS 14th Waffen Division during the Second World War.
All members of Parliament who were in attendance had stood twice and applauded the 98-year-old without knowing the details of his past, including Zelenskyy and Prime Minister Justin Trudeau.
Russian President Vladimir Putin paints his enemies in Ukraine as "neo-Nazis."
The Holocaust, World War II and Nazism have been important tools for Putin in his bid to legitimize Russia's war in Ukraine, but historians see their use as disinformation and a cynical ploy to further the Russian leader's aims.
Zelenskyy is Jewish and has said his great-grandparents were victims of the Nazis. His visit to Canada was meant to shore up support for Ukraine during the war, but now the opposite is happening, NDP Leader Jagmeet Singh said on Tuesday.
"The visit was marred by this incident that is now being used by the aggressor, Russia, in propaganda to attack or take away from — in a deleterious way — the efforts of the war."
Singh called on Trudeau to apologize for how things have unfolded, and present a plan to try and undo the harm.
Trudeau said he expected important conversations to be held when the House leaders for the main federal parties met with Rota, but he wouldn't say if he thought the Speaker should resign.
"It's a good thing that Speaker Rota apologized personally and I'm sure he's reflecting now to ensure the dignity of the House going forward," Trudeau said Tuesday.
The meeting with House leaders lasted for about 30 minutes.
Prior to their meet-up, Foreign Affairs Minister Mélanie Joly joined other MPs asking for Rota's resignation.
"What happened on Friday is completely unacceptable," Joly said on Tuesday. "I think the Speaker should listen to the House and step down."
The Speaker's office did not immediately respond to a request for comment.
If Rota resigns, parliamentary procedure dictates that the House will cease its normal operations in order to elect a new Speaker at the earliest opportunity.
The Conservatives have said they believe Trudeau is throwing Rota under the bus and that the prime minister should take responsibility for the invitation.
The Prime Minister's Office said it was unaware that Hunka was invited until after the address. The Speaker's office also confirmed it did not share its invite list with any other party or group.
The vetting process for visitors to the gallery is for physical security threats, not reputational threats, the Speaker's office said.
Rota apologized to MPs on Monday, saying the decision to invite Hunka was entirely his own.
He also met with Poland Ambassador to Canada Witold Dzielski following the invite.
In a post on X, formerly known as Twitter, Dzielski said he had a "very open and detailed conversation" with Rota and that his understanding is there was no ill intent related to the invitation.
"If the mistakes make us wiser and our bond stronger, so be it! Thank you Anthony!" Dzielski posted with a photograph of himself shaking hands with Rota.
But that's not good enough for one Polish politician who is participating in a general election back home.
Poland's Education Minister Przemysław Czarnek posted on X that he's taken steps to possibly extradite Hunka back to Poland.
Justice Minister Arif Virani said no one from the Polish government has contacted him regarding the matter.
He added that he can't comment on anything related to extradition until it lands on his desk, because his wading into the issue could jeopardize any investigations that may be underway.
"Commenting on an early stages of an extradition process is not appropriate," Virani said Tuesday.
This report by The Canadian Press was first published Sept. 26, 2023.
— With files from Associated Press.