Veterans' cases raise fresh concerns about expanding assisted dying law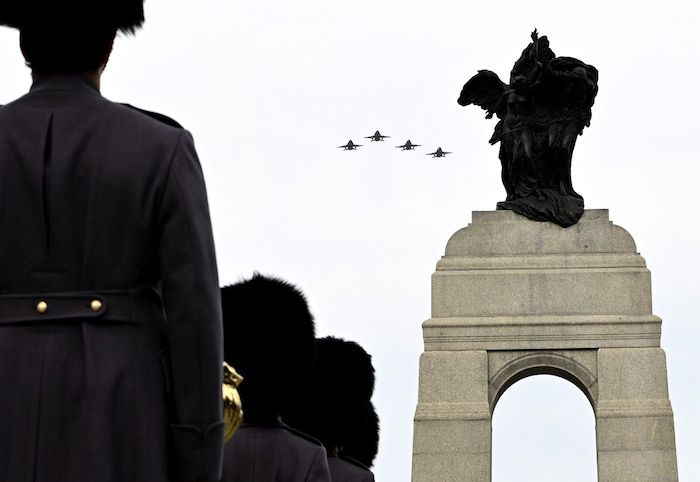 By Lee Berthiaume in Ottawa
Revelations that some Canadian veterans have been offered medically assisted deaths while seeking help from the federal government are adding to worries about Ottawa's plans to expand such procedures to include mental-health injuries and illnesses.
Veterans' organizations are instead calling on Ottawa to increase access to mental-health services for former service members, which includes addressing the long wait times that many are forced to endure when applying for assistance.
"Mental-health injuries can be terminal only if they're untreated, unsupported and under-resourced," said Wounded Warriors executive director Scott Maxwell, whose organization runs mental-health support programs for veterans and first responders.
"That should be where we're focused: resourcing, funding and investing in timely access to culturally competent, occupationally aware mental-health care."
While medical assistance in dying was approved in 2016 for Canadians suffering from physical injuries and illness, the criteria for MAID is set to expand in March to include those living with mental-health conditions.
While that plan has already elicited warnings from psychiatrists across the country, who say Canada is not ready for such a move, Maxwell and others are also sounding the alarm about the potential impact on ill and injured ex-soldiers.
Those concerns have crystallized in recent weeks after reports that several former service members who reached out to Veterans Affairs Canada for assistance over the past three years were counselled on assisted dying.
Those include retired corporal and Canadian Paralympian Christine Gauthier, who told the House of Commons' veterans affairs committee last week that she was offered an assisted death during her five-year fight for a wheelchair ramp in her home.
The federal government has blamed a single Veterans Affairs employee, saying the case manager was acting alone and that her case has been referred to the RCMP. It also says training and guidance has been provided to the rest of the department's employees.
The issue has nonetheless sparked fears about what will happen if the criteria for MAID is expanded in March, particularly as many veterans with mental and physical injuries continue to have to wait months — and even years — for federal support.
Those wait times have persisted for years despite frustration, anger and warnings from the veterans' community as well as the veterans' ombudsman, Canada's auditor general and others about the negative impact those wait times are having on former service members.
"My fear is that we are offering a vehicle for people to end their lives when there are treatment options available, but those treatment options are more difficult to access than medically assisted death," Oliver Thorne of the Veterans Transition Network recently testified before the Commons' veterans affairs committee.
And despite the government's assertions that a single Veterans Affairs' employee was responsible for proposing MAID as an option, Royal Canadian Legion deputy director of veterans' services Carolyn Hughes said the reports have added to longstanding anger and fears in the community.
"Many veterans have been angered and retraumatized by this situation, seeing it as an extension of the perception of 'deny, delay, and die' from VAC to veterans," she told the same committee.
Prime Minister Justin Trudeau said Friday that the government is looking at striking the right balance between providing access to assisted deaths and protecting vulnerable Canadians, including veterans.
But the Association of Chairs of Psychiatry in Canada, which includes heads of psychiatry departments at all 17 medical schools, is calling for a delay to the proposed MAID expansion, saying patients need better access to care including for addiction services.
The Conservatives have also called for a delay, with democratic reform critic Michael Cooper underscoring the need for more study and preparation.
"Many veterans who turn to Veterans Affairs for services and support are vulnerable," he said. "Many have physical injuries and mental-health issues arising from their service. What they need is help and support. And it can be devastating to be offered death instead of help."
NDP veterans affairs critic Rachel Blaney said it is essential that the government increase access to services for veterans.
"We should always make sure that there's resources and services out there," she said. "We don't want anyone to feel like this (MAID) is ever the first option for them. "
This report by The Canadian Press was first published Dec. 4, 2022.
CP NewsAlert: Liberals withdraw controversial amendment to guns bill
OTTAWA — The federal Liberals are withdrawing a controversial amendment to their guns bill that would have added many popular hunting rifles and shotguns to a list of prohibited firearms in Canada.
The amendment has caused an outcry in many parts of rural Canada, and the Liberals have been under pressure from many of their own MPs to change or withdraw the new definition of weapons being banned.
More coming.
The Canadian Press
Quebec says only people at risk who haven't had COVID-19 should get booster dose
Only people who are considered at risk for severe COVID-19 — and who haven't already been infected — need to get a booster dose, Quebec's public health director said Thursday.
The vast majority of Quebecers have hybrid immunity — protection through vaccination and through a SARS-CoV-2 infection — making regular boosters unnecessary, at least for this winter and spring, Dr. Luc Boileau told reporters.
"People with hybrid immunity … have a very good protection against a severe form of the illness," Boileau said. "And this immunity lasts for a long enough time that we can propose changes."
Those who have been vaccinated but haven't contracted the virus are also protected against severe COVID-19, he said, but their immunity "has a tendency to drop with time."
Quebec's vaccination committee decided to focus the province's immunization policy on preventing hospitalizations and deaths, he said. People who are 60 and older or who have chronic illnesses, health workers, pregnant women and those who live in isolated regions are among the people who should get a booster every six months — but only if they have never caught the virus, Boileau said.
Dr. Caroline Quach-Thanh, chairperson of Quebec immunization committee, said the data shows that people already vaccinated for COVID-19 who have contracted the virus "maintain their protection."
"Adding a dose doesn't add a lot protection for severe (illness)," she said.
Health officials estimate that more than three-quarters of Quebecers under 60 have had COVID-19 over the past three years, while about half of those over 60 have caught the virus.
Boileau said only people who are immunocompromised should continue getting boosters even if they've been infected, "because their immunity could be affected by their condition."
Before Thursday's announcement, boosters were recommended for all people considered at risk of severe COVID-19. Boileau said COVID-19 vaccines will remain available to anyone who wants one. "We won't refuse anyone," he said.
This report by The Canadian Press was first published Feb. 2, 2023.