Veteran Calgary offensive lineman Dennis says CFL doesn't appreciate its players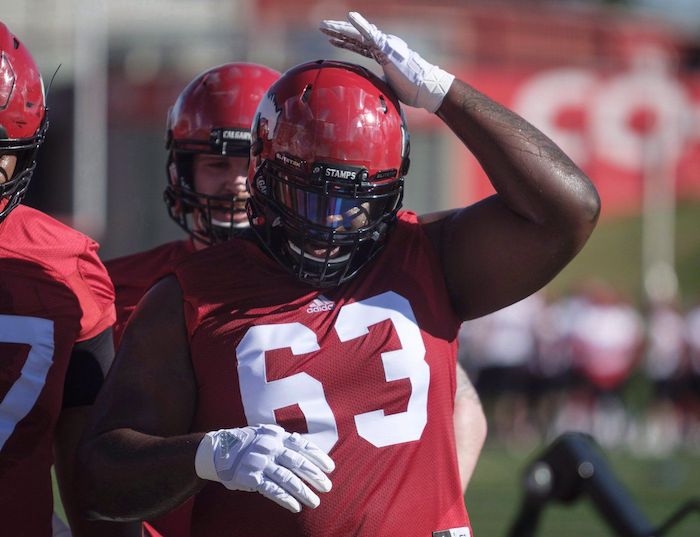 By Dan Ralph
He's preparing for training camp to begin on time but the turbulent state of contract talks between the CFL and CFL Players' Association isn't giving veteran offensive lineman Derek Dennis a warm, fuzzy feeling about the upcoming season.
The two sides remain far apart on a deal heading into the resumption of negotiations Wednesday. And time is of the essence as the current contract expires Saturday, the day before camps are scheduled to open.
"As much as it doesn't feel like things are moving along, you've got to take it upon yourself to be a pro and be prepared (for camp)," Dennis said in a telephone interview. "It doesn't matter what's going on … this is my livelihood, this is how I put clothes on my children's back and food on the table so I must approach it with that same mindset regardless of what's going on.
"It's amazing what can be accomplished in 24 hours so I'm just hoping they spend the time before we're supposed to leave our homes and families to do the right thing."
Talks ended Thursday with the CFLPA rejecting the league's proposal for a 10-year deal with no increases to the $5.35-million salary cap and elimination of the Canadian ratio. It also excluded a union proposal allowing players to negotiate guaranteed contracts and included a return to padded practices.
The CFL issued two statements via social media Friday, the second outlining a commitment to a partnership with the players. Earlier, the league tweeted: "Canadian players are the lifeblood of the CFL game, along with the veteran American players who make a career here. That will not change."
But the six-foot-three, 345-pound Calgary Stampeder isn't feeling that love.
"I don't feel like we're appreciated … from a league standpoint," he said. "The league recently put out a statement saying players are the lifeblood, yet you're not trying to take care of the lifeblood of our league. It's hypocritical.
"I understand bargaining tactics and the business and logistical side of things … but I feel like, for me, the league is run by people who don't want to be innovative, who don't want to progress and are afraid of change yet these are the same people who consider the CFL a major league. What major league hasn't had to deal with some sort of change, some type of evolution to get to where it is today? At some point, we have to be frustrated with just being good enough."
And for Dennis, it's time the CFL back up its partnership talk at the bargaining table.
"At the end of the day, actions speak louder than words," he said. "If I tell my kids I'll take them out for ice cream, they're going to say, 'Hey, dad, you told us you were going to take us to get ice cream, right?'
"My thing is if they (CFL) are going to continue to say these words and put out statements and make it seem like they care about us, why is it so hard for them to show it?"
Dennis, 33, has never shied away from telling it like it is or sticking to his principles. The CFL's top lineman in 2016 sat out all of last season after asking to be released or traded by the Edmonton Elks. Upon being let go, Dennis re-signed in January with Calgary, where he played 2015-16 and 2018-19.
"Many people think I'm being negative based on what I do and say but, no, I'm not," Dennis said. "I love this league and I just want to see it progress and be better.
"I want my time in the league, what I've done on the field and any impact I've made to last generations beyond me. I don't want to just be another body that came through and nothing evolved. Yes, the CFL has survived for 100 years but how long can it survive the way it has been moving? Staying status quo and just surviving makes no sense to me. This is a business and what business do you know is OK with taking loss after loss after loss? But the reason why they (CFL) are OK with the losses is they just recoup it from us."
What also frustrates Dennis is his belief the CFL doesn't hold itself to the same standard as its players do for themselves.
"As athletes, we always strive for excellence," he said. "Why is it, then … the people who are in charge of requiring us to be that way don't operate in that same manner? That's my biggest qualm.
"At the end of the day coaches, teams, owners, sponsors, everybody benefits from what we do so why is it we're the last people who get thought about when it comes to being able to benefit somewhat? Not even on a large scale, just somewhat benefit from it. We're pro athletes and we can't even benefit from what we do and how hard we work? Where does the fairness come in that?"
Last week, CFL players gave their union a 95 per cent strike vote. League players have gone on strike once, in 1974, but the situation was settled before the start of the regular season.
Dennis said he'll follow whatever direction the membership wants to head in.
"I pride myself on being a great teammate and whatever my brethren decides is the best course of action … is what I'm willing to do," Dennis said. "I know many people were baffled about what I did last year but at the end of the day, yes, I'm a football player but I'm a person first.
"If I feel like I'm being treated unfairly, I don't have to accept that unfair treatment. The days of 'Shut up and play ball,' are long gone."
This report by The Canadian Press was first published May 9, 2022.
Lawyer tells Alberta's highest court review board biased in de Grood's case
A family member of five slain students holds a heart sign with their names on it following a court decision in Calgary, Alta., Wednesday, May 25, 2016. Alberta's highest court is being asked to overturn a review board decision on the stabbing deaths of five young people at a Calgary house party that confined a man to a supervised Edmonton group home. THE CANADIAN PRESS/Jeff McIntosh
By Ritika Dubey in Edmonton
Alberta's highest court is being asked to overturn a review board decision that confined a man to a supervised Edmonton group home after the stabbing deaths of five young people at a Calgary house party.
The lawyer representing Matthew de Grood argued Wednesday the review board's decision was biased, citing what she described as political interference from Alberta's former justice minister.
"The appellant says, 'I think the conclusion about me is wrong. The board's conclusion is incorrect and not supported by evidence,"' Jacqueline Petrie said before the Alberta Court of Appeal. "He says there's no significant evidence that he's a risk."
De Grood, 31, was found not criminally responsible in 2016 for the killings two years earlier of Zackariah Rathwell, Jordan Segura, Kaitlin Perras, Josh Hunter and Lawrence Hong because he was suffering from schizophrenia at the time. Petrie said de Grood has been stable on medication, is at low risk to reoffend and should be allowed to live with his parents while being monitored under a full warrant.
She argued the review board misunderstood medical evidence during the September 2022 review, which deemed de Grood a significant risk despite the assessment showing improvements. She said the board is supposed to recommend the least onerous disposition compatible with public safety and did not do that for de Grood.
The defence lawyer has said the review had been influenced by former justice minister Doug Schweitzer, who weighed in on de Grood's case in October 2019 after the panel allowed de Grood to transition from institutional care to a supervised group home.
He has been under supervision at a group home. His case is reviewed by the Alberta Review Board yearly to see whether he can transition back into the community while maintaining public safety.
Petrie pointed at de Grood's "exemplary record," and that he has been "compliant to the (medical) treatment team."
"Nobody knew he had schizophrenia (at the time of the stabbings) and needed medication."
Crown prosecutor Matthew Griener said the board considered a conditional discharge but dismissed it, citing a relapse in schizophrenia symptoms in 2021.
Griener said de Grood's relapses were brief and happened at the hospital, providing an early window for medical professionals to intervene.
Justice Kevin Feehan said de Grood may be low-risk, but the consequences of even one relapse could be significant.
Reading from an expert's report, Feehan said: "A low risk to offend doesn't mean the reoffence would not be severe."
Some family members of the victims drove from Calgary for the hearing.
Segura's mother, Patty, said the last nine years have been about de Grood and his rights.
"He should be thankful that he ended up NCR (not criminally responsible) rather than end(ing) with five life sentences for murdering five people," she said. "He should not be appealing."
Hunter's father, Barclay, opposed a potential full release.
"The idea that he wouldn't be monitored for the rest of his life seems to defy logic, it doesn't make any sense," said the father.
Hunter's mother, Kelly, said the family has had "no healing."
"We do this every year, at least once. Now, this is the second appeal," she said. Barclay
Hunter said although there are attempts to reintegrate de Grood into society, he hopes the man is not left on his own with an absolute discharge.
"Regardless of what they say, he killed five people. If that doesn't stand on its own as a risk factor, then I don't know what does."
This report by The Canadian Press was first published June 7, 2023.
—
Michael White, convicted of killing pregnant wife, gets full parole
Homicide detective Michael Campeau prepares to hold a press conference to discusses the arrest of Michael White at police headquarters in Edmonton, Tuesday, July 19, 2005. The Parole Board of Canada says Michael White, convicted of killing his pregnant wife and dumping her body in a ditch 17 years ago, was granted full parole following a review of his case. THE CANADIAN PRESS/Jason Scott
By Kiernan Green in Toronto
An Edmonton man convicted of killing his pregnant wife and dumping her body in a ditch has been granted full parole.
The Parole Board of Canada granted Michael White full parole in late May.
"Given your assessed low risk, employment stability and your demonstrated abilities to live a law-abiding lifestyle the board does not find that your risk would be undue on an expanded form of conditional release," the board said in a written decision.
"Therefore, full parole is granted."
White was convicted in 2006 of second-degree murder and offering an indignity to a dead body in the death of his wife.
Liana White was four months pregnant with the couple's second child when she was fatally stabbed in July 2005. Her body was found in a ditch a few days later by a search party that included her husband.
The parole board noted that Michael White had disposed of his wife's body and "cleaned up" evidence from his crime. A judge described White's offence as "the most reprehensible and extreme form of domestic violence," the board wrote.
White was sentenced to life in prison with no chance of parole for 17 years. His appeal of his convictions was rejected by Alberta's highest court.
The parole board noted that White continues to maintain his innocence.
"Your stance of innocence has prevented you from possible insight," it wrote, adding that White's case management team felt he demonstrated a "good deal of accountability and victim empathy," as best as he could.
Conditions of White's full parole include that he have no contact with Liana White's family unless they request it and that he report any changes in his current relationship with his fiancée and any new relationships with women.
Michael White was granted day parole from Beaver Creek Institution in Gravenhurst, Ont., in February 2021, which was extended several times.
He has been taking extended weekend passes at a condo with his fiancee, "with no concerns noted" and started a new job in January that allows him to work on a variety of heavy equipment, the parole board said.
White plans to remarry and to travel, the board said.
"Your fiancée is considered a positive collateral contact and aware of your offending and release conditions," it wrote. "You maintain support in the community from some friends and family."
This report by The Canadian Press was first published June 6, 2023.
———