Vaccine lottery: Manitobans eligible for cash, scholarships if they get a COVID shot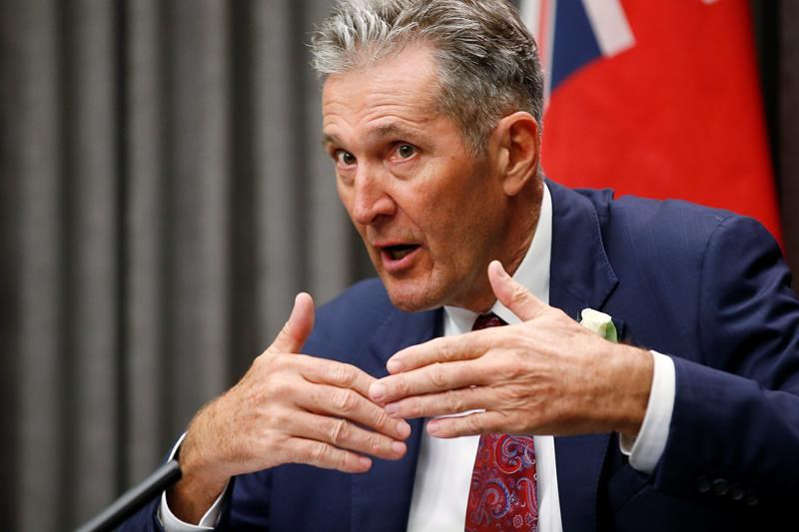 WINNIPEG — Manitobans who get a COVID-19 vaccine could also get a six-figure cash injection in their wallets.
The provincial government is offering $100,000 prizes and $25,000 scholarships in an effort to persuade more people to get a shot.
Anyone who has had or will receive a shot will be automatically entered into two lottery draws this summer. Each draw will have seven cash winners — three in Winnipeg and one in each of the four other health regions — and 10 scholarship recipients. The scholarships will be reserved for youth between 12 and 17 years old.
"I'm not a big fan of gambling and that's why I think this draw makes such good sense," Premier Brian Pallister said Wednesday. "Because you're gambling with COVID if you're not getting a vaccination."
Vaccine uptake in Manitoba has been steady — two-thirds of people 12 and older have received at least one dose. But there are some spots where the rate is much lower, including the core area of Winnipeg and some rural regions south of the capital.
Health officials have said that while some people are hesitant about getting a vaccine, others may have barriers in terms of mobility or by being in marginalized groups.
Crown-owned Manitoba Liquor and Lotteries will be in charge of the draws slated for early August and September. The government is still figuring out how to ensure that Manitobans who were vaccinated outside the province will be included.
The government asked for public feedback on incentives last week. Most respondents who were hesitant about getting a vaccine said they would not be likely to be swayed by cash payments, free admission to sporting events or draws for prizes.
Dr. Joss Reimer, medical lead of Manitoba's vaccination effort, said some prizes for getting doses could turn people off, but a lottery is different.
"We need to be very cautious when we use financial incentives because, for people who are already suspicious of the vaccine or of the government's intent, these financial incentives — if done in the wrong way — can make people more suspicious," Reimer said.
"The worst-case scenario is giving just straight up cash for doses. That's really when people start to feel that there's some sort of hidden message or reason that government wants them immunized other than their own benefit. But we didn't see the same effect when it came to a lottery. Lotteries tend to bring about more of a sense of celebration and excitement with people."
The government also said it will relax one of its major public health orders. A ban on almost all social gatherings that took effect May 22, with an exception for people living alone, is to be changed Saturday.
People will be allowed to meet with up to five friends or relatives in outdoor public areas or have up to five people over on their own property. The ban on indoor gatherings is to continue.
"We realize that Manitobans have been following the orders. They haven't been able to really get together with anyone outside of their household, so we've allowed just this sort of release valve," said chief public health officer Dr. Brent Roussin.
The province's daily tally of new COVID-19 cases has dropped from a peak of more than 600 last month to 250 on Wednesday. But hospitals remain strained. Thirty intensive care patients were being treated in other provinces in an effort to free up beds.
Pallister, who is to receive his second vaccine dose Thursday, won't be eligible for the lottery, which specifically exempts all provincial politicians.
The Opposition New Democrats questioned how the Progressive Conservative government found nearly $2 million for prizes at a time when hospitals are struggling to keep up with COVID-19 patients, some of whom have been sent to other provinces.
"Mr. Pallister has $2 million for this lottery, but where are the $2 million to help fix our (intensive care units) in our hospitals?" NDP Leader Wab Kinew asked.
This report by The Canadian Press was first published June 9, 2021.
Steve Lambert, The Canadian Press
B.C. premier does not rule out side talks with PM at national health gathering
Ottawa – British Columbia Premier David Eby says he's optimistic about next week's meetings with Prime Minister Justin Trudeau and other premiers about health-care funding.
Eby says getting the premiers and Trudeau together in Ottawa leads him to believe a deal to increase core transfer dollars from the federal government to provinces and territories is within reach.
The premiers want Ottawa to cover 35 per cent of health-care costs, up from the current 22 per cent.
Trudeau has said the funding will come with strings attached, including sharing health data and outcomes for a national database.
Eby and several B.C. cabinet ministers are in Ottawa today, where he said he expected to discuss health, public safety, climate change and housing issues with Trudeau and members of his cabinet.
The premier says the primary goal at next week's talks remains making progress on an improved national health funding transfer agreement, but he did not rule out the possibility of the province engaging in separate talks with Trudeau about health care.
"We'll be talking about core funding for provinces, but with the ability for provinces to have discussions with the federal government about key areas of provincial priority," said Eby at a news conference in Ottawa. "I am convinced that B.C.'s priorities are not necessarily the same as Quebec's or Nova Scotia's or Newfoundland's."
This report by The Canadian Press was first published Feb. 1, 2023.
Tom Brady retires at 45, insisting this time it's 'for good'
TAMPA, Fla. (AP) — Tom Brady, who won a record seven Super Bowls for New England and Tampa, has announced his retirement.
Brady — the most successful quarterback in NFL history, and one of the greatest athletes in team sports — posted the announcement on social media Wednesday morning, a brief video lasting just under one minute.
"Good morning guys. I'll get to the point right away," Brady says as the message begins. "I'm retiring. For good."
He briefly retired after the 2021 season but wound up coming back for one more year with the Tampa Bay Buccaneers. He retires at age 45, the owner of numerous passing records in an unprecedented 23-year career.
A year ago when he retired, it was in the form of a long Instagram post. But about six weeks later, he decided to come back for one more run. The Buccaneers — with whom he won a Super Bowl two seasons ago — made the playoffs again this season, losing in their playoff opener. And at the time, it begged the question about whether Brady would play again.
Only a couple of weeks later, he has given the answer.
"I know the process was a pretty big deal last time, so when I woke up this morning, I figured I'd just press record and let you guys know first," Brady says in the video. "I won't be long-winded. You only get one super emotional retirement essay and I used mine up last year.
"I really thank you guys so much, to every single one of you for supporting me. My family, my friends, teammates, my competitors. I could go on forever. There's too many. Thank you guys for allowing me to live my absolute dream. I wouldn't change a thing. Love you all."
Brady is the NFL's career leader in yards passing (89,214) and touchdowns (649). He is the only player to win more than five Super Bowls and has been MVP of the game five times.
Brady announced his retirement one day after attending the premiere of "80 for Brady" — which comes out Friday — in Los Angeles. The movie tells the story of four lifelong friends, played by Lily Tomlin, Jane Fonda, Rita Moreno and Sally Field, who went to a Super Bowl to see Brady play.
He was asked Tuesday night whether he felt a connection working with women — the four stars range in age from 76 to 91 — who don't want to retire.
"They're working hard and they love it. So good for them," Brady told The Associated Press. "You know, it's just that's what life is about. You got to, you know, wake up every day with a purpose. And when you find something you love to do, you know, it's hard to stop. You really enjoy it. And there's a lot of aspects that you do enjoy. So they still bring it at this age. It's really unbelievable to watch them on set and how much energy they have. And I certainly was inspired by them and learned a lot of lessons on this whole experience."
Famously underrated coming into the NFL — he was picked 199th in the 2000 draft by the Patriots, behind six other quarterbacks, three kickers and a punter — Brady certainly wasn't expected to become synonymous with greatness. He played in one game as a rookie, completing one of three passes for six yards.
The next year, it all changed.
Brady took over as the Patriots' starter, the team beat the St. Louis Rams in the Super Bowl that capped the 2001 season and he and New England coach Bill Belichick were well on their way to becoming the most successful coach-QB duo in football history.
More Super Bowl wins came after the 2003 and 2004 seasons. The Patriots returned to football's mountaintop for a fourth time in Brady's era a decade later to cap the 2014 season, the start of three more titles in a span of five years.
In 2020, he joined the Buccaneers and won his seventh Super Bowl. He spent his last three years with Tampa Bay, getting them to the playoffs in each of those seasons.
"I think I've been on the record dozens of times saying there's no quarterback I'd rather have than Tom Brady, and I still feel that way," Belichick said in 2021 — shortly before Tampa Bay, with Brady, came to New England and beat the Patriots in a game dubbed "The Return." "I was very lucky to have Tom as the quarterback, to coach him, and he was as good as any coach could ever ask for."
Brady has won three NFL MVP awards, has been a first-team All-Pro three times and was selected to the Pro Bowl 15 times.
Brady and model Gisele Bündchen finalized their divorce this past fall, during the Bucs' season. It ended a 13-year marriage between two superstars who respectively reached the pinnacles of football and fashion.
It was announced last year that when Brady retires from playing, he would join Fox Sports as a television analyst in a 10-year, $375 million deal.
___
AP NFL: https://apnews.com/hub/nfl and https://apnews.com/hub/pro-32 and https://twitter.com/AP_NFL