US Speaker Pelosi arrives in Taiwan, raising China tensions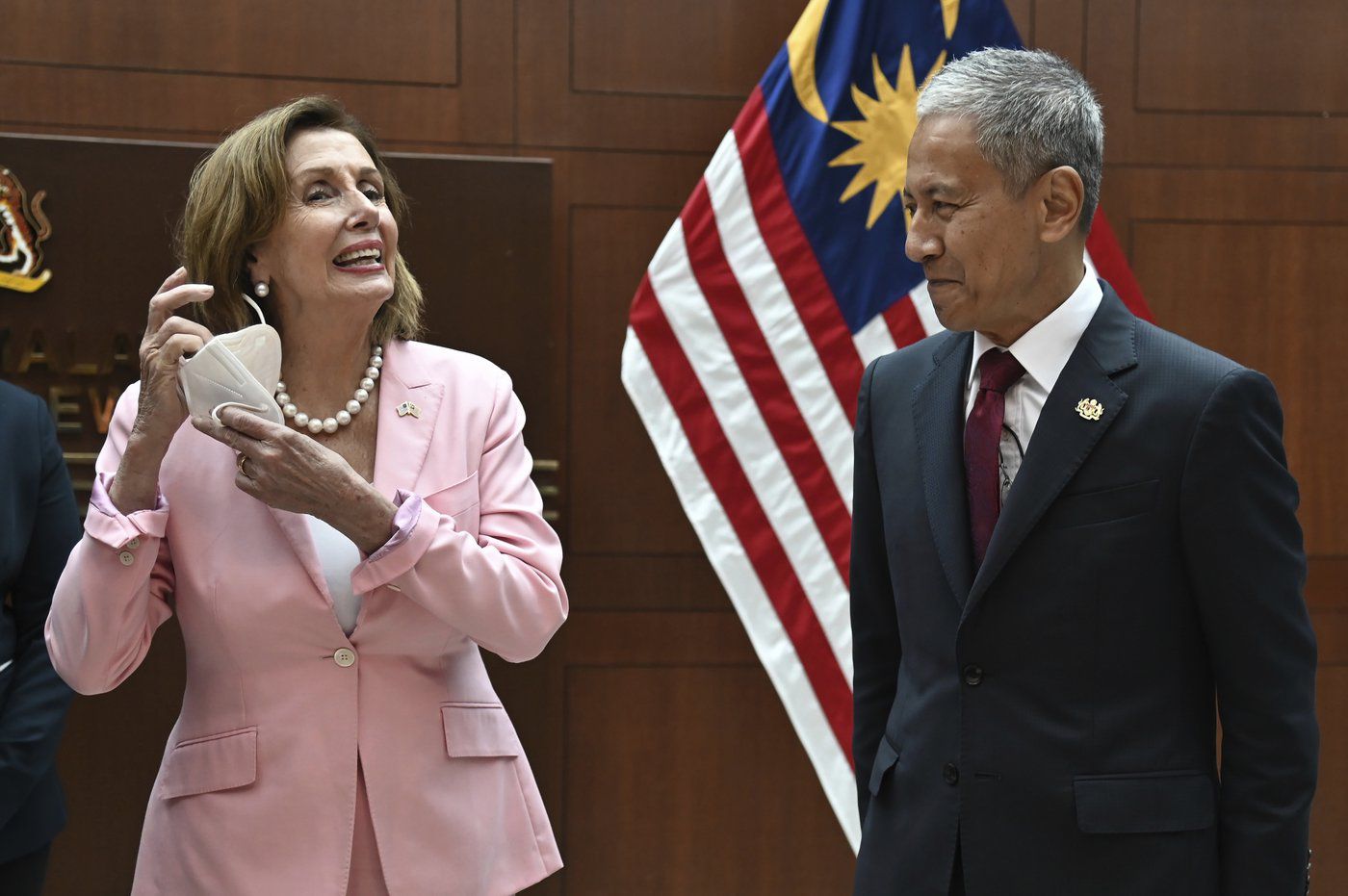 By Huizhong Wu And Eileen Ng in Taipei
TAIPEI, Taiwan (AP) — U.S. House Speaker Nancy Pelosi arrived in Taiwan on Tuesday night, becoming the highest-ranking American official to visit the self-ruled island that is claimed by China in 25 years.
Pelosi's visit has triggered increased tensions between China and the United States. China claims Taiwan as part of its territory, to be annexed by force if necessary, and views visits by foreign government officials as recognition of the island's sovereignty.
China had warned of "resolute and strong measures" if Pelosi went ahead with the trip. The Biden administration did not explicitly urge her to call it off, while seeking to assure Beijing it would not signal any change in U.S. policy on Taiwan.
THIS IS A BREAKING NEWS UPDATE. AP's earlier story follows below.
TAIPEI, Taiwan (AP) — U.S. House Speaker Nancy Pelosi was believed headed for Taiwan on Tuesday on a visit that could significantly escalate tensions with Beijing, which claims the self-ruled island as its own territory.
Pelosi is on an Asian tour this week that is being closely watched to see if she will defy China's warnings against visiting the island republic, a close U.S. ally.
China has vowed to retaliate if Pelosi becomes the highest U.S. elected official to visit Taiwan in more than 25 years, but has given no details. Speculation has centered on threatening military exercises and possible incursions by Chinese planes and ships into areas under Taiwanese control.
Chinese Foreign Minister Wang Yi said Washington's betrayal "on the Taiwan issue is bankrupting its national credibility."
"Some American politicians are playing with fire on the issue of Taiwan," Wang said in a statement. "This will definitely not have a good outcome … the exposure of America's bullying face again shows it as the world's biggest saboteur of peace."
A plane carrying Pelosi and her delegation left Malaysia on Tuesday after a brief stop that included a working lunch with Prime Minister Ismail Sabri Yaakob. Local media in Taiwan reported that Pelosi would arrive on Tuesday night. The United Daily News, Liberty Times and China Times — Taiwan's three largest national newspapers — cited unidentified sources as saying she would spend the night in Taiwan.
Taiwan's Foreign Ministry declined to comment. Premier Su Tseng-chang didn't explicitly confirm Pelosi's visit, but said Tuesday that "any foreign guests and friendly lawmakers" are "very much welcome."
Barricades were erected outside the Grand Hyatt Hotel in Taipei where Pelosi was expected to stay amid heightened security. Two buildings in the capital lit up LED displays with words of welcome, including the iconic Taipei 101 building, which said "Welcome to Taiwan, Speaker Pelosi."
China, which regards Taiwan as a renegade province to be annexed by force if necessary, has repeatedly warned of retaliation if Pelosi visits, saying its military will "never sit idly by."
"The U.S. and Taiwan have colluded to make provocations first, and China has only been compelled to act out of self-defense," Chinese Foreign Ministry spokesperson Hua Chunying told reporters Tuesday in Beijing.
Hua said China has been in constant communication with the U.S. and made clear "how dangerous it would be if the visit actually happens." Any countermeasures China take will be "justified and necessary" in the face of Washington's "unscrupulous behavior," she said.
Shortly before Pelosi was due to arrive, Chinese state media said Chinese SU-35 fighter jets were "crossing" the Taiwan Strait, the body of water that separates mainland China and Taiwan. It wasn't immediately clear where they were headed or what they planned to do.
Unspecified hackers launched a cyberattack on the Taiwanese Presidential Office's website, making it temporarily unavailable Tuesday evening. The Presidential Office said the website was restored shortly after the attack, which overwhelmed it with traffic.
"China thinks by launching a multi-domain pressure campaign against Taiwan, the people of Taiwan will be be intimidated. But they are wrong," Wang Ting-yu, a legislator with the Democratic Progressive Party, said on Twitter in response to the attack.
China's military threats have driven concerns of a new crisis in the 100-mile (140-kilometer) -wide Taiwan Strait that could roil global markets and supply chains.
The White House on Monday decried Beijing's rhetoric, saying the U.S. has no interest in deepening tensions with China and "will not take the bait or engage in saber rattling."
White House National Security Council spokesperson John Kirby underscored that the decision whether to visit Taiwan was ultimately Pelosi's. He noted that members of Congress have routinely visited the island over the years.
Kirby said administration officials are concerned that Beijing could use the visit as an excuse to take provocative retaliatory steps, including military action such as firing missiles in the Taiwan Strait or around Taiwan, or flying sorties into the island's airspace and carrying out large-scale naval exercises in the strait.
"Put simply, there is no reason for Beijing to turn a potential visit consistent with long-standing U.S. policy into some sort of crisis or use it as a pretext to increase aggressive military activity in or around the Taiwan Strait," Kirby said.
U.S. officials have said the U.S. military would increase its movement of forces and assets in the Indo-Pacific region if Pelosi visits Taiwan. U.S. Navy aircraft carrier USS Ronald Reagan and its strike group were in the Philippine Sea on Monday, according to officials who spoke on condition of anonymity to discuss military operations.
The Reagan, the cruiser USS Antietam and the destroyer USS Higgins left Singapore after a port visit and moved north to their homeport in Japan. The carrier has an array of aircraft, including F/A-18 fighter jets and helicopters, on board as well as sophisticated radar systems and other weapons.
Taiwan and China split in 1949 after the Communists won a civil war on the mainland. The U.S. maintains informal relations and defense ties with Taiwan even as it recognizes Beijing as the government of China.
Beijing sees official American contact with Taiwan as encouragement to make the island's decades-old de facto independence permanent, a step U.S. leaders say they don't support. Pelosi, head of one of three branches of the U.S. government, would be the highest-ranking elected American official to visit Taiwan since then-Speaker Newt Gingrich in 1997.
The flight tracking site Flightradar24 said Pelosi's aircraft, a U.S. Air Force Boeing C-40C, was the most tracked in the world on Tuesday evening with 300,000 viewers. The plane took a roundabout route, flying east over Indonesia rather than directly over the South China Sea.
Pelosi has used her position in the U.S. Congress as an emissary for the U.S. on the global stage. She has long challenged China on human rights, including in 2009 when she hand-delivered a letter to then-President Hu Jintao calling for the release of political prisoners. She had sought to visit Taiwan's island democracy earlier this year before testing positive for COVID-19.
Pelosi kicked off her Asian tour in Singapore on Monday as her possible visit to Taiwan sparked jitters in the region.
Singapore Prime Minister Lee Hsien Loong "highlighted the importance of stable U.S.-China relations for regional peace and security" during talks with Pelosi, the city-state's Foreign Ministry said. This was echoed by Japanese Foreign Minister Yoshimasa Hayashi in Tokyo, who said stable ties between the two rival powers "are extremely important for the international community as well."
The Philippines urged the U.S. and China to be "responsible actors" in the region. "It is important for the U.S. and China to ensure continuing communication to avoid any miscalculation and further escalation of tensions," said Foreign Affairs spokesperson Teresita Daza.
China has been steadily ratcheting up diplomatic and military pressure on Taiwan. China cut off all contact with Taiwan's government in 2016 after President Tsai Ing-wen refused to endorse its claim that the island and mainland together make up a single Chinese nation, with the Communist regime in Beijing being the sole legitimate government.
Pelosi is to travel to Japan and South Korea later this week.
___
Ng reported from Kuala Lumpur, Malaysia. Associated Press journalists Jim Gomez in Manila, Philippines, and Mari Yamaguchi in Tokyo contributed to this report.
WHO decides the COVID-19 global emergency isn't over
The World Health Organization decided Monday not to declare an end to the COVID-19 global public health emergency.
Tedros Adhanom Ghebreyesus, the director-general of the international body, said Monday "there is no doubt that we're in a far better situation now" than a year ago, when the highly transmissible Omicron variant was at its peak.
But Tedros warned that in the last eight weeks, at least 170,000 people have died around the world in connection with the SARS-CoV-2 virus. He called for at-risk groups to be fully vaccinated, an increase in testing and early use of antivirals, an expansion of lab networks, and a fight against "misinformation" about the pandemic.
"We remain hopeful that in the coming year, the world will transition to a new phase in which we reduce hospitalizations and deaths to the lowest possible level," he said.
What would it mean if the WHO had decided to lift that designation?
By declaring a global emergency, the WHO essentially sounded the alarm on a serious worldwide health risk that required international co-operation.
It triggered a legally binding response among WHO member countries, including Canada, and allowed the organization to make temporary recommendations to those countries to prevent or deal with the threat.
Over the last few years those recommendations have included quarantining infected people and their close contacts and border testing and closures.
The formal designation was made on Jan. 30, 2020, when 99 per cent of confirmed COVID-19 cases were still restricted to China.
Even if that designation is lifted, it doesn't mean the pandemic is over or that the threat has ended.
Why was the WHO considering it now?
Monday marks three years to the day since Tedros first declared the then little-understood coronavirus a global health emergency.
Since then, a committee of global experts has met every three months to offer advice on whether the pandemic still meets that definition.
"As we enter the fourth year of the pandemic, we are certainly in a much better position now than we were a year ago when the Omicron wave was at its peak and more than 70 thousand deaths were being reported to WHO each week," Tedros told the committee Friday.
At the previous meeting in October, he said weekly reported COVID-19 deaths had nearly reached their lowest levels since the beginning of the pandemic.
On Friday though, Tedros appeared to caution the committee against being too optimistic.
He said the number of weekly deaths had been rising since early December, particularly since public health restrictions were lifted in China.
"In total, over the past eight weeks, more than 170,000 deaths have been reported. The actual number is certainly much higher," he said.
He also reminded the experts the pandemic response remains "hobbled" in countries without COVID-19 vaccines and therapeutics.
Even in countries with such tools at their disposal, public trust in those life-saving medicines has been undermined by disinformation campaigns, health systems remain overwhelmed because of staff shortages, and COVID-19 surveillance efforts have been massively scaled down.
What will Canada do differently once the WHO declares the emergency over?
Nothing much. At a press conference Friday, Canada's chief public health officer Dr. Theresa Tam said no matter what the WHO decided, Canada would continue to track cases, serious illnesses and deaths, as well as roll out vaccination campaigns.
Cases, hospitalizations and deaths associated with the virus spiked noticeably over Christmas and in early January, Tam said, but all now appear to be trending down.
"We mustn't, I think, let go of the gains that we've had in the last several years," she said.
"I think whatever the decision is made by the director-general of WHO, I think we just need to keep going with what we're doing now."
Whose decision was it not to end the emergency?
The final call was ultimately up to Tedros, but he was informed by the advice of the emergency committee.
The group, first struck in 2020 when the threat of COVID-19 first came to light, voted Friday on whether or not to maintain the formal emergency designation.
When will the pandemic finally be over?
It's still difficult to say because COVID-19 is still spreading rampantly around the world.
The WHO declared COVID-19 a pandemic a month and a half after designating it a global emergency, and at the time Tedros took pains to explain the two classifications are not one and the same.
"Describing the situation as a pandemic does not change WHO's assessment of the threat posed by this virus. It doesn't change what WHO is doing, and it doesn't change what countries should do," Tedros said on March 11, 2020.
Last fall he declared the end of the pandemic was "in sight," but it is difficult to say when it will fully come into view.
This report by The Canadian Press was first published Jan. 30, 2023.
— With files from The Associated Press.
British health researcher says authorities in Canada, US, and UK are doing nothing about thousands of excess deaths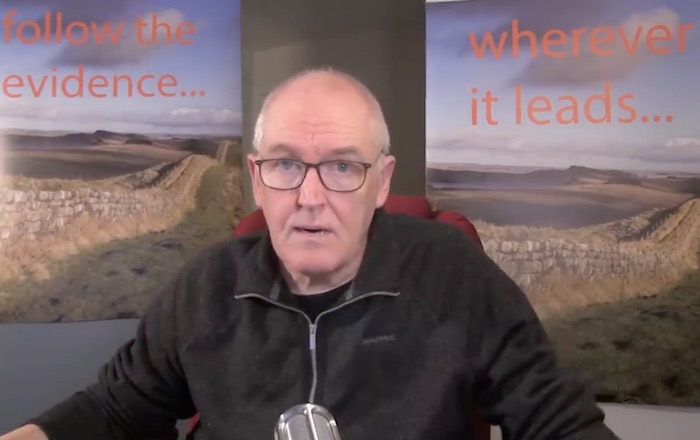 About six months ago, the Province of Alberta's annual cause of deaths statistics briefly made headlines around the world. For the first time "unknown causes of mortality" was the leading cause of death in the province. Just a few years earlier, "unknown causes" wasn't even on the top ten list.
Province of Alberta Cause of Death Statistics 2021
An Alberta taxpayer might expect the province to call an inquiry into this shocking development to see if there's not some way to protect the lives of thousands of Albertans. So far this has not happened.
Now similar shocking statistics are starting to emerge nationally and around the world. British health researcher John Campbell has looked at the data coming from Canada, Britain, the US and Australia among other nations. He's noticed a very significant and distressing increase in "excess deaths". The number of excess deaths is quickly adding up to the hundreds of thousands. Of course some of these deaths can be attributed to COVID-19, but the vast majority are not.
In this video, Dr. Campbell reveals the data he's found and offers some pointed criticism to our political leaders. Canada is singled out as "quite pathetic" for not even sharing cause death statistics after August of 2022. Campbell says "I think we're in somewhat of an international emergency not being responded to as I would like by our governments in any way, shape, or form. In fact they seem to be ignoring it. As indeed do most of the mainstream media."
"This demands an explanation. And we're not getting one."
From Dr. John Campbell – British health researcher / instructor
Excess deaths in 30 countries
Dr. Campbell's presentation notes including links to information sources
US, Weekly Cumulative All-Cause Excess Deaths
https://www.usmortality.com/deaths/ex…
Excess deaths 2022 (Up to December 1st) 242,224
https://www150.statcan.gc.ca/n1/pub/7…
https://www23.statcan.gc.ca/imdb/p2SV…
Australian Bureau of Statistics
Provisional Mortality Statistics
Reference period, Jan – Sep 2022
144,650 deaths that occurred by 30 September 19,986 (16.0%) more than the historical average.
Deaths attributed to covid, 8,160
October covid deaths, 232
Australia, September 2022 13,675 deaths (doctor certified) 1,814 were coroner referred.
UK, ONS https://www.ons.gov.uk/peoplepopulati…
UK Prevalence
2.61% in England (1 in 40 people)
3.94% in Wales (1 in 25 people)
4.22% in Northern Ireland (1 in 25 people)
3.26% in Scotland (1 in 30 people)
Deaths and excess deaths
(W/E week 13th January 2023)
A total of 19,916 deaths were registered in the UK
20.4% above the five-year average.
Covid UK deaths
1,059 deaths involving COVID-19 registered (up 842 on the week)
Deaths involving COVID-19 accounted for 5.3% of all deaths UK,
Office for Health Improvement https://www.gov.uk/government/statist…
Excess deaths in all age groups, (0 to 24 years) UK,
Institute and Faculty of Actuaries https://actuaries.org.uk/news-and-med…
Mortality rates in 2022 compare to 2019 at different ages 2022,
mortality, 7.8% higher for ages 20-44
In the UK, the second half of 2022
26,300 excess deaths, compared to 4,700 in the first half of 2022 Europe,
EuroMOMO,
Bulletin week 2 2023 https://www.euromomo.eu
Pooled EuroMOMO, all-cause mortalit
Elevated level of excess mortality, overall and in all age groups.
Data from 25 European countries or subnational regions
Average levels from pre 2020 https://www.health.govt.nz/nz-health-… https://www.stats.govt.nz/topics/birt…
Year ended September 2021,
total of 34,578 deaths Year ended September 2022, total of 38,052 deaths