US hospitals seeing different kind of COVID surge this time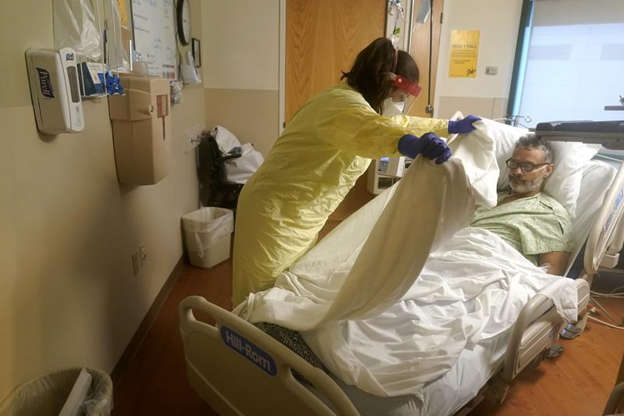 Hospitals across the U.S. are feeling the wrath of the omicron variant and getting thrown into disarray that is different from earlier COVID-19 surges.
This time, they are dealing with serious staff shortages because so many health care workers are getting sick with the fast-spreading variant. People are showing up at emergency rooms in large numbers in hopes of getting tested for COVID-19, putting more strain on the system. And a surprising share of patients — two-thirds in some places — are testing positive while in the hospital for other reasons.
At the same time, hospitals say the patients aren't as sick as those who came in during the last surge. Intensive care units aren't as full, and ventilators aren't needed as much as they were before.
The pressures are neverthless prompting hospitals to scale back non-emergency surgeries and close wards, while National Guard troops have been sent in in several states to help at medical centers and testing sites.
Nearly two years into the pandemic, frustration and exhaustion are running high among health care workers.
"This is getting very tiring, and I'm being very polite in saying that," said Dr. Robert Glasgow of University of Utah Health, which has hundreds of workers out sick or in isolation.
About 85,000 Americans are in the hospital with COVID-19, just short of the delta-surge peak of about 94,000 in early September, according to the Centers for Disease Control and Prevention. The all-time high during the pandemic was about 125,000 in January of last year.
But the hospitalization numbers do not tell the whole story. Some cases in the official count involve COVID-19 infections that weren't what put the patients in the hospital in the first place.
Dr. Fritz François, chief of hospital operations at NYU Langone Health in New York City, said about 65% of patients admitted to that system with COVID-19 recently were primarily hospitalized for something else and were incidentally found to have the virus.
At two large Seattle hospitals over the past two weeks, three-quarters of the 64 patients testing positive for the coronavirus were admitted with a primary diagnosis other than COVID-19.
Joanne Spetz, associate director of research at the Healthforce Center at the University of California, San Francisco, said the rising number of cases like that is both good and bad.
The lack of symptoms shows vaccines, boosters and natural immunity from prior infections are working, she said. The bad news is that the numbers mean the coronavirus is spreading rapidly, and some percentage of those people will wind up needing hospitalization.
This week, 36% of California hospitals reported critical staffing shortages. And 40% are expecting such shortages.
Some hospitals are reporting as much as one quarter of their staff out for virus-related reasons, said Kiyomi Burchill, the California Hospital Association's vice president for policy and leader on pandemic matters.
In response, hospitals are turning to temporary staffing agencies or transferring patients out.
University of Utah Health plans to keep more than 50 beds open because it doesn't have enough nurses. It is also rescheduling surgeries that aren't urgent. In Florida, a hospital temporarily closed its maternity ward because of staff shortages.
In Alabama, where most of the population is unvaccinated, UAB Health in Birmingham put out an urgent request for people to go elsewhere for COVID-19 tests or minor symptoms and stay home for all but true emergencies. Treatment rooms were so crowded that some patients had to be evaluated in hallways and closets.
As of Monday, New York state had just over 10,000 people in the hospital with COVID-19, including 5,500 in New York City. That's the most in either the city or state since the disastrous spring of 2020.
New York City hospital officials, though, reported that things haven't become dire. Generally, the patients aren't as sick as they were back then. Of the patients hospitalized in New York City, around 600 were in ICU beds.
"We're not even halfway to what we were in April 2020," said Dr. David Battinelli, the physician-in-chief for Northwell Health, New York state's largest hospital system.
Similarly, in Washington state, the number of COVID-19-infected people on ventilators increased over the past two weeks, but the share of patients needing such equipment dropped.
In South Carolina, which is seeing unprecedented numbers of new cases and a sharp rise in hospitalizations, Gov. Henry McMaster took note of the seemingly less-serious variant and said: "There's no need to panic. Be calm. Be happy."
Amid the omicron-triggered surge in demand for COVID-19 testing across the U.S., New York City's Fire Department is asking people not to call for ambulance just because they are having trouble finding a test.
In Ohio, Gov. Mike DeWine announced new or expanded testing sites in nine cities to steer test-seekers away from ERs. About 300 National Guard members are being sent to help out at those centers.
In Connecticut, many ER patients are in beds in hallways, and nurses are often working double shifts because of staffing shortages, said Sherri Dayton, a nurse at the Backus Plainfield Emergency Care Center. Many emergency rooms have hours-long waiting times, she said.
"We are drowning. We are exhausted," Dayton said.
Doctors and nurses are complaining about burnout and a sense their neighbors are no longer treating the pandemic as a crisis, despite day after day of record COVID-19 cases.
"In the past, we didn't have the vaccine, so it was us all hands together, all the support. But that support has kind of dwindled from the community, and people seem to be moving on without us," said Rachel Chamberlin, a nurse at New Hampshire's Dartmouth-Hitchcock Medical Center.
Edward Merrens, chief clinical officer at Dartmouth-Hitchcock Health, said more than 85% of the hospitalized COVID-19 patients were unvaccinated.
Several patients in the hospital's COVID-19 ICU unit were on ventilators, a breathing tube down their throats. In one room, staff members made preparations for what they feared would be the final family visit for a dying patient.
One of the unvaccinated was Fred Rutherford, a 55-year-old from Claremont, New Hampshire. His son carried him out of the house when he became sick and took him to the hospital, where he needed a breathing tube for a while and feared he might die.
If he returns home, he said, he promises to get vaccinated and tell others to do so too.
"I probably thought I was immortal, that I was tough," Rutherford said, speaking from his hospital bed behind a window, his voice weak and shaky.
But he added: "I will do anything I can to be the voice of people that don't understand you've got to get vaccinated. You've got to get it done to protect each other."
___
Casey reported from Boston and Thompson from Sacramento. Associated Press writers Terry Tang and Bobby Calvan in New York City contributed to this report.
Rodrique Ngowi, Michael Casey And Don Thompson, The Associated Press
Brooks Robinson, Orioles third baseman with 16 Gold Gloves, has died. He was 86
BALTIMORE (AP) — Hall of Fame third baseman Brooks Robinson, whose deft glovework and folksy manner made him one of the most beloved and accomplished athletes in Baltimore history, has died. He was 86.
The Orioles announced his death in a joint statement with Robinson's family Tuesday. The statement did not say how Robinson died.
Coming of age before the free agent era, Robinson spent his entire 23-year career with the Orioles. He almost single-handedly helped Baltimore defeat Cincinnati in the 1970 World Series and homered in Game 1 of the Orioles' 1966 sweep of the Los Angeles Dodgers for their first crown.
Robinson participated in 18 All-Star Games, won 16 consecutive Gold Gloves and earned the 1964 AL Most Valuable Player award after batting .318 with 28 home runs and a league-leading 118 RBIs.
"An integral part of our Orioles Family since 1955, he will continue to leave a lasting impact on our club, our community, and the sport of baseball," the team said.
He finished with 268 homers, drove in 1,357 runs and batted a respectable .267 in 2,896 career games. Not bad for ol' No. 5, the boy from Arkansas.
But he will be forever remembered for his work ethic and the skill he displayed at the hot corner, where he established himself as one of the finest fielding third baseman in baseball history, whether charging slow rollers or snaring liners down the third-base line.
"Brooks was maybe the last guy to get into the clubhouse the day of the game, but he would be the first guy on the field," former Orioles manager Earl Weaver said. "He'd be taking his groundballs, and we'd all go, 'Why does Brooks have to take any groundballs?'
"I wouldn't expect anything else from Brooks. Seeing him work like that meant a lot of any young person coming up. He was so steady, and he steadied everybody else."
Robinson arrived in Baltimore in September 1955 as an 18-year-old after spending most of his first professional season in baseball with Class B York. He went 2 for 22 with the Orioles and struck out 10 times.
He jockeyed between the majors and minors until July 1959, when he stuck around in Baltimore for good.
Brooks Calbert Robinson Jr. was born in Little Rock on May 18, 1937. He eventually made Baltimore his home but never really lost his southern twang, which was just fine with fans in blue-collar Baltimore, who appreciated his homespun charm and unassuming demeanor.
Dubbed "Mr. Oriole," he was a sports hero in Charm City, in the pantheon with former Colts quarterback Johnny Unitas and Orioles infielder Cal Ripken, who performed for a different generation.
Many Orioles rooters who never got to see Robinson play still were able to enjoy his observations as he was part of team broadcasts.
Ripken was known as The Iron Man because he played in 2,632 consecutive games, but Robinson wasn't fond of sitting on the bench, either. From 1960-1975, he played in at least 152 games in 14 seasons and in 144 games the other two years.
"I'm a guy who just wanted to see his name in the lineup everyday," he said. "To me, baseball was a passion to the point of obsession."
Robinson retired in 1977 after batting only .149 in 24 games. His jersey was retired that year.
Robinson's most memorable performance came as MVP of the 1970 World Series, when the Orioles bounced back from their stunning defeat to the New York Mets the year before and Robinson redeemed himself after batting just 1 for 19 in that series. Because he was so sensational in the field during Baltimore's five-game triumph over the Reds, few remember he hit .429 and homered twice and drove in six runs — or that he made an error on his first play in the field.
In Game 1, Robinson delivered the tiebreaking home run in the seventh inning. One inning earlier, he made a sensational backhanded grab of a hard grounder hit down the line by Lee May, spun around in foul territory and somehow threw out the runner.
Robinson contributed an RBI single in the second game and became forever a part of World Series lore with his standout performance in Game 3. He made a tremendous, leaping grab of a grounder by Tony Perez to start a first-inning double play; charged a slow roller in the second inning and threw out Tommy Helms; then capped his memorable afternoon with a diving catch of a liner by Johnny Bench. The Series ended, fittingly, with a ground out to Robinson in Game 5, a 9-3 Orioles win.
"I'm beginning to see Brooks in my sleep," Reds manager Sparky Anderson said during the Series. "If I dropped this paper plate, he'd pick it up on one hop and throw me out at first."
Anderson also said, "He can throw his glove out there and it will start 10 double plays by itself."
Jim Palmer and other teammates would say that the country got to see what Robinson did routinely during the regular season. Robinson used to blush when asked to recall his heroics in October 1970.
"I tell people that I played 23 seasons and I never did have five games in a row like I did in that World Series," he said. "It was a once in a lifetime five-game series for me, and it just happened to be in a World Series."
His legacy in Maryland continued long after his retirement.
There's a Brooks Robinson Drive in Pikesville, and the annual state high school All-Star game played at Camden Yards is named in his honor.
___
AP Baseball: https://apnews.com/hub/MLB
David Ginsburg, The Associated Press
After briefing on intel, Singh says 'clear evidence' India involved in B.C. killing
New Democratic Party leader Jagmeet Singh speaks with the media on Parliament Hill, Tuesday, September 26, 2023 in Ottawa. THE CANADIAN PRESS/Adrian Wyld
By Stephanie Taylor in Ottawa
Federal NDP Leader Jagmeet Singh said Tuesday he received an intelligence briefing about allegations that the Indian government could be behind the killing of a Sikh gurdwara leader in British Columbia.
"I can confirm what the prime minister has shared publicly: that there is clear intelligence that Canada has that lays out the following case that a Canadian citizen was killed on Canadian soil and a foreign government was involved," Singh told reporters in Ottawa on Tuesday.
"That intelligence is something that I think is very credible."
Prime Minister Justin Trudeau told the House of Commons Sept. 18 about "credible allegations" that the Indian government was involved in the June death of Hardeep Singh Nijjar in Surrey, B.C.
The well-known activist belonged to a movement that advocated for the creation of an independent Sikh state in India's Punjab province. India's government had labelled him a terrorist but has denied any involvement in his killing, calling the allegations by Trudeau "absurd and motivated."
The extraordinary allegation has worsened already rocky relations between India and Canada. India's government has accused Canada of not providing evidence to back up its claim, while Trudeau and other other ministers have called on India to co-operate with investigations.
Singh said Trudeau first told him and Conservative Leader Pierre Poilievre about the allegations against India before sharing them publicly. Three days later, Singh received a briefing from Trudeau's national security adviser, Jody Thomas.
Singh told reporters Tuesday that he was able to request the briefing on the matter because of the top-secret security clearance he obtained to review foreign-interference materials prepared by former governor general David Johnston, who had been named as a special rapporteur to explore that issue. Johnston has resigned from that role.
The former governor general's report had concluded that Trudeau's government did not knowingly or negligently fail to act on foreign attempts to interfere in the last two federal elections.
He had also recommended against calling a public inquiry into the issue. The Liberal government ended up tapping Quebec Court of Appeal Justice Marie-Josée Hogue to lead one earlier this month after months of outcry from, and discussions with, opposition parties.
Singh said that after reviewing the confidential material he had access to from Johnston, he agrees a public inquiry into foreign interference is necessary.
Poilievre has so far rejected getting the clearance needed to review the top-secret annex from Johnston's earlier report.
Poilievre said Tuesday that he was offered a briefing similar to one B.C. Premier David Eby received on the matter.
He said he doesn't believe the briefing will offer any more substantial details on the allegation and would only force him to be tight-lipped about whatever he learned.
The Conservative leader has called on Trudeau to "come clean" about the evidence behind the allegation against India, saying Canadians deserve more facts.
Singh said Tuesday he does not support that call.
"They're matters of national security and so information cannot be released beyond the general statements that were released," he said.
"There's going to be a next step in the investigation and a prosecution and then information will be made public in an appropriate manner. … To do it early would jeopardize the investigation."
A Canadian official told The Associated Press that the allegation of India's involvement is based on surveillance of Indian diplomats in Canada, including intelligence provided by a major ally.
The official said the communications involved Indian government officials and Indian diplomats in Canada and that some of the intelligence was provided by a member of the "Five Eyes" intelligence-sharing alliance — Canada, the U.S., Britain, Australia and New Zealand.
The official did not say which ally provided the intelligence or give any details of the communications or how they were obtained. The official spoke on condition of anonymity because they weren't authorized to discuss the matter publicly.
In an interview with CTV's Question Period that aired on Sunday, David Cohen, the U.S. ambassador to Canada, confirmed "there was shared intelligence among Five Eyes partners that helped lead Canada to making the statements that the prime minister made."
He said he does not generally comment on "private diplomatic conversations," but added: "There was a lot of communication between Canada and the United States about this, and I think that's as far as I'm comfortable going."
This report by The Canadian Press was first published Sept. 26, 2023.
— With files from James McCarten in Washington and The Associated Press.