'Unthinkable and horrific:' 2 Edmonton police constables shot on job, suspect dead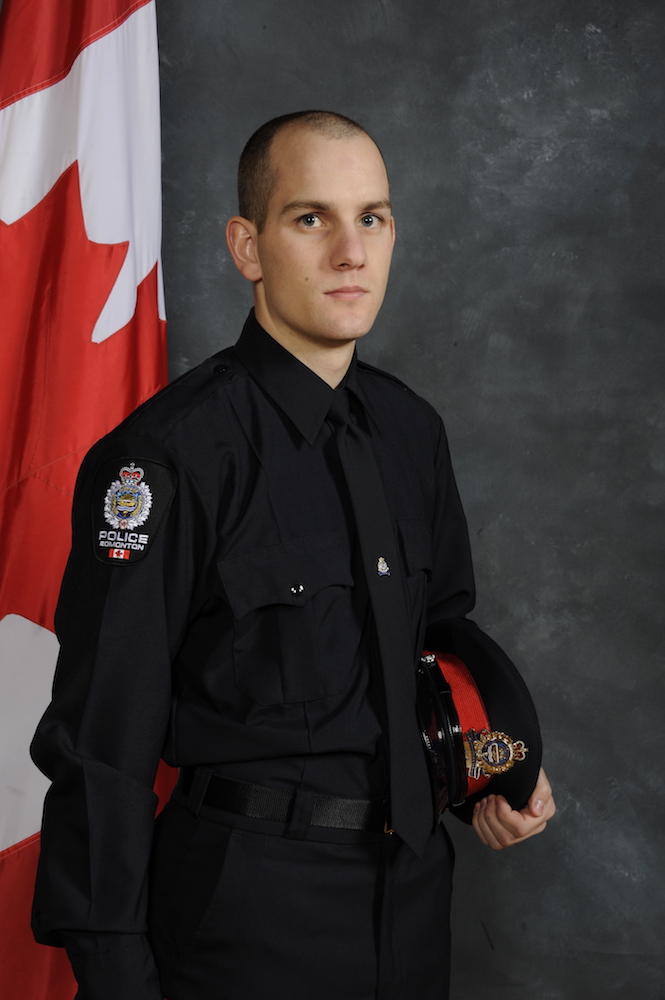 Const. Travis Jordan
By Angela Amato in Edmonton
Officers embraced each other and wiped away tears Thursday as Edmonton's police chief relayed details of how two constables were shot and killed at an apartment complex while responding to a domestic violence call.
"Today, the Edmonton Police Service has been marked by an unthinkable and horrific tragedy as two of our members have died in the line of duty," Chief Dale McFee told a packed and solemn news conference at police headquarters.
A young man considered a suspect in the shootings was killed by a self-inflicted gunshot wound, McFee said.
He identified the officers who died as Const. Travis Jordan, 35, an 8 1/2-year veteran with the Edmonton force, and Const. Brett Ryan, 30, who had been with the service for 5 1/2 years.
McFee said the officers were called shortly before 1 a.m. to a family dispute at an apartment building in northwest Edmonton, part of a large red-brick complex of three-storey walkups.
"The two patrol members went inside the building, approached the suite and were shot by a male subject," McFee said. "All indications are they did not have a chance to discharge their firearms."
The officers were rushed to hospital by colleagues who worked to keep them alive, said McFee. They were declared dead at hospital.
A woman was also taken to hospital with life-threatening injuries, where she remains in serious but stable condition.
McFee said there was no remaining threat to the community.
He said the police force is devastated by the deaths of the officers. "We know their family, their friends, their EPS family and the entire community will be profoundly impacted by this incident.
"We must all be there for each other. This is a time where we lean in and lean on each other."
McFee said supports are being offered to the officers' families and colleagues.
The atrium where McFee spoke was packed with more than 100 officers and police staff. Members held and patted each other.
Mike Ellis, Alberta's minister of public safety and a former police officer, was visibly shaken as he spoke at the news conference.
"Every day, police officers across Alberta put their uniforms on and they protect and serve their communities. The sudden and tragic death of these two Edmonton Police Service officers reminds us again of the dangers the police officers face on a daily basis."
Edmonton Mayor Amarjeet Sohi also spoke.
"Every day families of the police officers send their loved ones off to duty, to work, and hope they return home safely. This did not happen today for Ryan's and Jordan's families.
"When you see an officer working to keep you safe, please thank them for their service."
About a dozen police cars and a forensics truck were parked near the apartment complex. The scene was taped off and a road leading into the area was also blocked.
Police services in Calgary, Vancouver, the Greater Toronto Area and Halifax were among those expressing condolences on social media.
"This is a tragic loss and one that is shared among law enforcement including our team. We are here to offer our support to (Edmonton police) as well during a devastating time," Calgary deputy police chief Chad Tawfik wrote on Twitter.
Alberta Premier Danielle Smith offered condolences from the provincial government.
"Alberta would not be the great province it is today without the support of the courageous men and women who patrol our streets every day to keep our communities protected," she said in a statement.
Prime Minister Justin Trudeau also posted a message on Twitter.
"Every day, police officers put themselves in harm's way to keep people safe," he wrote.
"The news that two Edmonton police officers have been killed in the line of duty reminds us of that reality. I'm sending my condolences to the officers' loved ones and colleagues — we're here for you."
Thursday's killings are the first among the Edmonton Police Service since 2015.
Const. Daniel Woodall, a hate crimes investigator, was using a battering ram to enter a home when he was shot numerous times through a door. Another officer was struck by a round that penetrated his body armour and he survived.
In 1990, Const. Ezio Faraone was shot and killed responding to an armed robbery.
This report by The Canadian Press was first published March 16, 2023.
— With files from Ritika Dubey, Jeremy Simes and Bob Weber in Edmonton.
Lawyer tells Alberta's highest court review board biased in de Grood's case
A family member of five slain students holds a heart sign with their names on it following a court decision in Calgary, Alta., Wednesday, May 25, 2016. Alberta's highest court is being asked to overturn a review board decision on the stabbing deaths of five young people at a Calgary house party that confined a man to a supervised Edmonton group home. THE CANADIAN PRESS/Jeff McIntosh
By Ritika Dubey in Edmonton
Alberta's highest court is being asked to overturn a review board decision that confined a man to a supervised Edmonton group home after the stabbing deaths of five young people at a Calgary house party.
The lawyer representing Matthew de Grood argued Wednesday the review board's decision was biased, citing what she described as political interference from Alberta's former justice minister.
"The appellant says, 'I think the conclusion about me is wrong. The board's conclusion is incorrect and not supported by evidence,"' Jacqueline Petrie said before the Alberta Court of Appeal. "He says there's no significant evidence that he's a risk."
De Grood, 31, was found not criminally responsible in 2016 for the killings two years earlier of Zackariah Rathwell, Jordan Segura, Kaitlin Perras, Josh Hunter and Lawrence Hong because he was suffering from schizophrenia at the time. Petrie said de Grood has been stable on medication, is at low risk to reoffend and should be allowed to live with his parents while being monitored under a full warrant.
She argued the review board misunderstood medical evidence during the September 2022 review, which deemed de Grood a significant risk despite the assessment showing improvements. She said the board is supposed to recommend the least onerous disposition compatible with public safety and did not do that for de Grood.
The defence lawyer has said the review had been influenced by former justice minister Doug Schweitzer, who weighed in on de Grood's case in October 2019 after the panel allowed de Grood to transition from institutional care to a supervised group home.
He has been under supervision at a group home. His case is reviewed by the Alberta Review Board yearly to see whether he can transition back into the community while maintaining public safety.
Petrie pointed at de Grood's "exemplary record," and that he has been "compliant to the (medical) treatment team."
"Nobody knew he had schizophrenia (at the time of the stabbings) and needed medication."
Crown prosecutor Matthew Griener said the board considered a conditional discharge but dismissed it, citing a relapse in schizophrenia symptoms in 2021.
Griener said de Grood's relapses were brief and happened at the hospital, providing an early window for medical professionals to intervene.
Justice Kevin Feehan said de Grood may be low-risk, but the consequences of even one relapse could be significant.
Reading from an expert's report, Feehan said: "A low risk to offend doesn't mean the reoffence would not be severe."
Some family members of the victims drove from Calgary for the hearing.
Segura's mother, Patty, said the last nine years have been about de Grood and his rights.
"He should be thankful that he ended up NCR (not criminally responsible) rather than end(ing) with five life sentences for murdering five people," she said. "He should not be appealing."
Hunter's father, Barclay, opposed a potential full release.
"The idea that he wouldn't be monitored for the rest of his life seems to defy logic, it doesn't make any sense," said the father.
Hunter's mother, Kelly, said the family has had "no healing."
"We do this every year, at least once. Now, this is the second appeal," she said. Barclay
Hunter said although there are attempts to reintegrate de Grood into society, he hopes the man is not left on his own with an absolute discharge.
"Regardless of what they say, he killed five people. If that doesn't stand on its own as a risk factor, then I don't know what does."
This report by The Canadian Press was first published June 7, 2023.
—
Michael White, convicted of killing pregnant wife, gets full parole
Homicide detective Michael Campeau prepares to hold a press conference to discusses the arrest of Michael White at police headquarters in Edmonton, Tuesday, July 19, 2005. The Parole Board of Canada says Michael White, convicted of killing his pregnant wife and dumping her body in a ditch 17 years ago, was granted full parole following a review of his case. THE CANADIAN PRESS/Jason Scott
By Kiernan Green in Toronto
An Edmonton man convicted of killing his pregnant wife and dumping her body in a ditch has been granted full parole.
The Parole Board of Canada granted Michael White full parole in late May.
"Given your assessed low risk, employment stability and your demonstrated abilities to live a law-abiding lifestyle the board does not find that your risk would be undue on an expanded form of conditional release," the board said in a written decision.
"Therefore, full parole is granted."
White was convicted in 2006 of second-degree murder and offering an indignity to a dead body in the death of his wife.
Liana White was four months pregnant with the couple's second child when she was fatally stabbed in July 2005. Her body was found in a ditch a few days later by a search party that included her husband.
The parole board noted that Michael White had disposed of his wife's body and "cleaned up" evidence from his crime. A judge described White's offence as "the most reprehensible and extreme form of domestic violence," the board wrote.
White was sentenced to life in prison with no chance of parole for 17 years. His appeal of his convictions was rejected by Alberta's highest court.
The parole board noted that White continues to maintain his innocence.
"Your stance of innocence has prevented you from possible insight," it wrote, adding that White's case management team felt he demonstrated a "good deal of accountability and victim empathy," as best as he could.
Conditions of White's full parole include that he have no contact with Liana White's family unless they request it and that he report any changes in his current relationship with his fiancée and any new relationships with women.
Michael White was granted day parole from Beaver Creek Institution in Gravenhurst, Ont., in February 2021, which was extended several times.
He has been taking extended weekend passes at a condo with his fiancee, "with no concerns noted" and started a new job in January that allows him to work on a variety of heavy equipment, the parole board said.
White plans to remarry and to travel, the board said.
"Your fiancée is considered a positive collateral contact and aware of your offending and release conditions," it wrote. "You maintain support in the community from some friends and family."
This report by The Canadian Press was first published June 6, 2023.
———