Underdogs once again, Canadiens face tough test against top-ranked Golden Knights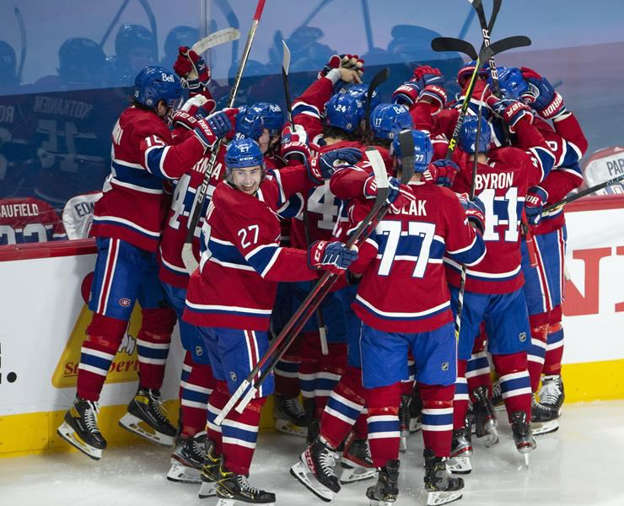 LAS VEGAS — A difficult challenge awaits the Montreal Canadiens tonight as they enter their Stanley Cup semifinal as underdogs against the host Vegas Golden Knights.
The top-ranked Golden Knights won an NHL-best 40 games in the shortened 56-game regular season and tied Colorado for the highest point total in the league – 23 points more than Montreal in the standings.
But the Canadiens have been in this position twice already this post-season.
They were not expected to beat the division-leading Toronto Maple Leafs in the opening round, nor were they favoured to overcome the third-place Winnipeg Jets in the second round. The team silenced critics in both cases and are riding a seven-game win streak that includes a sweep of the Jets.
It's not all familiar territory for the Habs, though.
The Montreal-Vegas series is the first cross-border matchup in the NHL this season, made possible by a federal exemption allowing teams to bypass 14-day quarantine requirements.
The Canadiens will also need to overcome the roar of roughly 18,000 fans inside Vegas' T-Mobile Arena – a stark contrast from the empty Canadian arenas during the regular season and even the 2,500 fans permitted inside Montreal's Bell Centre during the playoffs.
This report by The Canadian Press was first published June 14, 2021.
The Canadian Press
NewsAlert: Canada's Jessica Klimkait wins judo bronze
TOKYO — Canada's Jessica Klimkait has won bronze in the women's under-57 kilogram category at the Tokyo Olympics.
More coming.
The Canadian Press
Mac Neil finishes first in women's 100 butterfly to capture Canada's first gold medal
TOKYO — Swimmer Margaret Mac Neil has won Canada's first gold medal of the 2020 Tokyo Olympics.
Mac Neil was seventh at the halfway point of the women's 100-metre butterfly, but swam a strong second length to win in a time of 55.59 seconds.
Zhang Yufei of China was second and Emma McKeon of Australia finished third.
Mac Neil became Canada's first multi-medallist in Tokyo following a silver medal in the women's 4×100 freestyle relay in the first day of finals.
The 21-year-old from London, Ont., was a surprise winner of the 100-metre butterfly at the 2019 world championship in Gwangju, South Korea, where she bested reigning Olympic champion Sarah Sjoestroem of Sweden.
Mac Neil, a senior at the University of Michigan, is also a two-time NCAA champion in freestyle and butterfly. 
She'd posted the sixth-fastest semifinal time in the 100-metre butterfly an hour before swimming the second leg of the relay in Tokyo.
This report by The Canadian Press was first published July 25, 2021.
The Canadian Press