UN nuclear chief: Ukraine nuclear plant is 'out of control'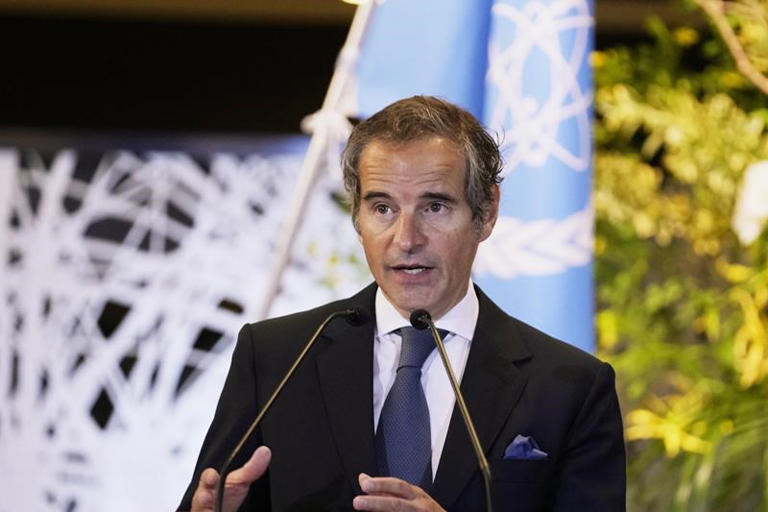 U
NITED NATIONS (AP) — The U.N. nuclear chief warned that Europe's largest nuclear power plant in Ukraine "is completely out of control" and issued an urgent plea to Russia and Ukraine to quickly allow experts to visit the sprawling complex to stabilize the situation and avoid a nuclear accident.
"Every principle of nuclear safety has been violated" at the plant, he said. "What is at stake is extremely serious and extremely grave and dangerous."
Grossi cited many violations of the plant's safety, adding that it is "in a place where active war is ongoing," near Russian-controlled territory.
The physical integrity of the plant hasn't been respected, he said, citing shelling at the beginning of the war when it was taken over and continuing information from Ukraine and Russia accusing each other of attacks at Zaporizhzhya.
There is "a paradoxical situation" in which the plant is controlled by Russia, but its Ukrainian staff continues to run its nuclear operations, leading to inevitable moments of friction and alleged violence, he said. While the IAEA has some contacts with staff, they are "faulty" and "patchy," he said.
Grossi said the supply chain of equipment and spare parts has been interrupted, "so we are not sure the plant is getting all it needs." The IAEA also needs to perform very important inspections to ensure that nuclear material is being safeguarded, "and there is a lot of nuclear material there to be inspected," he said.
"When you put this together, you have a catalog of things that should never be happening in any nuclear facility," Grossi said. "And this is why I have been insisting from day one that we have to be able to go there to perform this safety and security evaluation, to do the repairs and to assist as we already did in Chernobyl."
The Russian capture of Zaporizhzhya renewed fears that the largest of Ukraine's 15 nuclear reactors could be damaged, setting off another emergency like the 1986 Chernobyl accident, the world's worst nuclear disaster, which happened about 110 kilometers (65 miles) north of the capital Kyiv.
Russian forces occupied the heavily contaminated site soon after the invasion but handed control back to the Ukrainians at the end of March. Grossi visited Chernobyl on April 27 and tweeted that the level of safety was "like a `red light' blinking." But he said Tuesday that the IAEA set up "an assistance mission" at Chernobyl at that time "that has been very, very successful so far."
The IAEA needs to go to Zaporizhzhya, as it did to Chernobyl, to ascertain the facts of what is actually happening there, to carry out repairs and inspections, and "to prevent a nuclear accident from happening," Grossi said.
The IAEA chief said he and his team need protection to get to the plant and the urgent cooperation of Russia and Ukraine.
Each side wants this international mission to go from different sites, which is understandable in light of territorial integrity and political considerations, he said, but there's something more urgent and that is getting the IAEA team to Zaporizhzhya.
"The IAEA, by its presence, will be a deterrent to any act of violence against this nuclear power plant," Grossi said. "So I'm pleading as an international civil servant, as the head of an international organization, I'm pleading to both sides to let this mission proceed."
Grossi was in New York to deliver a keynote speech at Monday's opening of the long-delayed high-level meeting to review the landmark 50-year-old Nuclear Nonproliferation Treaty aimed at preventing the spread of nuclear weapons and eventually achieving a nuclear-free world.
In the interview, the IAEA chief also spoke about efforts to revive the 2015 nuclear deal between Iran and major powers that the Trump administration abandoned in 2018 and the Biden administration has been working to renew.
Grossi said there is "an ongoing effort to try to go for yet another meeting or round to explore possibilities to come to an agreement." He said he heard the meeting "could be soon."
U.S. Secretary of State Antony Blinken told the NPT review conference on Monday that Iran "has either been unwilling or unable" to accept a deal to return to the 2015 agreement aimed at reining in its nuclear program.
Grossi said "there are important differences among the negotiating parties" and important verification issues related to past activities that Iran needs to address. "It's not impossible, it's complex," he said.
If the nuclear agreement, known as the JCPOA, is not extended, he said some IAEA inspections will continue. But the JCPOA provides for additional transparency and inspections "which I deem as extremely important, very necessary, because of the breadth and depth of the nuclear program in Iran," he said.
Grossi stressed that cooperating with the IAEA, answering its questions, allowing its inspectors to go wherever they need to be, is essential for Iran to build trust and confidence. "Promises and good words will not do," he said.
On another issue, Grossi said last September's deal in which the United States and Britain will provide Australia with nuclear reactors to power its submarines requires an agreement with the IAEA to ensure that the amount of nuclear material in the vessel when it leaves port is there when it returns.
He said Australia hasn't decided what type of vessel it will be getting, so while there have been preparatory talks, substantive talks can't begin.
Because it's a military vessel, Grossi said, "there are lots of confidential and protection of information measures that need to be embedded into any such agreement, so it's very complex technologically."
Edith M. Lederer, The Associated Press
Musk's plan to end Russian war infuriates Ukraine on Twitter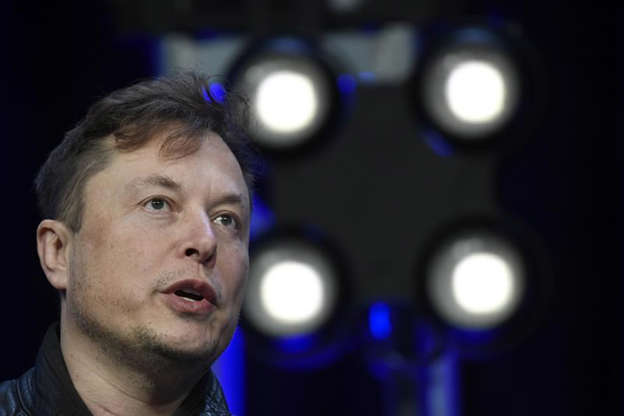 Elon Musk has gotten into a Twitter tussle with Ukrainian President Volodymyr Zelenskyy after the tech billionaire floated a divisive proposal to end Russia's invasion.
The Tesla CEO, soon facing a court fight over his attempt to abandon a $44 billion offer to buy Twitter, argued in a tweet Monday that to reach peace Russia should be allowed to keep the Crimea Peninsula that it seized in 2014. He also said Ukraine should adopt a neutral status, dropping a bid to join NATO following Russia's partial mobilization of reservists.
Musk also crossed red lines for Ukraine and its supporters by suggesting that four regions Russia is moving to annex following Kremlin-orchestrated "referendums" denounced by the West as a sham should hold repeat votes organized by the United Nations.
Musk noted Crimea was part of Russia until it was given to Ukraine under the Soviet Union in 1950s and said that a drawn-out war will likely not end in a resounding Ukrainian victory.
These positions are anathema for Zelenskyy, who considers them pro-Kremlin. The Ukrainian leader has pledged to recover all the terrain conquered in the war and considers Crimea as Ukraine's to reclaim as well.
Musk also launched a Twitter poll asking whether "the will of the people" should decide if seized regions remain part of Ukraine or become part of Russia.
In a sarcastic response, Zelenskyy posted a Twitter poll of his own asking "which Elon Musk do you like more?": "One who supports Ukraine" or "One who supports Russia."
Musk replied to Zelenskyy that "I still very much support Ukraine, but am convinced that massive escalation of the war will cause great harm to Ukraine and possibly the world."
Andrij Melnyk, the outgoing Ukrainian ambassador to Germany, responded to Musk's original tweet with an obscenity.
"Russia is doing partial mobilization. They go to full war mobilization if Crimea is at risk. Death on both sides will be devastating," Musk wrote in another tweet. "Russia has (over) 3 times population of Ukraine, so victory for Ukraine is unlikely in total war. If you care about the people of Ukraine, seek peace."
The Kremlin itself chimed in, praising Musk for his proposal but warning that Russia will not backtrack on its move to absorb the Ukrainian regions.
"It's very positive that such a person as Elon Musk is trying to look for a peaceful settlement," Kremlin spokesman Dmitry Peskov said Tuesday. But, "as for the referendums, people have voiced their opinion and there could be nothing else."
Ukraine and the West have said that the hastily organized votes in four occupied regions were clearly rigged to serve Putin's purpose to try to cement his loosening grip on Ukrainian terrain.
Musk's ideas seemed to get little support on Twitter, including from Russian chess great and anti-Putin political activist Garry Kasparov, who bashed the plan.
"This is moral idiocy, repetition of Kremlin propaganda, a betrayal of Ukrainian courage and sacrifice, and puts a few minutes browsing Crimea on Wikipedia over the current horrific reality of Putin's bloody war," Kasparov tweeted.
In the first weeks of the invasion in early March, Musk came to Ukraine's aid when his SpaceX company shared its Starlink satellite system that helps deliver internet access to areas that lack coverage. At the time, Zelenskyy thanked Musk for the equipment that he said would help maintain communications in cities under attack.
However, in April, Musk said that as a "free speech absolutist" Starlink would not block Russian state media outlets that spread propaganda and misinformation on the war in Ukraine.
___
Follow the AP's coverage of the war at https://apnews.com/hub/russia-ukraine.
Joseph Wilson, The Associated Press
Putin accuses the West of sabotaging Baltic Sea pipelines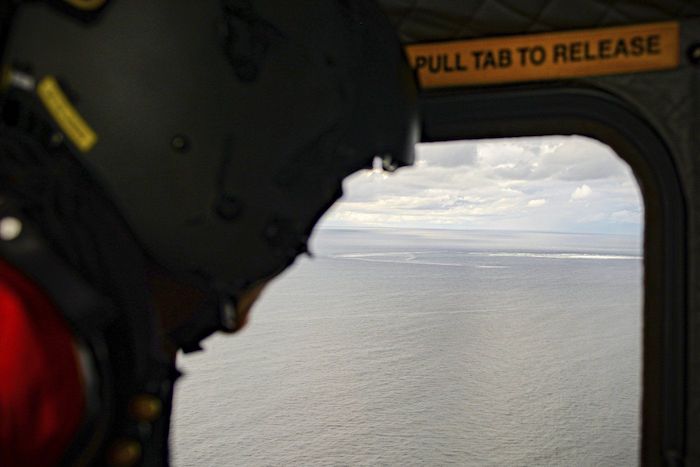 By Jan M. Olsen in Copenhagen
COPENHAGEN, Denmark (AP) — Russian President Vladimir Putin has accused the West of sabotaging the Russia-built gas pipelines under the Baltic Sea to Germany.
Speaking Friday in Moscow at a ceremony to annex four regions of Ukraine into Russia, Putin said the "Anglo-Saxons" in the West have turned from sanctions to "terror attacks," sabotaging the Nord Stream 1 and 2 pipelines in what he described as an attempt to "destroy the European energy infrastructure."
He added that "those who profit from it have done it," without naming a specific country.
European nations, which have been reeling under soaring energy prices caused by Russia's invasion of Ukraine, have noted that it is Russia, not Europe, that benefits from chaos in the energy markets and spiking prices for energy.
THIS IS A BREAKING NEWS UPDATE. AP's earlier story follows below.
COPENHAGEN, Denmark (AP) — The explosions that rocked natural gas pipelines under the Baltic Sea ahead of huge methane leaks "probably corresponded to an explosive load of several hundred kilos (pounds)," Denmark and Sweden wrote Friday in a letter to the United Nations.
Norwegian researchers published a map Friday projecting a huge plume of methane released by the damaged Nord Stream 1 and 2 pipelines will travel over large swaths of the Nordic region.
"We assume the wind on the leak area blew the methane emissions north until the Finnish archipelago, then bends toward Sweden and Norway," Stephen Platt, a professor with the Norwegian Institute for Air Research, said.
The independent institution is part of the Integrated Carbon Observation System, a European research alliance, which said was confirmed by ICOS ground-based observations from several stations in Sweden, Norway, and Finland." the "enormous amount of methane gas" emission
These methane levels aren't dangerous to public health but the gas is a potential source of global warming.
Moscow has requested an emergency meeting at the U.N. Security Council to discuss the pipelines and called for a thorough international probe to assess the damage to the pipelines, which carry natural gas from Russia to Europe. Russia says "it looks like a terror attack, probably conducted on a state level."
The suspected sabotage this week on the Nord Stream 1 and 2 pipelines have produced two methane leaks off Sweden, including a large one above North Stream 1 and a smaller one above North Stream 2, and two leaks off Denmark.
Following the suspected sabotage this week of the Nord Stream 1 and 2 pipelines that carry Russian natural gas to Europe, there were two leaks off Sweden, including a large one above North Stream 1, and a smaller one above North Stream 2, and two leaks off Denmark.
The North Stream 2 leak "has diminished, but is still on-going," the Swedish coast guard said. However, navigational warnings for ships were slightly increased to 7 nautical miles (13 kilometers or 8 miles) from 5 nautical miles from the incident areas, the coast guard said in a statement.
The Danish and Swedish governments have described the ruptures as the result of "deliberate actions."
Russia also has said the leaks resulted from deliberate acts, saying "it looks like a terror attack, probably conducted on a state level."
Moscow requested an emergency meeting at the U.N. Security Council to discuss the pipelines and called for a thorough international probe to assess the damage to the pipelines. Kremlin spokesman Dmitry Peskov said a study would only be possible once gas stops leaking from them.
Nordic seismologists recorded explosions preceding the leaks. A first explosion was recorded early Monday southeast of the Danish island of Bornholm. A second, stronger blast northeast of the island that night was equivalent to a magnitude-2.3 earthquake.
NATO warned Thursday it would retaliate for any attacks on the critical infrastructure of its 30 member countries and joined other Western officials in citing sabotage as the likely cause of damage to the natural gas pipelines. Denmark is a NATO member and Sweden is in the process of joining the military alliance.
The first leaks in the pipelines that extend from Russia to Germany were reported on Tuesday, prompting energy companies and European governments to beef up security.
Energy infrastructure security has increased across the Nordic region.
The fear of further damage to Europe's energy infrastructure has added pressure on natural gas prices, which had already been soaring. Russia, a major supplier to Europe, cut off deliveries earlier this year in retaliation for sanctions imposed after its invasion of Ukraine. That has caused widespread economic pain across the continent.
Authorities in Norway, a major oil and gas producer, have reported at least six incidents of drone sightings near offshore installations in the North Sea. It prompted the Petroleum Safety Authority Norway — the Scandinavian country's oil safety regulator — on Monday to "urge increased vigilance by all operators and vessel owners." On Wednesday, Norwegian Prime Minister Jonas Gahr Støre said that there was no concrete threat against Norwegian oil and gas off-shore installations.
Danish daily newspaper Ekstra Bladet said a drone was spotted Wednesday near a Danish offshore oil and gas installation in the North Sea.
Sweden stepped up security around its three nuclear power plants.
Sweden's public power transmission network operator Svenska kraftnat, said that it doesn't not yet know if an undersea power cable that runs between southern Sweden and Poland was damaged when the Nord Stream gas pipelines some 500 meters (547 yards) away ruptured from what Western and Russian officials both claimed was intentional tampering.
"Since the cable is not in service, it can't be determined if the cable is damaged in some way," Per Kvarnefalk, a spokesman for Svenska kraftnat, said late Thursday. "We will therefore perform tests on the cable using special measurement equipment early next week with the aim to determine if the cable is fully functional."
Svenska kraftnat partly owns the more than 250-kilometer-long high-voltage cable that transmits electricity through the Baltic Sea.