UK's May asks the EU to delay Brexit until June 30
LONDON — British Prime Minister Theresa May on Friday sought to delay Brexit until June 30 to avoid a chaotic withdrawal from the European Union in one week, but a key leader of the bloc suggested an even longer pause in the difficult divorce proceedings.
The question over timing is vital because Britain is set to leave the EU without a withdrawal deal in place on April 12 unless an agreement is reached at a Brussels summit set to take place two days earlier.
In a letter to European Council President Donald Tusk, May asked for an extension until June 30 and agreed to make contingency plans to take part in European Parliament elections on May 23-26 if necessary.
Tusk proposed a longer time frame. He urged the 27 remaining EU nations to offer the U.K. a flexible extension of up to a year to make sure the nation doesn't leave the bloc in a chaotic way that could undermine commerce.
Two EU officials said Tusk wants a one-year period, which has been dubbed a "flextension," and hopes to get it approved at the EU summit on April 10. The officials spoke on condition of anonymity because they weren't authorized to disclose information before it was made public.
Such a move would mean that the U.K. would need to take part in the elections to the European Parliament, something the U.K. prime minister has long argued would not be in either side's interest.
The elections pose a substantial stumbling block because Britain would be expected to take part, if it is still an EU member, so its people have representation in the European Parliament. Officials worry that the legitimacy of European institutions could be jeopardized if the population of a member state is not involved in the process.
Any extension to the deadline will need unanimous approval from the rest of the EU. French President Emmanuel Macron has thus far seemed cautious about giving Britain more time, saying the bloc cannot be held hostage by Britain's political deadlock over Brexit.
There are also concerns in Europe that some British politicians who want to provoke a "no-deal" Brexit might try to make trouble from inside the bloc, a course that outspoken Brexit advocate Jacob Rees-Mogg suggested Friday.
He tweeted that "if a long extension leaves us stuck in the EU, we should be as difficult as possible."
The Conservative Party lawmaker suggested using Britain's positon to veto any EU budget increases, block the establishment of an EU army, and make it impossible for Macron to push further EU integration.
Brexit backer Nigel Farage, who has long ridiculed Europe's institutions, also said he would campaign in European Parliament elections.
If any EU nation refuses to back an extension, Britain will be expected to leave as scheduled on April 12.
There are concerns that such an abrupt exit without a deal could lead to economic slowdown and a breakdown in food and medical supplies as border checks and tariffs are added overnight. Massive traffic jams could also be expected on highways leading to major ferry ports.
An earlier British request for a delay until June 30 was rejected, and officials are disappointed May has again sought an extension until that date, said Larissa Brunner, an analyst with European Policy Center.
"The EU has already said 'no' once, so I think Theresa May knows that EU is probably not going to grant her that extension," she said.
She said May could be able to blame the EU for rejecting an extension if Britain leaves the bloc next week without an agreement.
The complex manoeuvring comes as Britain's Parliament considers legislation designed to prevent such a "no-deal" departure.
Britain's upper House of Lords is set to resume debate on the measure Monday. It was endorsed earlier by the lower House of Commons by just one vote.
Despite the apparent support in Parliament for a new law to prevent a no-deal exit, the decision is in the hands of the EU, not Britain. It is the first country to try to leave the bloc, and the formal "Article 50" exit procedure has never been tested before.
The Europeans would prefer that Britain not take part in the European Parliament elections if it is going to leave. April 12 is the last day for Britain to signal whether it will field candidates.
May said in her letter that Britain is reluctantly ready to begin preparations for the European elections if no Brexit deal is reached in the interim. She said she is making the preparations even though she believes it is not in the interest of either Britain or the EU for her country to participate because it is leaving the bloc.
May said she "accepts" the EU position that if Britain has not left by May 23, it will have a legal obligation to take part in the voting.
She said she hopes to reach a compromise agreement that could take Britain out of the EU before that.
May's withdrawal plan, reached with the EU over more than two years of negotiations, has been rejected by the U.K. Parliament three times.
She is now seeking a compromise in a series of talks with Labour Party leader Jeremy Corbyn and his deputies, with hopes of winning opposition support for a new divorce deal.
If that doesn't work, May plans a series of votes in Parliament to see if a majority-backed plan can emerge.
Ideas being discussed include keeping Britain in a customs union with the EU after it leaves the bloc, as well as the possibility of a second referendum. There is fierce opposition from Brexit backers in the Conservative Party to these options.
___
Casert reported from Brussels. Associated Press writer Lorne Cook in Brussels contributed.
Gregory Katz And Raf Casert, The Associated Press
Feds face growing calls for answers after general overseeing vaccine effort sidelined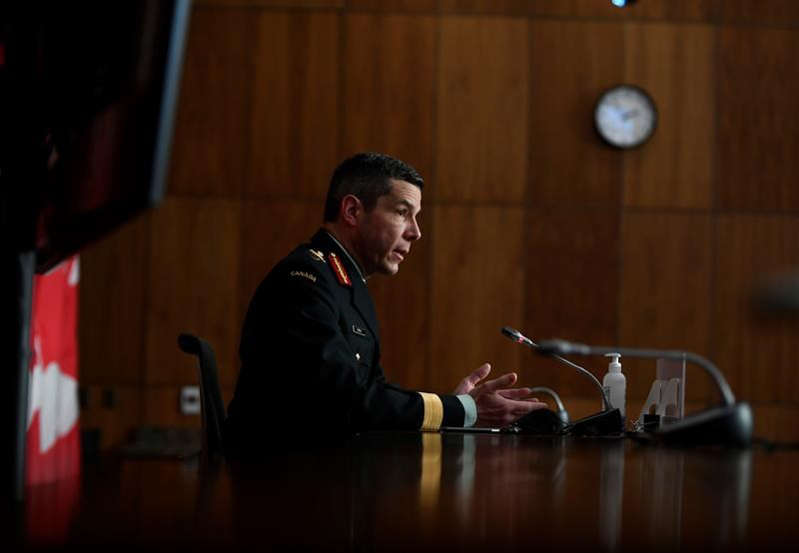 OTTAWA — The federal government faced growing calls for answers from experts and political opponents alike on Sunday amid lingering questions about the abrupt reassignment of the military general who was overseeing Canada's COVID-19 vaccination campaign, as well as who may be stepping into his critical role.
The Defence Department announced in a terse three-line statement on Friday evening that Maj.-Gen. Dany Fortin was stepping aside from his role overseeing the delivery and distribution of COVID-19 vaccine doses across the country.
The reasons for his departure were not revealed, aside from a brief mention of a "military investigation."
Prime Minister Justin Trudeau's office and the Defence Department, including Defence Minister Harjit Sajjan's office, have since refused to provide further information, including on the nature of the investigation.
The government has also declined to say when officials became aware of the probe and whether Fortin was vetted before being appointed to lead the vaccination campaign in November. Nor has it yet indicated who will be taking over from Fortin as government across the country to ramp up their immunization efforts.
Experts say the lack of information underscores existing frustration over a lack of transparency within the military and Defence Department, as well as raising concerns about Canada's vaccination effort.
"There is a lot of speculation about what's going on," said Charlotte Duval-Lantoine, an expert on sexual misconduct in the military at the Canadian Global Affairs Institute.
"Dany Fortin had an impact on everyday Canadians because he was responsible for the vaccine rollout. So I think the Department of National Defense, at least in my opinion, has an additional duty to kind of tell us what's going on."
Nobody is expecting the Defence Department and government to reveal the specifics of any allegation, Duval-Lantoine added. But she argued a lack of transparency now undercuts already-shaky confidence that the military will hold top officers to account.
"There's no question that type of secrecy is going to be an additional blow to the legitimacy of the military justice system and how the military regulates itself," she said.
University of Ottawa law professor Penny Collenette, who previously served in prime minister Jean Chretien's office while her husband David Collenette was Canada's defence minister, echoed some of those concerns.
"This is a huge operation we're doing, probably one of the most important ever," she said of the vaccination campaign.
"And we don't know what the allegation is. … We're all at a loss. So that's a vacuum of information, which is inexplicable to me."
The Defence Department has taken a mixed approach to the release of information about investigations into several other senior officers, revealing details for some cases but remaining tight-lipped about others.
It has also approved media interviews by two female officers who are at the centre of allegations into the conduct of former defence chief general Jonathan Vance and his successor, Adm. Art McDonald despite ongoing police investigations.
Conservative defence critic James Bezan called on the government on Sunday to start answering questions.
"As the sexual misconduct crisis continues to rock the Canadian Armed Forces and now our vaccine rollout, the Liberals' lack of leadership is making the situation worse," he said in a statement.
"Justin Trudeau must be transparent with Canadians. Canadians need to have confidence in our military, and that starts with the government providing information."
Collenette also questioned the government's continued silence over who will replace Fortin, with the Prime Minister's Office, Health Canada and the Public Health Agency of Canada refusing to say who will now oversee the vaccine effort.
The government has insisted the vaccination campaign will not be negatively affected by Fortin's departure, but Collenette worried about the impact on Ottawa's work with the provinces to get vaccines into the arms of Canadians.
"It seemed very odd that there wasn't something that said: 'No problem, we have an interim person,' or 'No problem, his second-in-command will take over,'" she said. "Just something that lets voters, that lets citizens have some security and some certainty."
Fortin joins a growing list of generals and admirals who have been suspended or forced to step aside in recent weeks, many of them because of inappropriate conduct.
Those include Vance and McDonald as well as Vice-Admiral Haydn Edmundson, who until last week commanded the military's human resources section.
Maj.-Gen. Peter Dawe was also forced to step aside as commander of Canada's special forces after writing a letter in support of a soldier found guilty of sexually assaulting a comrade's wife.
And Lt.-Gen. Christopher Coates retired after concerns were raised about an affair that he had with an American civilian while serving as deputy commander of NORAD.
This report by The Canadian Press was first published May 16, 2021.
Lee Berthiaume, The Canadian Press
Masks off, Poles cheer reopening of bars and restaurants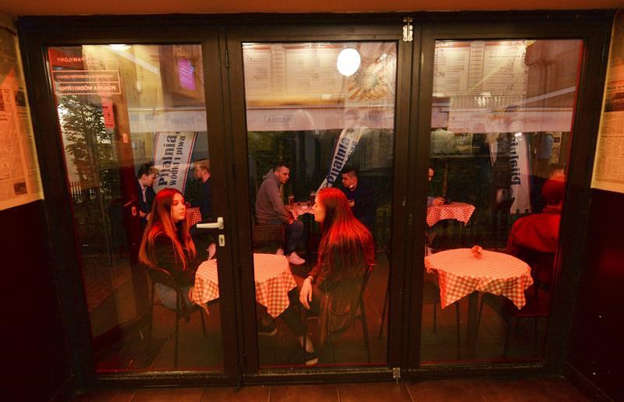 WARSAW, Poland (AP) — Poles pulled off their masks, hugged their friends and made toasts to their regained freedom as restaurants, bars and pubs reopened for the first time in seven months and the government dropped a requirement for people to cover their faces outdoors.
The reopening, for now limited now to the outdoor consumption of food and drinks, officially took place on Saturday. Yet many could not wait for midnight to strike and were out on the streets of Warsaw and other cities hours earlier on Friday evening to celebrate, gathering outside popular watering holes. Some brought their own beer to hold them over until they could buy drinks at midnight — though some bars were also seen serving up beers and cocktails early.
"Now they are opening and I feel so awesome. You know, you feel like your freedom is back," said Gabriel Nikilovski, a 38-year-old from Sweden who was having beer at an outdoor table at the Pavilions, a popular courtyard filled with pubs in central Warsaw. "It's like you've been in prison, but you've been in prison at home."
DJs were finally back at work and waiters and waitresses were rushing to fill orders once again. Meanwhile, the end of a requirement to wear masks outdoors added to the sense of liberation. Masks will still be required in settings like public transport and stores.
Bar owners were also happy, thanks to the prospect of being able to finally start earning money, and many said they had been bombarded with reservation requests leading up to the opening.
"Today we feel as if it was New Year's Eve because we are counting down to midnight," said Kasia Szczepanska, co-owner of a bar, CAVA, on Warsaw's trendy Nowy Swiat street. "It's like New Year's in May."
Pandemic restrictions have meant that restaurants, cafes and other establishments have been limited to offering only takeout food and drinks since last fall.
"Everyone says they're fed up with takeout food, food served on plastic," Szczepanska said.
The easing of the country's lockdown is coming in stages but the reopening of bars with outdoor gardens or dining areas was clearly a key psychological step on the road back to normality. From May 29, indoor dining will again be allowed.
Not all businesses survived the long months of forced closure, however, even with some government assistance, and others will be working at first simply to recoup their losses.
The loosening of restrictions comes as vaccinations have finally picked up speed across the European Union, of which Poland is a member, and the numbers of new COVID-19 infections and hospitalizations have plunged in Poland in recent weeks.
Yet many people don't feel like they can fully relax yet.
Aleksandra Konopka, who manages a bar along a popular promenade on the Vistula River where people were lounging in deck chairs and sipping drinks in the sandy garden with a beach-like vibe, said she was thrilled that things were coming back. But she is also nervous there could be more lockdowns as new virus variants circulate. And she said there are new challenges coming from the difficulty of finding workers.
"Not everyone is willing to work in the gastronomy or hotel industry because they expect that they will lose their job," Konopka said. "They changed professions and it's hard to get service."
One of the customers lounging at her bar, Monika Rzezutka, said she had badly missed contact with people during the many months of lockdown and welcomed the resumption of normal life.
"What used to be the norm suddenly becomes something unbelievable," said Rzezutka, a 23-year-old psychology student. "It's a nice feeling."
Vanessa Gera And Rafal Niedzielski, The Associated Press