U.S. shows plenty of respect to Canada ahead of World Cup qualifying showdown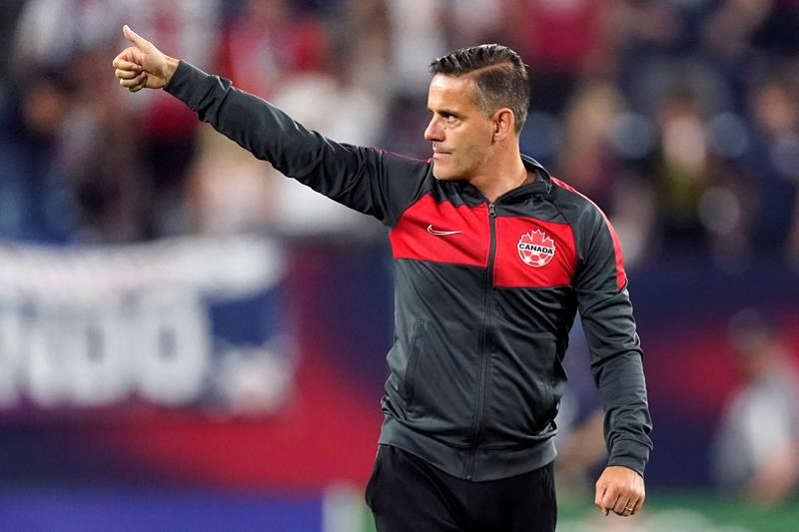 The U.S. takes the field Sunday with plenty of respect for the Canadian team that awaits them in Hamilton.
For one, the second-place Americans (5-1-3, 18 points) are looking up at Canada (5-0-4, 19 points) in the CONCACAF World Cup final qualifying round standings.
"We know that they're going to be fired up," said U.S. coach Gregg Berhalter. "We know they're playing in front of their home fans. We know they're going to be confident and it's going to be a competitive game. And if we can embrace that, we'll be OK. And it's a good opportunity for us to move up in the standings."
Both teams are coming off wins Thursday.
The 40th-ranked Canadians recorded their first victory in Honduras since 1985 with a 2-0 decision over the 76th-ranked Hondurans in San Pedro Sula while the 11th-ranked Americans downed El Salvador 1-0 in Columbus.
Canada closes out the international window on Wednesday at No. 70 El Salvador. Just three matches remain for coach John Herdman's team after that.
Thee top three sides come March will represent North and Central America and the Caribbean at Qatar 2022 with the fourth-place country taking on an Oceania opponent to see who joins them.
Canada is leading the way in the region, muscling past traditional CONCACAF heavyweights Mexico and the U.S.
"They have a talented group of players, make no mistake about it," said Berhalter, listing off Alphonso Davies, Jonathan David, Cyle Larin, Tajon Buchanan and Jonathan Osorio.
"They're a well-coached team. They know how to play. They've a clear philosophy and they deserve to be where they are," he added. "So for us it's an opportunity, that's all it is, an opportunity to try to get first in the group and that's where we want to finish."
Added U.S. defender Walker Zimmerman: "I think there's been a shift in their mentality. They play with a chip on their shoulder. They play with something to prove and they play with an intensity that is very high. So they're a confident group.
"And so whenever you go out there, you know that they're going to compete and that you have to match that level of intensity and desire. I think that's something that John has brought to that group. And that's a strength of theirs. We'll have to be up for it."
The Americans will be without two players at Tim Hortons Field.
Berhalter said defender Brooks Lennon has returned to Atlanta United to have a "slight" ankle injury evaluated while Lille forward Tim Weah was unable to get into Canada due to his vaccination status.
Weah had his first vaccine dose and then contracted COVID-19 while awaiting his second shot, a combination that meets full vaccination requirements in France but not in Canada, Berhalter explained.
"This was a nuanced technicality that we were hoping was going to get pushed through and unfortunately it didn't."
Canada is without Davies, the Bayern Munich star who has been sidelined by myocarditis, an inflammation of the heart muscle, after testing positive for COVID. The 21-year-old from Edmonton was an enthusiastic observer of the win in Honduras, however, livestreaming on Twitch as he watched the game.
Influential midfielder Stephen Eustaquio missed the Honduras match in the wake of Portuguese reports that he had tested positive for COVID. Herdman said he still hopes Eustaquio will play some role in the window.
Berhalter and Herdman are colleagues as well as rivals, with Herdman acknowledging in the past that he shares notes with his U.S. counterpart.
"He's done a great job with the program. I've said this over and over,' said Berhalter. "I think it's the talented players that the group has, but it's also his strong leadership and painting a vision for where the Canadian program can go. And once you have people buying into that vision, it's no surprise that they've had the success that they've had.
"We've been able to bounce some ideas and some notes off each other through qualifying. We're pulling for the Canadian team to qualify, there's no secret about that. It's only (Sunday) that I want them to lose. And then every other game, I'm happy that they win."
Sunday's game originally sold out in hours with Canada Soccer expecting a capacity crowd of 24,000. But stricter pandemic-related restrictions capped attendance at 12,000 with the first ticket sale voided.
Canada and the U.S. tied 1-1 when they met Sept. 5 in Nashville in the second game of the final qualifying round.
The U.S. won 1-0 when they met at the Gold Cup in July in Kansas City where the Americans scored in the first minute and then held off a Canadian charge the rest of the way.
While the Americans lead the overall series between the two North American rivals at 16-9-12, Canada has a 6-4-4 edge in World Cup qualifying.
—
Follow @NeilMDavidson on Twitter
This report by The Canadian Press was first published Jan. 29, 2022
Neil Davidson, The Canadian Press
Anholt tabbed to lead Canada's world junior squad after success with U18 team
Canada celebrates the win over Finland IIHF World Junior Hockey Championship gold medal game action in Edmonton on Saturday August 20, 2022. THE CANADIAN PRESS/Jason Franson
Calgary – Peter Anholt has been tasked with helping Canada win a third straight world junior hockey championship after two successful seasons leading the country's under-18 program.
Anholt, who heads the front office of the Western Hockey League's Lethbridge Hurricanes, is one of three Canadian Hockey League general managers tabbed by Hockey Canada to oversee its men's under-17, under-18 and under-20 programs in 2023-24.
He takes over the world junior program from Ottawa 67's GM James Boyd, who helped Canada win two titles over the span of six months.
Canada beat Finland 3-2 in overtime to win the 2022 championship in Edmonton, which was held in August after being postponed from its traditional December/January slot due to the COVID-19 pandemic.
The Canadians repeated with a 3-2 overtime win over Czechia on Jan. 5 in Halifax.
The 2024 world junior championship begins Dec. 26 in Goteborg, Sweden.
Hockey Canada also announced Wednesday that Dave Brown of the Ontario Hockey League's Erie Otters will guide the men's under-17s this season, while Cam Russell of the Quebec Major Junior Hockey League's Halifax Mooseheads will take over Anholt's former position with the U18 team.
The three will work alongside Hockey Canada's hockey operations staff as part of the organization's "Program of Excellence" management group.
Duties include assisting with player and coach selection, and providing input during camps and tournaments.
Brown will lead the U17 team through the 2023 World Under-17 Hockey Challenge. Canada lost 2-1 to the United States in the final of last year's event in Langley and Delta, B.C.
Russell, meanwhile, will look to help Canada to a second consecutive Hlinka Gretzky Cup title. Canada won its 23rd gold medal at the best-on-best U18 tournament last year in Red Deer, Alta., with Anholt at the helm.
Canada did not participate in the 2021 event due to the pandemic, but won that year's U18 worlds.
"All three individuals bring a wealth of CHL experience to our program," Scott Salmond, Hockey Canada senior vice-president of hockey operations, said in a statement. "We look forward to having them work alongside our athletes and staff while leading our men's national teams next season."
This report by The Canadian Press was first published March 22, 2023.
Flames bounce back with 5-1 victory over Ducks
Calgary Flames right wing Tyler Toffoli (73) celebrates with goaltender Dan Vladar (80) after the Flames defeated the Anaheim Ducks in an NHL hockey game in Anaheim, Calif., Tuesday, March 21, 2023. (AP Photo/Alex Gallardo)
By Joe Reedy in Anaheim
ANAHEIM, Calif. (AP) — Tyler Toffoli had three assists, Calgary scored twice on the power play and the Flames bounced back from a six-goal loss one night earlier with a 5-1 victory over the Anaheim Ducks on Tuesday.
Toffoli has nine points in the past four games, including six assists.
Nick Ritchie, Troy Stecher, Rasmus Andersson, Elias Lindholm and Andrew Mangiapane scored Calgary's goals. Mikael Backlund had a pair of assists and Dan Vladar stopped 19 shots for the Flames, who rebounded from an 8-2 defeat Monday night in Los Angeles.
"We just wanted to put that game behind us. And there's no better way to put it behind you than to just go out there and play right away," said Mangiapane, who scored on a breakaway with less than five minutes remaining for his 12th of the season. "I think the first period set the tone for us. We wanted to come out strong and hard and just keep building off of that."
The win kept Calgary four points behind Winnipeg for the final wild-card berth in the Western Conference with 10 games remaining after the Jets beat Arizona 2-1.
"As a coach it is really simple: I just want to keep every game meaningful," Flames coach Darryl Sutter said.
Frank Vatrano scored Anaheim's lone goal. John Gibson made 38 saves, facing more than 40 shots for the 20th time this season.
"We knew that they were going to be a little ornery after their game last night against L.A., and other than a few spurts in the second period, maybe for about six minutes in the second, we couldn't sustain much. Every time we turned, they were in our face," Ducks coach Dallas Eakins said.
Calgary has 12 goals with the man advantage over the past month, which is fifth best in the NHL.
Andersson put Calgary up 3-0 less than three minutes into the third period on a one-timer off Toffoli's pass. It was Andersson's 11th goal and his third in the past six games.
The Flames grabbed the lead 37 seconds into the game when Ritchie put in the rebound after Gibson made a pad save on Noah Hanifin's shot from the point. Ritchie's 12th of the season marked the sixth time Calgary has scored in the opening minute.
Stecher broke a 90-game goal drought at 16:50 of the first with a snap shot from the right faceoff circle to the high side of the far post. Stecher — whose last goal was on Feb. 17, 2022 — has three points (one goal, two assists) since being acquired from Arizona at the trade deadline.
Anaheim got on the board five minutes later when Vatrano lifted a wrist shot over Vladar's shoulder on his glove side. Vatrano's 17th marked only the second goal in Anaheim's last 15 power-play opportunities.
Lindholm scored his 21st and gave Calgary a 4-1 lead 46 seconds into the third on a one-timer.
NOTES
Hanifin extended his point streak to six games with the first assist on Ritchie's goal. He has six points (two goals, four assists) during that span. … Calgary defenceman Chris Tanev was scratched an hour before the game due to an upper-body injury. … Anaheim forward Nikita Nesterenko made his NHL debut. Nesterenko was acquired from Minnesota in the John Klingberg trade at the deadline. Nesterenko played three seasons at Boston College and signed a two-year, entry-level contract last Wednesday.
UP NEXT
Flames: Open a three-game homestand against the Vegas Golden Knights on Thursday.
Ducks: Host the Winnipeg Jets on Thursday.