Two charged in Saskatchewan Mountie's death make first court appearance in Regina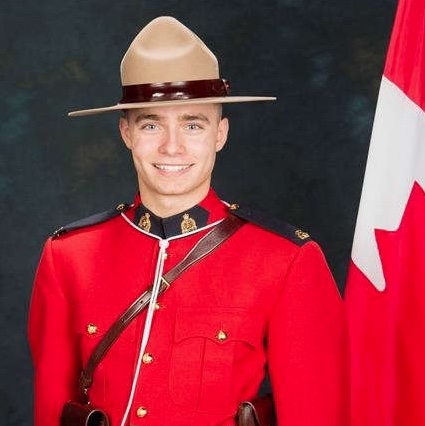 REGINA — Two people accused of killing a Mountie by hitting him with a truck in rural Saskatchewan made their first appearance in court Monday.
Alphonse Stanley Traverse, 41, and Marlene Velma Louise Pagee, 42, have been charged with manslaughter in the weekend death of Const. Shelby Patton.
RCMP have said the 26-year-old officer died Saturday after he stopped a suspected stolen truck in the small town of Wolseley, 95 kilometres east of Regina.
Patton was hit by the truck before it sped off. The officer died at the scene.
Pagee and Traverse were arrested two hours later in a field outside Francis, a town about 80 kilometres southwest of where the officer was killed.
They also face charges of failing to stop after an accident resulting in death as well as of theft of a motor vehicle. Pagee is also charged with possession of a controlled substance.
They appeared in a Regina court in person. Pagee is to be back in court Friday, while Traverse is scheduled for a video appearance on Monday.
Both are from Winnipeg and RCMP have said the truck was stolen in Manitoba. Winnipeg police said they could not provide any information about the investigation.
"The tragic, senseless death of Const. Shelby Patton is being investigated by Saskatchewan RCMP," Winnipeg police Const. Rob Carver wrote in an email.
Manitoba court records show Traverse and Pagee have been in and out of jail for multiple convictions, including theft and break and enter. In 2006, Pagee was found guilty for operating a motor vehicle while being pursued by police.
Both face outstanding charges in Manitoba for unrelated offences.
Meanwhile, a memorial of flowers continued to grow at the Indian Head detachment where Patton was posted.
He had been a Mountie for just over six years and worked at the detachment since 2015. Before that, he was briefly on assignment at Parliament Hill.
Saskatchewan RCMP Assistant Commissioner Rhonda Blackmore said officers have appreciated the outpouring of support and condolence messages.
"These messages help us through this difficult time. I would like to thank everyone who took the time to let us know they share our grief," Blackmore said in a statement.
This report by The Canadian Press was first published June 14, 2021.
— By Kelly Geraldine Malone in Winnipeg
The Canadian Press
Canada's Jessica Klimkait wins bronze in under-57 kg judo event
TOKYO — Canada's Jessica Klimkait has won bronze in the women's under-57 kilogram category at the Tokyo Olympics.
The reigning world champion from Whitby, Ont., defeated Kaja Kajzer of Slovenia by waza-ari in a bronze-medal match.
Klimkait missed a chance to add a gold medal to her world championship title when she lost to Sarah Leonie Cysique of France in the semifinals.
Klimkait was defeated by ippon when she was assessed a shido in the golden score period for a false attack. It was Klimkait's third penalty of the bout, giving Cysique a berth on the gold-medal match.
Klimkait was in fine form before her semifinal loss. She defeated Poland's Julia Kowalczyk in their quarterfinal bout at the Nippon Budokan.
The victory, her second straight via ippon, came after she beat Bulgaria's Ivelina Ilieva in the round of 16 earlier in the day
This report by The Canadian Press was first published July 26, 2021.
The Canadian Press
Mac Neil finishes first in women's 100 butterfly to capture Canada's first gold medal
TOKYO — Swimmer Margaret Mac Neil has won Canada's first gold medal of the 2020 Tokyo Olympics.
Mac Neil was seventh at the halfway point of the women's 100-metre butterfly, but swam a strong second length to win in a time of 55.59 seconds.
Zhang Yufei of China was second and Emma McKeon of Australia finished third.
Mac Neil became Canada's first multi-medallist in Tokyo following a silver medal in the women's 4×100 freestyle relay in the first day of finals.
The 21-year-old from London, Ont., was a surprise winner of the 100-metre butterfly at the 2019 world championship in Gwangju, South Korea, where she bested reigning Olympic champion Sarah Sjoestroem of Sweden.
Mac Neil, a senior at the University of Michigan, is also a two-time NCAA champion in freestyle and butterfly. 
She'd posted the sixth-fastest semifinal time in the 100-metre butterfly an hour before swimming the second leg of the relay in Tokyo.
This report by The Canadian Press was first published July 25, 2021.
The Canadian Press