Two charged in Saskatchewan Mountie's death make first court appearance in Regina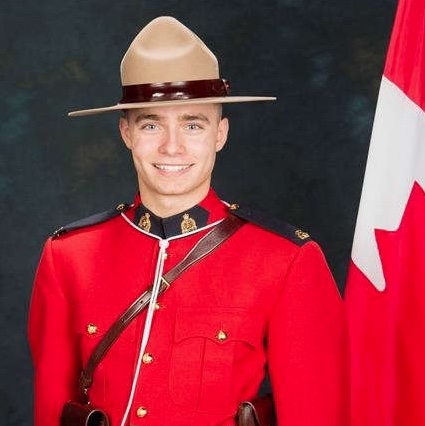 REGINA — Two people accused of killing a Mountie by hitting him with a truck in rural Saskatchewan made their first appearance in court Monday.
Alphonse Stanley Traverse, 41, and Marlene Velma Louise Pagee, 42, have been charged with manslaughter in the weekend death of Const. Shelby Patton.
RCMP have said the 26-year-old officer died Saturday after he stopped a suspected stolen truck in the small town of Wolseley, 95 kilometres east of Regina.
Patton was hit by the truck before it sped off. The officer died at the scene.
Pagee and Traverse were arrested two hours later in a field outside Francis, a town about 80 kilometres southwest of where the officer was killed.
They also face charges of failing to stop after an accident resulting in death as well as of theft of a motor vehicle. Pagee is also charged with possession of a controlled substance.
They appeared in a Regina court in person. Pagee is to be back in court Friday, while Traverse is scheduled for a video appearance on Monday.
Both are from Winnipeg and RCMP have said the truck was stolen in Manitoba. Winnipeg police said they could not provide any information about the investigation.
"The tragic, senseless death of Const. Shelby Patton is being investigated by Saskatchewan RCMP," Winnipeg police Const. Rob Carver wrote in an email.
Manitoba court records show Traverse and Pagee have been in and out of jail for multiple convictions, including theft and break and enter. In 2006, Pagee was found guilty for operating a motor vehicle while being pursued by police.
Both face outstanding charges in Manitoba for unrelated offences.
Meanwhile, a memorial of flowers continued to grow at the Indian Head detachment where Patton was posted.
He had been a Mountie for just over six years and worked at the detachment since 2015. Before that, he was briefly on assignment at Parliament Hill.
Saskatchewan RCMP Assistant Commissioner Rhonda Blackmore said officers have appreciated the outpouring of support and condolence messages.
"These messages help us through this difficult time. I would like to thank everyone who took the time to let us know they share our grief," Blackmore said in a statement.
This report by The Canadian Press was first published June 14, 2021.
— By Kelly Geraldine Malone in Winnipeg
The Canadian Press
Trucker sentenced to 12 1/2 years in hotel room death of Edmonton woman
EDMONTON — A judge has sentenced an Ontario truck driver to 12 1/2 years in prison for killing a woman in his Edmonton hotel room a decade ago.
Court of Queen's Bench Justice Stephen Hillier said Bradley Barton will get credit for the days he has already spent in custody, so about 11 years remain in his sentence.
A jury found Barton guilty in February of manslaughter in the death of Cindy Gladue, a 36-year-old Métis and Cree woman who bled to death at the Yellowhead Inn in June 2011.
Medical experts testified the mother of three had four times the legal limit of alcohol in her system when she was left bleeding in a bathtub.
Crown prosecutors argued that while Gladue was passed out, Barton performed a sexual act that caused a severe wound to her vagina, then dumped her in the tub and left her to die.
Barton, 53, testified that he had arranged to pay Gladue for sex and was shocked when he woke in the morning to find her dead and covered in blood in the tub.
Hillier said he rejected what he called the self-serving stories Barton told at his trial to avoid responsibility for the aggressive sexual assault that killed Gladue.
"No words can capture the tragedy and sorrow, particularly for the young family left suddenly without a mother," Hillier said.
Crown prosecutors had recommended Barton be sentenced to between 18 and 20 years. The defence suggested no more than nine years, saying the Crown did not prove beyond a reasonable doubt that Barton intended to kill Gladue.
The judge said there is no sentence that will bring Gladue back or undo the intergenerational trauma the woman's death has caused her family.
Outside the courthouse, Gladue's daughter Cheyanne Gladue said justice has been served but the heartache for the family lives on.
"I only wished Barton would've gotten medical help for her … maybe she would've been here today," said Gladue's mother, Donna McLeod.
She said the family was finally able to bury Gladue last week in northern Alberta.
"We took her home to Athabasca to be home," McLeod said. "I'd like to thank everyone across Canada all over who supported us. I'm glad to see this all over."
It was the second trial for Barton.
A jury found him not guilty in 2015 of first-degree murder, which sparked rallies and calls for justice for Indigenous women.
There was also outrage as Gladue's preserved vaginal tissue was presented in court during the first trial. She was also repeatedly referred to as a "native" and a "prostitute."
The Alberta Court of Appeal and later the Supreme Court of Canada ordered a new trial.
This report by The Canadian Press was first published July 27, 2021.
___
This story was produced with the financial assistance of the Facebook and Canadian Press News Fellowship.
Fakiha Baig, The Canadian Press
Canadian weightlifter Charron wins Canada's second gold in Tokyo
TOKYO — Weightlifter Maude Charron has won Canada's second gold medal at the Tokyo Games.
Charron, from Rimouski, Que., finished first in the women's 64-kilogram competition after a successful lift of 131 kilograms on her third and final clean and jerk attempt.
Charron also had the highest score in the snatch phase, lifting 105 kilograms. Her total of 236 points over the two phases was four better than silver medallist Giorgia Bordignon of Italy.
Wen-Huei Chen of Taiwan finished third.
Charron's gold is Canada's second of the games after swimmer Maggie Mac Neil won the women's 100-metre butterfly on Monday.
This report by The Canadian Press was first published July 27, 2021.
The Canadian Press