Trump calls for 'immediate' release of Mar-a-Lago warrant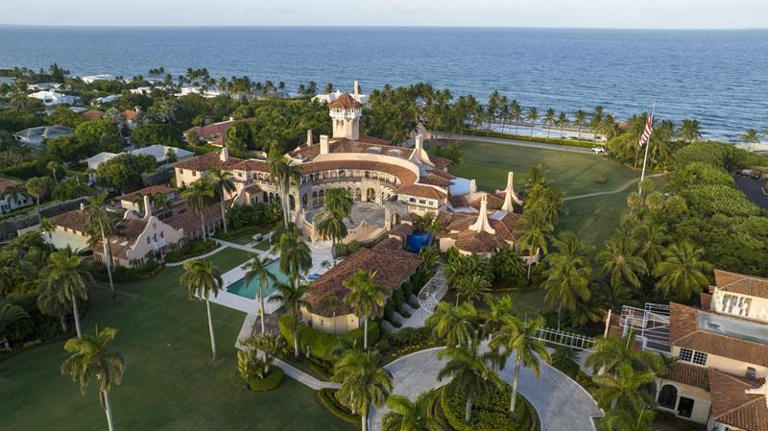 WASHINGTON (AP) — Former President Donald Trump called late Thursday for the "immediate" release of the federal warrant the FBI used to search his Florida estate, hours after the Justice Department had asked a court to unseal the warrant, with Attorney General Merrick Garland citing the "substantial public interest in this matter."
In messages posted on his Truth Social platform, Trump wrote, "Not only will I not oppose the release of documents … I am going a step further by ENCOURAGING the immediate release of those documents." He continued to assail the FBI search of Mar-a-Lago as "unAmerican, unwarranted and unnecessary."
"Release the documents now!" he wrote.
The Justice Department request earlier Thursday is striking because such documents traditionally remain sealed during a pending investigation. But the department appeared to recognize that its silence since the search had created a vacuum for bitter verbal attacks by Trump and his allies, and that the public was entitled to the FBI's side about what prompted Monday's action at the former president's home.
"The public's clear and powerful interest in understanding what occurred under these circumstances weighs heavily in favor of unsealing," said a motion filed in federal court in Florida on Thursday.
Should the warrant be released — the request is now with the judge — it could disclose unflattering information about the former president and about FBI scrutiny of his handling of sensitive government documents right as he prepares for another run for the White House. During his successful 2016 campaign, he pointed frequently to an FBI investigation into his Democratic opponent, Hillary Clinton, over whether she mishandled classified information.
It's unclear at this point how much information would be included in the documents, if made public, or if they would encompass an FBI affidavit that would presumably lay out a detailed factual basis for the search. The department specifically requested the unsealing of the warrant as well as a property receipt listing the items that were seized, along with two unspecified attachments.
To obtain a search warrant, federal authorities must prove to a judge that probable cause exists to believe that a crime was committed. Garland said he personally approved the warrant, a decision he said the department did not take lightly given that standard practice where possible is to select less intrusive tactics than a search of one's home.
In this case, according to a person familiar with the matter, there was substantial engagement with Trump and his representatives prior to the search warrant, including a subpoena for records and a visit to Mar-a-Lago a couple of months ago by FBI and Justice Department officials to assess how the documents were stored. The person was not authorized to discuss the matter by name and spoke on condition of anonymity.
Neither Trump nor the FBI has said anything about what documents the FBI might have recovered, or what precisely agents were looking for. But the former president complained anew Thursday about the search.
Trump, who for years has lambasted the FBI and sought to sow distrust among his supporters in its decisions, said the warrant was served and the search conducted despite his cooperation with the Justice Department over the search.
In a post to his Truth Social platform, Trump said that his "attorneys and representatives were cooperating fully" prior to the search, and that government officials "could have had whatever they wanted, whenever they wanted, if we had it."
The Justice Department has until Friday afternoon to alert the judge about whether Trump will object to the release.
FBI and Justice Department policy cautions against discussing ongoing investigations, both to protect the integrity of probes and to avoid unfairly maligning someone who is being scrutinized but winds up ultimately not being charged. That's especially true in the case of search warrants, where supporting court papers are routinely kept secret as the investigation proceeds.
In this case, though, Garland cited the fact that Trump himself had provided the first public confirmation of the FBI search, "as is his right." The Justice Department, in its new filing, also said that disclosing information about it now would not harm the court's functions.
Even so, Garland, in a hastily scheduled public statement delivered from the Justice Department podium, appeared to acknowledge the unusual nature of the department's request as he declined to take questions or provide any substantive details about the FBI's investigation.
"Much of our work is by necessity conducted out of the public eye. We do that to protect the constitutional rights of all Americans and to protect the integrity of our investigations," he said. "Federal law, longstanding department rules and our ethical obligations prevent me from providing further details as to the basis of the search at this time."
The Justice Department under Garland has been leery of public statements about politically charged investigations, or of confirming to what extent it might be investigating Trump as part of a broader probe into the Jan. 6 riot at the U.S. Capitol and efforts to overturn the results of the 2020 election.
The department has tried to avoid being seen as injecting itself into presidential politics, as happened in 2016 when then-FBI Director James Comey made an unusual public statement announcing that the FBI would not be recommending criminal charges against Clinton regarding her handling of email — and when he spoke up again just over a week before the election to notify Congress that the probe was being effectively reopened because of the discovery of new emails.
The Mar-a-Lago search warrant served Monday was part of an ongoing Justice Department investigation into the discovery of classified White House records recovered from Trump's home in Palm Beach, Florida, earlier this year. The National Archives had asked the department to investigate after saying 15 boxes of records it retrieved from the estate included classified records. Multiple federal laws govern the handling of classified information.
The attorney general also condemned verbal attacks on FBI and Justice Department personnel over the search. Some Republican allies of Trump have called for the FBI to be defunded. Large numbers of Trump supporters have called for the warrant to be released hoping they it will show that Trump was unfairly targeted.
"I will not stand by silently when their integrity is unfairly attacked," Garland said of federal law enforcement agents, calling them "dedicated, patriotic public servants."
Earlier Thursday, an armed man wearing body armor tried to breach a security screening area at an FBI field office in Ohio, then fled and was later killed after a standoff with law enforcement. A law enforcement official briefed on the matter identified the man as Ricky Shiffer and said he is believed to have been in Washington in the days leading up to the attack on the Capitol and may have been there on the day it took place.
_____
Associated Press writers Zeke Miller, Lindsay Whitehurst and Meg Kinnard contributed to this report.
More on Donald Trump-related investigations: https://apnews.com/hub/donald-trump
Eric Tucker And Michael Balsamo, The Associated Press
White House rejects reports of tension with Canada over India interference allegation
White House national security adviser Jake Sullivan speaks during the daily briefing at the White House in Washington, Friday, Sept. 15, 2023. The White House is pushing back against reports that Canada-U.S. relations are straining under Prime Minister Justin Trudeau's seismic murder allegation against the government of India. THE CANADIAN PRESS/AP/Susan Walsh
By James McCarten in Washington
The White House is pushing back against reports that Canada-U.S. relations are straining under Prime Minister Justin Trudeau's seismic allegation that the government of India was involved in the killing of a Canadian citizen.
National Security Adviser Jake Sullivan says the U.S. shares Canada's "deep concerns" and denies any suggestion of a wedge between the two countries.
Recent U.S. efforts to woo India as an economic and geopolitical ally have fuelled speculation that the White House was hedging its bets with its neighbour and vital trading partner.
Hardeep Singh Nijjar, prominent supporter of the Khalistan separatism movement that advocates for a Sikh homeland in India's Punjab province, was killed in June outside the gurdwara he led in Surrey, B.C.
The Indian government designated him as a terrorist in 2020, accusing him of belonging to a banned militant group.
A Canadian official told The Associated Press that the allegation of India's involvement is based on surveillance of Indian diplomats in Canada, including intelligence provided by a major ally.
The official said the communications involved Indian officials and Indian diplomats in Canada and that some of the intelligence was provided by a member of the "Five Eyes" intelligence-sharing alliance — Canada, the U.S., Britain, Australia and New Zealand.
The official did not say which ally provided the intelligence or give any details of the communications or how they were obtained. The official spoke on condition of anonymity because they weren't authorized to discuss the matter publicly.
The Prime Minister's Office refused Friday to either confirm or deny the details, which were first reported by CBC News.
"We are consulting with (Canada) closely, we support the efforts that they are undertaking in this investigation, and we have also been in touch with the Indian government as well," Sullivan told the White House press briefing Thursday.
"I firmly reject the idea that there is a wedge between the U.S. and Canada. We have deep concerns about the allegations, and we would like to see this investigation carried forward and the perpetrators held to account."
On Friday, White House press secretary Karine Jean-Pierre refused to elaborate on Sullivan's comments or release any additional details beyond saying the U.S. is in close contact with officials in both countries.
"He was not going to comment about private diplomatic conversations; I'm not going to do that either," Jean-Pierre said. "But yes, there has been conversations with our partners in the Indian government."
As he wrapped up two days at the UN General Assembly on Thursday, Trudeau urged India to co-operate with its investigation and work with Canada to ensure accountability and justice.
But he steadfastly refused to elaborate on the evidence that prompted him to tell the House of Commons of "credible allegations" of Indian involvement, except to say it "was not done lightly."
On Friday, he offered little new information beyond rejecting the claims of Indian officials that Canada has not shared the details of its charges.
"We did that many weeks ago," Trudeau said during a news conference alongside Ukrainian President Volodymyr Zelenskyy, who wrapped up a North American whirlwind visit with a speech in Parliament.
"We are there to work constructively with India and we hope that they engage with us so that we can get to the bottom of this very serious matter."
Canada and India each expelled one of the other's diplomatic emissaries in the ensuing fallout.
Foreign ministers from the Quadrilateral Security Dialogue, a coalition including India, the U.S., Australia and Japan known informally as the "Quad," met Friday on the margins of the UN assembly in New York City.
"We are committed to countering terrorism in all its forms and manifestations, including preventing the international and cross-border movement of terrorists, and countering terror finance networks and safe havens," the group said in a joint statement.
"We stressed the need for a comprehensive and balanced approach to effectively curb terrorist activities through whole of nation and whole of international community efforts."
The Quad, originally formed in 2007, was resurrected in 2017 in hopes of building an economic and geopolitical counterweight to China's growing influence around the world and in the Indo-Pacific region in particular.
Canada was excluded from that alliance, as well as from AUKUS, a trilateral security pact between the U.K., the U.S. and Australia that took shape in 2021 as an undersea military triad separate from the Five Eyes group.
Washington also included India as a founding member of its Indo-Pacific Economic Framework, a nascent trading bloc into which Canada was not invited until Foreign Affairs Minister Mélanie Joly expressed interest in joining in 2022.
India, which has halted visa services in Canada, called the allegations absurd and an attempt to shift attention from the presence of Nijjar and other wanted suspects on Canadian soil. Indian External Affairs Ministry spokesperson Arindam Bagchi called them "politically driven."
"No specific information has been shared by Canada on this case. We are willing to look at any specific information, we have conveyed this to the Canadians," Bagchi said.
He also accused Canada of being a safe haven for extremists.
"Very specific evidence about criminal activities by individuals based on Canadian soil has been shared with the Canadian authorities on a regular basis, but not been acted upon."
Nijjar was working to organize an unofficial referendum among the Sikh diaspora on independence from India at the time of his killing. He had denied India's accusation that he was a terrorist.
The second stage of B.C. voting on whether a Sikh homeland should be established in India's Punjab province is scheduled to be held on Oct. 29.
"There is not some special exemption you get for actions like this," Sullivan said.
"Regardless of the country, we will stand up and defend our basic principles. And we will also consult closely with allies like Canada as they pursue their law enforcement and diplomatic process."
This report by The Canadian Press was first published Sept. 22, 2023.
— With files from The Associated Press.
Top warming talks official hopes for 'course correction' and praises small steps in climate efforts
Adnan Amin, CEO and number two official at the upcoming Conference of Parties (COP28) in Dubai, answers questions during an interview, Monday, Sept. 18, 2023, at United Nations Headquarters. Amin said he knows what activists, critics and the head of the United Nations really want – a phase out of fossil fuels that cause climate change. He said it looks unlikely. (AP Photo/Joseph Frederick)
By Seth Borenstein in New York
NEW YORK (AP) — A top official helping to oversee upcoming international climate negotiations hopes to prove critics wrong — and surprise them with a "course correction" for an ever-warming world.
But don't expect that big a turn.
Adnan Amin, the CEO and No. 2 official at the upcoming Conference of Parties (COP28) in Dubai in late November and December, said he also knows what activists, critics and the head of the United Nations really want — a phase-out of fossil fuels that cause climate change. He said it looks unlikely.
Yet Amin said that while an agreement ridding the world of fossil fuels doesn't look likely, a "phase-down of fossil fuels is inevitable."
In an interview with The Associated Press, Amin demonstrated how the leadership of the climate talks is trying to thread a moving diplomatic needle and praised steps in a decarbonizing direction, however small. Amin's boss, the COP28 president, is an oil executive; Amin was the founding director of the U.N.'s renewable energy agency. The talks are being hosted by petrostate United Arab Emirates.
The Kenya-born Amin is quick to defend COP28 President Sultan al-Jaber, pointing out that al-Jaber also runs a renewable energy company and was key in the founding of the U.N.'s renewable energy agency in the UAE. He will surprise critics, Amin said.
In 10 years when critics and others look back at the talks, Amin wants to hear amazement.
"I hope they will be saying that 'we didn't think that an oil producing country could achieve an outcome on climate of this sort. We didn't think that a process that we thought was blah blah ( the words activist Greta Thunberg used to describe climate negotiations ) could achieve an outcome of this sort'," Amin said. "But that was a course correction that the world needed to get us to a place of comfort for all of us."
AN ELABORATE ECOSYSTEM IS IN THE WAY
It all comes down to the role of coal, oil and natural gas, the nations that rely on them and the companies that profit from them.
Amin welcomes fossil-fuel interests to negotiations, while U.N. Secretary-General Antonio Guterres, activists and some scientists literally want them gone. They say a phase-out of fossil fuels is the only way to curb warming to a manageable level.
But given oppositions by some countries and the climate talks requirement to act by consensus – so one nation can stop everything – it's unlikely that a phase-out will be approved, Amin said. He pointed to the desire by some African countries to use fossil fuels to develop. Rich nations already emitted heat-trapping gases to develop, he said, and it's not fair to ask Africa to forego that without massive financial aid to help them leapfrog to clean energy.
Outside experts don't buy that argument.
"We don't need these historic polluters using Africa poverty to promote fossil fuels which will ultimately inhibit Africa's development," said longtime climate analyst Mohamed Adow, director of Power Shift Africa.
Africa, which produces less than 4% of the world's carbon emissions, gets hard hit with extreme weather, such as the rainy storm that triggered Libya's floods and intense droughts, and have fewer resources to cope with disasters.
"If we truly want to be able to tackle climate change, the first thing we need to do is phase out fossil fuels," Adow said in an email. "We don't want UAE to hide behind low expectations of itself because it is an oil country. If it couldn't deliver a radical, decarbonizing COP28 summit it should not be volunteering to coordinate it."
THE DIFFERENCE BETWEEN 'PHASE OUT' AND 'PHASE DOWN'
Climate scientists Niklas Hohne at the New Climate Institute and Bill Hare at Climate Analytics say there's a significant difference between "phase out" and "phase down." They say "phase down" is what the fossil-fuel industry wants, not what the world needs.
"The scale of investment in fossil fuel development by the UAE is the clearest indication of the direction of travel and it is not towards decarbonization but locking in massive fossil gas infrastructure," Hare said.
While a phase-out is crucial, former U.S. State Department climate lawyer Nigel Purvis said Amin is probably right that ending to fossil fuel is likely an impossible ask. That's because it seemed as if major nations like Russia, China and Saudi Arabia were blocking such a move at a recent meeting of rich economies, he said.
Amin said upcoming climate talks aim to be the most inclusive ever, but that also includes the at-times vilified fossil fuel industry.
"We believe that the oil and gas industry needs to be part of the climate equation," Amin said. "We're engaging with them to see if we can get them to commit to, you know, more rapid decarbonization of their operations."
Amin said he understands the angst and anger of young people. It's their future, he says, so they will have more of an official role in this year's negotiations than in the past.
Amin said he will consider the upcoming talks a success if they accomplish four things: fix and increase climate financial aid from rich nations to poor; decarbonize energy systems more; increase funding for nations to adapt to a warming world, especially hunger and health problems; and include more groups in the negotiations.
Fixing climate change is painstakingly slow, he said, but agreements from 2015 and 1997 have produced progress.
"There is a lot of impatience given the scale of the crisis," Amin said. "The multilateral system moves slowly, but it moves."
___