Feds have 'significant concern' about impact of economic shocks on indebted
OTTAWA — In the lead up to his pre-election budget, federal Finance Minister Bill Morneau has been alerted by his department that Canadians' heavy debts have made abrupt shocks to incomes, house prices or interest rates a "significant concern," according to internal documents.
On March 19, Morneau will release the Liberal government's final budget before the October federal election. He's underlined several issues expected to be addressed in the document, including prescription-drug costs, skills training for workers and support for seniors.
Morneau's also hinted changes are on the way to help make home-buying more accessible for millennials, a generation of people now in their mid-20s to late 30s.
But with concerns about Canadians' debt levels, it's unclear how far the government will go.
Internally, briefing documents show Morneau's been told "the high level of debt of Canadian households remains a key domestic risk," even though rising interest rates have helped slow private borrowing and stricter policies have made mortgages less risky for lenders.
Last November, when budget preparations were likely well underway, a Finance Department briefing addressed to Morneau warned of "dynamics" that could have important implications for the economy in late 2018 and into 2019.
Among the issues, officials urged him to be mindful of Canadians' stretched finances.
"How households would respond if the Canadian economy were suddenly hit with a shock to incomes, house prices or interest rates, given higher debt levels, is a significant concern," said the Nov. 16 note, obtained by The Canadian Press under the Access to Information Act.
Industry has pressed Ottawa to ease stress tests that have tightened mortgage qualification rules and, as a result, cooled housing markets.
The federal changes, combined with provincial and municipal guidelines, were brought in to improve the quality of mortgage debt and to lower risks to the broader economy.
Asked Friday about pressure to loosen the stress tests, Morneau said he had nothing new to announce about them and that they were needed for a reason.
"We wanted to make sure that the market was stable, we wanted to make sure that prices were not escalating in some markets at a pace that was unsustainable," Morneau told reporters in Toronto following his pre-budget meeting with private-sector economists.
When it comes to helping more young people buy property, Paul Taylor, CEO of Mortgage Professionals Canada, has said he's made recommendations to federal officials that they reintroduce insurance on 30-year mortgages as a targeted way to help people at the lower end. Taylor has also argued the stress tests have succeeded in taking some of the froth out of the market and he believes Ottawa should loosen them now.
The stronger economy has encouraged the Bank of Canada to hike interest rates five times since 2017 to its current level of 1.75 per cent.
Governor Stephen Poloz said Thursday that the rate will keep rising — or normalizing — over time to somewhere between 2.5 per cent and 3.5 per cent. But he noted the path is "highly uncertain" because of unknowns related to global trade, business investment and household debt.
Poloz was asked by reporters in Montreal whether the time had come to dial back the stress tests to help more people, including millennials, enter the market.
He said that before the tests were brought in house prices were rising 10 or 15 per cent per year in some markets, which represents a much faster pace than rate increases. The central bank, he added, has been closely watching the data, but it's still early since the latest rule change has barely been in force for a year.
"I can tell you that underwriting of mortgages, the quality, has improved significantly and that matters a lot because the vulnerability of the economy to a normalization of interest rates was becoming extremely high," Poloz said.
When it comes to government debt, a preliminary analysis released Friday by Morneau's department said Ottawa ran a surplus of $300 million through the first nine months of 2018-19. In comparison, Ottawa posted a deficit of $8.9 billion between April and December in 2017-18.
The Liberals have predicted the government will post a shortfall this fiscal year of $18.1 billion. With just three months left in 2018-19, the final federal balance sheet will likely look far different.
Pierre-Olivier Herbert, a spokesman for Morneau, said in an email Friday that the fiscal monitor's results can be volatile and tend to be revised. He stressed it's not uncommon to see movements in the budgetary balance in any given month.
Andy Blatchford, The Canadian Press
CP NewsAlert: City of Iqaluit declares emergency due to water shortage
IQALUIT, Nunavut — The City of Iqaluit has declared a state of emergency due to a water shortage.
More coming.
The Canadian Press
Liberals planning temporary solution to dental care promise: sources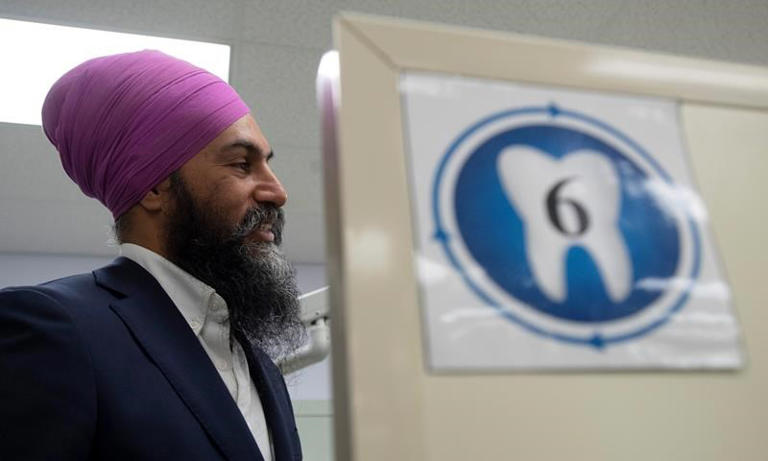 Ottawa – Sources close to the government's proposed $5.3-billion dental-care program say the Liberals are planning a temporary solution that involves giving money directly to patients in order to keep their promise to the NDP while they work on a permanent answer.
The Liberals promised the NDP a new dental-care program for low- and middle-income families in March as part of a supply and confidence agreement to prevent an election before 2025.
The government has until the end of the year to provide some kind of coverage for children under the age of 12 with an annual household income of less than $90,000.
The NDP have vowed to walk away from the deal if the deadline isn't met.
Four sources with knowledge of the government's plan, but who are not authorized to speak publicly, say the government is unlikely to meet its deadline, and is planning a stopgap solution until a permanent incarnation of the program is put in place.
Though details are scarce, the sources say the temporary solution would involve giving qualifying families the money directly to fund their dental health services while the government works on a more permanent, expanded program.
In a statement, the health minister's staff did not confirm or deny the temporary plan but say they are on track to deliver on the dental-care commitment as outlined in the agreement with the New Democrats.
NDP health critic Don Davies did not directly address the temporary plan either, but said in a statement the party has "identified several ways to ensure the target groups can access dental care on the identified timelines."
The NDP are now focused on pushing the Liberals to introduce dental-care legislation when Parliament resumes in the fall, Davies said.
"That legislation will deliver the resources needed to help children under 12 see a dentist and care for their teeth this year," he said.
NDP Leader Jagmeet Singh echoed the health minister's faith about meeting the deadline last week.
"We're very confident we can achieve that before the end of the year, as our agreement outlines," Singh said at a news conference last Thursday.
The agreement isn't prescriptive about how the coverage should be achieved, and the government hasn't committed to any particular means of administering the program yet.
Health Minister Jean-Yves Duclos's office has said repeatedly the department is looking at several options to meet its commitment and its end-of-year deadline.
The NDP originally envisioned a federal program that functions similarly to the federal health-benefits program run for uninsured First Nations and Inuit people.
The federal government could also offer money to provinces and territories to take it over, since many already offer similar programs and dental care has traditionally fallen within their jurisdiction.
Meanwhile, the Liberals put out a formal request for information (RFI) to members of the insurance industry two weeks ago to explore what role private companies could play in administering the program.
In that RFI, the government says if a contract is awarded the winning company would be given six months to get ready before processing claims. That timeline would be impossible to achieve before the end of December.
According to the statement from Duclos's staff, they're still consulting on the best way forward.
The Liberals have promised to extend the program to qualifying teens, seniors and persons living with disabilities next year and everyone else in the qualifying family-income bracket by the end of the supply and confidence agreement in 2025.
"It comes as no surprise that the Trudeau government is not living up to a commitment it made to buy the NDP's support," Conservative health critic Michael Barrett said in a statement.
Barrett said Canadians should be concerned that the government is not committed to maintaining the current health system, "much less adding a new complex and expensive program to it."
The government set aside $5.3 billion over five years for the program, but the parliamentary budget officer's estimate is nearly double that at $9 billion.
Once the program is fully implemented, the Liberals' 2022 budget predicts it will cost about $1.7 billion per year to run, which is in line with the PBO's estimate.
This report by The Canadian Press was first published Aug. 8, 2022.