Trudeau, convoy leaders expected to testify at inquiry into use of Emergencies Act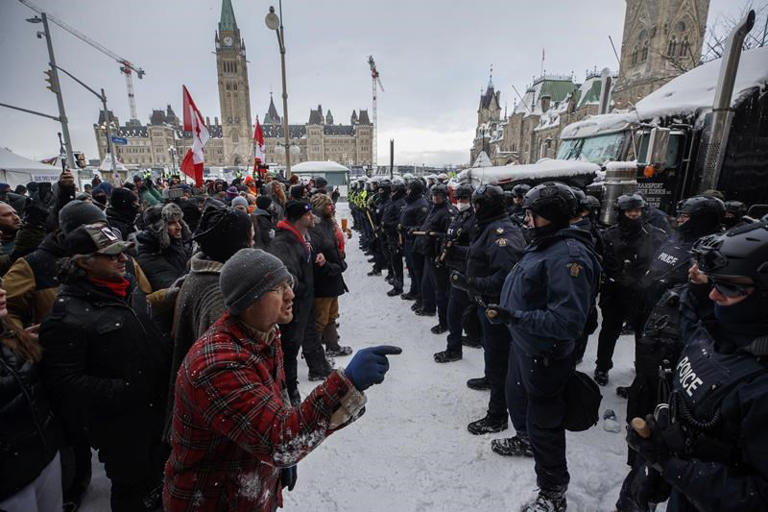 OTTAWA — The public inquiry into the federal government's unprecedented use of the Emergencies Act during "Freedom Convoy" protests last winter begins on Thursday, and dozens of witnesses, including Prime Minister Justin Trudeau and high-profile convoy organizers, are expected to testify.
The Liberal government invoked the Emergencies Act on Feb. 14, granting to police extraordinary temporary powers to clear people out of downtown Ottawa and to banks to freeze the accounts of some of those involved.
The decision came after nearly three weeks of protesters whose trucks clogged downtown Ottawa streets and also set up blockades at several border crossings.
Protesters, who had raised millions of dollars through online crowdfunding sites, were calling for an end to the federal government's COVID-19 vaccine mandates, and in some cases an end to the Trudeau government.
Protesters had set up a bouncy castle, a hot tub and dozens of structures on the streets surrounding Parliament Hill by mid-February, while people in big rigs kept their trucks running and blared their horns day and night until a court injunction lessened the noise. Protesters pledged to stay.
The noise and disruption led to mounting public frustration from people living nearby, and Ottawa police and city officials described a state of "lawlessness" as they struggled to maintain order.
Trudeau cited "serious challenges to law enforcement's ability to effectively enforce the law" when he announced plans to invoke the act for the first time since it was introduced in 1988.
"This is about keeping Canadians safe, protecting people's jobs and restoring confidence in our institutions," he said at the time.
The Emergencies Act requires that a public inquiry be called to examine the government's decision-making any time it is invoked.
The Public Order Emergency Commission and Ontario Appeal Court JusticePaul Rouleau, who is the lead commissioner, will assess the basis for the government's decision and the appropriateness and effectiveness of the measures taken to deal with the blockades. They will also review whether there should be any changes to the Emergencies Act itself.
Since it was established on April 25, the commission has been collecting documents and interviewing dozens of people, including central figures in the "Freedom Convoy" such as Tamara Lich, Chris Barber, Pat King and James Bauder — all facing criminal charges for their roles.
A draft list of potential witnesses at the hearings includes outgoing Ottawa Mayor Jim Watson and senior city officials, members of the Ottawa Police Services Board and David Vigneault, director of the Canadian Security Intelligence Service.
Peter Sloly, who resigned as Ottawa police chief during the convoy, and his replacement, interim police chief Steve Bell, are also expected to testify. So are Finance Minister Chrystia Freeland and Public Safety Minister Marco Mendicino.
Mendicino told reporters last week the Emergencies Act was necessary to restore order across the country, including on Wellington Street "where for three weeks, the situation was virtually ungovernable."
Temporary measures under the act gave police greater leeway to make arrests, impose fines, tow vehicles and freeze assets.
"We will co-operate fully with Judge Rouleau and his review and his commission, and look forward to receiving any lessons learned or any recommendations that come out of it," Mendicino said.
Keith Wilson, a lawyer with the Justice Centre for Constitutional Freedoms who is representing a number of key convoy organizers, said his clients are eager to talk about what was happening and why they were in Ottawa.
"They're hoping it will become apparent, which many already know, that there was no need to invoke the Emergencies Act," he said.
A number of community groups representing people living in and around downtown Ottawa are also taking part.
"I'm hoping they will delve a little bit about the actual impact on businesses and residents and not just the occupation," said Louise Lapointe, who leads Action Sandy Hill.
The government said it will be providing sensitive cabinet documents to the commission, but there have been concerns about whether that — and other critical information — will be made public. Rouleau has not said whether he will release information protected by cabinet confidence.
Ryan Alford, a professor at Lakehead University who is representing the Canadian Constitution Foundation at the inquiry, said he is concerned government and police agencies will try to shield evidence from the public, citing national security concerns.
"This would be a nightmare," he said.
Commission lawyers will question witnesses, much like in a regular court setting, but unlike a court, the inquiry is tasked with fact-finding and making recommendations, rather than assigning blame.
Cara Zwibel, a lawyer with the Canadian Civil Liberties Association, says the process will hold government accountable and help get the full story about why cabinet enacted the emergency legislation.
The commission has until mid-February to deliver its final report to Parliament.
This report by The Canadian Press was first published Oct. 10, 2022.
David Fraser, The Canadian Press
Quebec says only people at risk who haven't had COVID-19 should get booster dose
Only people who are considered at risk for severe COVID-19 — and who haven't already been infected — need to get a booster dose, Quebec's public health director said Thursday.
The vast majority of Quebecers have hybrid immunity — protection through vaccination and through a SARS-CoV-2 infection — making regular boosters unnecessary, at least for this winter and spring, Dr. Luc Boileau told reporters.
"People with hybrid immunity … have a very good protection against a severe form of the illness," Boileau said. "And this immunity lasts for a long enough time that we can propose changes."
Those who have been vaccinated but haven't contracted the virus are also protected against severe COVID-19, he said, but their immunity "has a tendency to drop with time."
Quebec's vaccination committee decided to focus the province's immunization policy on preventing hospitalizations and deaths, he said. People who are 60 and older or who have chronic illnesses, health workers, pregnant women and those who live in isolated regions are among the people who should get a booster every six months — but only if they have never caught the virus, Boileau said.
Dr. Caroline Quach-Thanh, chairperson of Quebec immunization committee, said the data shows that people already vaccinated for COVID-19 who have contracted the virus "maintain their protection."
"Adding a dose doesn't add a lot protection for severe (illness)," she said.
Health officials estimate that more than three-quarters of Quebecers under 60 have had COVID-19 over the past three years, while about half of those over 60 have caught the virus.
Boileau said only people who are immunocompromised should continue getting boosters even if they've been infected, "because their immunity could be affected by their condition."
Before Thursday's announcement, boosters were recommended for all people considered at risk of severe COVID-19. Boileau said COVID-19 vaccines will remain available to anyone who wants one. "We won't refuse anyone," he said.
This report by The Canadian Press was first published Feb. 2, 2023.
'The eyes of the world': Trial starts for Calgary pastor charged in border blockade
By Bill Graveland in Lethbridge
A court has seen video of a Calgary pastor encouraging truckers to keep blocking the Canada-U.S. border to protest COVID-19 restrictions because the world was watching.
The trial for Artur Pawlowski began Thursday in southern Alberta on charges of breaching a release order and mischief for inciting people to block public property at the border crossing at Coutts, Alta.
He is also charged under the Alberta Critical Infrastructure Defence Act with the wilfully damaging or destroying essential infrastructure.
The blockade that began in late January 2022 paralyzed Alberta's main U.S. border crossing for more than two weeks .
The Crown's case against Pawlowski consists of an agreed statement of facts and the 20-minute video of the speech that the pastor gave to protesters on Feb. 3, 2022.
In it, Pawlowski pleads with truckers to stay the course and not leave the protest, which was aimed at COVID-19 restrictions and vaccine mandates.
Pawlowski visited the group at Smuggler's Saloon, a location that became their headquarters. At the time, protesters were considering whether to leave Coutts for Edmonton to demonstrate in front of the legislature.
"I believe that the eyes of the world are fixed on this place right here. That's right — this little pitiful piece of land," Pawlowski told a cheering crowd in the video played for provincial court Judge Gordon Krinke in Lethbridge, Alta.
"The eyes of the world are fixed right here on you guys. You are the heroes. Don't you dare go breaking the line.
"For the first time in two years, you have the power. You pack your stuff, you go to Edmonton and you will be lost."
The pastor also told the crowd there weren't enough police or a big enough army to deal with the protesters. He was arrested days later.
Pawlowski was greeted by about 300 supporters outside court Thursday before trial. Some held Canadian flags and signs reading "Free Pastor Pawlowski."
Pawlowski told the group he had no regrets.
"I told the people this is a peaceful uprising. No guns. No swords. I stand by what I said a year ago," he said outside of court.
"I am proud that I stood with the people that simply stood for their God and state. Our rights do not belong to the politicians or bureaucrats or even judges or Crown prosecutors. They belong to us, the people."
Prosecutor Steve Johnston said the court must determine whether Pawlowski is guilty because he was a party to the events, and the Crown argues that he was.
The defence said it would not be calling witnesses in the trial, and closing arguments were expected Thursday afternoon.
This report by The Canadian Press was first published Feb. 2, 2023