Trudeau apologizes to chief of Tk'emlúps te Secwépemc after Tofino trip: PMO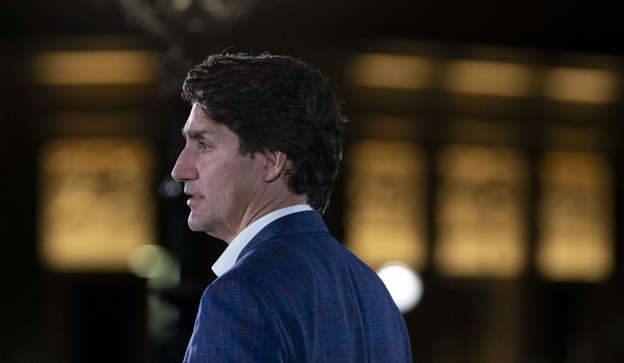 OTTAWA — Prime Minister Justin Trudeau has offered a private apology to the chief of a British Columbia First Nation after passing up opportunities to honour Canada's first official Truth and Reconciliation day in the community, prompting one major Indigenous advocacy organization to call on him to voice his contrition in public.
Trudeau's office said the prime minister spoke with the head of the Tk'emlups te Secwepemc Nation on Saturday and apologized for failing to accept invitations to mark Sept. 30 in the community where more than 200 unmarked graves were discovered at the site of a former residential school. While Trudeau was in the province that day, he chose instead to spend personal time with his family.
The head of the The Native Women's Association of Canada said she welcomed word of Trudeau's private apology, but called on him to make a more public statement and cautioned that his actions may have lasting consequences.
Chief Executive Officer Lynne Groulx said members had asked Trudeau to admit he made an error in judgment, but believes there now needs to be a message directed at the wider Indigenous community.
"It's every single residential school survivor, intergenerational school survivor — we know that that's 100 per cent of our communities are impacted by residential schools," she said.
Trudeau spent Sunday in Tofino, B.C., where he has been since last Thursday when he flew there on a day meant to honour Indigenous survivors of Canada's residential schools system.
His location came as a shock after his itinerary initially reported he was in Ottawa for private meetings.
A spokesman for Trudeau said he spent several hours on the phone with eight people who lived through residential schools, and denied that the prime minister had used the historic day to take a vacation.
Global News filmed the prime minister walking along a beach and the resulting video shows him declining to offer any comment.
Reports of his Reconciliation Day activities sparked widespread backlash from Indigenous leaders, who felt it was disrespectful of him not to join other politicians in attending events held to honour the children who never came home.
More than 4,000 Indigenous children are believed to have died while being forced to attend the church-run facilities, where many survivors reported suffering from physical and sexual abuse as well as neglect and malnutrition.
The Tk'emlups te Secwepemc Nation, which earlier this year announced the findings of more than 200 unmarked graves at the site of a former residential school in Kamloops, B.C., shared on social media that it sent "two heartfelt invitations" for Trudeau to join them on Sept. 30.
Trudeau's office said Sunday he reached out to Chief Rosanne Casimir a day earlier and offered his apology, but didn't divulge specifics on what he said.
A spokesperson for the First Nation confirmed a conversation and apology took place, but also offered no further details.
Groulx said people feel disappointed, hurt and angry by Trudeau's actions and said it should be made clear that Sept. 30 is a national day of observance, not a holiday.
She said the fact that the Tofino trip happened on the heels of a federal election campaign further erodes trust that the government is serious about the commitments it has made to advance reconciliation.
"Maybe it's just a part of what governments do when they need to get elected and to win over Indigenous people. We're doubting the legitimacy of the promises that are being made," she said.
Assembly of First Nations National Chief RoseAnne Archibald said "hollow apologies will no longer be accepted."
"As National Chief, on behalf of all First Nations, I expect concrete action and changed behaviours," she said in a Sunday statement. "The prime minister must demonstrate through actions that he is committed to the healing path forward."
Archibald asked that media give the same amount of attention to the stories of residential school survivors as Trudeau's behaviour.
Canada's declaration that Sept. 30 would be a day honouring survivors was made in the weeks following the Tk'emlups te Secwepemc Nation's announcement about unmarked graves. The day was previously known as "Orange Shirt Day," an initiative aimed at generating awareness of the dark legacy of Canada's residential schools.
The discovery of the graves set off weeks of mourning across Canada. Hundreds of tiny shoes and stuffed animals were placed near the Centennial Flame on Parliament Hill as well as at other sites around the country to remember the children who died and went missing.
Weeks later, Cowessess First Nation in Saskatchewan also reported locating more than 700 unmarked graves using ground-penetrating radar technology other First Nations said they too were using to find the remains of children at former residential school sites.
The news, combined with the reckoning it stirred within many Canadians, prompted the minority Parliament to pass a bill naming Sept. 30 as the National Day for Truth and Reconciliation. The move was also among the 94 calls to action put forward by the Truth and Reconciliation Commission in its landmark 2015 report.
This report by The Canadian Press was first published Oct. 3, 2021
Stephanie Taylor, The Canadian Press
'Freedom Convoy' organizer Tamara Lich expected to have bail hearing today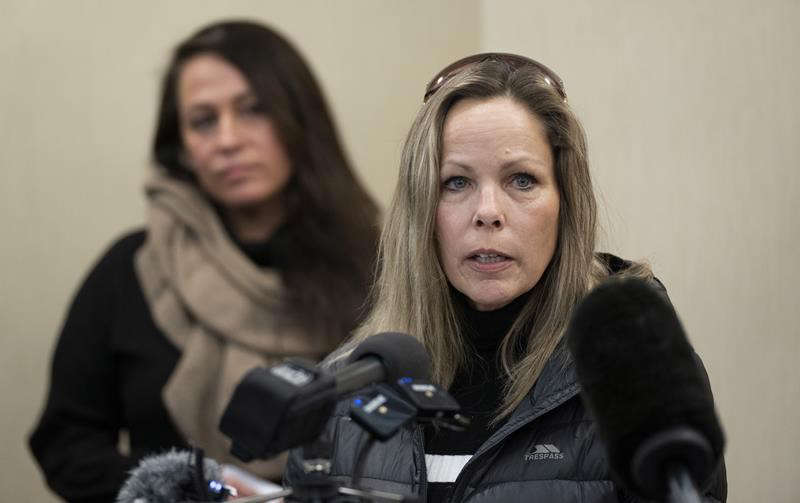 OTTAWA — Tamara Lich, an organizer of the "Freedom Convoy," is set to appear in an Ottawa court today for a bail hearing after being arrested last week for allegedly breaching one of her bail conditions.
She was arrested in Medicine Hat, Alta., where she lives, on a Canada-wide arrest warrant sought by the Ottawa police.
Police transported her to the capital and she briefly appeared before an Ottawa judge on Thursday before remaining in custody over the weekend.
Lich was a key figurehead of the massive protest that overtook the capital's downtown streets for more than three weeks in February.
She and fellow protest organizer Chris Barber are jointly accused of mischief, obstructing police, counselling others to commit mischief and intimidation.
She was released with a long list of conditions, including a ban from all social media and an order not to support anything related to the "Freedom Convoy."
Police have not said which condition she's accused of breaching.
This report by The Canadian Press was first published July 5, 2022.
—
This story was produced with the financial assistance of the Meta and Canadian Press News Fellowship.
The Canadian Press
NASA satellite breaks from orbit around Earth, heads to moon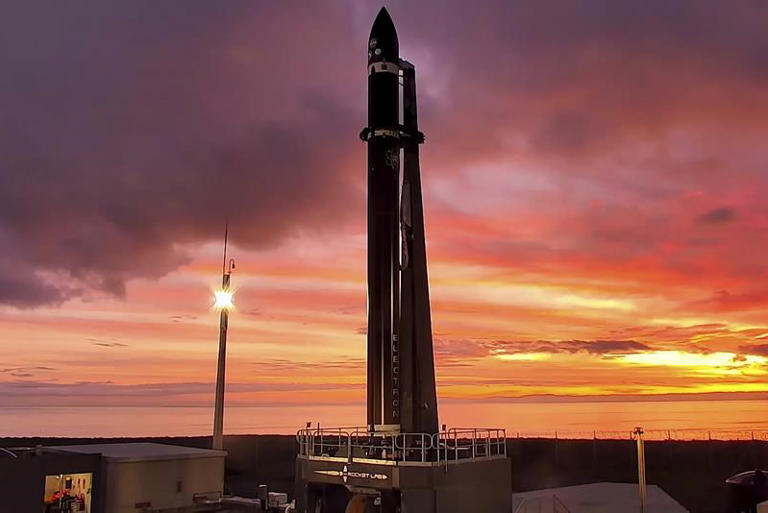 WELLINGTON, New Zealand (AP) — A satellite the size of a microwave oven successfully broke free from its orbit around Earth on Monday and is headed toward the moon, the latest step in NASA's plan to land astronauts on the lunar surface again.
It's been an unusual journey already for the Capstone satellite. It was launched six days ago from New Zealand's Mahia Peninsula by the company Rocket Lab in one of their small Electron rockets. It will take another four months for the satellite to reach the moon, as it cruises along using minimal energy.
Rocket Lab founder Peter Beck told The Associated Press it was hard to put his excitement into words.
"It's probably going to take a while to sink in. It's been a project that has taken us two, two-and-a-half years and is just incredibly, incredibly difficult to execute," he said. "So to see it all come together tonight and see that spacecraft on its way to the moon, it's just absolutely epic."
Beck said the relatively low cost of the mission — NASA put it at $32.7 million — marked the beginning of a new era for space exploration.
"For some tens of millions of dollars, there is now a rocket and a spacecraft that can take you to the moon, to asteroids, to Venus, to Mars," Beck said. "It's an insane capability that's never existed before."
If the rest of the mission is successful, the Capstone satellite will send back vital information for months as the first to take a new orbit around the moon called a near-rectilinear halo orbit: a stretched-out egg shape with one end of the orbit passing close to the moon and the other far from it.
Eventually, NASA plans to put a space station called Gateway into the orbital path, from which astronauts can descend to the moon's surface as part of its Artemis program.
Beck said the advantage of the new orbit is that it minimizes fuel use and allows the satellite — or a space station — to stay in constant contact with Earth.
The Electron rocket that launched June 28 from New Zealand was carrying a second spacecraft called Photon, which separated after nine minutes. The satellite was carried for six days in Photon, with the spacecraft's engines firing periodically to raise its orbit farther and farther from Earth.
A final engine burst Monday allowed Photon to break from Earth's gravitational pull and send the satellite on its way. The plan now is for the 25-kilogram (55-pound) satellite to far overshoot the moon before falling back into the new lunar orbit Nov. 13. The satellite will use tiny amounts of fuel to make a few planned trajectory course corrections along the way.
Beck said they would decide over the coming days what to do with Photon, which had completed its tasks and still had a bit of fuel left in the tank.
"There's a number of really cool missions that we can actually do with it," Beck said.
For the mission, NASA teamed up with two commercial companies: California-based Rocket Lab and Colorado-based Advanced Space, which owns and operates the Capstone satellite.
___
Find more AP Science coverage at https://apnews.com/hub/science
Nick Perry, The Associated Press