Trudeau apologizes to chief of Tk'emlúps te Secwépemc after Tofino trip: PMO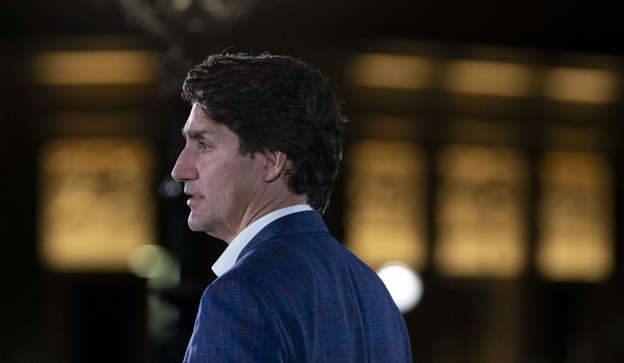 OTTAWA — Prime Minister Justin Trudeau has offered a private apology to the chief of a British Columbia First Nation after passing up opportunities to honour Canada's first official Truth and Reconciliation day in the community, prompting one major Indigenous advocacy organization to call on him to voice his contrition in public.
Trudeau's office said the prime minister spoke with the head of the Tk'emlups te Secwepemc Nation on Saturday and apologized for failing to accept invitations to mark Sept. 30 in the community where more than 200 unmarked graves were discovered at the site of a former residential school. While Trudeau was in the province that day, he chose instead to spend personal time with his family.
The head of the The Native Women's Association of Canada said she welcomed word of Trudeau's private apology, but called on him to make a more public statement and cautioned that his actions may have lasting consequences.
Chief Executive Officer Lynne Groulx said members had asked Trudeau to admit he made an error in judgment, but believes there now needs to be a message directed at the wider Indigenous community.
"It's every single residential school survivor, intergenerational school survivor — we know that that's 100 per cent of our communities are impacted by residential schools," she said.
Trudeau spent Sunday in Tofino, B.C., where he has been since last Thursday when he flew there on a day meant to honour Indigenous survivors of Canada's residential schools system.
His location came as a shock after his itinerary initially reported he was in Ottawa for private meetings.
A spokesman for Trudeau said he spent several hours on the phone with eight people who lived through residential schools, and denied that the prime minister had used the historic day to take a vacation.
Global News filmed the prime minister walking along a beach and the resulting video shows him declining to offer any comment.
Reports of his Reconciliation Day activities sparked widespread backlash from Indigenous leaders, who felt it was disrespectful of him not to join other politicians in attending events held to honour the children who never came home.
More than 4,000 Indigenous children are believed to have died while being forced to attend the church-run facilities, where many survivors reported suffering from physical and sexual abuse as well as neglect and malnutrition.
The Tk'emlups te Secwepemc Nation, which earlier this year announced the findings of more than 200 unmarked graves at the site of a former residential school in Kamloops, B.C., shared on social media that it sent "two heartfelt invitations" for Trudeau to join them on Sept. 30.
Trudeau's office said Sunday he reached out to Chief Rosanne Casimir a day earlier and offered his apology, but didn't divulge specifics on what he said.
A spokesperson for the First Nation confirmed a conversation and apology took place, but also offered no further details.
Groulx said people feel disappointed, hurt and angry by Trudeau's actions and said it should be made clear that Sept. 30 is a national day of observance, not a holiday.
She said the fact that the Tofino trip happened on the heels of a federal election campaign further erodes trust that the government is serious about the commitments it has made to advance reconciliation.
"Maybe it's just a part of what governments do when they need to get elected and to win over Indigenous people. We're doubting the legitimacy of the promises that are being made," she said.
Assembly of First Nations National Chief RoseAnne Archibald said "hollow apologies will no longer be accepted."
"As National Chief, on behalf of all First Nations, I expect concrete action and changed behaviours," she said in a Sunday statement. "The prime minister must demonstrate through actions that he is committed to the healing path forward."
Archibald asked that media give the same amount of attention to the stories of residential school survivors as Trudeau's behaviour.
Canada's declaration that Sept. 30 would be a day honouring survivors was made in the weeks following the Tk'emlups te Secwepemc Nation's announcement about unmarked graves. The day was previously known as "Orange Shirt Day," an initiative aimed at generating awareness of the dark legacy of Canada's residential schools.
The discovery of the graves set off weeks of mourning across Canada. Hundreds of tiny shoes and stuffed animals were placed near the Centennial Flame on Parliament Hill as well as at other sites around the country to remember the children who died and went missing.
Weeks later, Cowessess First Nation in Saskatchewan also reported locating more than 700 unmarked graves using ground-penetrating radar technology other First Nations said they too were using to find the remains of children at former residential school sites.
The news, combined with the reckoning it stirred within many Canadians, prompted the minority Parliament to pass a bill naming Sept. 30 as the National Day for Truth and Reconciliation. The move was also among the 94 calls to action put forward by the Truth and Reconciliation Commission in its landmark 2015 report.
This report by The Canadian Press was first published Oct. 3, 2021
Stephanie Taylor, The Canadian Press
Climate to conflict, Davos' post-COVID return has full plate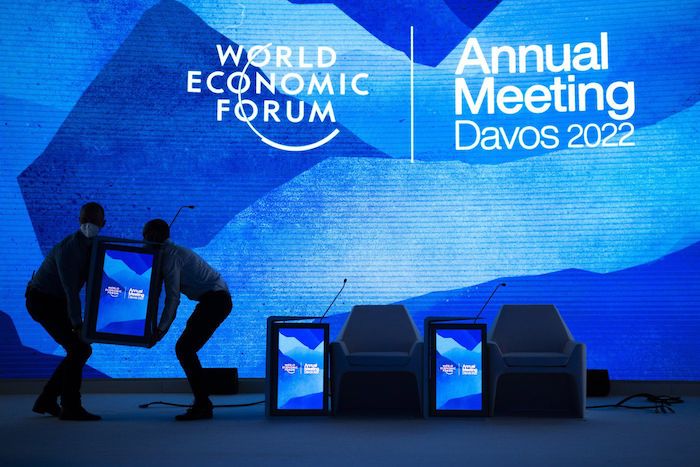 By Jamey Keaten And Masha Macpherson in Davos
DAVOS, Switzerland (AP) — Davos — the hub of an elite annual gathering in the Swiss Alps — is back, more than two years after the coronavirus pandemic kept its business gurus, political leaders and high-minded activists away. There's no shortage of urgent issues for the World Economic Forum's annual meeting to tackle.
With their lofty ambition to help improve the state of the world, forum organizers have their work cut out for them: there are soaring food and fuel prices, Russia's war in Ukraine, climate change, drought and food shortages in Africa, yawning inequality between rich and poor, and autocratic regimes gaining ground in some places — on top of signs that the pandemic is far from over.
It's hard to predict if the high-minded discussions will yield substantial announcements that make headway on the world's most pressing challenges.
The war in Ukraine will be a key theme. President Volodymyr Zelenskyy will speak on opening day Monday by video from Kyiv, while the country's foreign minister and a sizable delegation of other top Ukrainian officials will be on hand. They'll be joined this week by leaders like German Chancellor Olaf Scholz, U.S. climate envoy John Kerry, NATO Secretary-General Jens Stoltenberg and European Commission President Ursula von der Leyen.
"There's no business as usual," forum President Borge Brende told The Associated Press, saying Ukraine is not the only worry. "It is also climate change. It is also that the global growth is slowing, and we have to avoid that this very weak recovery ends with a new recession because we have very limited ammunition to fight a new recession."
"A new recession will lead to increased unemployment, increased poverty," he added. "So much is at stake."
President Vladimir Putin's war means Russian business and political leaders haven't been invited to Davos this year. There will be no traditional "Russia House" social festivities with caviar and vodka spreads for the elite attendees of its evening fun.
Instead, critics — notably including Ukrainian tycoon Victor Pinchuk and the country's Foreign Ministry — have seized on some symbolism and vowed to voice their disgust, which is shared by many around the world.
"This year, Russia is not present at Davos, but its crimes will not go unnoticed. The 'Russia War Crimes House' takes place inside the former Russia House," organizers of the rechristened venue said in a press release.
Opening Monday, the venue will feature photos of crimes and cruelties that Russian forces are accused of perpetuating. Some victims will speak out — including Anatoliy Fedoruk, the mayor of Bucha, a town near Kyiv where images of killings of civilians drew outrage worldwide.
"It's important to understand what is really happening in Ukraine," said Bjorn Geldhof, artistic director of PinchukArtCentre, which is helping organize the exhibit. "Part of this exhibition is also to bring back a human face to those people who have become victim of these Russian war crimes."
Brende, the forum president, says scores of CEOs and other business leaders will be looking into ways the private sector can support Ukraine, "in the situation where Russia is breaking international law, international humanitarian law, and not sticking to the U.N. Charter."
Not everyone believe Davos is the place where solutions can be found.
A few dozen anti-capitalist demonstrators marching behind a "Smash WEF" banner clashed Friday with police in Zurich, Switzerland's largest city, a sign of simmering antagonism against economic elites whom they accuse of putting profits over people. Police used rubber bullets and pepper spray to disperse the crowd in what was deemed an unauthorized gathering.
While Ukraine will capture attention on the meeting's first day, climate and environmental issues will be a recurring, constant theme as the forum looks to future challenges as much as the current ones.
One-third of the roughly 270 panel discussions through Thursday's finale will focus on climate change or its effects, with extreme weather, efforts to reach "net zero" emissions and finding new, cleaner sources of energy on the agenda.
Forum managers — who have faced criticism about hosting wealthy executives who sometimes fly in on emissions-spewing corporate jets — have increasingly tried to play their part and inoculate themselves against accusations of hypocrisy: Over the last five years, they say they have offset 100% of the carbon emissions from the organization's activities by supporting environmental projects.
Experts say offsets can be problematic because there's no guarantee they'll deliver on reducing emissions.
At least five dead, thousands without power after storm
TORONTO — As many as five people are dead and tens of thousands remain without power following a fierce storm that swept across Ontario and Quebec.
Gatineau police said a 51-year-old woman died when the boat she was in capsized in the Ottawa River near Masson-Angers, Que. during Saturday's storm.
Ontario Provincial Police said a 44-year-old man was killed in Greater Madawaska, west of Ottawa, after reportedly being struck by a falling tree, while police in Ottawa said one person died in the city's west end, but didn't release any further details.
Peel Regional Police said a woman in her 70s was killed by a falling tree while she was walking in Brampton, west of Toronto.
OPP reported one person was killed and two others were injured when a tree fell on a camping trailer near Pinehurst Lake in Waterloo Region.
The Township of Uxbridge, Ont. declared a local state of emergency after the storm caused significant damage in the community. A statement posted on the township's website says there are widespread power outages and many closed roads due to downed trees and power lines. Residents are being asked to stay home to allow municipal workers to focus on removing road hazards rather than manage traffic congestion.
As of early Sunday morning, about 269-thousand Hydro One customers were without power, while Hydro Ottawa reported more than 550 outages affecting over 170-thousand customers.
Trees and power lines were knocked down across a swath of the province stretching from Sarnia to Ottawa by ferocious winds, which at one point reached 132 km/h at the Kitchener airport.
The Canadian Press was first published May 22, 2022.
The Canadian Press