Toronto Blue Jays redesign Fourth of July hats, remove stars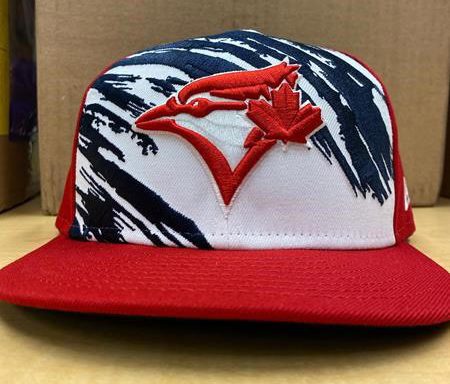 The Toronto Blue Jays have altered the design of an upcoming special edition Fourth of July ballcap.
All 30 Major League Baseball teams were originally scheduled to wear special hats decorated with American emblems to celebrate Independence Day in the United States.
But when previews of the caps came out, fans of the Blue Jays voiced their displeasure at Canada's only MLB team wearing star-spangled hats.
A spokesman for the Blue Jays says that as Canada is a distinct market the club has worked with MLB and New Era, the hats' manufacturer, to create a uniquely designed cap for Fourth of July festivities that represents the diversity of Toronto and Canada.
The new cap is still predominantly red and white with blue stripes but the stars have been removed.
Toronto begins a three-game series in Oakland against the Athletics on July 4.
The Blue Jays will still wear their red uniforms on Canada Day as they host the Tampa Bay Rays in the second game of a rare five-game series.
This report by The Canadian Press was first published June 25, 2022.
The Canadian Press
Hockey Hall of Famer Bobby Hull dead at 84; First NHLer to score more than 50 goals
Hockey Hall of Famer Bobby Hull has died at the age of 84.
He played for the NHL's Chicago Blackhawks and Hartford Whalers as well as the World Hockey Association's Winnipeg Jets over a 23-year pro career.
The NHL Alumni Association announced his death this morning.
In 1961, he helped lead the Blackhawks to their first Stanley Cup in 23 years.
Hull was the first player in the NHL history to score more than 50 goals in a single season. He set the record of 54 in 1966 and broke it by four goals a couple of seasons later.
Along with Chicago teammate Stan Mikita he helped popularize the curved hockey stick blade in the NHL.
His subsequent defection to the Winnipeg Jets of the WHA in 1972 was the catalyst that helped shatter the NHL's stranglehold on players. It also started the escalation of salaries that now make Hull's once record-setting million-dollar payday look like small change.
This report by The Canadian Press was first published Jan. 30, 2023.
Super Bowl 57: Chiefs, Eagles meet for title in Arizona
By David Brandt
Patrick Mahomes finally got the best of Joe Burrow.
All he needed was a little shove.
Harrison Butker made a 45-yard field goal with 3 seconds left — after Cincinnati's Joseph Ossai was flagged for a 15-yard penalty for shoving Mahomes after he was out of bounds — and the Chiefs beat the Bengals 23-20 in the AFC championship game to make it back to the Super Bowl.
Kansas City will face the Philadelphia Eagles in the Super Bowl on Feb. 12 in Glendale, Arizona.
The Eagles opened as a 1 1/2-point favorite, according to FanDuel Sportsbook.
There are no shortage of storylines: Kansas City coach Andy Reid goes against his old team — which he led to Super Bowl 39 — in a game that's also the first matchup of Black starting quarterbacks in the Super Bowl with Mahomes and Philadelphia's Jalen Hurts.
On top of that, there's a brother-against-brother showdown between Chiefs tight end Travis Kelce and Philadelphia center Jason Kelce.
" Officially done being a Chiefs fan this season!! " Jason Kelce tweeted immediately after the Chiefs won.
The Chiefs have been making deep postseason runs on a regular basis ever since Mahomes came to town as the franchise quarterback.
This was their fifth straight trip to the AFC title game and will be their third Super Bowl appearance in that span. They beat the 49ers for the NFL title in the 2019 season, but lost to the Bucs the following season.
The Eagles clobbered the Niners 31-7 in the NFC title gameearlier Sunday. They've looked dominant in the playoffs so far, also beating the New York Giants 38-7 in the divisional round.
Philadelphia is back in the Super Bowl five years after beating the New England Patriots 41-33 on Feb. 4, 2018.
Now a mostly new generation of Eagles — led by coach Nick Sirianni and Hurts — will come to Arizona to try and win another title.
The Chiefs-Bengals game looked as if it was going to overtime before Ossai's ill-advised play. Mahomes — who was playing on a badly sprained ankle — was running to get a first down in the final seconds as Ossai desperately tried to track him down.
Mahomes was out of bounds when Ossai gave him a shove, sending both players tumbling to the turf. The ensuing 15-yard penalty was enough to push Butker into field-goal range and the kick split the uprights.
A distraught Ossai sat on the bench with his head in his hands, well after the game was over.
The Bengals and Chiefs were playing for the fourth time in less than 400 days and Cincinnati had won the previous three meetings — all by three points. This one was decided by a field goal, too, and all Burrow could do was watch.
The Bengals lost to the Rams in last year's Super Bowl and they just missed another chance at returning to the title game.
NO DRAMA IN NFC
Oddsmakers thought fans were in for some close conference championship games.
They'll have to settle for a 50% success rate.
The NFC title game was a blowout. Niners rookie quarterback Brock Purdy was injured in the first quarter when Eagles linebacker Haason Reddick drilled his right arm on a play that was ruled a fumble. The Eagles recovered that fumble and the injury proved to be a game-changer.
With Purdy hurt, San Francisco turned to 36-year-old journeyman Josh Johnson, who couldn't do much before eventually leaving with a concussion. Purdy came back into the game, but could barely throw, and the Eagles cruised to the win.
The 49ers dealt with quarterback injuries all season, losing Trey Lance and Jimmy Garoppolo before turning to Purdy, a seventh-round draft pick out of Iowa State. Purdy stepped into a starter's role in December and won his first seven games before Sunday's injury.
Here's a few things to know about the upcoming Super Bowl:
WHAT'S THE UPCOMING SCHEDULE?
FEB. 5
Pro Bowl flag-football game, 3 p.m. EST, ABC/ESPN
FEB. 12
Super Bowl LVII, Philadelphia Eagles vs. Kansas City Chiefs, 6:30 p.m. EST, Fox
RIHANNA AT HALFTIME
Rihanna will take center stage as the headline act for this year's Super Bowl halftime show.
With sales of more than 250 million records worldwide, Rihanna ranks as one of the best-selling female artists ever. Her most recent album was 2016′s "Anti." Rihanna last performed publicly at the Grammy Awards in 2018.
The singer said she turned down a similar opportunity for the 2019 Super Bowl that was ultimately headlined by Maroon 5. At the time, many artists voiced support for Colin Kaepernick, the former San Francisco 49ers quarterback who protested police brutality against Black people and minorities by kneeling during the national anthem in 2016.
Country music star Chris Stapleton will sing the national anthem, while R&B legend Babyface will perform "America the Beautiful."
PRO BOWL MAKEOVER
The Pro Bowl is getting a major makeover this year after the NFL eliminated its full-contact all-star game and replaced it with weeklong skills competitions and a flag football game.
The flag football contest is Feb. 5 in Las Vegas at Allegiant Stadium, one week before the Super Bowl.
The Pro Bowl debuted in January 1951 in Los Angeles and stayed there for 21 seasons before the game moved to different cities from 1972-80. Hawaii hosted from 1980-2009, and the game has had several homes in the years since, including Miami, Phoenix, Orlando and Las Vegas.
"The game was kind of silly, I guess," Saints two-time Pro Bowl offensive lineman Ryan Ramczyk said back in September when the news was announced. "Guys weren't out there playing true football. Hopefully, there'll be a lot of interactions with the fans and guys will get their opportunity to go out there and show some skills. I could see that being a good change."
___
AP Entertainment Writers Jake Coyle and Jonathan Landrum Jr. and AP Pro Football Writer Rob Maaddi contributed to this story.
___
AP NFL: https://apnews.com/hub/nfl and https://twitter.com/AP_NFL