Tom Brady's TB12 Method is in schools. Experts have doubts.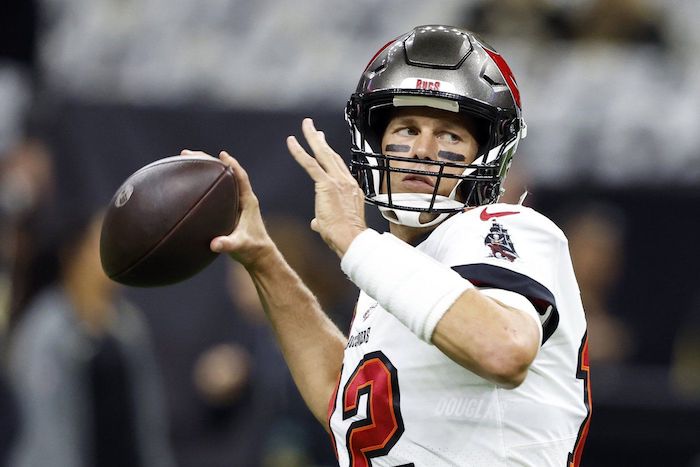 By Heather Hollingsworth
In some Tampa Bay-area schools, students use foam rollers and vibrating spheres to massage their muscles as they work toward goals for strength and flexibility. It's all part of a new physical education curriculum from quarterback Tom Brady, whose vision for healthy living is fueling a fitness empire.
The arrangement with schools in Pinellas County, Florida, marks a foray into education for the Tampa Bay Buccaneers superstar and his methods — including some that have been criticized as pseudoscience.
Physical education experts have raised questions about the approach's suitability for school-age children. But the program — and its connection with the seven-time Super Bowl champion — has stirred student interest in fitness and nutrition, others say.
"My legs are lot more loose, and they're not so heavy on me," said Antoine James, an eighth-grader. "It really helps."
A pilot project has embedded parts of the program in gym and health courses in 10 middle and high schools in the 96,000-student district. The TB12 Foundation, the charitable arm of Brady's fitness business, is picking up the tab to train district staff and provide them with equipment.
The marketing boost for TB12, of course, is free.
Adults who embrace the "TB12 Method," as Brady described it in a 2017 book, can meet with a trainer for $200 an hour at one of his company's training centers. His product line includes a plant-based protein powder, electrolytes and vibrating rollers that sell for $160.
"I'm sure one of the benefits is to help students get better exercise habits and physical fitness habits," said Karen Rommelfanger, an adjunct professor of neurology and psychiatry at Emory University. "But does it also start to enroll another generation of consumers for their product?"
In Pinellas County, the plan is to expand to the rest of its middle and high schools next year. If all goes well, Brady's foundation is looking to use the program as a model for other districts.
"Today we kind of focus on a little bit older client for the most part," said Grant Shriver, president and CEO at TB12, where the average client is around 40. "This just kind of gives us a little bit of a vision of how we could go approach just more people."
The TB12 Foundation's first partnership in education started in 2020 with Brockton Public Schools in Massachusetts, where Brady played for the New England Patriots. TB12 took a dozen of the district's athletes to its training center free of charge. That effort later expanded to Malden Public Schools, also in the Boston area.
"I grew up where you lifted heavy weights and, you know, you gauge strength by how much you could bench press and how much you can squat. And this is completely different," said Brockton Public Schools Athletic Director Kevin Karo. His district is now contracting to use some of the TB12 staff as strength and conditioning coaches for student-athletes.
Most of Brady's advice is fairly mainstream, including an emphasis on a positive attitude, good nutrition and adequate sleep. But some of his guidance has faced skepticism. He famously attributed his propensity not to sunburn to his high water intake in his book. His trainer, Alex Guerrero, was investigated before joining Brady by the Federal Trade Commission over unsubstantiated claims that a supplement he promoted could cure concussions.
Brady, 45, describes his approach as a departure from the lift-heavy gym culture. He endorses instead exercise bands and something he calls "pliability," which includes an emphasis on flexibility and massage.
"I feel like everything I've learned over the course of 23 years in football has and will allow me to continue to help people in different ways," Brady said Thursday. "I think starting young is really important, educating people on what works as opposed to the way things have always been."
Sports trainers have been moving toward a model that includes a mixture of strength training, flexibility and balance exercises, said Mike Fantigrassi, the senior director of product development for the National Academy of Sports Medicine, which certifies trainers. But he said he had concerns with the word "pliability" being taught in schools as though it was scientifically proven.
"It's a term that they made up," he said. "Some of this stuff is not rooted in good science. And if you're bringing a curriculum into schools, I believe it should be rooted in good science."
Brady is one of the world's greatest athletes but does not have expertise in teaching children, said Terri Drain, a past president of the Society of Health and Physical Educators.
"I just am a little bit alarmed that a school district the size of this one would grab onto this celebrity program," said Drain, who runs a nonprofit that provides professional development for health and physical education teachers.
On the diet front, Brady advises against foods in the nightshade family like peppers, tomatoes and eggplants because of inflammation concerns. Experts like Eric Rimm say a lot of Brady's diet guidance is extreme and not backed by a "huge science base."
Still, Rimm, a professor of epidemiology and nutrition at the Harvard School of Public Health, said there could be benefits.
"If you're getting rid of the average eighth grade American's diet and shifting to what he eats, yeah, that's a lot healthier," he said. "That's fantastic."
One upside is the Brady name makes students perk up in class, said Allison Swank, an eighth grade wellness teacher and a track coach in Pinellas County.
"They definitely know who he is and it's exciting for them to be able to relate what we're going to be doing to his program," she said.
In pilot classes, students take baseline assessments to evaluate areas like their strength, conditioning and flexibility. They then set goals to pursue for improvement, said pre-K-12 health and physical education specialist Ashley Grimes.
She said districts around the county have reached out, asking what the program is about and if it's something they could do, too.
The program doesn't use Brady's book as a textbook, stressed Ben Wieder, a member of the Pinellas Education Foundation, who uses TB12 himself and approached the foundation about bringing the program to the district.
"Tom Brady eats avocado ice cream. Like, we don't teach eating avocado ice cream," Wieder said. Most of the science-backed elements of the curriculum are in line with Florida education standards, he said. "I think if you were to go through the book. you're probably talking 90, 95% of the content is universally accepted."
___
Associated Press reporter Rob Maaddi contributed from Tampa, Fla.
___
The Associated Press education team receives support from the Carnegie Corporation of New York. The AP is solely responsible for all content.
Canada's top five federal contaminated sites to cost taxpayers billions to clean up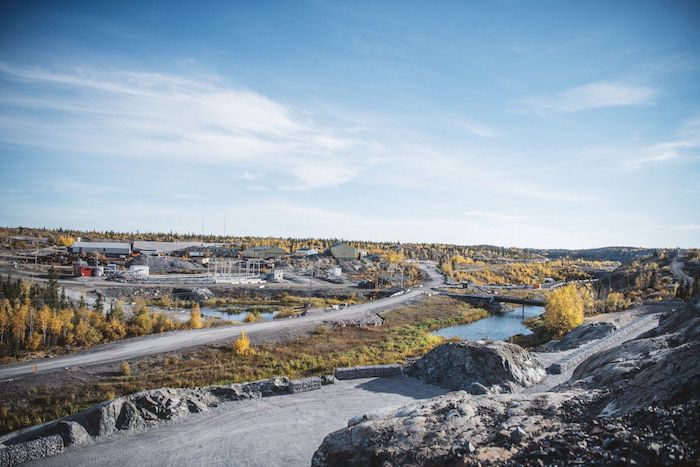 By Emily Blake in Yellowknife
With a cost estimate of $4.38 billion, remediation of the Giant Mine, one of the most contaminated sites in Canada, is also expected to be the most expensive federal environmental cleanup in the country's history.
The figure, recently approved by the Treasury Board of Canada, spans costs from 2005 until 2038, when active remediation at the former Yellowknife gold mine is anticipated to end. That includes $710 million the federal government said has already been spent, but does not include costs for long-term care and maintenance.
"It doesn't bother me so much that it's going to cost $4 billion to clean up Giant Mine. What really bothers me is that the taxpayer is covering that cost," said David Livingstone, chair of the Giant Mine Oversight Board.
It indicates the federal government failed to ensure private developers provided financial security to remediate sites. He said while that has improved over time, there will likely be more issues in the future.
"We as a society need to get a better handle on what it costs us to support mining industry and oil and gas industry," he said. "If the numbers suggest that it's going to cost more to clean up a site than that site generated in revenue to the Crown, we've got a problem."
There are more than 20,000 locations listed in the federal contaminated sites inventory, from dumps and abandoned mines to military operations on federal land.
Environment and Climate Change Canada says that after Giant Mine, the four most expensive cleanups are the Faro Mine in Yukon, the Port Hope Area Initiative in Ontario, Esquimalt Harbour in British Columbia and Yukon's United Keno Hill Mine.
More than $2 billion has been spent on the five sites so far, and it's anticipated they will cost taxpayers billions more in the coming years. Their final price tags are not yet known.
The most recent numbers from the Treasury Board of Canada indicate more than $707 million has been spent on remediation, care and maintenance at Faro Mine, a former open pit lead-zinc mine. Its remediation project is expected to take 15 years to complete and is currently estimated to cost $1 billion, plus $166 million for the first 10 years of long-term operation and maintenance.
Parsons Inc. was awarded a $108-million contract in February for construction, care and maintenance at Faro Mine until March 2026, with the option to extend the contract for the duration of active remediation. The company said the contract could ultimately span 20 years and exceed $2 billion.
In 2012, Ottawa committed $1.28 billion in funding over 10 years for the cleanup of historical low-level radioactive waste in the municipalities of Port Hope and Port Grandby, Ont. To date more than $722 million has been spent on assessment and remediation.
The Port Grandby Project was completed earlier this year and has moved into long-term monitoring for hundreds of years. The Port Hope cleanup, which started in 2018, will continue into 2030.
The cleanup in the Esquimalt Harbour seabed in Victoria currently has a budget of $162.5 million. Roughly $214 million has already been spent on remediation and assessment. The Department of National Defence said that may include costs before 2015, when the remediation project began.
Cleanup of United Keno Hill Mine, a historical silver, lead and zinc mining property near Yukon's Keno City, is estimated to cost $125 million, including $79 million during its active reclamation phase. That is expected to begin in 2023 and take five years, followed by a two-year transition phase then long-term monitoring and maintenance. More than $67 million has been spent on remediation, care and maintenance at the site so far.
Other costly federal sites that have been cleaned up include the Cape Dyer Dew-Line, 21 former radar stations across the Arctic, for $575 million, the Sydney tar ponds and coke ovens on Cape Breton Island, N.S., for nearly $398 million, and the 5 Wing Goose Bay air force base in Labrador, for $142.9 million.
The 2022 public accounts state the gross liability for the 2,524 federal contaminated sites where action is required is nearly $10 billion based on site assessments. Of the 3,079 unassessed sites, 1,330 are projected to proceed to remediation with an estimated liability of $256 million.
The federal contaminated sites action plan was established in 2005 with $4.54 billion in funding over 15 years. That was renewed for an additional 15 years, from 2020 to 2034, with a commitment of $1.16 billion for the first five years.
Jamie Kneen with MiningWatch Canada said the contamination from Giant Mine highlights the importance of the planning and assessment process for development projects.
"If you don't actually do any planning around something, you can end up with a pretty horrible mess," he said. "In this case, it killed people before they started even capturing the arsenic. We don't want that to happen anymore."
This report by The Canadian Press was first published Nov. 27, 2022.
___
This story was produced with the financial assistance of the Meta and Canadian Press News Fellowship.
Stossel explains why private property beats the "tragedy of the commons"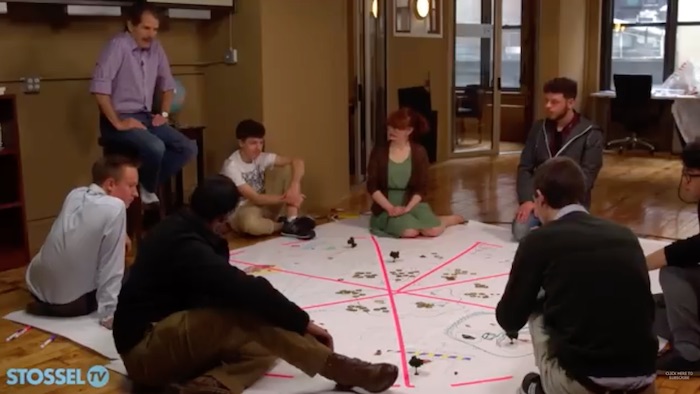 This Thanksgiving, Say Thank You to "Private Property"
Did you know that the pilgrims almost starved after they arrived at Plymouth Rock? That's because they were forced to farm "collectively." The corporation that funded the expedition said, "grow food together. Divide the harvest equally."
This is a terrible idea. It creates what economists call the "tragedy of the commons." When you share property and the results of your work, people farm until the land is barren, don't work as hard, or steal food from others.
Young people from Students For Liberty take part in an experiment to demonstrate this "tragedy of the commons." It shows the solution is private property, which is what saved the pilgrims.
Governor William Bradford finally decided to "assign each family a parcel of land." Once the pilgrims had property rights, they became much more productive and brought in huge harvests — which they were then able to share with the Indians.
So this Thanksgiving feast, don't forget to say "thanks, private property!"
—— Don't miss a single video from Stossel TV. Sign up here: www.johnstossel.com/#subscribe-form ——
John Stossel created Stossel TV to explain liberty and free markets to young people. Prior to Stossel TV he hosted a show on Fox Business and co-anchored ABC's primetime newsmagazine show, 20/20.
Stossel's economic programs have been adapted into teaching kits by a non-profit organization, "Stossel in the Classroom." High school teachers in American public schools now use the videos to help educate their students on economics and economic freedom. They are seen by more than 12 million students every year.
Stossel has received 19 Emmy Awards and has been honored five times for excellence in consumer reporting by the National Press Club. Other honors include the George Polk Award for Outstanding Local Reporting and the George Foster Peabody Award.