Timeline: SNC-Lavalin and Jody Wilson-Raybould
OTTAWA — A chronology of events in the SNC-Lavalin controversy:
Feb. 19, 2015 — The RCMP lays corruption and fraud charges against Montreal-based engineering and construction firm SNC-Lavalin, over allegations it used bribery to get government business in Libya. SNC-Lavalin says the charges are without merit and stem from "alleged reprehensible deeds by former employees who left the company long ago." A conviction would bar the company from bidding on Canadian government business, potentially devastating it.
Oct. 19 — The Liberals win a federal election, taking power from the Conservatives. Two weeks later, Prime Minister Justin Trudeau names Jody Wilson-Raybould minister of justice and attorney general of Canada. She is the first Indigenous person to hold the post, which combines duties as a politician (heading the Department of Justice) and a legal official (overseeing prosecutions).
March 27, 2018 — The Liberals table a budget bill that includes a change to the Criminal Code allowing "remediation agreements," plea-bargain-like deals between prosecutors and accused corporations in which they can avoid criminal proceedings by making reparations for previous bad behaviour. SNC-Lavalin had lobbied for such a provision in Canadian law.
Spring — Although the bill has yet to pass, SNC-Lavalin contacts Public Prosecution Service lawyers to ensure they have all relevant information for a possible invitation to negotiate a remediation agreement. During the next three months, in response to requests from prosecutors, SNC-Lavalin provides detailed information it sees as making a strong case for an agreement.
Sept. 4 — The prosecution service tells SNC-Lavalin in writing it will not invite the firm to negotiate a remediation agreement.
Sept. 17 — Trudeau and Wilson-Raybould discuss the SNC-Lavalin file. As attorney general, Wilson-Raybould could overrule the prosecution service, directing it to negotiate an agreement with the company. Trudeau later says that Wilson-Raybould asked him if he planned to tell her what to do concerning the prosecution — a conversation that he says ended with him telling her any decision was hers alone.
Sept. 18 — SNC-Lavalin representatives meet with Privy Council clerk Michael Wernick (Canada's most senior civil servant) and Finance Minister Bill Morneau to discuss issues including "justice and law enforcement."
Sept. 21 — The remediation-agreement provisions come into legal force.
Oct. 9 — The director of prosecutions confirms again in writing that she will not invite SNC-Lavalin to negotiate a remediation agreement, a decision the company challenges in Federal Court. That challenge is ongoing.
Oct. 10 — SNC-Lavalin issues a news release saying it strongly disagrees with the director of prosecutions' position and remains open and committed to negotiating a remediation agreement. SNC-Lavalin shares fall nearly 14 per cent, closing at $44.86 on the Toronto Stock Exchange. That's the lowest close since March 2, 2016.
Oct. 11 — SNC-Lavalin meets with Elder Marques, a senior adviser in the Prime Minister's Office, to discuss "justice and law enforcement."
Nov. 5 and 19 — SNC-Lavalin meets with Mathieu Bouchard, a senior adviser in the Prime Minister's Office, to discuss "justice and law enforcement."
December — According to the Prime Minister's Office, Wilson-Raybould raises the remediation case with Gerald Butts, the prime minister's principal secretary, and he tells her to talk to Wernick, the Privy Council clerk.
Jan. 14, 2019 — Trudeau shuffles his cabinet after the resignation of Treasury Board president Scott Brison. Wilson-Raybould is moved from Justice to Veterans Affairs, widely seen as a demotion. David Lametti, a Montreal MP and former law professor, becomes justice minister. Wilson-Raybould posts a long letter outlining her record as justice minister and noting a great deal of work remains to be done toward reconciliation with Indigenous Peoples.
Feb. 7 — Citing unnamed sources, the Globe and Mail newspaper reports that Trudeau's aides attempted to press Wilson-Raybould, while attorney general, to intervene in the prosecution of SNC-Lavalin, and that exasperation with her lack of co-operation was one reason for shuffling her out of the justice portfolio. Trudeau denies any impropriety. Citing solicitor-client privilege, Wilson-Raybould refuses to speak about dealings she had on the case when she was attorney general.
Feb. 11 — Federal ethics commissioner Mario Dion says he's beginning an investigation. At a public appearance in Vancouver, Trudeau says he's spoken to Wilson-Raybould and confirmed with her that he said any decision on the SNC-Lavalin prosecution was entirely hers. Her continued presence in his cabinet speaks for itself, he says.
Feb. 12 — Wilson-Raybould resigns as veterans-affairs minister and says she's hired former Supreme Court justice Thomas Cromwell to advise her on the limits of solicitor-client privilege. Trudeau says he's surprised and disappointed that Wilson-Raybould has quit, and that if she felt undue pressure in her role as attorney general, she had a duty to report it to him.
Feb. 13 — The House of Commons justice committee debates its own probe of the issue. Liberals use their majority to call one closed-door meeting and hear from senior officials (Lametti as justice minister, the top bureaucrat in his department, and the clerk of the Privy Council) who can talk about the tension between the minister of justice's duties as a politician and his or her responsibilities as attorney general of Canada. The Liberals say this is a first step in a cautious investigation, but the opposition calls it a coverup.
Feb. 15 — Trudeau says Wilson-Raybould asked him in September whether he would direct her one way or another on the SNC-Lavalin question. He says he told her he would not.
Feb. 18 — Butts resigns as Trudeau's principal secretary. He denies any impropriety but says his continued presence in the Prime Minister's Office has become a distraction.
Feb. 19 — Wilson-Raybould stuns observers by attending a meeting of the very cabinet from which she resigned a week earlier. Plans are made for her to testify before the justice committee.
The Canadian Press
Gerry Feehan takes us to North America's Oldest European Settlement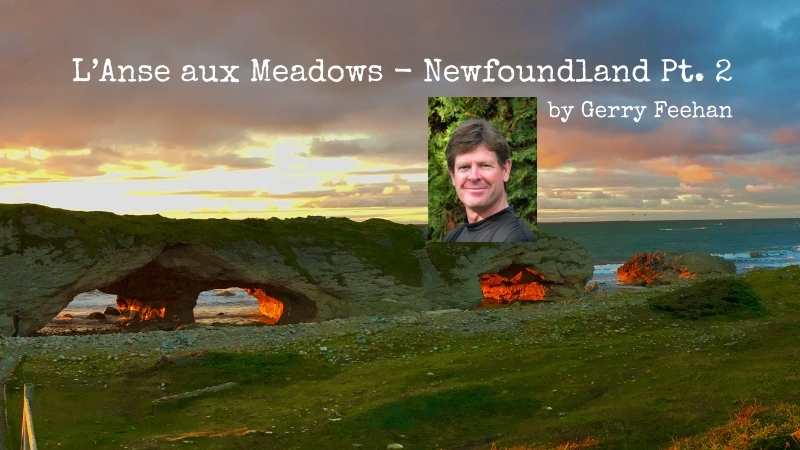 By Gerry Feehan
This is the second in the Newfoundland series. Scroll down to find Part 1, Gros Morne. 
On a lonely highway in a tempest on Newfoundland's remote Northern Peninsula, we finally spotted our first moose. Luckily, before moose met grill, the big bull stepped off the road into the ditch and I was able to keep the rig down the centerline, avoiding the frigid Gulf of St. Lawrence to our left and a frightfully deep fen to our right.
We had set out that morning from Gros Morne National Park, 350 km south 'up' the coast. The night before had been clear and 7 degrees. By early morning it was rain and 17. This was the muggy aftermath of Hurricane Irma, which long after devastating Key West, was now bringing high winds and warm rain to remote—and distinctly non-tropical—Newfoundland.
We were bound for L'Anse aux Meadows, on the extreme tip of northwest Newfoundland where lie the remains of North America's oldest European settlement. It was October so, although we arrived before 5 p.m., twilight was nigh as we settled in at the Viking RV Park. We were the only campers. The office was closed. In the morning I deposited cash in the "off-season/$25 per night" bucket by the abandoned office and drove the remaining few km to the National Historic Site.
One of the advantages to a late fall motorhome trip is that, with darkness extant by suppertime, it's early to bed—and early to rise. (The healthy wealthy and wise part I won't comment on.) So, uncharacteristically, we arrived at L'Anse aux Meadows first thing in the morning, just as the park gates were being unlocked.
"…Both are horrible!" said the Leif look-alike…"
Leif Ericsson, a Norse explorer, together with his small group of intrepid fellow Viking seafarers, landed here around 1000 AD. They strategically chose this spot near the Straight of Belle Isle, within sight of Labrador. They called the place Vinland, the land where wild grapes grow. Setting up a sturdy encampment of turf-walled buildings, they explored for hardwood lumber, iron ore and arable land.
From the visitor center we followed a Parks Canada interpreter down the winding boardwalk toward the sea. He showed us the faint remains of the original sod buildings: the Leader's Hall, labourer's quarters, a women's workshop and the smelting hut where a charcoal kiln produced iron from bog ore. But the terrain was unwelcoming—as perhaps was the indigenous native population—and after only a decade or two, the Vikings abandoned the site, burning everything as they departed.
"….I die at you, she said laughing…."
The interpreter's talk ended at the ruins and, with somber thoughts, we continued down the trail to where the National Park service has artfully reconstructed a series of replica sod huts by the cold sea. The Norse may have been fierce warriors but they couldn't have been very tall—I had to stoop as we entered the longhouse. The room was dimly lit by a smoky peat fire. When our eyes adjusted to the low yellow light, we noticed a man and a woman clad in Viking attire seated by the comfortable fire. The man, a Leif Ericsson doppelganger, whittled a talisman while the young woman wove fabric on a traditional loom. They explained in detail how the first Viking explorers had lived, eaten, slept and toiled here 1000 years ago, eking out a meagre existence on this inhospitable shore by the frigid north Atlantic.
Newfoundlanders are the friendliest, most outgoing of people, so when I asked the young woman if she lived nearby, her Parks Canada persona evaporated like 'tick fog' and the talk immediately turned to the upcoming weekend, her two hard-earned days off and fall berry-picking. "I was born just over that side of the 'arbour. My father ran trawler 'til the fish ran out." (In Newfoundland 'fish' means cod. Everything else, haddock, flounder, plaice, etc. is known by its usual name.) She winked and said, "Growing up, it was always cold in the house. In winter me mom would open the fridge to warm the place."
I then inquired about the merits of partridgeberry vs. bakeapple jam. We had been looking for souvenir gifts and both berry varieties were available at the Dark Tickle Chocolate store just down the road. "Both are horrible!" said the Leif look-alike, unable to resist joining in. Our new lady-friend disagreed and told him so in no uncertain terms. "Oh me nerves, he's got me drove." Apparently, partridgeberry-picking was number one on her weekend agenda.
In an effort to segue the subject I asked whether the town of Quirpon or Great Brehat—each just down the coast—were worth a visit. She and Leif chuckled at my accent. "I die at you," she said laughing. Nothing will more quickly label you a tourist in Newfoundland as the mispronunciation of local place names. Quirpon is 'Car-poon.' Great Brehat is pronounced 'Great Bra'. Happily, I didn't inquire about the town of Ferryland.
"Where are youse from?" our Viking-ess asked. "Alberta," we replied. "Alberta," she continued. "I've got a brother in Ft. McMurray." (I can report that we didn't meet a single Newfoundlander who did not have at least one family member working out west. But, no matter where a Newfie might live, a trip 'home' is always in the works. Famously, it is a 63-hour drive from Ft McMurray to the Rock.)
I tried to get her back on Viking track—but to no avail. All pretense of the 11th century Norsewoman was abandoned. She continued, talking about her husband, the small family garden, the incessant rain. "And there was himself last night," she continued. "Luh, standing in a downpour, coat wide open, staring at lord knows what, sopped to the skin and stunned as me arse." Then she politely adjusted her bonnet and resumed weaving.
CBC radio had gravely informed us that morning that the Doomsday Clock had been moved to two minutes before midnight. The world was closer to self-destruction than it had been at any time since the Cold War. I asked her if she was worried.
"Why, not a bit. After all, with the half-hour time change here on the Rock, us Newfies got 'til 12:30."
I love Newfoundland.
Gerry Feehan, QC is an award-winning travel writer and photographer. He lives in Kimberley, BC.
Special thanks to Kennedy Wealth Management for supporting this series.
Prairie Provinces, Ontario say they weren't consulted about greenhouse gas targets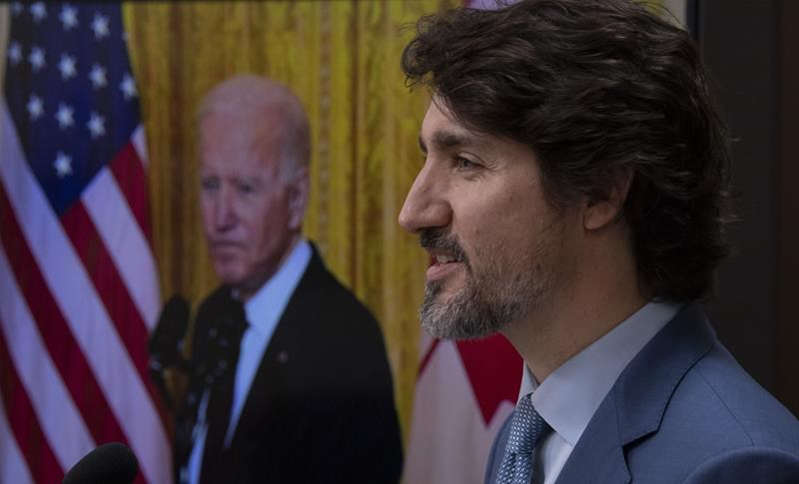 OTTAWA — The Prairies and Ontario say they weren't consulted about Canada's higher target to cut greenhouse gas pollution, while other provinces welcome the federal government's new goal for 2030.
The division is a sign policies around tacking climate change remain a source of friction in some federal-provincial relations as Ottawa pushes the country toward net zero by 2050, but rejects there has been any lack of communication.
Prime Minister Justin Trudeau pledged at a recent global leaders summit to reduce emissions of these heat-trapping gases by 40 to 45 per cent below 2005 levels by the end of the decade.
That's between four to nine per cent higher than the 36 per cent the Liberal government says it can achieve under existing measures, which is already above the 30 per cent target committed to under the Paris Agreement.
Under the international contract, countries are asked to continue to submit national greenhouse gas reduction targets that are each supposed to be more ambitious than the last.
Environment and Climate Change Minister Jonathan Wilkinson had asked opposition party leaders to provide their thoughts on what the new target should be before Trudeau's unveiling of the new goal.
His office said he also called his provincial and territorial counterparts over the winter to discuss the issue, asked for their opinions through a letter in early March, as well as booked some follow-up meetings.
Yet environment ministers in Alberta, Saskatchewan and Ontario said they were not consulted.
In a statement, Alberta Environment Minister Jason Nixon said the government had a chance "to share its climate priorities" with Ottawa before last week's summit.
"However, we were not consulted about, nor made aware of the details of the Prime Minister's new emissions reductions target," he said.
Andrew Buttigieg, a media relations manager and assistant to Ontario Environment Minister Jeff Yurek, said federal ambition relies on the provinces.
Ontario, Saskatchewan, Manitoba and Alberta have long been opposed to the federal Liberals' approach to energy and climate policies, most notably around its charging of a federal carbon price on consumer goods.
A court battle over that move was finally put to rest after the Supreme Court of Canada ruled Ottawa's backstop was constitutional.
Saskatchewan Environment Minister Warren Kaeding said the new target of up to 45 per cent fewer emissions was "concerning" because of how that ambition may affect the competitiveness of its trade-dependent industries, like agriculture, potash and oil and gas.
He said the Saskatchewan Party government was "surprised" at the new figure and also expressed disappointment after hearing the federal government had inked a new goal of 36 per cent into its recent budget.
"They indicated they were going up, but there was really no fixed number that they were going to provide us."
Manitoba Conservation and Climate Minister Sarah Guillemard said in a statement the province wasn't consulted "even as the heavy lifting needed to achieve real and measurable GHG emissions reductions falls on the provinces and territories."
In the Liberals' most recent climate plan released last December, it said "collaboration and engagement with provinces and territories will continue leading up to the announcement of an updated nationally determined contribution (NDC)," which is what the national greenhouse gas reduction targets are called.
Although some provinces said they weren't consulted, others including British Columbia welcomed the higher target. A spokeswoman from Nova Scotia's department of environment and climate change said it's always talking to Ottawa about reducing emissions, which it supports.
"With Nova Scotia's target of 53 per cent below 2005 levels by 2030, we will help Canada reach its commitment," said spokeswoman Barbara MacLean.
Prince Edward Island's minister of environment, energy and climate action also welcomed the higher targets.
"With the federal goal now closer to our provincial goal, we are hopeful that this will increase funding available to us to reach these ambitious targets," Steven Myers said in a statement.
Canada's new goal is less ambitious than that of the U.S., which promised to reduce greenhouse gas emissions by at least 50 per cent by 2030.
David Layzell, a director at the Canadian Energy Systems Analysis Research Initiative, said cutting more emissions within the next decade will be tough without provincial co-operation, as the task crosses multiple sectors.
For example, the University of Calgary professor said, electricity generation is up to provinces. Ottawa has pushed for a phaseout of coal, but other challenges exist around transportation and agriculture.
Layzell said promoting new chances for economic growth would help incentivize co-operation to further a clean transition.
"That's really the trick, is to make this not really taking medicine."
This report by The Canadian Press was first published April 26, 2021.
Stephanie Taylor, The Canadian Press