Time for military to scrap harmful traditions: retired Supreme Court justice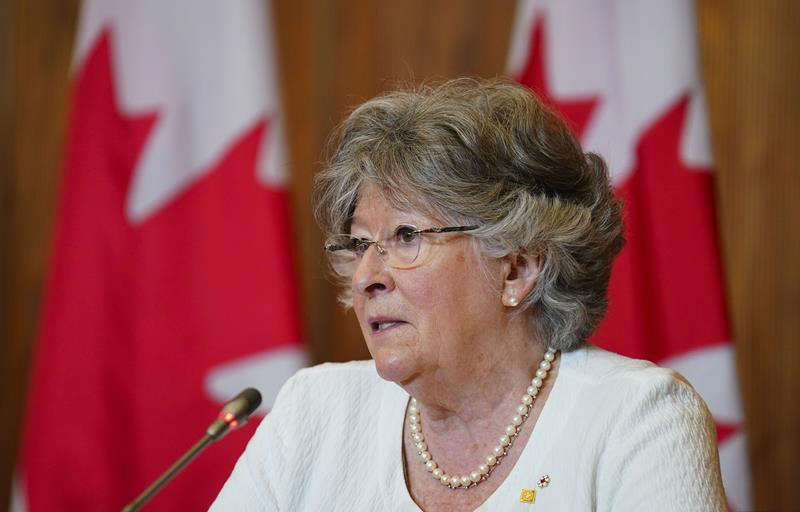 OTTAWA — The Canadian Armed Forces found itself at a crossroads on Monday as the military faced calls to finally end some of its closest-held traditions to end decades of broken promises — including by permanently leaving the prosecution of sexual offences by its members to civilian authorities.
Even as the federal Liberal government, through Defence Minister Anita Anand, promised to provide the political oversight needed to bring about such change, there remained deep skepticism over whether a well-established pattern will repeat itself.
The latest calls for change came Monday in a highly anticipated report by retired Supreme Court justice Louise Arbour, who was tasked last year with charting a way forward after a series of scandals involving allegations of sexual misconduct by some in the upper ranks of the Forces.
The result was a scathing indictment of the Armed Forces' resistance to change, with the respected jurist who previously served as the United Nations' top human rights official taking dead aim at many of the military's most important structures and institutions.
Arbour questioned not only the military's insistence on investigating and prosecuting incidents of sexual assault, which she said should be permanently transferred to the civilian authorities, but also the way it recruits, trains and promotes service members.
She also questioned the justification for having dedicated military colleges in Kingston, Ont., and St-Jean-sur-Richelieu, Que., which are responsible for grooming future officers but carry a reputation for perpetuating the military's sexualized culture.
"The continued prevalence of sexual misconduct at the military colleges is well documented, and I think it's harder to address these issues there than in a civilian environment," Arbour said during a news conference in Ottawa on Monday.
"I was not in a position to examine in detail the quality of the academic stream, (but) the military leadership and physical training at these colleges is problematic and does not, in my view, justify the continuation of this model as an undergraduate university environment."
One of the main themes of Arbour's report was the military's resistance to past recommendations that had also stemmed from detailed reviews sparked by scandals.
The retired judge painted a picture of foot-dragging and half-hearted action.
The former UN human rights czar nonetheless did not specifically recommend the creation of an independent oversight body, as many experts and observers had requested, but instead called for more involvement and oversight by existing civilian authorities.
"I don't see the need for an inspector general, if everything else in this report is implemented," Arbour said of the 48 recommendations contained in her report.
"If you create too many of these so-called oversight bodies, you dilute the political responsibility."
Still, Arbour revealed that she had repeatedly followed up on her interim recommendation made in October to temporarily transfer the criminal sexual offences to civilian courts.
"Had I not had monthly contact with the prosecuting authorities and the investigating authorities … on a monthly basis, and with the minister, they'd still be drafting the letter to the provincial authorities about how to move forward," she said.
Anand, who was at the news conference alongside Arbour as well as defence chief Gen. Wayne Eyre and Defence Department deputy minister Bill Matthews, announced that 17 recommendations were being immediately accepted.
Others will need "further analysis, planning and consultation," Anand added, promising to come report to Parliament on the progress.
One recommendation being reviewed is whether to permanently transfer the investigation and prosecution of cases involving criminal sexual misconduct to civilian authorities.
"This is a system-changing recommendation and we will examine it in earnest," Anand said.
A recommendation to study the pros and cons of military colleges will also get further review.
One of the accepted recommendations was the appointment of an external monitor who will oversee the implementation of Arbour's recommendations, with regular reports to the minister and public. Another is for Anand to report to Parliament on those that will not be implemented.
The military has in recent years agreed "in principle" with all recommendations from external sources, before then implementing them half-heartedly or letting them collect dust.
Asked whether she or Prime Minister Justin Trudeau, who was not present for Monday's news conference, would take responsibility if Arbour's recommendations fall by the wayside and another scandal occurs, Anand said: "This report will not fall by the wayside."
"If we do not take this moment for what it is and implement the recommendations that identify deep areas of need for change in the Canadian Armed Forces and the defence team broadly, we run the risk of not being a fully effective military," she added.
"We must grab the bull by the horns and make the changes now."
Later Monday, Trudeau said the Liberal government would work "closely and rapidly" with survivor groups and others "to make sure that we're moving forward in the right way" on the remaining recommendations in the Arbour report.
Federal opposition parties and organizations such as the Royal Canadian Legion wasted no time on Monday calling for the Liberal government to quickly act on Arbour's recommendations, as well as independent oversight of their implementation.
"We know that one report will not 'fix' systemic violence and harassment," said June Winger, national president of the Union of National Defence Employees. "But this report is a tool that we will use to push the government towards meaningful and concrete actions."
While experts on military sexual misconduct were largely supportive of Arbour's report and recommendations, which they described as extremely comprehensive, there was also a fair amount of skepticism about whether it would finally result in real change.
Megan MacKenzie, who studies military sexual misconduct at Simon Fraser University in B.C., said she would have liked to have seen Anand voice stronger support for all the recommendations. She also questioned the appointment of an external monitor.
"Who's going to be on this external review?" MacKenzie said. "I'm not sure how you can have someone holding the minister accountable who's an appointee of the minister."
Charlotte Duval-Lantoine of the Canadian Global Affairs Institute was also concerned about the external monitor's independence, adding it is now up to the government to ensure Arbour's recommendations are acted upon — a situation that has previously resulted in failure.
"The ball is in the government's camp," Duval-Lantoine said.
"It is up to it to make those recommendations happen, and to make them work for the CAF. This is where we have seen most gaps."
This report by The Canadian Press was first published May 30, 2022.
Lee Berthiaume, The Canadian Press
Canada donating four Leopard battle tanks to Ukraine
Ottawa – Defence Minister Anita Anand says Canada will send four of its German-made Leopard 2 tanks to Ukraine "in the coming weeks."
Anand announced the move this afternoon, making Canada the latest country to promise the heavy weapons to Ukraine.
Canada is also providing trainers, spare parts and ammunition, while Anand left open the possibility of sending more Leopards in the future.
Ukraine has implored Western allies to send such weapons for weeks as its forces struggle to make gains against Russia.
But Canada was unable to respond until Germany agreed on Wednesday that countries could re-export their Leopards.
The Leopards that Canada is donating are among the 112 currently owned by the Canadian Army, which includes 82 designed specifically for combat.
Retired military officers had warned that any donation would have an impact on the Army and will need to be replaced, given that the fleet is already stretched thin.
This report by The Canadian Press was first published Jan. 26, 2023.
Pressure builds for Canada to send tanks to Ukraine after Germany gives OK
By Lee Berthiaume in Ottawa
Pressure is building for Canada to send some of its Leopard 2 battle tanks to Ukraine after Germany decided to provide the heavy weapons and allow other countries to do the same.
German Chancellor Olaf Scholz announced his government's decision on Wednesday following weeks of hesitation that created impatience among his country's allies, saying Berlin will send 14 of its Leopard 2A6 tanks.
Scholz's announcement came shortly before U.S. President Joe Biden revealed plans to send 31 M1 Abrams tanks to Ukraine, opening a potential floodgate following weeks of pleas by Ukrainian President Volodymyr Zelenskyy.
The goal is for Germany and its allies to provide Ukraine with 88 of the German-made Leopards, which would make up two battalions, and work alongside the U.S.-made Abrams in launching counteroffensives against Russian forces.
Yet while Poland has already promised to send Leopards if Germany agreed, and other European nations such as Finland and Spain have indicated a willingness to do the same, Canada's Prime Minister Justin Trudeau was more circumspect on Wednesday.
"Canada has stepped up significantly and without hesitation to support the Ukrainian people, and Ukraine itself," he said at a news conference marking the end of a three-day cabinet retreat in Hamilton.
"We will continue to be there to give whatever support we can to Ukraine. I won't be making an announcement today. But I can tell you we are looking very, very closely at what more we can do to support Ukraine."
The Canadian Armed Forces has 112 Leopard 2s in its inventory in a number of different variations. Those include 82 designed for combat and 30 that are used for engineering purposes and recovering disabled vehicles.
Retired lieutenant-general and former Canadian Army commander Jean-Marc Lanthier said in an interview that any donation will almost certainly need to balance the needs and benefits to Ukraine against the potential impact on Canada's military.
"Getting rid of any tanks — because we have so few, and so few that are actively working — would have an immediate impact on the level of readiness of the Army," said Lanthier, who served as an armoured officer.
"Is that something that should stop us from sending tanks? I think we have a moral responsibility in terms of the immediacy of the requirements of the Ukrainian Armed Forces and the Ukrainian people. They are fighting a war. We are not."
Canada bought its Leopards from Germany during the war in Afghanistan. They are notionally divided into squadrons of 19 tanks each, with two squadrons in Edmonton and a third at CFB Gagetown, N.B. Most of the rest are at the armoured training school in Gagetown.
"And normally you keep a bunch of them at a depot ready to be deployed, but that's not something we're doing necessarily because we don't have the numbers," said Lanthier.
Adding to the pressure is the fact only about half of Canada's Leopards are operational on any given day due to maintenance and repair requirements for the surprisingly complex vehicles, he added.
Department of National Defence spokesman Andrew McKelvey would not comment Wednesday on what percentage of the military's Leopard 2s are currently operational, and how many are out of service for maintenance and other reasons.
"Tank maintenance is similar to aircraft maintenance, and the status of the fleet at any given moment depends on a comprehensive maintenance, repair, and overhaul schedule, which is tied to specific requirements for training or operational employment," he said.
"For operational security reasons we cannot specify how many Leopard 2s are being maintained at any given time or give indication of their maintenance schedule."
The question facing the government will ultimately be whether the benefit of sending tanks to Ukraine outweighs the impact on the military, Lanthier said. If it does, another question will be whether those tanks would be replaced — and if so, how quickly.
"If we deem that we want to retain that capability that tanks give us in terms of a modern, battle-capable army, we need tanks," he said. "If we accept that, then anything we give has to be replaced."
This report by The Canadian Press was first published Jan. 25, 2023.
⁠ — With files from The Associated Press.