Ticket bought in Illinois wins $1.337B Mega Millions jackpot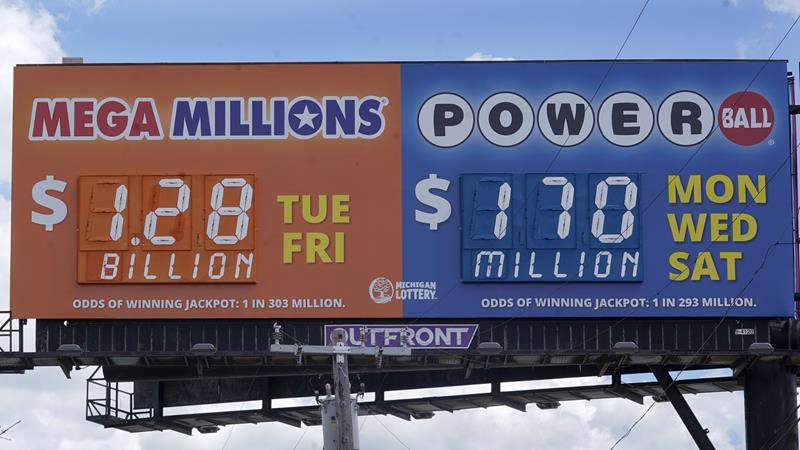 By Don Babwin in Chicago
CHICAGO (AP) — A single ticket bought in a Chicago suburb beat the odds and won a $1.337 billion Mega Millions jackpot.
According to megamillions.com, there was one jackpot-winning ticket in the draw Friday night, and it was bought at a Speedway gas station and convenience store in Des Plaines.
The winning numbers were: 13-36-45-57-67, Mega Ball: 14.
"We are thrilled to have witnessed one of the biggest jackpot wins in Mega Millions history," Ohio Lottery Director Pat McDonald, the current Lead Director for the Mega Millions Consortium, said in a statement on the lottery's website. "We're eager to find out who won and look forward to congratulating the winner soon!"
The jackpot was the nation's third-largest lottery prize. It grew so large because no one had matched the game's six selected numbers since April 15. That's 29 consecutive draws without a jackpot winner. According to statistics from casino-bonus.club, the odds of winning the Mega Millions jackpot is 1 in 302.5 million, pretty much the same as the odds of winning the Powerball, and both are sold at a $2 per play.
Illinois Lottery officials had estimated the winning take at $1.28 billion, but revised the number up to $1.337 billion on Saturday.
The total prize is for winners who choose the annuity option, paid annually over 29 years. Most winners opt for the cash option, which for Friday night's drawing was an estimated $780.5 million.
According to the Illinois Lottery, the store that sold the ticket is a pretty big winner, too; it will receive half a million dollars just for selling the ticket. A clerk at the Speedway store who answered the phone but declined to give his name said the store has not been officially notified officially that it sold the winning ticket and that he learned about it from reporters calling for comment.
Mega Millions is played in 45 states as well as Washington, D.C., and the U.S. Virgin Islands. The game is coordinated by state lotteries.
Illinois is among the states where winners of more than $250,000 can choose to not reveal their names and Illinois Lottery spokeswoman Emilia Mazur said the vast majority of those winners do just that.
Even lottery officials may not know for a while who won because winners don't have to come forward straight away. And the winning ticket may have been bought by a group of people.
"We won't know whether it's an individual or it's a lottery pool until the winner comes forward to claim their prize," National Mega Millions spokeswoman Danielle Frizzi-Babb said.
Emily Irwin, managing director, Advice & Planning, at Wells Fargo's Wealth & Investment Management, said Friday that the winner should consider keeping a low profile and resist going on an eyebrow-raising spending spree that everyone knows the winner cannot afford.
"This is not the time to start calling everybody you know, saying, 'Hey, I have a big secret. Can you keep it?'" Irwin said.
This is necessary to avoid being inundated with requests for money.
"There are scammers and others who follow big winners," she said, admitting that sudden wealth can put a lottery winner in physical danger.
"Privacy equals safety," she said.
One thing the winner must do immediately is sign the ticket. That's because if the ticket hasn't been signed then it really isn't yours. If the winner loses an unsigned ticket and another person finds it and signs it, the ticket now belongs to them.
Irwin suggests a step further to survive a legal battle over ownership.
"Take a Polaroid of you holding it and (put) it in a safe deposit box or somewhere else safe," she said.
Pratik Patel, the head of Family Wealth Strategies at BMO Family Office in Chicago, said the winner should work with a financial planner to map out their future.
"I would run a Monte Carlo market simulation," Patel said, explaining that this is an analysis of what a winner's annual income might be and what the proceeds from various investments might be. "What you're doing is using analytics to inform your spending."
Frizzi-Babb agrees that talking to a financial planner is a good idea.
"I would suggest that you do that before you even set foot in a lottery office," the national lottery spokeswoman said.
There is also a question nobody wants to answer at that particular time: What happens to the money when you die?
Irwin said don't leave this unanswered; you must take action to ensure the bulk of your estate goes to your beneficiaries rather than the government.
"You need a manager who specializes in this and understands this world," said Patel. "Someone making $60,000 a year might need a certain type of professional manager and they may want to switch to someone who does ultra wealth."
Whatever the winner does, it is important to do it slowly.
"You can absolutely indulge but let's be smart about it," Patel said. "It's a lot of money but until you figure out what you can afford, there are still limitations."
For example, he said, consider chartering a private jet before diving in and buying one.
"You may be interested in owning your favorite basketball team," he warned, "but maybe that isn't a good idea if it uses up all your money."
B.C. premier suspects Ottawa holding back information about foreign interference
A flock of birds flies past as Moninder Singh, front right, a spokesperson for the British Columbia Gurdwaras Council (BCGC), waits to speak to reporters outside the Guru Nanak Sikh Gurdwara Sahib in Surrey, B.C., on Monday, September 18, 2023, where temple president Hardeep Singh Nijjar was gunned down in his vehicle while leaving the temple parking lot in June. THE CANADIAN PRESS/Darryl Dyck
Vancouver
British Columbia Premier David Eby said he "strongly" suspects that the federal government is holding back information that could help the province protect its residents who have connections to India from foreign interference.
Public Safety Minister Dominic LeBlanc has reached out, saying Ottawa wants to make sure the provincial government has the details it needs to keep B.C. residents safe, "but there has not been good information sharing," the premier said Friday.
Prime Minister Justin Trudeau revealed in Parliament on Monday that Canadian intelligence services were investigating "a potential link" between the Indian government and the fatal shooting of Sikh advocate Hardeep Singh Nijjar in Surrey, B.C., last June.
In response to the killing, Eby said on Friday that the priority should be protecting the criminal prosecution process so people can be held accountable for the killing.
But on the broader issue of ensuring community safety, he said there's "a long way to go to share that information."
Eby said people in B.C. have been "feeling pressure from India," and he believes Ottawa has information through agencies including the RCMP and the Canadian Security Intelligence Service that could help respond to foreign interference.
The premier's initial statement in response to Trudeau's announcement called on Ottawa to "share all relevant information" related not only to foreign interference, but also to "transnational organized crime threats" in the province.
He said Friday that the prime minister had reached out before telling Parliament about the probe based on "credible" information about the potential link between India and Nijjar's killing.
Eby accepted Trudeau's offer for a briefing by CSIS, but everything the premier knows about the situation is "in the public realm," he said.
"I expressed my frustration in the meeting with the CSIS director about our inability to get more concrete information," Eby said.
He made the remarks during a media question-and-answer session after addressing local politicians at the Union of BC Municipalities conference.
Eby said he understands there may need to be reform around the law governing CSIS in order for the agency to share the kind of information he's looking for.
"If that's what's required, let's make it happen, because the only way that we're going to make traction on this is by the federal government trusting the provincial government with information and being able to act on it in our local communities," he said.
Nijjar was a prominent supporter of the Khalistan separatism movement that advocates for a Sikh homeland in India's Punjab province. He had been working to organize an unofficial referendum among the Sikh diaspora on independence from India at the time of his killing.
India designated Nijjar as a terrorist in 2020, an accusation he had denied.
Canada and India expelled each other's diplomats in the fallout of Trudeau's announcement, and India has halted visa services in Canada.
India's government has denied the accusation as "absurd and motivated."
This report by The Canadian Press was first published Sept. 22, 2023.
Here's what Canada is pledging in multi-year support for Ukraine, updated trade deal
Ukrainian President Volodymyr Zelenskyy receives a standing ovation from Prime Minister Justin Trudeau and parliamentarians as he arrives to deliver a speech in the House of Commons in Ottawa on Friday, Sept. 22, 2023. Canada is making a multi-year commitment to provide steady support to Ukraine, including hundreds of millions of dollars for new armoured vehicles. THE CANADIAN PRESS/Sean Kilpatrick
By Nojoud Al Mallees in Ottawa
Prime Minister Justin Trudeau announced Friday that Canada is making a multi-year commitment to provide steady support to Ukraine, including hundreds of millions of dollars for new armoured vehicles.
The two countries also signed a modernized trade deal, as Ukrainian President Volodymyr Zelenskyy visits the country for the first time since Russia's full-scale assault of Ukraine began last year.
A spokeswoman for Trade Minister Mary Ng said the new deal does not include substantial changes on market access, but adds services and investment clauses to the agreement, along with progressive language around labour standards and gender equality.
Meanwhile, the multi-year commitment includes $650 million over three years for 50 armoured vehicles that are to be built in London, Ont.
Friday's announcement brings Canada's total committed support to Ukraine to more than $9.5 billion since the beginning of 2022, according to a news release.
The new commitment comes as Ukraine seeks longer-term support from allies and worries emerge that some countries' support may begin to waver as the war drags on.
Earlier this week, Poland's prime minister said his country is no longer sending arms to Ukraine as a trade dispute between the neighbouring states escalates and his populist party faces pressure from the far right in the upcoming national election.
G7 countries promised in July to reach individual agreements with Ukraine to provide long-term military help.
In addition to new funding, the federal government has also announced the allocation of part of the $500 million of support Canada announced in June.
Those funds will go toward providing 35 drone cameras to Ukraine, as well as sending Canadian trainers to help Ukrainian pilots and maintenance workers use donated fighter jets.
Canada is also providing additional funding toward other initiatives in support of Ukraine, including mental-health care and non-governmental organizations.
Money will go toward strengthening nuclear security measures at the Chornobyl Exclusion Zone and replacing equipment destroyed or stolen by Russia when it occupied the site in 2022.
Friday's announcement includes a further crackdown on Russia with a new round of sanctions.
Ottawa says it is placing 63 new sanctions on individuals and entities involved in Russia's nuclear sector, the illegal transfer and custody of Ukrainian children and the generation and dissemination of disinformation and propaganda.
Canada and Ukraine say they will be working with international partners to establish a working group that would provide advice to decision-makers on the seizure of Russian assets, including assets of the country's central bank.
This report by The Canadian Press was first published Sept. 22, 2023.
— With files from the Associated Press.