Thousands rally in Belgium to protest high energy prices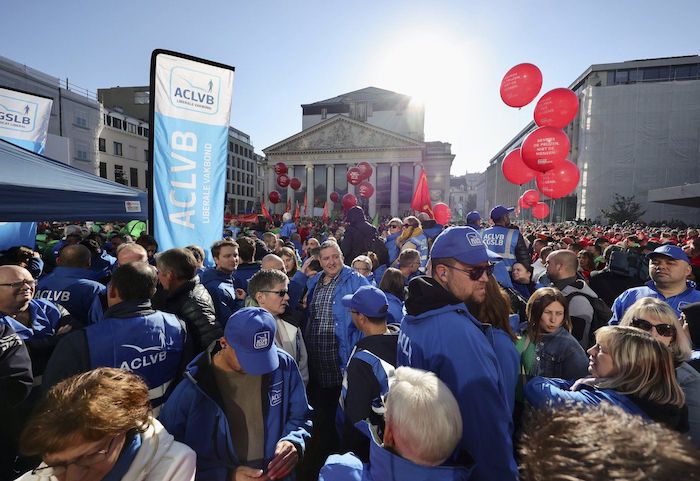 BRUSSELS (AP) — Thousands of people gathered on Wednesday in the Belgian capital Brussels for "a national day of action" to protest against skyrocketing electricity, natural gas and food prices and draw attention to the sharp hike in the cost of living.
Trade unions and city police said that around 10,000 took part. People from across the country gathered, marching behind banners reading "Life is much too expensive, we want solutions now," and "Everything is going up except our wages," or carrying placards marked "Freeze prices, not people." City traffic and public transportation was disrupted.
A Belgian media poll this week showed that 64% of people questioned are concerned that they might not be able to afford their electricity and gas bills, which have more than doubled over the last year, while 80% of respondents said they are already trying to make energy and water savings.
"When we go grocery shopping, what's in the cart costs now 20, 30 euros (dollars) more, or even more depending on the shop you go to. We are reaching a point where our wallets can't keep up," said Pascal Kraeso, a protester from Brussels.
Last month, Prime Minister Alexander de Croo warned that "the next five to 10 winters will be difficult" because of high electricity and natural gas prices fueled by Russia's war in Ukraine.
The European Union's 27 member countries have agreed to cut gas usage by 15% on average this winter, and aim in particular to reduce demand during peak hours. EU energy ministers are meeting next week to discuss the crisis.
Prairie premiers, governors urge Canada, U.S. to keep border crossings open longer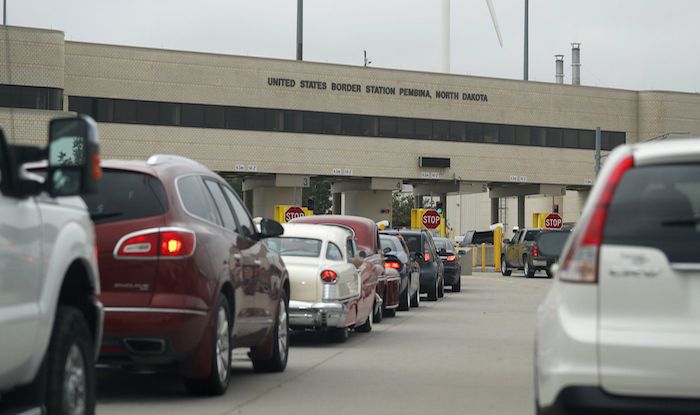 Washington – Canada's Prairie premiers and two U.S. governors want their respective countries to restore pre-pandemic operating hours at entry points along their shared land border.
The group of provincial and state leaders have written to Prime Minister Justin Trudeau and President Joe Biden to argue that curtailed hours at border crossings are hurting the economy.
The letter is signed by Alberta Premier Jason Kenney, Saskatchewan Premier Scott Moe and Manitoba Premier Heather Stefanson, as well as Montana Gov. Greg Gianforte and North Dakota Gov. Doug Burgum.
It says travellers and businesses are being forced to go out of their way to find entry points with longer hours, driving up fuel and labour costs.
The leaders say that's also hurting smaller border communities along the Canada-U.S. border that depend on international traffic for their economic livelihoods.
The letter does not mention that the U.S. still requires visiting foreign nationals to be vaccinated against COVID-19, a requirement Canada lifted over the weekend.
"Residents and businesses on both sides of the border have expressed concern that the reduced hours of operation will become permanent," the letter reads.
It also argues that the supply chain problems that have persisted since the onset of COVID-19 in 2020 will only linger so long as cross-border trade and travel remains curtailed by limited hours at border crossings.
"Resuming pre-pandemic operating hours will ensure the efficient and steady flow of people and goods, which will only improve trade activity and reduce inflationary pressure on both sides of the border."
A notice on the Canada Border Services Agency website warns of limited operating hours at nearly 40 land ports of entry, mostly in the Prairie provinces, along with Quebec, New Brunswick and B.C.
This report by The Canadian Press was first published Oct. 3, 2022.
Vancouver gas prices pass $2.39, breaking North American record: analyst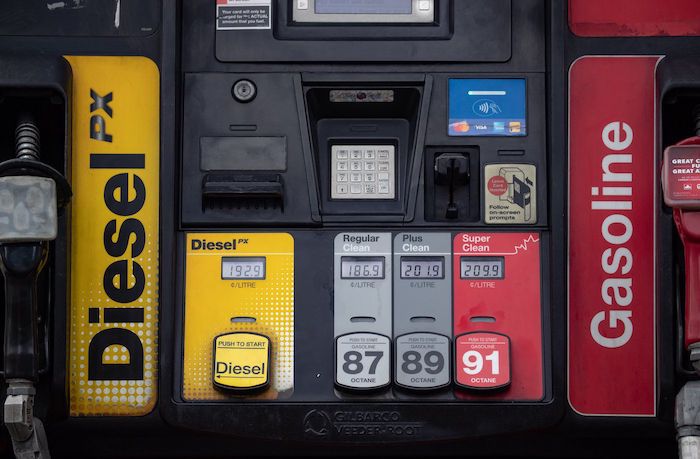 Vancouver – Gas prices in Vancouver hit a new high of more than $2.39 a litre at some stations Thursday, blowing past the previous peak set this summer.
One gas analyst said that's a new all-time record for North America, and expects prices to continue to rise this week.
Dan McTeague, president of Canadians for Affordable Energy, said prices passed the previous record of nearly $2.37 a litre, set in Vancouver in June, due to the temporary shutdown of refineries in the U.S. Pacific Northwest and California.
McTeague said prices will likely rise again then drop fairly quickly once the supply issues are resolved.
"I don't see the all-clear light at the end of the tunnel just yet. It's going to happen and when it does it will be a dramatic drop, probably about 20 cents a litre, not in one fell swoop but very close to that over two or three days," he said.
Gas prices jumped overnight across Canada by almost 20 cents in some places.
McTeague said no one could have predicted gas prices increasing at the speed they have over the past several days.
"The bottom line is that there's not enough supply out there and however we got here, we're going to have to spend a bit more time trying to figure this out because this is the kind of things that bring economies to a standstill," he said.
According to the CAA's price tracker, gas is up nationally by just over three cents on average at $1.58 per litre, with some provinces seeing higher jumps than others.
The CAA says the average gas price across Vancouver was $2.32 on Thursday.
This report by The Canadian Press was first published Sept. 29, 2022.