Thompson's 37-save effort leads Golden Knights to 3-2 win over Flames
Vegas Golden Knights goalie Logan Thompson scrambles to block the net during third period NHL hockey action against the Calgary Flames in Calgary, Alta., Thursday, March 23, 2023. THE CANADIAN PRESS/Jeff McIntosh
By Darren Haynes in Calgary
Logan Thompson's triumphant return for Vegas after six weeks on the shelf was overshadowed by him exiting the game late in the third period with another injury.
Before he departed with just over six minutes to go, Thompson made 37 saves as the surging Golden Knights picked up a 3-2 win over the Calgary Flames on Thursday.
"Right now, obviously concerned about Logan," said Vegas coach Bruce Cassidy. " Obviously, Logan missing that much time, we'll have to look closely at that one."
It was unknown if the latest setback is related to the lower-body injury he suffered back on Feb. 9.
"I don't know what happened, to be honest. He just got up and left," Cassidy said. "He knows his body. I have no idea. At the end of the day, let's hope it's not related to the previous injury and it's something that will be short term."
Up 3-2 at the time, Jonathan Quick came in and turned aside all five shots he faced as Calgary poured on the pressure in search of the tying goal.
"It doesn't happen really often but when he got out there (Quick) made a couple really good saves to keep us in the game," said Vegas forward Ivan Barbashev.
The best chance to tie came off the stick of MacKenzie Weegar with a minute to go but he couldn't beat Quick from 30 feet out.
"I saw the net and I missed my shot," said the Flames defenceman. "If there was one chance I can get back all year, it would be that one."
Nicolas Roy scored in his return from an 18-game absence for Vegas (45-21-6). Jonathan Marchessault and Michael Amadio added the others.
Milan Lucic and Nazem Kadri replied for Calgary (32-26-15). Jacob Markstrom stopped 29-of-32 shots in his 11th start in the last 12 games.
In avenging their 7-2 home loss to the Flames on March 16, the Golden Knights earned their seventh win in eight games and are 16-3-2 in their last 21 contests.
Vegas opened up a four-point cushion on the Los Angeles Kings atop the Pacific Division.
Meanwhile, the Flames took a blow to their flickering playoff hopes, falling six points behind Winnipeg for the second wild-card spot in the Western Conference.
It's the Flames' 27th one-goal loss this year, which leads the NHL.
"We're in every game, and we have a chance to win every game we're playing, so it obviously makes it more frustrating that we lose and it feels like we're always losing by that one goal," said Flames defenceman Rasmus Andersson.
"I don't know how many games I've played back in my head thinking that 'Ah, I should have scored that' or 'How did we not score that' and we would have been in a different situation, but it's the reality."
Up 2-1 entering the third period, Vegas got some breathing room at 5:19 when pressure from Roy forced a defensive zone turnover from Rasmus Andersson. Roy then went to the net, received a pass from Phil Kessel and fired a shot over Markstrom.
The Flames crept back to within one at 12:33 when Kadri ended his 16-game goal drought with a power-play marker, but that's as close as they would get.
"When it's big games, we need guys to step up and be big players and we didn't have that tonight from everyone," said Lucic.
Calgary fell to 0-18-3 when trailing after two periods. The Flames are the only NHL team without a comeback victory this season.
Vegas, which entered the night having outscored teams 70-45 in the first period this year, jumped out to a 2-0 lead in the opening frame, with both goals coming less than four minutes apart.
Jack Eichel sprung Marchessault who whipped a shot past Markstrom on a 2-on-1 at 11:43.
Slipping behind the Flames defence and after being stopped on his first shot, Amadio rattled in his own rebound at 15:23.
Lucic cut the deficit in half with 58 seconds left in the frame off a slick cross-ice setup from rookie Walker Duehr.
SHOW OF SUPPORT
The Flames wore #SnowyStrong stickers on the back of their helmets in support of assistant general manager Chris Snow's ongoing battle with ALS. The stickers that feature a blue cornflower, the international symbol of hope for the fight against ALS, were created by a parent from the U9 hockey team in which Snow's daughter plays and were first worn by that team and its coaches.
STREAKS SNAPPED
Golden Knights forward Reilly Smith had his career-best point streak snapped at nine games (four goals, 11 assists). It equalled the franchise best, also held by Alex Tuch, Mark Stone and Max Pacioretty.
Four Flames also had their scoring streaks come to an end. Defenceman Noah Hanifin at six games, while Tyler Toffoli, Elias Lindholm and Blake Coleman each had their four-game streaks halted.
UP NEXT
Golden Knights: Wrap up their road trip in Edmonton on Saturday night.
Flames: Play host to San Jose in an afternoon game on Saturday.
This report by The Canadian Press was first published March 23, 2023.
United Conservatives jump out to early lead in tight Alberta election
By Dean Bennett
Alberta's United Conservative Party jumped out to a lead over the NDP in early returns Monday in what was forecast to be a tight race in the provincial election.
Danielle Smith's UCP was holding strong in its traditional rural strongholds while Rachel Notley's NDP was faring well in Edmonton, where it won all but one seat in 2019.
Early results were still mixed in the key battleground of Calgary.
The UCP is seeking a second mandate while the NDP is fighting to regain the majority government it lost to the UCP in 2019.
Polling have suggested a close contest between the two parties, with support for smaller parties falling off.
Advance polls set a record of 758,540 votes cast, eclipsing the previous record of more than 700,000 in 2019.
The campaign has taken place alongside a record-breaking spring for wildfires in Alberta. Ten communities were under evacuation orders Monday.
Elections Alberta set up alternate voting locations for those displaced. Evacuation was added as an eligible reason to vote by special ballot and mobile voting stations were placed in evacuation centres.
Calgary has been seen as the campaign's battleground and half of the top 10 advance polling stations were in that city. Two were in Edmonton suburbs.
To win, the NDP would have to continue its dominance in Edmonton, flip the majority in Calgary and hope for some help in smaller cities, while defeating scores of UCP incumbents including cabinet ministers.
The NDP needs to swing 20 seats in the 87-seat legislature.
The UCP won 63 seats under then-leader Jason Kenney in 2019 to 24 for Notley's NDP.
Polls suggest the UCP should continue its near total domination in rural areas and smaller centres, giving it a cushion of up to 40 or so seats to reach the 44 needed to form a majority government.
The month-long campaign has been dominated by the economy and health care.
Albertans are struggling with high costs for consumer goods, a shortage of family doctors and long waits in emergency rooms.
Smith has promised to keep Alberta the lowest-tax regime in Canada.
Her government, she says, would introduce a law to mandate a referendum before any personal or corporate income tax hikes. There would also be tax changes to benefit those making more than $60,000 a year, at a cost of $1 billion annually to the treasury.
The NDP promised to maintain Alberta's status as Canada's lowest tax regime. It pledged to end the tax on small businesses and raise the corporate income tax to 11 per cent from eight per cent, which it says would help pay for investments in health and education while keeping the books balanced and maintaining the lowest corporate rate in Canada.
The NDP also promised legislation to counteract UCP policies that hiked the cost of utilities, auto insurance, a range of fees and tuition.
Both leaders promised to preserve the publicly funded health system while creating more primary care teams — physicians accompanied by related specialists such as nurses and therapists — so more Albertans are able to access a family doctor and not clog emergency wards for care.
Polls showed trust was a key issue, with Notley viewed more favourably than her party and vice versa for Smith.
Smith was dogged during the campaign by past comments she made comparing those who took the COVID-19 vaccine to credulous followers of Adolf Hitler. A report also came out mid-campaign from the province's ethics commissioner that concluded Smith undermined the rule of law by pressuring her justice minister to end the criminal court case of a COVID-19 protester.
This report by The Canadian Press was first published May 29, 2023.
Police looking for these 3 suspects after Super 8 Motel in Innisfail robbed early Monday morning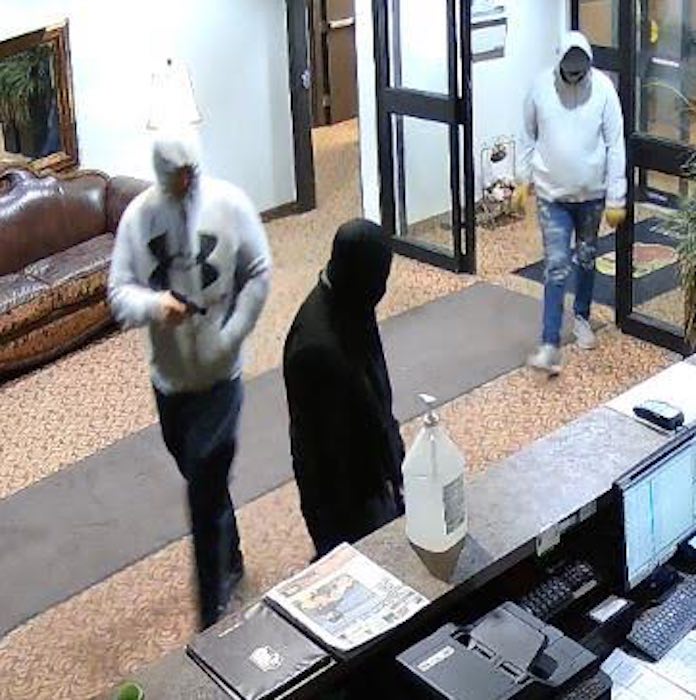 Innisfail RCMP investigate robbery
Innisfail Ala. – On May 29, 2023, at approximately 4:10 a.m., the Super 8 motel in Innisfail was the victim of an armed robbery. Three male suspects entered the hotel, two of which had firearms. Money was demanded from the manager. All three left the motel in a vehicle which is described as:
Chevrolet Dura Max truck
Sliver
Lifted
The suspects are described as:
Suspect #1: Caucasian male, tall and muscular. Wearing jeans and a grey Under Armour hoody. He was carrying a pistol.
Suspect #2: Caucasian male, short. Wearing all black. He was carrying a sawed off shotgun
Suspect #3: Caucasian male tall with a chubby belly. He was wearing a grey hoody, jeans and a black ball hat.
If you have information about this incident, please call the Innisfail RCMP at 403-227-3341 or call your local police. If you want to remain anonymous, you can contact Crime Stoppers by phone at 1-800-222-8477 (TIPS), by internet atwww.tipsubmit.com, or by SMS (check your local Crime Stoppers www.crimestoppers.ab.ca for instructions).