Paralyzed pup is going to have a very merry Christmas after all
From The Central Alberta Humane Society
You may have seen these pictures of Angel when she came into Central Alberta Humane Society a few weeks ago. She came to us from the Town of Sylvan Lake Bylaw, found outside an apartment building. Angel was paralyzed on her hind end and was extremely emaciated and malnourished… just look at those sad eyes. We didn't know the outcome for this poor girl, and you, our amazing supporters & donors graciously flooded Angel with kind words and donations. We are so very thankful to everyone who took a special interest in this sweet girl's journey.
After consulting veterinarians & specialists, we learned Angel was born paralyzed & it wasn't a result of an injury, a bit of positive news. We were told a doggy wheelchair would be the best option for her. Angel stayed in our offices and received so much love and care from our staff & volunteers, while we continued to monitor her to make sure she was eating, drinking, and putting on weight. She was, and we were thrilled to see her demeanor change from sad & nervous to a happy, fun-loving, pup! Enter feel good adoption story…
We are so grateful that Lisa happened to come across our plea for Angel on social media. She herself has a paralyzed & deaf dog named Pooter, who happily lives his life in a wheel chair. Lisa told us that something about Angel connected to her, and we felt the same with her. After she told us more about herself, her husband Jeff & their fur-babies, we knew they would be the perfect family for Angel. Incredibly, Lisa gave up her job many years ago to care for Pooter full time. There was no way he could be left alone everyday, and selflessly they both have given up so much to care for their special needs animals, but they get so much love in return too.
Yesterday we were shown that Christmas miracles do happen and these incredible adopters have proven it. Jeff and Lisa drove almost 3 hours with their paralyzed dog Pooter to meet our sweet Angel for the first time. Pooter is as incredible as his people and boy did he show Angel how a set of wheels can work!
We were excited to send Angel off into her sunset with an amazing experienced family and a new life that will include a wheelchair and round the clock care. We have never met a family more committed to their animals, Angel is in great hands. Lisa & Jeff will be creating a special Facebook page just for Angel, so that you can follow her progress and share in her new journey if you wish. We will share it on our
Facebook page
once it is up.
Once again we want to thank you all for your donations, your kind words and your inspiring support for this beautiful little dog. Our staff had many happy tears saying bye to Angel. We will truly miss her playful nuzzles, her little barks and her loving snuggles. She stole many hearts during her short stay with us but we know that she will now have a chance to live her very best life. A Christmas miracle indeed!
The Laft Hus celebrates 35 years in Red Deer
The Laft Hus is a replica of an 18th-century farmhouse in the Numedal district in Norway. It was created through the efforts of volunteers, and it officially opened to the public in 1987.
The museum contains many old artifacts and examples of Norwegian arts and crafts and a small butikk of Norwegian items and the house itself is of note due to its traditional sod roof.
The museum and gift shop are open to visitors every day (except Mondays) from June 1 through to August 31, 9:00 am to 3 pm. For the remainder of the year, the Norwegian Laft Hus is open each Wednesday when a group of ladies meet to work on Norwegian arts and crafts.
This year, the Laft Hus celebrates its 35th year in Red Deer. The annual festival will take place on June 18, 2022 and will have many activities, entertainment, Norwegian food and vendors for the visitors to enjoy. Help us celebrate!
For more information, visit their website.
Children's Fest is back in the park in 2022!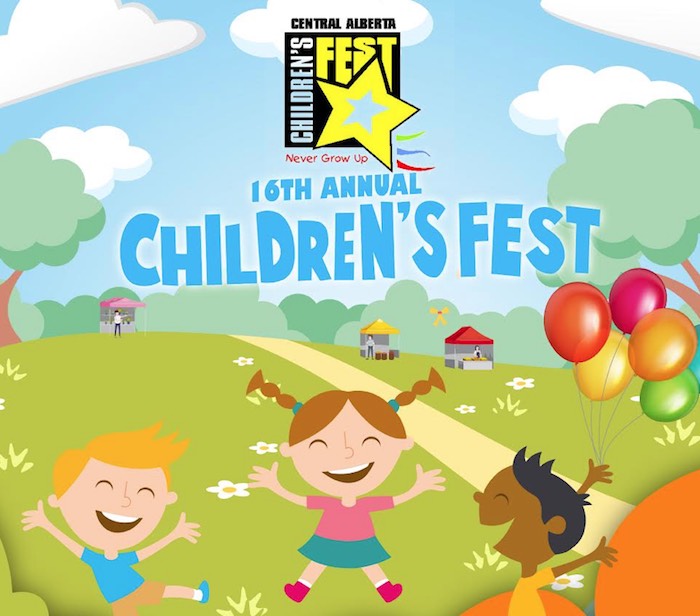 Groups and organizations come together to host the 16th Annual Central Alberta Children's Festival
Never Grow Up!
After 2 years of re-imagined festivals we are excited to be hosting the 16 th Annual Central Alberta Children's Festival back in the park. This family-friendly event is held over two days the first weekend of June. The festival is an opportunity for children and their families to get first-hand knowledge and exposure to the arts, to allow their creativity and imaginations to blossom.
June 3rd and 4th Rotary Recreation Park 4501 47A Ave, Red Deer will come to life with music, dancing, children running and laughing enjoying tons of interactive fun!
The community planning committee has been busy putting together a great two days that will enchant and engage children of all ages. With support from various community partners, the festival brings affordable, culturally diverse, and exciting entertainment through featured artists and interactive fun. We strive to allow families to actively engage in learning and playtime by fostering their imagination and creativity. From dancing, ultimate fort building, Laser Chase, Imaginate where you will learn from local artists, glitter tattoos, and performances this children's festival has it all.
Live shows include:
 Beppie a JUNO nominated recording artist and an award winning music educator based out of Edmonton,
 LANCE CARDINAL ᐊᐧᒐᐢᐠ First Nations artist, designer, and entrepreneur. Lance recently began a new role as Indigenous consultant and designer for the Edmonton Oilers, writing the new pre-game land acknowledgement video and designing the new Turtle Island Logo.
 The Joe Show – Start with a little magic. Add some breathtaking illusions. Stir in appearances from an amazing collection of animal friends with ventriloquism, Sprinkle in a healthy dose of jokes, laughter and fun, and you have the recipe for an amazing show known as the Joe Show
With our admission fee of only $7 per person, or $25 per family or anytime pass $40.00 for a family, every family can enjoy the world-class entertainment and all activities. Included with the admission, families will also have access to free
snacks and water (bring a bottle!), The Central Alberta Children's Festival welcomes kids ages 0 – 99!
For more information on the festival visit www.centralalbertachildrensfestival.ca