The downside: US strike shows Afghanistan still terror base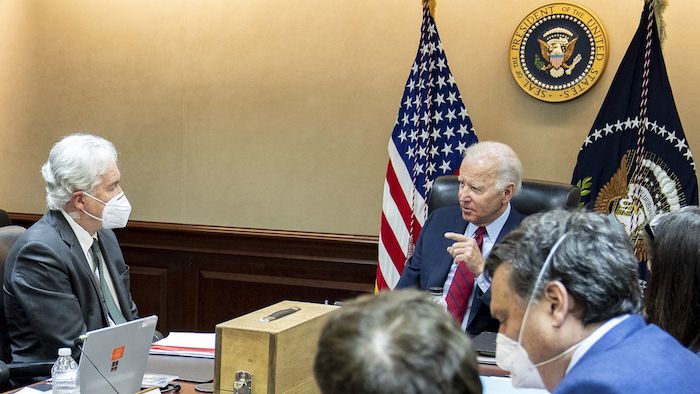 By Aamer Madhani, Zeke Miller, Nomaan Merchant And Lolita C. Baldor in Washington
WASHINGTON (AP) — The Biden administration is holding out the CIA operation that killed al-Qaida leader Ayman al-Zawahri as a monumental strike against the global terror network responsible for the Sept. 11 attacks of 2001. But there's a downside, too.
The drone strike also is putting into stark relief the mounting evidence that after 20 years of America's military presence — and then sudden departure — Afghanistan has once again become an active staging ground for Islamic terror groups looking to attack the West.
The operation, carried out over the weekend after at least six months spent monitoring movements by al-Zawahri and his family, came just weeks before the one-year anniversary of the chaotic U.S. withdrawal from the country.
The Biden administration is making the case that the operation shows Americans at home and allies abroad that the United States hasn't lost focus — or the ability to strike terrorists in the region — and validates its decision to end two decades of fighting in Afghanistan with its withdrawal.
Announcing the strike from the White House, President Joe Biden said Monday night that "justice" had been exacted on a leader who in recent weeks had recorded videos calling for his followers to attack the United States and allies. And the White House on Tuesday framed the operation was an enormous counterterrorism win.
"The president has made good on his word when we left. He said the United States did not need to keep sending thousands of American men and women to fight and die in Afghanistan," White House National Security Adviser Jake Sullivan said on NBC's "Today" show. "After 20 years of war to keep this country safe, he said we would be able to continue to target and take out terrorists in Afghanistan without troops on the ground."
But as details of the operation continue to emerge, the administration has also revealed troubling evidence of al-Qaida's presence and of the Taliban once again offering refuge to the group that was behind the 9/11 attacks on the United States.
White House officials believe that senior members of the Haqqani Network, an Islamist terror group with strong ties to the Taliban, were aware that al-Zawahri was in Kabul. Sullivan said that while al-Zawahri wasn't involved in day-to-day planning at the time of his killing, he continued to play an active role in directing al-Qaida and posed "a severe threat" against the U.S. and American citizens.
Concerns about al-Qaida efforts to regroup inside Taliban-controlled Afghanistan are hardly new.
Before the strike, U.S. military officials, including Gen. Mark Milley, chairman of the Joint Chiefs of Staff, had said al-Qaida was trying to reconstitute in Afghanistan, where it faces limited threats from the now-ruling Taliban. Military leaders have warned that the group still aspired to attack the U.S.
Al-Qaida leadership has reportedly played an advisory role since the Taliban returned to power in the leadup up to the U.S. withdrawal, according to a U.N. Security Council report last month.
The U.N. report also noted that ISIS-K — the group that carried out a massive attack that killed 13 U.S. troops and dozens of Afghans near the Kabul International Airport just days before the U.S. completed its withdrawal last year — has become increasingly active in northern and eastern Afghanistan. That's a worry for the West though ISIS-K and the Taliban espouse different ideologies and interests, with ISIS-K carrying out a bloody insurgency against the Taliban and religious minorities across Afghanistan.
"Zawahri's presence in post-withdrawal Afghanistan suggests that, as feared, the Taliban is once more granting safe haven to the leaders of al-Qaida – a group with which it has never broken," said Nathan Sales, ambassador-at-large and coordinator for counterterrorism during the Trump administration who is now a senior fellow at the Atlantic Council.
Frank McKenzie, the retired Marine general who until earlier this year was the top American military officer in the Middle East, said the U.S. has seen an effort by al-Qaida to restore training camps in Afghanistan.
"I see nothing happening in Afghanistan now that tells me that the Taliban are determined to prevent that from happening," he said in an interview.
Since the American troop withdrawal, U.S. military leaders have said America's ability to monitor and strike a target in the country would be difficult but not impossible.
The strike on Zawahri proved both, said McKenzie, who is now executive director of the Global and National Security Institute at the University of South Florida. "If it's a national priority, we can certainly do that. It requires tremendous effort."
He cautioned not to draw broad conclusions from this one drone strike.
"This was a unique circumstance," he said. "You had a target that didn't move, and they had the opportunity to get a good look at pattern of life. That's not always going to be the case. In fact, typically, that is not the case."
That al-Zawahri was living in a Kabul neighborhood and not in rural Afghanistan as previously believed, "tells you that he got really comfortable" under the protection of the Taliban, said Colin Clarke, director of research at The Soufan Group, a global intelligence and security firm.
"These entities work hand in glove," Clarke said of the Taliban and al-Qaida. "There's not the separation that others would have you believe."
The Taliban had promised in the 2020 Doha Agreement on the terms of the U.S. withdrawal from Afghanistan that they would not harbor al-Qaida members or those seeking to attack the U.S.
The Taliban were quick to condemn the U.S. strike as a "a clear violation of international principles and the Doha Agreement," though they did not acknowledge that al-Zawahri was killed. The U.S. gave no forewarning to the Taliban government, which the United States does not recognize, that it was carrying out the operation.
"Such actions are a repetition of the failed experiences of the past 20 years and are against the interests of the United States of America, Afghanistan, and the region," the Taliban statement said.
White House National Security Council spokesman John Kirby declined to comment on how, or if, the U.S. would hold the Taliban responsible for sheltering al-Zawahri.
"The Taliban have a choice now," Kirby said. "And that is they can comply with their agreement under the Doha agreement … or they can choose to be going down a different path. And if they go down a different path, it's going to lead to consequences not just from the United States but from the international community."
Kirby said the U.S. had already engaged with the Taliban about al-Zawahri's presence following Sunday's strike.
The Taliban remain sanctioned by the U.S. government for its role harboring al-Qaida before the 9/11 attacks. After the collapse of the U.S.-backed government in Kabul last summer, the Biden administration froze billions of dollars in assets belonging to Afghanistan's central bank to prevent the assets from falling under Taliban control. Some of that money has since been freed for humanitarian aid to address the country's dire hunger crisis.
Senate Republican Leader Mitch McConnell was quick to congratulate Biden on the operation, but also made the case that it "further indicates that Afghanistan is again becoming a major thicket of terrorist activity following the president's decision to withdraw U.S. forces."
"Killing al-Zawahri is a success, but the underlying resurgence of al-Qaida terrorists into Afghanistan is a growing threat that was foreseeable and avoidable," McConnell said. "The administration needs a comprehensive plan to rebuild our capacity to combat it."
Democratic Sen. Dianne Feinstein of California dies at age 90, sources tell the AP
WASHINGTON (AP) — U.S. Sen. Dianne Feinstein of California, a centrist Democrat who was elected to the Senate in 1992 in the "Year of the Woman" and broke gender barriers throughout her long career in local and national politics, has died. She was 90.
Three people familiar with the situation confirmed her death to The Associated Press on Friday.
Feinstein, the oldest sitting U.S. senator, was a passionate advocate for liberal priorities important to her state — including environmental protection, reproductive rights and gun control — but was also known as a pragmatic lawmaker who reached out to Republicans and sought middle ground.
She was elected to the San Francisco Board of Supervisors in 1969 and became its first female president in 1978, the same year Mayor George Moscone was gunned down alongside Supervisor Harvey Milk at City Hall by Dan White, a disgruntled former supervisor. Feinstein found Milk's body.
After Moscone's death, Feinstein became San Francisco's first female mayor. In the Senate, she was one of California's first two female senators, the first woman to head the Senate Intelligence Committee and the first woman to serve as the Judiciary committee's top Democrat.
Although Feinstein was not always embraced by the feminist movement, her experiences colored her outlook through her five decades in politics.
"I recognize that women have had to fight for everything they have gotten, every right," she told The Associated Press in 2005, as the Judiciary Committee prepared to hold hearings on President George W. Bush's nomination of John Roberts to replace Sandra Day O'Connor on the Supreme Court.
"So I must tell you, I try to look out for women's rights. I also try to solve problems as I perceive them, with legislation, and reaching out where I can, and working across the aisle," she said.
Her tendency for bipartisanship helped her notch legislative wins throughout her career. But it also proved to be a liability in her later years in Congress, as her state became more liberal and as the Senate and the electorate became increasingly polarized.
A fierce debater who did not suffer fools, the California senator was long known for her verbal zingers and sharp comebacks when challenged on the issues about which she was most fervent. But she lost that edge in her later years in the Senate, as her health visibly declined and she often became confused when answering questions or speaking publicly. In February 2023, she said she would not run for a sixth term the next year. And within weeks of that announcement, she was absent for the Senate for more than two months as she recovered from a bout of shingles.
Amid the concerns about her health, Feinstein stepped down as the top Democrat on the Judiciary panel after the 2020 elections, just as her party was about to take the majority. In 2023, she said she would not serve as the Senate president pro tempore, or the most senior member of the majority party, even though she was in line to do so. The president pro tempore opens the Senate every day and holds other ceremonial duties.
One of Feinstein's most significant legislative accomplishments was early in her career, when the Senate approved her amendment to ban manufacturing and sales of certain types of assault weapons as part of a crime bill that President Bill Clinton signed into law in 1994. Though the assault weapons ban expired 10 years later and was never renewed or replaced, it was a poignant win after her career had been significantly shaped by gun violence.
Feinstein remembered finding Milk's body, her finger slipping into a bullet hole as she felt for a pulse. It was a story she would retell often in the years ahead as she pushed for stricter gun control measures.
She had little patience for Republicans and others who opposed her on that issue, though she was often challenged. In 1993, during debate on the assault weapons ban, Sen. Larry Craig, R-Idaho, accused her of having an insufficient knowledge of guns and the gun control issue.
Feinstein spoke fiercely of the violence she'd lived through in San Francisco and retorted: "Senator, I know something about what firearms can do."
Two decades later, after 20 children and six educators were killed in a horrific school shooting in Newtown, Connecticut, first-term Republican Sen. Ted Cruz of Texas similarly challenged Feinstein during debate on legislation that would have permanently banned the weapons.
"I'm not a sixth grader," Feinstein snapped back at the much younger Cruz — a moment that later went viral. She added: "It's fine you want to lecture me on the Constitution. I appreciate it. Just know I've been here a long time."
Feinstein became mayor of San Francisco after the 1978 slayings of Moscone and Milk, leading the city during one of the most turbulent periods in its history. Even her critics credited Feinstein with a calming influence, and she won reelection on her own to two four-year terms.
With her success and growing recognition statewide came visibility on the national political stage.
In 1984, Feinstein was viewed as a vice presidential possibility for Walter Mondale but faced questions about the business dealings of her husband, Richard Blum. In 1990, she used news footage of her announcement of the assassinations of Moscone and Milk in a television ad that helped her win the Democratic nomination for California governor, making her the first female major-party gubernatorial nominee in the state's history.
Although she narrowly lost the general election to Republican Pete Wilson, the stage was set for her election to the Senate two years later to fill the Senate seat Wilson had vacated to run for governor.
Feinstein campaigned jointly with Barbara Boxer, who was running for the state's other U.S. Senate seat, and both won, benefiting from positive news coverage and excitement over their historic race. California had never had a female U.S. senator, and female candidates and voters had been galvanized by the Supreme Court hearings in which the all-male Senate Judiciary Committee questioned Anita Hill about her sexual harassment allegations against nominee Clarence Thomas.
Feinstein was appointed to the Judiciary panel and eventually the Senate Intelligence Committee, becoming the chairperson in 2009. She was the first woman to lead the intelligence panel, a high-profile perch that gave her a central oversight role over U.S. intelligence controversies, setbacks and triumphs, from the killing of Osama bin Laden to leaks about National Security Agency surveillance.
Under Feinstein's leadership, the intelligence committee conducted a wide-ranging, five-year investigation into CIA interrogation techniques during President George W. Bush's administration, including waterboarding of terrorism suspects at secret overseas prisons. The resulting 6,300-page "torture report" concluded among other things that waterboarding and other "enhanced interrogation techniques" did not provide key evidence in the hunt for bin Laden. A 525-page executive summary was released in late 2014, but the rest of the report has remained classified.
The Senate investigation was full of intrigue at the time, including documents that mysteriously disappeared and accusations traded between the Senate and the CIA that the other was stealing information. The drama was captured in a 2019 movie about the investigation called "The Report," and actor Annette Bening was nominated for a Golden Globe for her portrayal of Feinstein.
In the years since, Feinstein has continued to push aggressively for eventual declassification of the report.
"It's my very strong belief that one day this report should be declassified," Feinstein said. "This must be a lesson learned: that torture doesn't work."
Feinstein sometimes frustrated liberals by adopting moderate or hawkish positions that put her at odds with the left wing of the Democratic Party, as well as with the more liberal Boxer, who retired from the Senate in 2017. Feinstein defended the Obama administration's expansive collection of Americans' phone and email records as necessary for protecting the country, for example, even as other Democratic senators voiced protests. "It's called protecting America," Feinstein said then.
That tension escalated during Donald Trump's presidency, when many Democrats had little appetite for compromise. Feinstein become the top Democrat on the Judiciary panel in 2016 and led her party's messaging through three Supreme Court nominations — a role that angered liberal advocacy groups that wanted to see a more aggressive partisan in charge.
Feinstein closed out confirmation hearings for Justice Amy Coney Barrett with an embrace of Senate Judiciary Committee Chair Lindsey Graham, R-S.C., and a public thanks to him for a job well done. "This has been one of the best set of hearings that I've participated in," Feinstein said at the end of the hearing.
Liberal advocacy groups that had fiercely opposed Barrett's nomination to replace the late liberal icon Justice Ruth Bader Ginsburg were furious and called for her to step down from the committee leadership.
A month later, Feinstein announced she would remain on the committee but step down as the top Democrat. The senator, then 87 years old, did not say why. In a statement, she said she would "continue to do my utmost to bring about positive change in the coming years."
Feinstein was born on June 22, 1933. Her father, Leon Goldman, was a prominent surgeon and medical school professor in San Francisco, but her mother was an abusive woman with a violent temper that was often directed at Feinstein and her two younger sisters.
Feinstein graduated from Stanford University in 1955, with a bachelor's degree in history. She married young and was a divorced single mother of her daughter, Katherine, in 1960, at a time when such a status was still unusual.
In 1961, Feinstein was appointed by then-Gov. Pat Brown to the women's parole board, on which she served before running for the San Francisco Board of Supervisors. Typical of the era, much of the early coverage of her entrance into public life focused on her appearance, and she was invariably described as stunning, tall, slender and raven-haired.
Feinstein's second husband, Bert Feinstein, was 19 years older than she, but she described the marriage as "a 10" and kept his name even after his death from cancer in 1978. In 1980, she married investment banker Richard Blum, and thanks to his wealth, she was one of the richest members of the Senate. He died in February 2022.
In addition to her daughter, Feinstein has a granddaughter, Eileen, and three stepchildren.
Michael Blood, Mary Clare Jalonick, Lisa Mascaro And Michael Balsamo, The Associated Press
Cyberattacks hit military, Parliament websites as India hacker group targets Canada
The federal government is coping with apparent cyber attacks this week, as a hacker group in India claims it has sowed chaos in Ottawa. Hands type on a keyboard in Vancouver on Wednesday, December, 19, 2012. THE CANADIAN PRESS/Jonathan Hayward
By Dylan Robertson in Ottawa
The federal government is coping with apparent cyberattacks this week, as a hacker group in India claims it has sowed chaos in Ottawa.
The Canadian Armed Forces said that its website became unavailable to mobile users midday Wednesday, but was fixed within a few hours.
The military said the site is separate from other government sites, such as the one used by the Department of Defence and internal military networks. The incident remains under investigation.
"We have no indication of broader impacts to our systems," said a statement from spokeswoman Andrée-Anne Poulin.
Meanwhile, various pages on the House of Commons website continued to load slowly or incompletely on Thursday due to an ongoing attack that officials say started Monday morning.
The Commons administration said it was facing a distributed denial-of-service attack, which is when bots swarm a website with multiple visits and cause it to stop loading properly.
"House of Commons systems responded as planned to protect our network and IT infrastructure. However, some websites may be unresponsive for a short period," spokeswoman Amélie Crosson said in a written statement Thursday morning.
"The House of Commons IT support team, in collaboration with our partners, have implemented mitigating measures and restored services to appropriate service levels. The IT team is still continuously monitoring for such activities."
She added that the Commons administration is helping their Senate colleagues "to provide guidance and support them to restore services."
Elections Canada also experienced roughly an hour-long denial-of-service attack starting around midnight early Wednesday, Ottawa time.
"This website does not host any sensitive data or information. It is separate from our main website, elections.ca, and is hosted by an external service provider. It is in no way connected to the network that supports elections.ca," the agency wrote in a statement.
"Our systems are monitored in real time both internally, and by the Canadian Cyber Security Centre, enabling us to quickly detect any anomalies on our platforms and systems. They are aware of the incident."
That centre is under the umbrella of the Communications Security Establishment, Canada's signals-intelligence agency.
A hacking group named Indian Cyber Force claimed responsibility for the incidents involving the military and Elections Canada, and it appeared to have managed to infiltrate a handful of websites owned by small businesses in Canada.
The group made reference to Prime Minister Justin Trudeau telling Parliament on Sept. 18 that there were "credible allegations" of Indian involvement in the killing of Sikh independence activist Hardeep Singh Nijjar, who had been wanted by India for years and was gunned down in June outside the temple he led.
The hacking group has posted multiple versions of a message riddled with spelling and grammatical errors onto websites of restaurants and medical clinics.
The affected sites show a message on a black background with green digits, similar to the film "The Matrix," as warlike music plays.
The message described Canada as a haven for terrorists — a "heaven hub," it said in butchered English — and similarly insulted Sikh separatists.
It also criticized Trudeau for "throwing something without any prove," or proof.
The group claimed to have attacked Elections Canada and the Ottawa Hospital, though these sites appeared to be operating normally Thursday morning. The Canadian Press has asked those responsible for these web pages to confirm whether they have been affected.
The hacking group also claimed to have taken down the Global Affairs Canada website for travel advisories, but the department insists this hasn't happened, and the group deleted that claim from its account on the social-media application Telegram.
News of the attacks came as questions abounded over Indian officials' level of co-operation with Canadian officials over Trudeau's allegations — and to what extent allies such as the United States were advocating on Canada's behalf.
On Thursday, U.S. Secretary of State Antony Blinken met with India's foreign-affairs minister Subrahmanyam Jaishankar.
Neither of them made mention of the controversy in Canada when they emerged briefly to pose for photos before their meeting began.
During a State Department briefing prior to that meeting, spokesman Matthew Miller refused to speculate on what the secretary would tell Jaishankar directly.
"What I will say, however, is we have consistently engaged with the Indian government on this question and have urged them to co-operate, and that engagement and urging them to co-operate will continue," Miller said.
"We urge them to co-operate with the Canadian investigation."
Miller flatly refused comment when asked about a television interview last week with U.S. ambassador to Canada David Cohen, who confirmed that Canada received intelligence from one of its Five Eyes security partners.
"I am not going to speak to intelligence matters from the podium."
This report by The Canadian Press was first published Sept. 28, 2023.
— With files from James McCarten in Washington, D.C.