Tempers rise as German government's clean heating plans go up in smoke
The energy guide of a Munchkin natural gas boiler, part of a super-efficient gas boiler, hot water and air conditioning unit, can be seen at a home in Ossining, N.Y. Friday, Aug. 8, 2008. Germany's government is facing a major test after two junior partners in Chancellor Olaf Scholz's three-party coalition sparred publicly over a key element in the country's ambitious climate policy. (AP Photo/Craig Ruttle, File)
BERLIN (AP) — Germany's government is facing a major test after two junior partners in Chancellor Olaf Scholz's three-party coalition sparred publicly over a key element in the country's ambitious climate policy.
Economy and Energy Minister Robert Habeck of the environmentalist Greens accused the libertarian Free Democratic Party of backtracking on agreements by refusing to let lawmakers debate a bill for replacing home heating systems with greener alternatives.
The bill was approved by Cabinet in March after months of intense haggling between the parties. A major stumbling block was the Green party's demand that the installation of new oil or gas furnaces should be banned from next year to ensure Germany can meet its target of reducing greenhouse gas emissions to net zero by 2045.
A compromise saw numerous exceptions and subsidies included in the bill, but the Free Democrats later said they still had misgivings, meaning it is unlikely to be taken up by parliament before the summer recess.
"In my view this is a breach of promise," Habeck told reporters in Berlin.
"If you enter into government and give your word, then you stand by your word," he added.
Populist newspapers have claimed that installing climate-friendly heat pumps will be hugely expensive and may not be feasible in older buildings, though such systems are widely used in neighboring countries. Experts counter that a failure to replace fossil fuel heatings will end up costing homeowners more as the price of oil and gas rise sharply in the coming decades because of emissions surcharges agreed at the European level.
Scholz has largely tried to sit out the spat between his two junior partners, but told members of his own center-left Social Democratic Party on Tuesday that Germany's transformation to a carbon-neutral economy can only succeed if politicians can convince voters that their fears are taken seriously and the changes will benefit them.
Suncor to cut 1,500 jobs by end of year, employees informed Thursday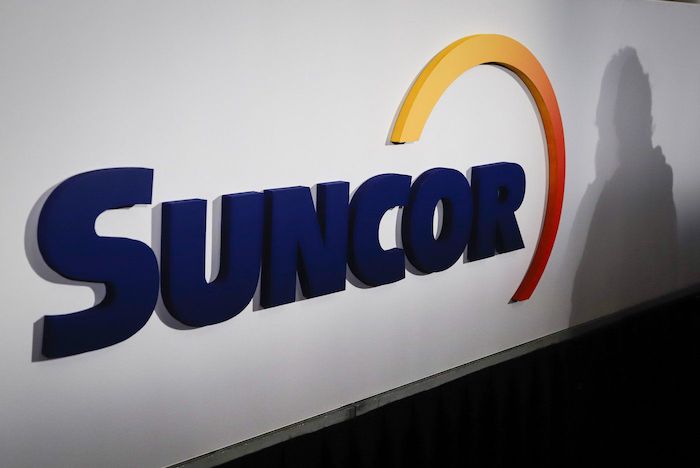 A Suncor logo is shown at the company's annual meeting in Calgary, Thursday, May 2, 2019. Suncor on Thursday said is would lay off 1,500 workers by the end of 2023. THE CANADIAN PRESS/Jeff McIntosh
Suncor Energy Inc. says it will cut 1,500 jobs by the end of the year in an effort to reduce costs and improve the company's lagging financial performance.
Spokeswoman Sneh Seetal confirmed the cuts, saying they will be spread across the organization and will affect both employees and contractors.
Seetal says employees were informed of the cuts in a companywide email from Suncor CEO Rich Kruger earlier this afternoon.
Suncor has been under pressure from shareholders — including activist investor Elliott Investment Management — to improve its financial and share price performance, which has lagged its peers.
Kruger, the former CEO of Imperial Oil Ltd., took the reins at Suncor earlier this spring and has been tasked with turning around the oilsands giant.
Suncor employs people across the country, in the U.S., and the U.K. Its corporate head office is located in Calgary.
This report by The Canadian Press was first published June 1, 2023.
Canada will keep up with U.S., won't cut corners on permitting reform, Wilkinson says
Minister of Natural Resources Jonathan Wilkinson arrives to a cabinet meeting on Parliament Hill in Ottawa on Tuesday, May 30, 2023. Wilkinson says Canada won't be "cutting corners" as it overhauls the permitting process for energy projects. THE CANADIAN PRESS/Sean Kilpatrick
Washington
Canada's natural resources minister says he won't be "cutting corners" when it comes to the environmental assessment process for energy projects.
Jonathan Wilkinson says the government is focused on delivering a new permitting process before the end of the year.
Industry experts say it's more urgent than ever, now that the U.S. is poised to eliminate duplication and require shorter timelines for environmental assessments.
The U.S. permitting reforms are part of the new Fiscal Responsibility Act, the result of efforts to end the political standoff over the debt ceiling.
That controversy is still far from resolved, however: Congress is divided over the legislation, which aims to stave off a U.S. default before Monday.
If passed, the bill would create a new agency to oversee the permitting process and require environmental reviews take no longer than two years.
This report by The Canadian Press was first published May 30, 2023.