TC Energy seeks to recoup costs from U.S. for cancelled Keystone XL pipeline project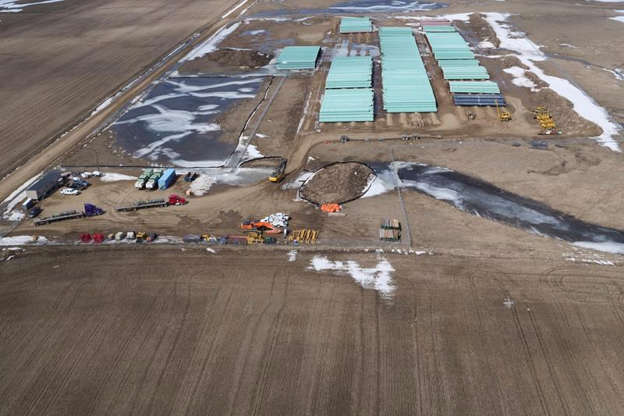 WASHINGTON — Pipeline giant TC Energy is formally seeking to recover more than US$15 billion in "economic damages" from the U.S. government following President Joe Biden's Day 1 decision to cancel the cross-border Keystone XL expansion project.
The Calgary-based company officially filed a request for arbitration Monday with the U.S. State Department after it made its intentions clear in a notice of intent filed with the department earlier this summer.
"As a public company, TC Energy has a responsibility to our shareholders to seek recovery of the losses incurred due to the permit revocation, which resulted in the termination of the project," the company said in a statement.
"We will not comment further and will follow the process as set out."
Cancelling the presidential permit issued by predecessor Donald Trump was one of Biden's first decisions when he took office in January, effectively ending 13 years of on-again, off-again wrangling that bedevilled three presidents and two prime ministers.
Over the course of its troubled history, Keystone XL became an enduring symbol of fossil-fuel excess for environmental activists determined to prevent what they considered a dangerous and damaging expansion of Alberta's oilsands.
The company officially abandoned all hope for the expansion in June, and shortly afterward filed notice of its intent to seek compensation under the now-defunct North American Free Trade Agreement.
At the time, the company said it would be seeking more than US$15 billion in damages "that it has suffered as a result of the U.S. government's breach of its NAFTA obligations."
NAFTA's replacement, the U.S.-Canada-Mexico Agreement, did away with its predecessor's dispute-resolution mechanism, but allows companies to file legacy claims for lost investment under the terms of the previous deal.
State Department spokesman Ned Price confirmed receipt of the filing in his briefing Tuesday, the very day that Biden announced the U.S. would release 50 million barrels of oil from its strategic reserve to help slow spiking gasoline prices.
"Canada is a key U.S. partner in energy, as well as in efforts to address climate change and protect the environment," said Price, who refused to discuss the filing in any detail.
"We look forward to working with Canada to meeting these challenges together. We will, and we know we must."
Details of the filing will be publicly posted by the State Department "in the coming weeks," he added.
The average price of gas in the U.S. is about 50 per cent higher than it was a year ago — currently about US$3.40 a gallon, which is about 90 cents US a litre, or C$1.14 under current exchange rates.
Some parts of the U.S., particularly in the west, are experiencing even higher prices. In California, the average price Tuesday of a gallon of regular gasoline in the state was US$4.70.
In Canada, where gasoline prices are typically higher than in the U.S., globalpetrolprices.com reported the average price on Monday was C$1.63 a litre, or about C$6.20 a gallon — roughly US$1.28 per litre or $4.85 a gallon.
The price increases in the U.S. add to Biden's relentless series of post-pandemic headaches: opening up the strategic reserves and urging U.S. energy companies to open their production taps runs counter to his administration's hard-charging efforts to invest in green energy and electric-vehicle production, with an eye toward eventually weaning the country off fossil fuels for good.
"The message is that we are in a transition, and the transition does not happen overnight," Energy Sec. Jennifer Granholm told the White House briefing Tuesday.
The spike in prices is a direct result of what she called a "mismatch" between supply and demand, part of the lingering impact of the pandemic, coupled with the fact that energy companies have not returned to pre-pandemic production levels, Granholm said.
"This is a short-term strategy to make sure that people are not hurting," she said. "The long-term strategy, to make sure that the country doesn't hurt into the future, is to build clean."
In Edmonton Tuesday, Alberta Premier Jason Kenney said, "the (Keystone XL) project was clearly in the best interests of the United States."
Kenney and his United Conservative government committed $1.3 billion in direct financing to TC Energy Corp. for Keystone. Last June, the province said the investment of taxpayers' money was a prudent gamble given the potential payoff in profits and jobs.
"I would hope that the (Biden) administration would reconsider its position given these emerging facts about a growing scarcity of global energy, but in any event, we've said from Day One that we believe there would be strong grounds to protect our investment and that of TC Energy," Kenney said.
"We're glad to see TC Energy proceed with the NAFTA case. We will be considering how best we can partner with them in that, and we think there's a very strong claim for damages."
Opposition NDP energy critic Kathleen Ganley said the approach by Kenney's United Conservative Party government was reckless from the start.
"The UCP made a risky bet and lost $1.3 billion of Albertans' money," said Ganley.
"Premier Kenney promised to get the money back, but it's not clear what, if anything, the UCP government is doing to keep that promise.
"It's not even certain that if TC Energy is eventually successful in their bid for compensation, that they have to pass any of that along to the people of Alberta for the money lost."
This report by The Canadian Press was first published Nov. 23, 2021.
James McCarten, The Canadian Press
Cheese not on the table in Canada-U.K. trade talks as Britain seeks market access
OTTAWA — The British foreign secretary has often been mocked for her preoccupation with cheese. It started eight years ago when Liz Truss expressed outrage in a speech to her party's annual conference.
"We import two thirds of our cheese," she raged. "That is a disgrace."
Now Truss is facing another battle over cheese, this time with Canada.
Britain wants greater access to Canadian markets for more than 700 varieties of cheese including Stilton, Cheshire, and Wensleydale, a crumbly variety originating from Yorkshire.
But Ottawa has made it clear it does not want to see more British cheddar, let alone artisan varieties such as stinking bishop, renegade monk and Hereford hop, on Canadian fridge shelves.
During the first round of negotiations of the U.K.-Canada trade deal, Canada told Britain that a larger quota for British cheese is not on the negotiating table.
When it was a European Union member, Britain was part of the Comprehensive Economic and Trade Agreement with Canada, giving it some access to Canada's cheese market.
After the U.K. left the EU, a "continuity agreement" with Canada was swiftly put in place to maintain the CETA arrangement until a bilateral trade deal could be struck.
Ralph Goodale, Canada's high commissioner to the U.K., said if Britain wants more access to Canadian markets for its cheese as part of a bilateral free-trade agreement, it will have to knock on Brussels' door and get its part of the dairy quota back.
"The point is we have already provided that volume in the EU deal and the British left it there without taking it with them," he said in an interview. "That's an issue they need to resolve with the Europeans because the Europeans have their quota."
Goodale said the U.K.'s request for extra access for British cheese — on top of the access given to the EU — is "what the Canadian negotiators consider to be pretty much a dead end."
"You are talking about a double concession — one we have already made to the EU and the request is being made by the U.K. for yet another one on top of that," he said.
The high commissioner said Canada values its trading relationship with the U.K., adding that he is confident that a mutually-beneficial trade deal will be reached.
But if Canada allows the British to export more of their cheese it would involve "a major commitment of compensation to dairy producers" in Canada to make up for lost incomes.
In 2018, after the United States-Mexico-Canada Agreement gave the U.S. fresh access to the Canadian dairy market, Prime Minister Justin Trudeau said he would compensate Canadian dairy farmers.
Canada's dairy industry was worth over $7 billion in 2020, according to the Canadian Dairy Commission's annual report.
There are over 10,000 dairy farms in Canada — most of them in Quebec and Ontario — with an average of 92 cows per farm, it said.
Until at least the end of next year, Britain will be able to keep exporting its cheese to Canada under the trade continuity agreement, the U.K.'s trade department said.
This allows U.K. cheese exporters to access the Canadian market tariff-free under the EU portion of Canada's World Trade Organization cheese tariff rate quota.
As part of the 1995 WTO agreement on agriculture, Canada established tariff rate quotas for cheese and other dairy products. The quotas set out quantities of dairy that could enter Canada with little or no duty.
For Britain, a fully fledged free trade deal with Canada is crucial after Brexit left it looking for fresh tariff-free markets.
"We want to negotiate an ambitious and comprehensive new agreement with Canada that will strengthen our close and historic bilateral trade relationship," said a U.K. government trade spokesman in a statement, adding the relationship was worth about $34.5 billion in 2021.
In March, U.K. Trade Secretary Anne-Marie Trevelyan flew to Canada to announce with Canada's Trade Minister Mary Ng that bilateral negotiations had officially begun.
In a speech in the House of Lords in London earlier this month, Goodale reported on progress in the talks, saying that "both sides are optimistic that, as good as CETA and the continuity agreement were, we can do better still when Canada and the U.K. negotiate a deal face-to-face, directly with each other."
Like Goodale, Ng said Canada is confident a free-trade deal with Britain will be reached, enhancing co-operation in a number of areas, including on renewables, sustainability and the digital economy.
"Canada values the relationship with the United Kingdom. They are … an important trading partner and a trade agreement with the U.K. will be very good for Canadian businesses," she said in a phone interview from Thailand last weekend.
But she was also firm about the need to protect Canada's dairy producers, and that means keeping more British cheese out.
"I have been very clear, our government has been very clear, that we will not provide access to our supply-managed sector," she said. "We have been clear about that from the get-go."
The Canadian dairy sector now produces 1,450 varieties of cheese, including ewe, goat and buffalo varieties, as well as the cheese curds used in the Québécois dish poutine.
At least half of Canada's cheese is made in Quebec, which is home to a number of artisan varieties including bleu l'ermite, or blue hermit, and Oka, a popular semi-soft rind cheese.
Pierre Lampron, president of the Dairy Farmers of Canada, has made it clear he will fiercely protect Canadian cheese from British interlopers.
Lampron said he had "validated that the issue of access to the Canadian dairy market was not on the agenda of these trade talks."
Canada's protectionist stance toward its dairy industry may have pleased farmers. But it has caused some tension with close allies.
Earlier this month, New Zealand launched a formal trade dispute against Canada, accusing the federal government of breaking promises to give access for dairy imports under the Trans-Pacific Partnership agreement.
The Biden administration also recently said it was asking for a second dispute settlement panel under the U.S.-Mexico-Canada Agreement to review a trade dispute with Canada over dairy import quotas.
This report by The Canadian Press was first published May 26, 2022.
Marie Woolf, The Canadian Press
Judge decides 'Freedom Convoy' organizer Tamara Lich stays out on bail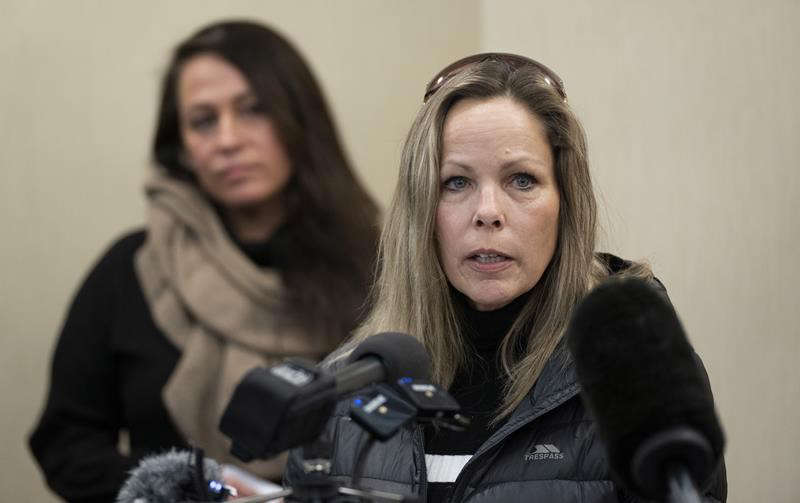 OTTAWA — Tamara Lich, a key organizer of the "Freedom Convoy" protest that gridlocked Ottawa for weeks, will remain released on bail while awaiting trial, a judge ruled Wednesday.
Ontario Superior Court Justice Kevin Phillips said he made his decision because she has followed her bail conditions, her surety has supervised her well and she's already had a "taste of jail," which he said lowered her risk to reoffend.
The judge said he does not accept that Lich breached her release conditions by agreeing to receive an award, and added Lich can be trusted to respect the conditions of her release.
She was released in March with a long list of conditions, including a ban from all social media and an order not to "support anything related to the Freedom Convoy."
The terms of Lich's release were intended to prevent a similar protest from happening in the national capital, the judge said, adding the court does not seek to control people's political views.
"The courts are not a thought police. We seek only to control conduct to the extent that certain behaviour will violate or likely lead to violation of the law," he said.
The protest is over and has left Ottawa, he said, adding it would be "practically impossible" to mount a similar protest in the city again.
Lich's lawyer, Lawrence Greenspon, said in an interview Wednesday that he was pleased with the decision.
"She'll be able to conduct her life in a lot more normal fashion as a result of the judge's ruling," said Greenspon.
Moiz Karimjee, a Crown prosecutor, said last week that Lich violated one of her bail conditions by agreeing to accept an award for her leadership during the Ottawa protest, and should be sent back behind bars to wait for her trial.
Greenspon argued last week her bail conditions should be loosened to allow her to come to Ontario and use social media.
He told the court that the social media ban imposed on Lich was unnecessarily broad and has had a huge impact on her life while she's been out of custody.
However, Phillips said Wednesday the ban on Lich's access to social media is warranted.
"Social media can be a problematic feedback loop where people get egged on and caught up in group activity they would never perform on their own," he said.
Social media "undoubtedly contributed to and even drove" Lich's conduct related to the protest, and her separation from it is necessary to lower her risk of reoffending, said Phillips.
Noting that Lich is in her late 40s, Phillips said she should be able to remember "how to use the social skills she surely built up before the advent of the internet."
Lich is able to communicate by many other means, including email, phone or meeting in person, he said.
Greenspon said while he would have liked to see the social media ban reversed, "the most important thing was the rejection of the Crown's efforts to to put her back in jail for agreeing to accept an award."
The judge did amend her release conditions to allow her to visit Ottawa.
Lich's motivation for coming to the city cannot be disclosed because it is under a court-ordered publication ban.
Phillips reiterated the high unlikelihood that Lich could organize an event resembling the convoy protest.
While she's permitted to come to Ottawa, Lich is not allowed to visit the downtown core so as not "to walk around the very neighbourhoods she is alleged to have traumatized," he said, except to attend court or meet with legal counsel.
Lich and fellow protest organizer Chris Barber are jointly accused of mischief, obstructing police, counselling others to commit mischief and intimidation.
The "Freedom Convoy" protest evolved into a weeks-long demonstration that congested the streets of Ottawa in February.
This report by The Canadian Press was first published May 25, 2022.
———
This story was produced with the financial assistance of the Meta and Canadian Press News Fellowship.
Erika Ibrahim, The Canadian Press