TC Energy expects cost of Coastal GasLink pipeline project to rise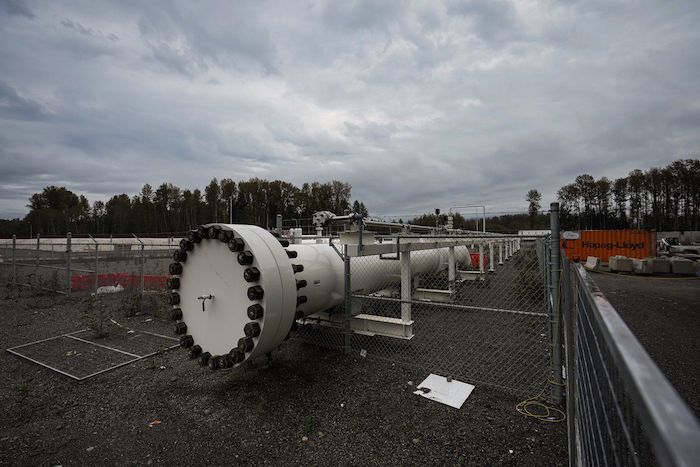 Calgary – TC Energy Corp. says it expects what it is calling a material increase in the cost of its Coastal GasLink pipeline project.
The company says it continues to face significant cost pressures in Western Canada relating to labour costs and shortages of skilled labour, along with contractor underperformance and disputes.
TC Energy says the project has also been hurt by other unexpected events including drought conditions, and erosion and sediment control challenges.
It says it expects to provide an updated capital cost estimate early next year that will incorporate the recent developments.
In July, the company said it expected the cost of the project spanning northern British Columbia had risen to $11.2 billion compared with an earlier estimate of $6.6 billion.
The 670-kilometre pipeline, which aims to carry natural gas across the province to the LNG Canada processing and export facility in Kitimat, B.C., is 80 per cent complete.
This report by The Canadian Press was first published Nov. 29, 2022.
Companies in this story: (TSX:TRP)
House GOP seeks new restrictions on use of US oil stockpile
By Matthew Daly in Washington
WASHINGTON (AP) — For the second time this month, House Republicans are seeking to restrict presidential use of the nation's emergency oil stockpile — a proposal that has already drawn a White House veto threat.
A GOP bill set for a vote Friday would require the government to offset any non-emergency withdrawals from the Strategic Petroleum Reserve with new drilling on public lands and oceans. Republicans accuse President Joe Biden of abusing the reserve for political reasons to keep gas prices low, while Biden says tapping the reserve was needed last year in response to a ban on Russian oil imports following President Vladimir Putin's invasion of Ukraine.
Biden withdrew 180 million barrels from the strategic reserve over several months, bringing the stockpile to its lowest level since the 1980s. The administration said last month it will start to replenish the reserve now that oil prices have gone down.
White House press secretary Karine Jean-Pierre attacked the latest GOP proposal, which follows a bill approved two weeks ago that would prohibit the Energy Department from selling oil from the strategic reserve to companies owned or influenced by the Chinese Communist Party.
"House Republicans will vote to raise gas prices on American families … and help Putin's war aims by interfering with our ability to release oil," Jean-Pierre said, referring to the current GOP bill. "These extreme policies would subject working families to immense financial pain and balloon our deficit, all just to benefit the wealthiest taxpayers and big corporations."
Energy Secretary Jennifer Granholm, appearing with Jean-Pierre at the White House, said the bill would make it "harder to offer Americans relief in the future" from oil disruptions that could raise prices.
Republican Rep. Cathy McMorris Rodgers, who chairs the House Energy and Commerce Committee and sponsored the GOP bill, accused Granholm and the White House of multiple misleading claims, including an erroneous assertion that the bill could affect use of the reserve during a presidentially declared emergency.
"At a time when gas prices are on the rise, Secretary Granholm and the Biden administration need to be transparent with the American people about their efforts to cover up how they've abused the Strategic Petroleum Reserve as an election-year gimmick," McMorris Rodgers said.
"Republicans want durable, long-lasting relief at the pump. The best way to do this is by unleashing American energy," which her legislation helps accomplish, added McMorris Rodgers, of Washington state.
The heated rhetoric is part of a larger fight over oil drilling and climate change. Republicans say restrictions on oil leasing imposed by the Biden administration hamper U.S. energy production and harm the economy, while Democrats tout a sweeping climate law approved last year as a crucial step to wean the nation off fossil fuels such as oil, coal and natural gas. The measure authorizes billions in spending to boost renewable energy such as wind and solar power and includes incentives for Americans to buy millions of electric cars, heat pumps, solar panels and more efficient appliances.
Biden, citing the dangers of climate change, canceled the controversial Keystone XL oil pipeline in his first days in office and suspended new oil and gas leases on federal lands. The moratorium has since been lifted, under court order, but Republicans complain that lease sales for new drilling rights are still limited.
Biden campaigned on pledges to end new drilling on public lands, and climate activists have pushed him to move faster to shut down oil leasing. Fossil fuels extracted from public lands account for about 20% of energy-related U.S. greenhouse gas emissions, making them a prime target for emissions reductions intended to slow global warming.
"Whether on land or at sea, oil drilling poses an unacceptable risk for our wildlife, wild places and waterways," said Lisa Frank of Environment America, an advocacy group. "When we drill, we spill. At a time when we should be moving away from this destructive, dangerous practice — and expanding use of renewable power — this bill doubles down on the outmoded energy of the past."
Frank urged lawmakers to reject the GOP bill and instead move to permanently ban new drilling off U.S. coasts and in Alaska's Arctic National Wildlife Refuge.
Conservative and industry groups support the bill.
"We can continue making the Strategic Petroleum Reserve the nation's sole response to future disruptions, or we can also utilize more of the vast oil supplies sitting beneath the lands and offshore areas currently kept off limits by the president," the Competitive Enterprise Institute and other conservative groups said in a letter to Congress.
The Treasury Department estimates that release of oil from the emergency stockpile lowered prices at the pump by up to 40 cents per gallon. Gasoline prices averaged about $3.50 per gallon on Thursday, down from just over $5 per gallon at their peak in June, according to the AAA auto club.
Morris Rodgers accused Biden of using the reserve to "cover up his failed policies" that she said are driving up energy prices and inflation. Average gas prices are up more than 30 cents from a month ago and are higher than when Biden took office in January 2021, she and other Republicans noted.
"Millions of Americans are paying more at the pump as a result of the Biden administration's radical 'rush-to-green' agenda that has shut down American energy," McMorris Rodgers said.
Granholm, citing thousands of unused leases by oil companies, said GOP claims of obstructionism on drilling were off-base. "There's nothing standing in the way of domestic oil and gas production," she said, a claim McMorris Rodgers disputed.
"There are plenty of barriers to unleashing domestic oil and gas production, including burdensome regulations and this administration's discouragement of financial investment in domestic oil and gas industries," she said, noting that U.S. oil production is well below its 2019 peak of 13 million barrels of oil a day.
Premier Danielle Smith sent this letter to PM Justin Trudeau today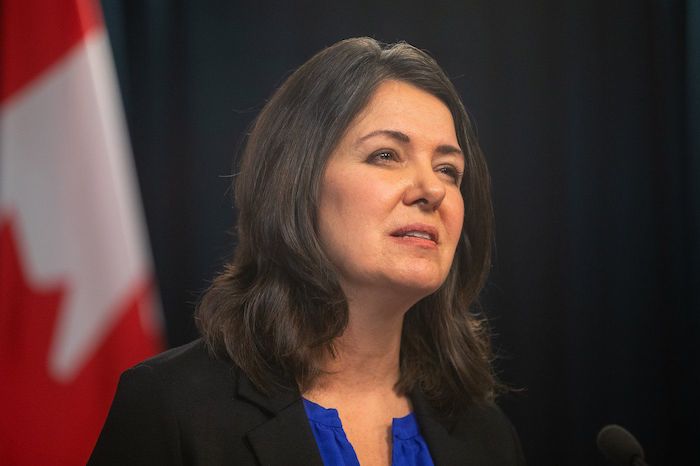 An alternative to Just Transition: Premier Smith
Alberta Premier Danielle Smith invites Prime Minister Justin Trudeau to work with her to develop "Sustainable Jobs" legislation as an alternative to the proposed "Just Transition" legislation.
Dear Prime Minister:
I am writing to once again raise Alberta's serious concerns with the proposed federal 'Just Transition' legislation. The world needs more Canadian energy, not less. It would be premature and ill-advised to signal the end of a vibrant, thriving industry that has the ability to reduce Canada's and the world's emissions through technological innovation and increased exports of LNG and other clean burning fuels the world so desperately needs. It is also critical to the security of our nation and allies to lessen dependence on fuel sources from unstable, undemocratic and dangerous countries with atrocious environmental records.
Simply put, the world needs more Canadian energy and technology, not less, and as the owner of the world's third largest oil and gas reserves and the most advanced environmental technology on the planet – we need to signal our intention to provide substantially more of both.
According to your government's own predictions, the federal Just Transition initiative alone will risk a full 25 percent of Alberta's economy and 187,000 jobs in Alberta, while also causing major disruptions and displacement to 13.5 percent of Canada's workforce. At a time when Canadians are struggling to afford basic services and goods, Canada's oil and gas sector offers some of the highest wages in Canada, which translates to strong business and community support across the country. Signalling a move away from these types of high paying jobs, threatens the national economy, and the livelihoods of hundreds of thousands of workers across the country at a time when good jobs are needed the most. It also creates a chilling effect on investors considering large scale investments in the Alberta and Canadian energy sector.
Prime Minister, we are at a crossroads in Alberta's relationship with the Federal Government. We can continue with the endless court challenges, legislation to protect jurisdictional rights and inflammatory media coverage over our disagreements, or, as is my strong preference, Alberta and Ottawa can work in partnership on a plan that will signal to all Canadians and investors from around the world that our governments have cooperatively designed a series of incentives and initiatives intended to achieve the following objectives:
Substantially decreasing Canada's and Alberta's net emissions;
Accelerating private and public investment in projects and infrastructure that utilize and develop Carbon Capture Utilization and Storage (CCUS), Bitumen Beyond Combustion, Geothermal technology, petrochemicals, hydrogen, lithium, helium, zero-emissions vehicles and nuclear technologies;
Attracting and growing a larger skilled workforce to fill positions in both the conventional energy sector as well as emerging industries using the technologies cited above; and
Significantly, and through the lens of global emissions reduction, increasing the export of LNG and other responsibly developed conventional oil and natural gas resources to Europe, Asia and the United States.
Prime Minister, all of the above objectives need to be clearly articulated and integrated into any Federal legislation or policies your government seeks to implement in the coming months, or that legislation will face irrepressible opposition from Alberta. I genuinely do not want to see that happen.
Further, this proposed legislation must be developed through cooperative discussions with affected provinces – namely Alberta. I would therefore invite you to meet with me in February on this matter, after which I would propose we have our appropriate ministers and officials meet repeatedly in the coming months with the goal of coming to a joint agreement on the key items to be included in your contemplated legislation so that it can be introduced and passed by the end of Spring.
Further, I request that you take to heart, and acknowledge publicly, the following items, in an extension of good faith to Albertans:
Immediately drop the verbiage of "Just Transition". Accordingly, rename the "Just Transition Act" to the "Sustainable Jobs Act";
Vow that all provisions of any forthcoming legislation will be designed to incentivize investment and job growth in both the conventional energy sector as well as in emerging industries utilizing Carbon Capture Utilization and Storage (CCUS), Bitumen Beyond Combustion, petrochemicals, hydrogen, lithium, helium, geothermal, zero-emissions vehicle and nuclear technologies;
Demonstrate that no provision of the Act will be designed to phase out or reduce Alberta's conventional oil and natural gas sector and workforce (as we are already experiencing a workforce shortage in this sector);
Commit your Government to actively partnering with Alberta to expand LNG exports to Asia and Europe as part of our nation's overall emissions reduction strategy; and
Promise that you and your Government will work with Alberta in partnership to set reasonable and meaningful emissions reductions targets and will not unilaterally impose such targets on Alberta's energy, agriculture and other industrial sectors on a go forward basis.
Investments by Alberta's oil and natural gas industry are driving the creation of the very clean technologies needed to bring emissions down both in Canada and around the world. Oil and natural gas companies representing the majority of production in Canada are investing $24 billion on projects to help reduce annual GHG emissions from operations by 22 million tonnes by 2030, and have committed to emission neutrality by 2050. Putting an end to or hampering this important work, and continued tepid support for increased LNG export, is the best way for your government to fail in its goal of reducing our nation's and the world's emissions. It would be the ultimate example of scoring on our own net.
The Alberta energy sector has grown and thrived through innovation, providing good paying jobs for thousands and contributing billions of dollars in tax revenue for all levels of government. They will continue to evolve and adapt to new technologies in search of new low to zero-emitting fuel sources like hydrogen and provide new, high-paying skilled jobs for decades to come. It is essential that the federal government stands shoulder to shoulder with Alberta to reduce emissions and continue to develop our oil and natural gas and future energy sources responsibly, while also positioning Canada as the optimal solution to global energy needs and security.
Prime Minister, we can and must work together. Operating in political silos, as adversaries on this issue, is getting us nowhere, and I believe all Canadians are tired of seeing it. Canada should be the world's greatest energy superpower. It can be, if we come together collaboratively in pursuit of that objective. There is no limit to our nation's potential.
Let's turn the page starting with a meeting between us next month followed by a dedicated effort to craft "Sustainable Jobs" legislation that a vast majority of Albertans and Canadians will welcome and support. The consequences of missing this opportunity will be dire for the Canadian and Alberta economies, workforce and environment.
I look forward to your prompt reply.